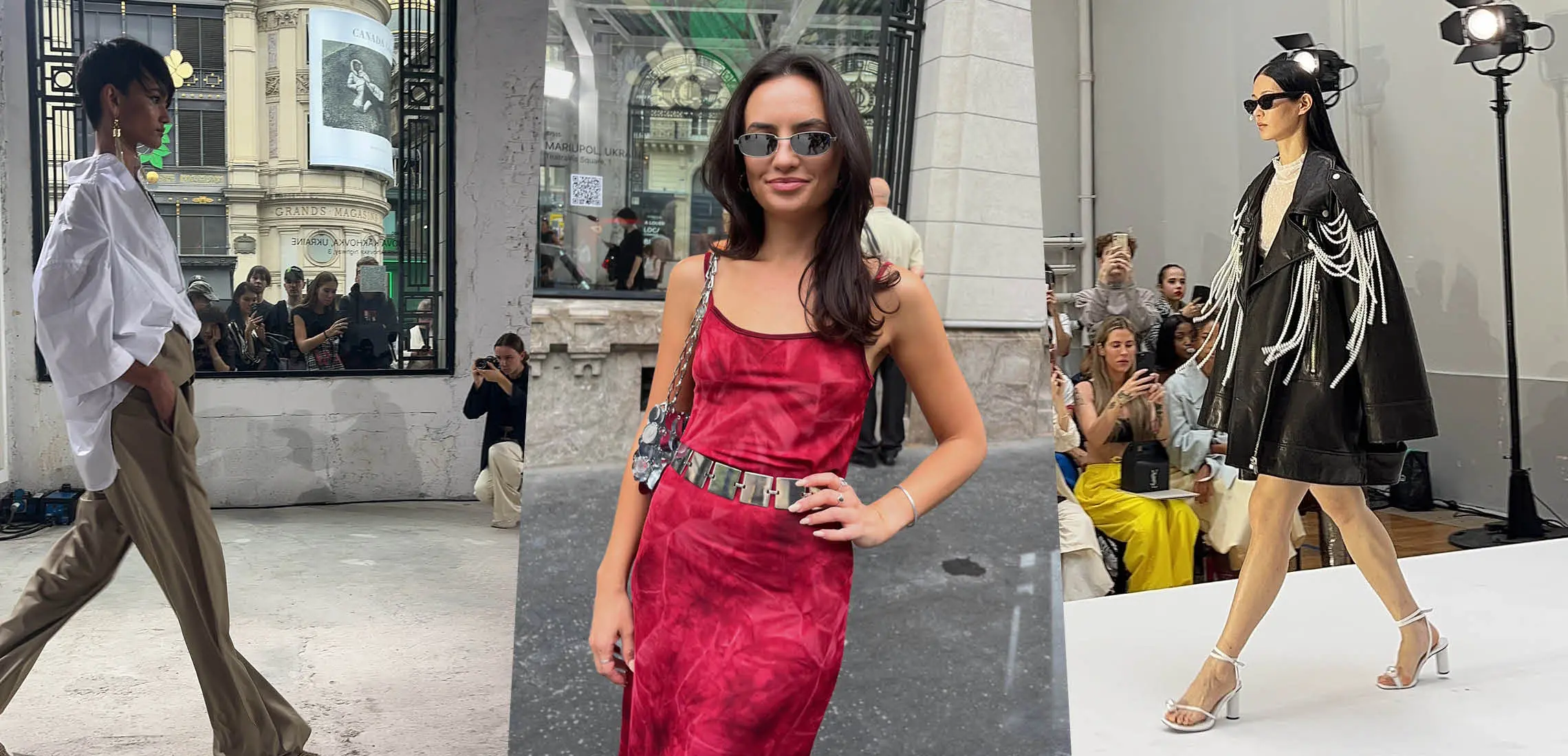 Inside Paris Fashion Week SS24: The New Designers and Upcoming Trends We Discovered
Très chic
By Kiri Johnston | 10th October 2023

Imagine this: A twenty-something from sunny Brisbane (that's me) suddenly finds herself whisked away to the glamorous chaos of Paris Fashion Week. Yep, you read that right. Thanks to an amazing opportunity with Style Magazines, I had the chance to live out my dreams at the most anticipated fashion event of the year and get an up-close look at the SS24 collections. I was practically pinching myself with excitement as I dashed around the city, fueled by coffee, croissants, and a full-blown adrenaline rush.

I couldn't help but take mental notes of everyone's killer outfits at the shows, on the streets, and everywhere in between. I was avidly people-watching, soaking up the mingling and immaculate vibes. And trust me: when you're rubbing shoulders with influencers, journalists, PR and media pros, content creators, photographers, and die-hard fashion lovers, you're in for an absolute treat. So, buckle up because I'm about to spill the tea on some of the jaw-dropping, upcoming trends and styles that I had the privilege of encountering in the fashion capital of the globe, Paris.

View this post on Instagram
Bow Obsession
In the heart of Le Marais – a high school transformed into a runway – I witnessed a fashion renaissance at the 'Noir et Blanc' show by Korean designer KIMHĒKIM. The event began with an air of anticipation, accompanied by suspenseful music. A model graced the stage in a lattice-style dress, soon surrounded by 27 fashion school students who meticulously adorned her with bows, setting the scene for what was to come.
But beyond the bows, the runway was an ode to the balance of yin and yang, showcasing a rich tapestry of details, from pearls and leather to lace and tailored pieces. An unexpected twist came in the form of outfits crafted from hair – a surprisingly successful and avant-garde addition. The show was an absolute masterpiece of creativity, introducing innovative shapes, mesmerising silhouettes, and fresh styles, all while redefining the classic black-and-white look by taking it to a whole new level.
Behind the scenes, Chiao Chenet's artistry brought hair to life using products from the Australian brand Mr. Smith, adding a layer of refinement to the overall presentation. 'Noir et Blanc' by KIMHĒKIM went beyond the rulebook, offering a unique and unforgettable experience, proving that the fashion industry knows no bounds.
View this post on Instagram
Impeccable Tailoring
On Haussmann Boulevard, next to the iconic Printemps flagship store, LITKOVSKA, a Ukrainian brand, unveiled 'REBIRTH' in a historic venue, delivering a display that left a deep impact on everyone in attendance.
The show paid heartfelt homage to the resilience of the feminine spirit, cleverly juxtaposing masculine design to symbolise the delicate strength of femininity in the face of adversity. This powerful message was visually portrayed during the show and deeply resonated with the global audience.
'REBIRTH' embodied Ukraine's resilience with seeds of change amidst the ashes of war. Each garment, like a phoenix, was adorned with frozen seeds, preserving identity and heritage in time. Lila Litkovska, the visionary behind the brand, known for structural silhouettes and exquisite craftsmanship, epitomised 'REBIRTH' by reimagining contemporary fashion with clean lines and bold sophistication.
From my front-row seat, models showcased carefully crafted ensembles, featuring unexpected elements like straw – a nod to Ukraine's wheat production. Ultra-padded blazers, oversized layers, and thoughtful details create a collection that is effortlessly cool yet profound. The impeccable garments, distinctive contours, textures, and materials captivated the audience, evoking a room filled with emotion, where tears and goosebumps collectively celebrated the pain, strength, and unwavering spirit of the Ukrainian people.
View this post on Instagram
Elevated Classics 
My first encounter with this brand instantly clicked with my personal style, making me want to snatch up every piece for my wardrobe. The esteemed French brand MINUIT elegantly presented their effortlessly chic and ready-to-wear styles in a former clothing workshop turned showroom.
Laurie Arbellot, the creative genius behind the brand, caters perfectly to those who seek an alluring yet understated aesthetic. Her designs effortlessly blend confidence with sensuality by juxtaposing oversized leather pieces with delicate dresses and separates, catering to the tastes of discerning clientele.
Arbellot's designs always play with texture, and in this collection, the striking full moon motif in white fil coupé jacquard took centre stage. Iconic eyelet cardigans made a return appearance in deep purple, paired with slinky skirts featuring adjustable taping for a customised fit. The mostly black-and-white palette got a jolt of life from metallic knits and vibrant accents in orange and eggplant. Mannish trousers, worn low on the waist, were paired with cropped vests adorned with rectangular sequins, adding a touch of sparkle to the mix. The strikingly balanced seductive aesthetics with effortless wearability appeal to the Minuit girl's desire for both allure and comfort.
In summary, here are five quick Qs about my experience at PFW:
Where did you stay? 
I stayed in a flat in Sentier – also known as the 2nd arrondissement – nestled between the famous Opéra area and the trendy fashion hub of Le Marais. This area is renowned for its bustling bistros, boutiques, and boulangeries. It was also conveniently close to many of the presentations I attended.
How did you get around?
Getting around was a breeze as I'm no stranger to the city, and I love to immerse myself when I travel, so it's easy for me to quickly rack up my step count. But I do find the metro system incredibly user-friendly; I purchased a stack of train tickets upon arrival and it became my mode of transport when dashing from one show to the next. Trust me, it beats sitting in Uber traffic any day.
What was the vibe? 
Despite the fashion world's reputation for occasional hostility, I found everyone there was friendly and created a welcoming atmosphere in Paris. The city's energy was unmatched, and my existing love for Paris made me super excited to be there. Everyone I met seemed eager to connect with others.
What surprised you? 
I'd say the most surprising aspect was how genuinely friendly everyone was. While it came as no surprise that it felt like everyone in town was specifically there for fashion week, I saw an endless number of people dressed to the nines, radiating confidence and showing off their personal style, whether it was edgy, chic, preppy, sporty, or just downright fabulous. The atmosphere was brimming with inspiration.
Is it as glam and fun as it looks?  
Absolutely, fashion week lives up to its reputation. But it's worth noting that the glamour and fun comes at the cost of slight exhaustion. As you're always on your feet, socialising and trying to stay trés chic, you'll likely find yourself quite fatigued by the day's end (cue the oversized sunglasses).