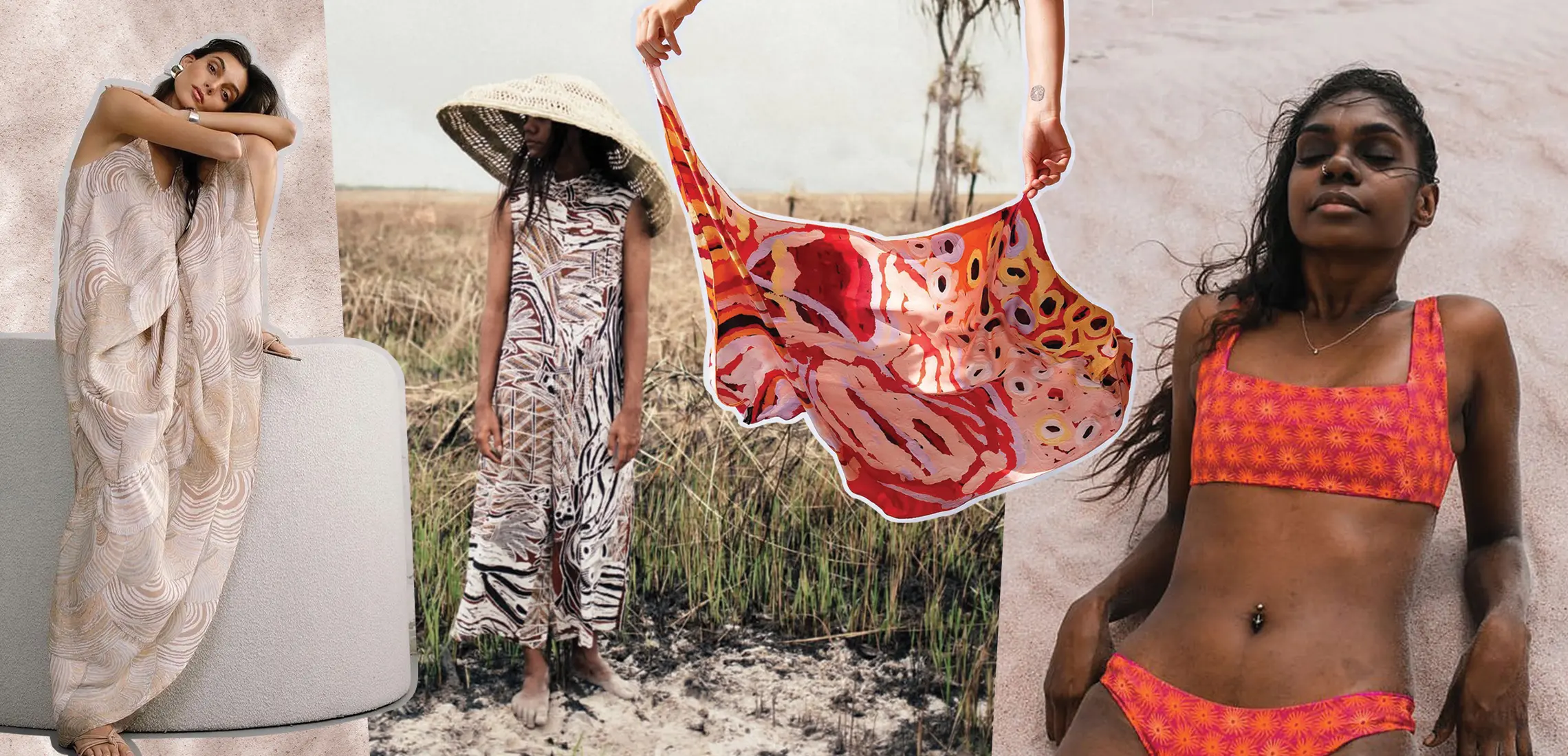 15 Indigenous Fashion Labels Celebrating Culture And Country
Always was, always will be
By Dinushka Gunasekara | 9th March 2022

Historically, the beauty of Indigenous art was once limited to rock paintings and wood, but as the oldest culture in the world continues to proudly grow, so do the ways that their craftsmanship can be honoured.

This includes the fashion world, where pieces celebrate the incredible landscape of artistry Australia has, both literally and figuratively with remarkable Indigenous designers who pay homage to culture and Country through their work. From whimsical dresses to jewellery that makes a statement, here are 15 Indigenous fashion designers and labels you need in your wardrobe.

Where did you get it? It's all homegrown!

Dreamy prints and contemporary styles are the epitome of this luxury resortwear brand. In reference to 'hands' in the Yuwaalaraay and Gamilaraay language groups, MAARA Collective honours the creative and collaborative process they embrace, working closely with Indigenous artists and creatives. Plus, with every gorgeous piece purchased, MAARA Collective gives back proceeds to support digital training and education in remote Aboriginal communities.

Shop here.

Bold, playful, and unapologetic, the handmade pieces by proud Wiradjuri woman, Kristy Dickinson, will throw a surge of empowerment through you the second you put them on. Every Haus of Dizzy piece is designed, laser-cut, hand-painted, and assembled in the company's studio in Naarm (Melbourne), with many featuring powerful political and social messages to make the most striking statements. Worn by the likes of Ms Lauryn Hill, Baker Boy, and Lala Hathaway, not only does Haus of Dizzy take part in social and political action – continuously collaborating with non-profit organisations – but the pieces also facilitate much-needed conversations on the daily.

Shop here.

Typography meets Blak pride in these iconic graphic tees and accessories. Gammin Threads is the side hustle and creative outlet of proud Yorta Yorta, Taungurung, Boonwurrung, and Mutti Mutti woman, Tahnee, who works full-time at an Aboriginal family violence prevention service. The size-inclusive label is made for living colourfully, weaving empowerment through its threads.

Shop here.

Kirrikin is a word from the Wonnarua language revitalisation that roughly translates as 'Sunday's best clothes', and that's the exact energy of these luxury accessories. Featuring artworks from contemporary Indigenous Australian artists on womenswear, handcrafted silk and cashmere scarves, silk neckties, bow ties, and pocket squares. With a focus on identity through exploring Aboriginal people, traditions, and their land, these spiritual products embody the essence of Australia.

Shop here.

Championing Aboriginal and Torres Strait Islander artwork through clothing and collectibles, Ngali translates to 'we' or 'us' in a number of Australian Aboriginal languages which is the driving force of this label. Bringing together sustainability and equitability of people and Country, founder and designer Denni Francisco is a proud Wiradjuri woman who embodies Yindayamarra through Ngali's work – fashion that shows respect and consideration to Country, honouring the nationwide collaborations with other creatives.

Shop here.

Producing merch with a meaning, wear your values on your tee with the help of this dynamic fashion label. Managed by health professionals in a celebration of Aboriginal people and culture, the social enterprise aims to elevate Aboriginal voices and start conversations with the wider Australian population, to advocate for well overdue social changes on issues impacting Aboriginal people and their Communities.

Shop here.

Taking cues from the landscape and Aboriginal Australian culture, each print on these premium designer swimwear pieces are practically tens-of-thousands of years in the making! The eco-conscious label from Yolngu woman Liandra Gaykamangu represents a unique story in each collection, with each print delving deeper into the narrative. Their bikinis are sold separately so you can mix-n-match to your heart's content, with sizes from 6 to 16.

Shop here.

Through stunning silks and wool wraps carefully painted by hand, Lyn-Al Young celebrates her Gunnai, Waradjuri, Gunditjmara, and Yorta Yorta culture in the most beautiful way. As a one-woman team, keep an eye on her Instagram, where she posts her new work as they're completed and become available. Look familiar? Lyn-Al Young's hand painted silk wraps were featured on both Holly and Brooke for the finale of The Bachelor 2021!

This slow ethical fashion label from Wiradjuri, Gangulu, and Yorta Yorta woman, Lillardia Briggs-Houston, holds cultural integrity in every handmade garment. Ngarru Miimi roughly translates to 'Honey Sister' and challenges perspectives of Aboriginal people and culture, exploring self-determination and sovereignty in each gorgeous piece, while respectfully highlighting the strength, pride, and connection Aboriginal people feel.

Shop here.

These aren't your average silk scarves! Showcasing the work of emerging and established artists from the Asia Pacific region, One of Twelve is dedicated to celebrating the incredible art sector with silk scarves and ties depicting the collaborating artist's work. Each unique piece comes with an artist card that tells the story of the maker and their practice, and the artist will receive royalties from your purchase.

Shop here.

Nestled in the heart of Kakadu National Park, all the pieces here are created by the Bininj people in the community arts centre located in the repurposed Jabiru Bakery. Alongside beautiful artwork, Marrawuddi offers gorgeous handwoven earrings that are sure to become treasured pieces in your jewellery box.

Shop here.

Creating innovative pieces with a distinct Aboriginal voice, Nungala Creative was established by proud Warumungu/Wombaya woman, Jessica Johnson and makes a powerful impact. From the tees to the earrings, kick tags, and bolo ties, Nungala is an expression of lived experiences as an outsider on stolen land, while fighting for a better future for First Nations people.

Shop here.

Laura Thompson is the Gunditjmara woman behind these contemporary Aboriginal designed and inspired earrings, made to be worn with pride. Sustainably sourced and hand painted and finished, each piece tells a unique story, while celebrating the culture, history, and identity of Aboriginal Australia. From the mirror serpents to the intricate gum leaves, get ready for everyone to be asking where you got these from.

Shop here.

Although NORTH is not Aboriginal-owned, the not-for-profit has been created as a vessel to celebrate, support, and broaden the exposure of the incredible talent from Indigenous artists across the Northern Territory. The strong and respectful relationships between the artists and remote art centres help them generate consistent income streams, while simultaneously showcasing breathtaking work in their pieces.

Shop here.

Life is too short for boring socks! Sharing the stories of emerging talent with socks as the canvas, KCUB'D teams up with Indigenous artists to share their creative talents in an everyday fashion item – socks. Passion for culture is the driving force behind this brand by representing First Nation cultures in a meaningful and easily accessible way. They recently teamed up with Meanjin artist Lala & Co for their sought-after NAIDOC collection to showcase the beauty of Aboriginal culture, artistry and connection to the land.

Shop here.

Be a better ally with our guide on how to respectfully style Indigenous artwork here.