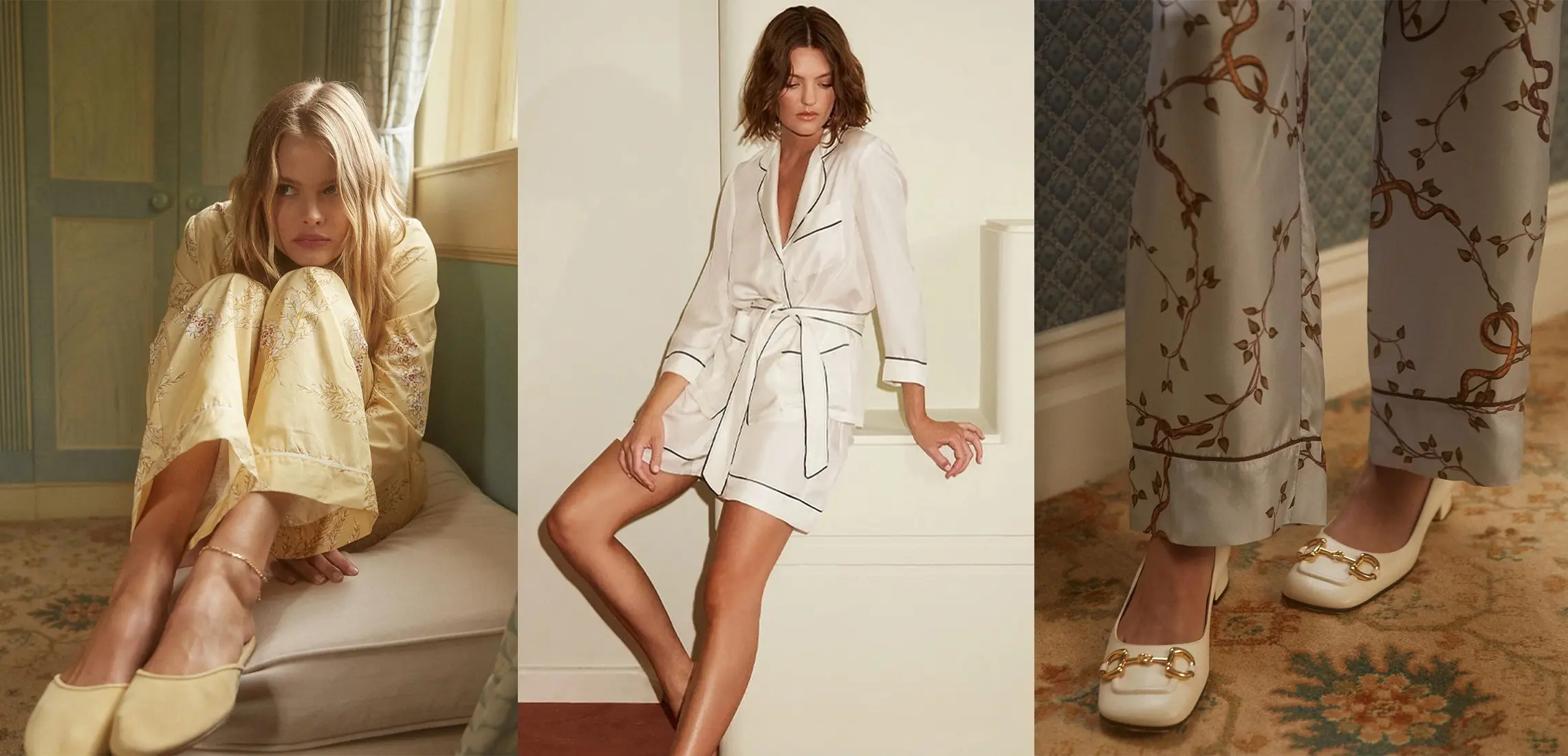 Sleep In, Stay Out: Bond Street Is The Latest Label You Can Wear For All Occasions
From AM to PM
By Astrid Taemets | 24th August 2023

Few fashion pieces evoke the same sense of joy as silk pyjamas. Soft on the skin, lightweight, and effortlessly stylish, luxury nightwear is in a category of its own. It's something to indulge in, relish, and reserve for intimate moments. That is until now, with one brand bringing your penchant for style and comfort to the forefront with a curated collection of quality pieces that can be worn beyond the bedroom. 

Founded by Kate Bond in 2021, Bond Street epitomises understated elegance with classic pyjama tailoring in silk sets and slips designed to be enjoyed and loved with renewed sophistication and imagination. Taking sleepwear to the streets on a morning coffee catch up, intimate date night at your favourite haunt, or overseas on a European adventure, Bond Street is versatile and elegant in form, carving a definitive look and feel that has been embraced by women who yearn for the comfort of loungewear but won't compromise on quality fabrication. 

Here, we chat to Kate Bond about her ready-to-wear pyjama collection, the craft, and how to enjoy each piece out on the town, under the covers, and everywhere in between.    

View this post on Instagram
When did you start Bond Street? 
I had an "aha" moment when my husband and I were flying back to Sydney after a holiday in Europe. I'm always so inspired by the way people dress in different cities, and that trip was no different. I remember seeing women in London looking so polished and put together, and that designer sleepwear was a big thing there. I've always been a playful pyjama set wearer, but I loved the idea of making pyjamas that I'd want to wear out of the house. I spent the entire plane ride home coming up with design concepts, prints, and a business name. The next week I registered the business and got to work!
What inspired you to turn pyjamas into a luxury set to wear beyond the bedroom?
For me, there's nothing more flattering than a set of silk pyjamas. There's an elegance to the timeless shape that I've loved forever. They always make me feel so polished, and I figured there's no reason why that wouldn't translate into ready-to-wear. I also love the idea of your wardrobe working hard for you. Wearing a set out to a beautiful dinner party and then being able to wear it again to bed, in the age of fast fashion; that felt good to me. 
What are your styling tips for wearing Bond Street?
I think you set your intention for the outfit with your accessories. Bond Street can be worn out for an evening look as easily as it can be poolside, or for a coffee run and weekend errands. My styling tips for an evening look would be to lean into the luxe of the silk fabrication, add bold jewellery, a satin handbag, a heel, and top with a structured blazer or dramatic coat. For a more casual look, dress it down with slides or a ballet flat. Throw a knit over your shoulders, add sunglasses and a tote, and you're good to go! I also love wearing them on vacay with a swimsuit underneath, shirt open, and a strappy sandal. 
View this post on Instagram
What inspires you creatively?
I'm probably most inspired by interiors – in particular, wallpaper and beautiful fabrics. When coming up with the concept of the prints, I trawl old issues of the World of Interiors. 
Where are the fabrics, patterns, and pieces made?
The patterns and pieces are made in Sydney, which is something I'm very proud of. I love being hands on with our makers, and being present each step of the way. Our prints are designed by a local artist in Byron Bay who is such a talent, and our fabric is digitally printed and supplied from China. 
Who is the Bond Street woman?
She is sophisticated but fun, she doesn't follow trends but is always stylish and effortlessly elegant. 
How would you describe your personal style?
I would say my personal style is classic – a little preppy but relaxed. 
What has been your biggest 'pinch me' moment so far?
It would have to be when Bergdorf Goodman took on our second collection. I remember visiting that store many years ago in New York City and thinking it was so magnificent. The thought that Bond Street would be on the racks there a year after its inception was a dream come true. 
What are your future plans for the brand?
I'm looking forward to growing the brand and expanding our reach and range. For as long as I've had Bond Street, I've had babies, so as they get older I'm looking forward to devoting more time to the brand, discovering its potential! I love the creative outlet that it has been for me, and I am so happy that it's resonated with others too.