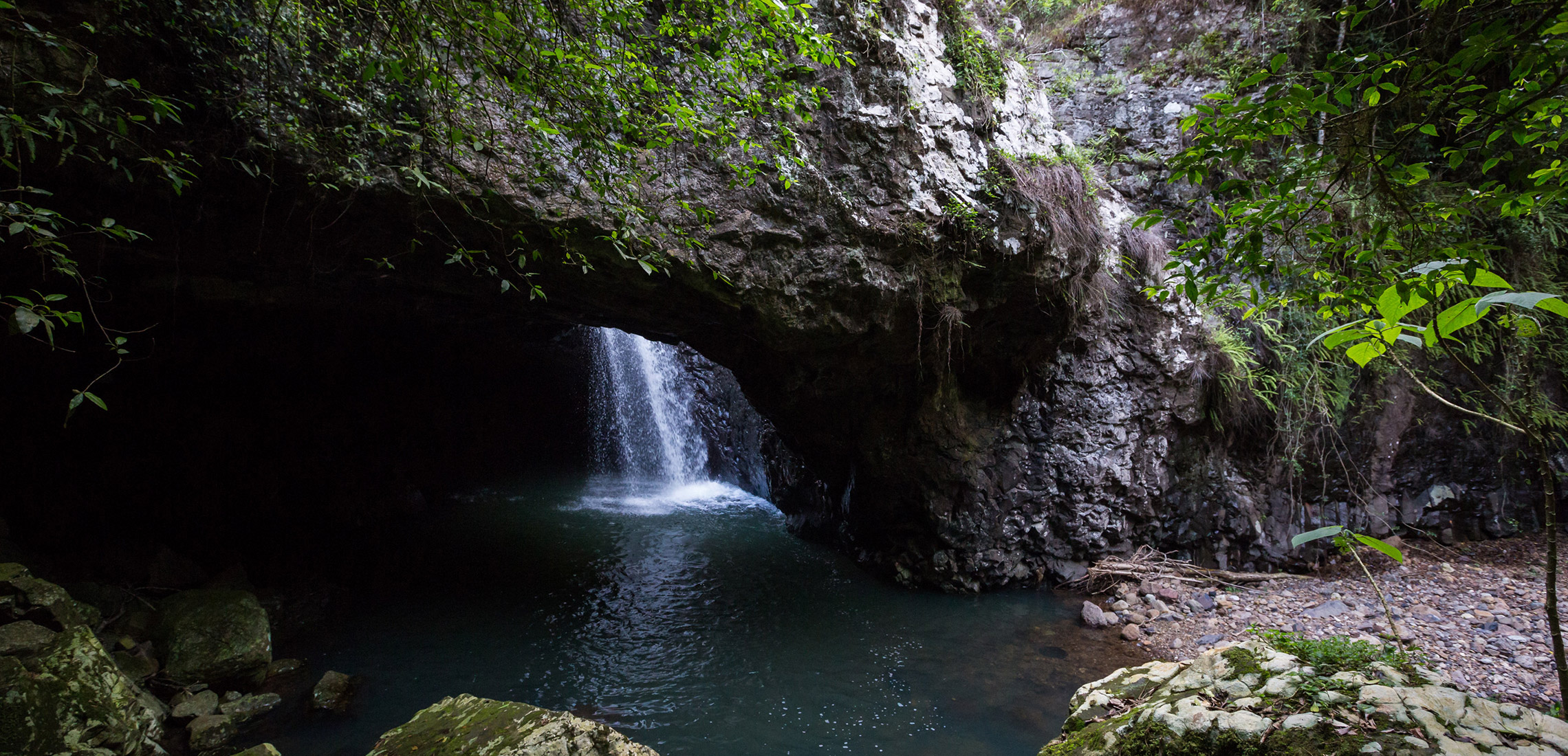 Beat The Heat With The Best Swimming Holes Near Brisbane
Nature's waiting! 
---
With glorious balmy weather all-year round, we Queenslanders know how to cool off and nothing beats a dip into nature's best. Whether you're in the mood to explore our beautiful backyard or just craving a break from the aircon, we've done a deep-dive into the best watering holes only a drive away! From the Gold Coast to the Sunshine Coast and everything in between, pack your swimsuits and hit the road to Brisbane and beyond. 
In Brisbane, Cedar Creek has been a long-time family favourite! This rock amphitheatre is packed with wondrous waterfalls, rock pools, fishing spots and plenty of flora and fauna. Just 30-minutes north of Brisbane, this scenic and picturesque area feels years away from the bustling city. Choose to stop at Williams Park for the rock pools or instead follow the creek up to find the bigger pools.
How to find it: Cedar Creek Road stretches fairly far, but as you drive along, you'll spot an outcrop of road near a rest stop. This is where drivers pull over to park, and then follow a winding footpath along the edge of the creek. Keep walking until you find a spot that looks good to you!
Tucked away in the suburbs of Brisbane's northside Hills District, get the perfect escape without having to go too far. With clear shallow waters for wading and deeper waters for paddle boarding or kayaking, it's really no surprise the Bunya Crossing Reserve was voted one of Moreton Bay's best natural swimming holes. Not to mention, the area is completely pooch-friendly so pop the doggos in the car, they deserve to cool down as well!
How to find it: Located at the junction of Bergin Creek and South Pine River, pop Bunya Crossing Reserve picnic area into your GPS and let it lead the way. There's plenty of parking on site, so don't even stress about off-roading!
A tropical seafront pool, a stone's throw from the city, Settlement Cove Lagoon is a favourite for families, especially with littlies that love a shallow dip or paddle in the water. However, with multiple areas, there truly is something for everyone. There is a fenced off area for young kids, with water jets, mushroom fountains and water-squirting lizards. Then for the big kids, you'll find that further along the lagoon, the water gets a bit deeper. Overlooking Redcliffe's foreshore, this pool paradise is accompanied by a picnic spot, so after a swim, you can enjoy a nice seaside lunch with friends or family.
How to find it: The lagoon has plenty of parking and is situated on the southern end of Redcliffe Parade near the Anzac Ave roundabout.
Within the green and leafy streets of The Gap, you'll find a hidden treasure—the Enoggera Reservoir. This concrete spillway, built in 1866, is an awesome escape for family and friends to have a fun day out. With a similar vibe and feel to a European lake, this watery playground is a recreational fun zone, where you're welcome to swim, kayak, canoe or simply lay on inflatables and relax. At the designated swimming beach, you'll find a sectioned off area to provide a safe spot for the kids to swim. But, if you're the adventurous type, take a walk up the Walkabout Creek Track and have a go on the rope swing! It's sure to get the adrenaline pumping!
How to find it: Head to Walkabout Creek on Mount Nebo Road. Park in the carpark for the visitor centre. A short 4-minute walk down an easy track will lead you to the reservoir's edge.
Ay, Currumbin! Tap into your adventurous spirit and feel nostalgic as you swing on ropes, slide down a rockslide, climb over rocks and splash around in the water. The Currumbin Rock Pools are embedded with pebbled pathways, rocky rapids and green forestry. With plenty of exploring to do, enjoy the natural beauty of this shallow streamed oasis. Fair warning the water is icy, so it's absolutely perfect for those hot summer days!
How to find it: Make your way south along the Pacific Motorway until you can turn right onto Stewart Road. From here, turn left onto Currumbin Creek Road. After 8km you'll come across Gallery Cafe on your right. Directly opposite, you'll find a short path to take you down to the rock pools.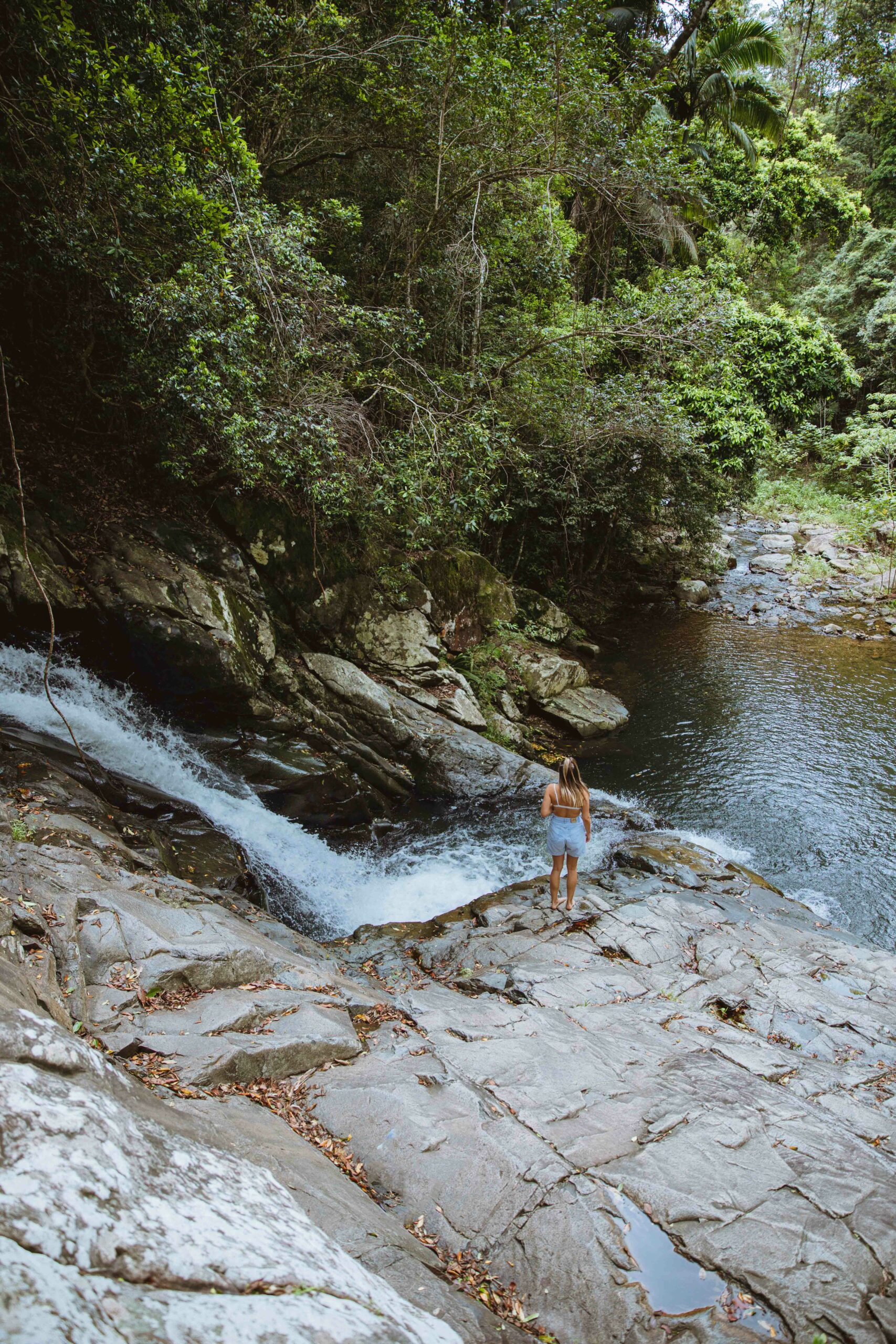 This one is definitely for those adventure nuts out there! Amongst one of the largest undisturbed bush lands in SEQ, you'll find yourself enduring a rigorous 7km-round trip hike, filled with rugged terrain and steep slopes. However, all worth your while, because once you find yourself in a lush gully, you've entered the home of the Lower Portals. Tucked behind the Lower Portals you'll find Barney Waterfall and the stunning Moonlight Slabs rocks. Here you can swim in a series of rock pools filled with crisp, crystalline water and take in the pristine surroundings.
How to find it: This one will take a little more effort to explain, but we promise it's worth it. To get to the carpark you need to take the Mt Lindesay Highway from Brisbane. Once you get through Beaudesert, turn right at the traffic lights to head towards Rathdowney. Once passing Rathdowney township, turn right onto Boonah-Rathdowney Road and then left onto Upper Logan Road. Along here you'll come across Lower Portals Road on your right, and from here you can follow the signs to the Lower Portals carpark. Once you reach the carpark you can follow the signs for the 3.7km hike up to the Lower Portals! After you reach the Lower Portals, the hike up to the Moonlight Slabs and Mt Barney Waterfall is not signed, so you'll need to find the rough track on your right that heads up a slight hill. Now, simply rock hop your way down the creek for about 50 minutes until you head straight into the waterfall! We warned you, this one wouldn't be easy!
The Gorge is gorgeous (pun intended!). On the far side of Moogerah Dam and 2.5km downstream from Moogerah's spillway, you'll find this quiet, shady, secret little hideaway. A perfect spot to explore, just waiting for you to create your own adventure! The Gorge is a 200m-long swimming hole (about 1.5m deep) with a deeper one just upstream. Enjoy the shady and peaceful surroundings while you go for a swim or enjoy a beverage on the water's edge.
How to find it: Drive down Boonah-Fassifern Rd and turn onto Lake Moogerah Road. After about 8km, turn right into Charlwood, then Gorge Road, crossing private land to reach the gate.
A lush hinterland home to one of Kakadu's big two waterfalls, Twin Falls sure is a sight to see. Plunging from a 150-metre cliff face into a deep pool, the crystal-clear waters await all those who choose to delight. Definitely pack a picnic lunch, the white sandy beach at the base of the gorge is the perfect place to spend the day soaking up the blissful atmosphere.
How to find it: You can choose to start the 4km circuit from Tallanbana picnic area or Canyon Lookout in an anticlockwise direction. As you make your way further into the rainforest, keep an eye out for rocky caves and out crops. Once you reach the falls, choose to admire it from the front, or feel the spray of the water as you walk around the back.
A not-so-secret watering hole for locals, if you're looking for an easy and relaxed way to cool down this Summer, Tallebudgera has got you covered. Located just a short walk away from the bustling of Burleigh, opt for the peaceful still waters of the creek over the waves. Whether you choose to kayak or paddleboard, or swim in the enclosed area, there's shade and plenty of sand, perfect for sandcastles! The foreshore park is the perfect location for a family outing and get together, with a kid's playground, as well as change rooms, toilets and showers.
How to find it: Right next to Tallebudgera Creek Park, there is plenty of non-metered parking. However, be sure to get in early as the spaces quickly fill up on weekend and public holidays.
Embedded in the Sunshine Coast's Hinterland, you'll find Kondalilla Falls—a natural wonder, hidden deep in the rainforest. With an abundance of wildlife and beautiful forestry, this subtropical swimming hole is the perfect place to escape the heat. Walk through the wondrous walking track, alongside tropical trees to be welcomed by a cascading waterfall. Amidst the lush surroundings, shady trees and moss-covered grass beds, you'll find a picnic area, fitted with barbecues and toilet facilities. So, bring a packed lunch, some cool drinks and head to this little spot of tranquillity!
How to find it: Kondalilla Falls has its very own carpark! Simply plug 74 Kondalilla Falls Rd into your GPS and let it lead the way. A 150-metre track will get you straight to the watering hole.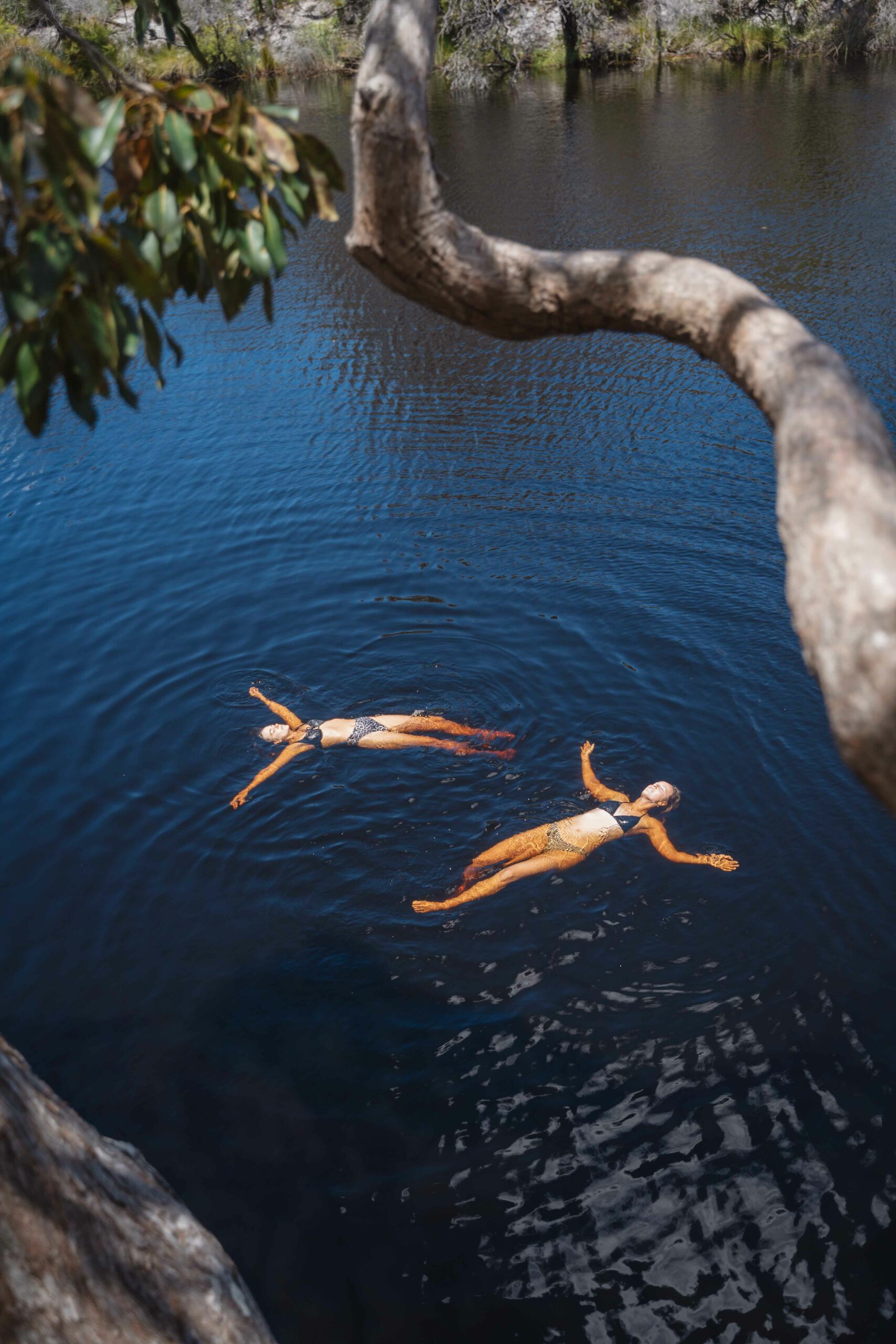 Ignore what people say, do go chasing waterfalls! Find a pool of pure bliss amongst the tress and follow the bubbling waters downstream to enjoy a freshwater swim at Gardners Falls. Through native forestry and grassy hills, you'll find pretty pools, rock ledges and trickling fresh water. After you've let the kids play in the water, enjoy a post-swim snooze under the shady trees. Or for those of us that are brave, try the rope swing for a bit of fun and a rush of adrenaline.
How to find it:If reading the directions to the last one totally exhausted you, we promise this one is a bit easier. To get to the picturesque Gardners Falls, simply park in the carpark on the bank of Obi Obi Creek in Maleny (right at the end of Obi Lane S) and meander the short path downstream to the falls.
If you're looking for something magical to whisk away your weekend, the Sunshine Coast's fairy pools are the enchantment you're after. Being oceanside tidal spots, they're best when water levels are high, where you may spot colourful fish, coral and sponges sitting underneath your toes. At times you may need to wade and splash rather than swim, but regardless, your adrenaline is sure to be pumping as you watch the lively waves crash nearby.
How to find it: Park at the Noosa National Carpark, past First Point and Little Cove. Strap on your walking shoes and follow the Coast Track towards Hell's Gates. At the far end of Granite Bay, you'll notice a park bench as the track turns right around a large bend. At this point, abandon the trail, scramble down the rocks and find the rock pools below.
Hop in the car and start the engine, it's no surprise that a quick drive to Serenity Falls will have you feeling as if you entered a whole new secluded world. Enjoy a relaxed state of nature-induced bliss, basking in the watery wonderland placed in the middle of 45 hectares of rainforest. If you're looking for a swim rather than a paddle, be sure to time your trip with recent rainfalls, to get the most out of your water adventure.
How to find it: The falls are accessible in two ways. The first path is via Quorn Close, where the walk is 350 metres to the arch bridge that looks down over the falls and swimming hole. The second is from Harry's Lane off Lindsey Road. From the car park, stroll along the 600m wooden boardwalk, which winds its way over the creek through the tall palms of the rainforest. The final 300 metres will lead you to the slippery rocks and tree roots.
Before you head to the great outdoors, don't forget to slip, slop, slap with some of the best sunscreens here. 
Imagery: Set In Stone Media