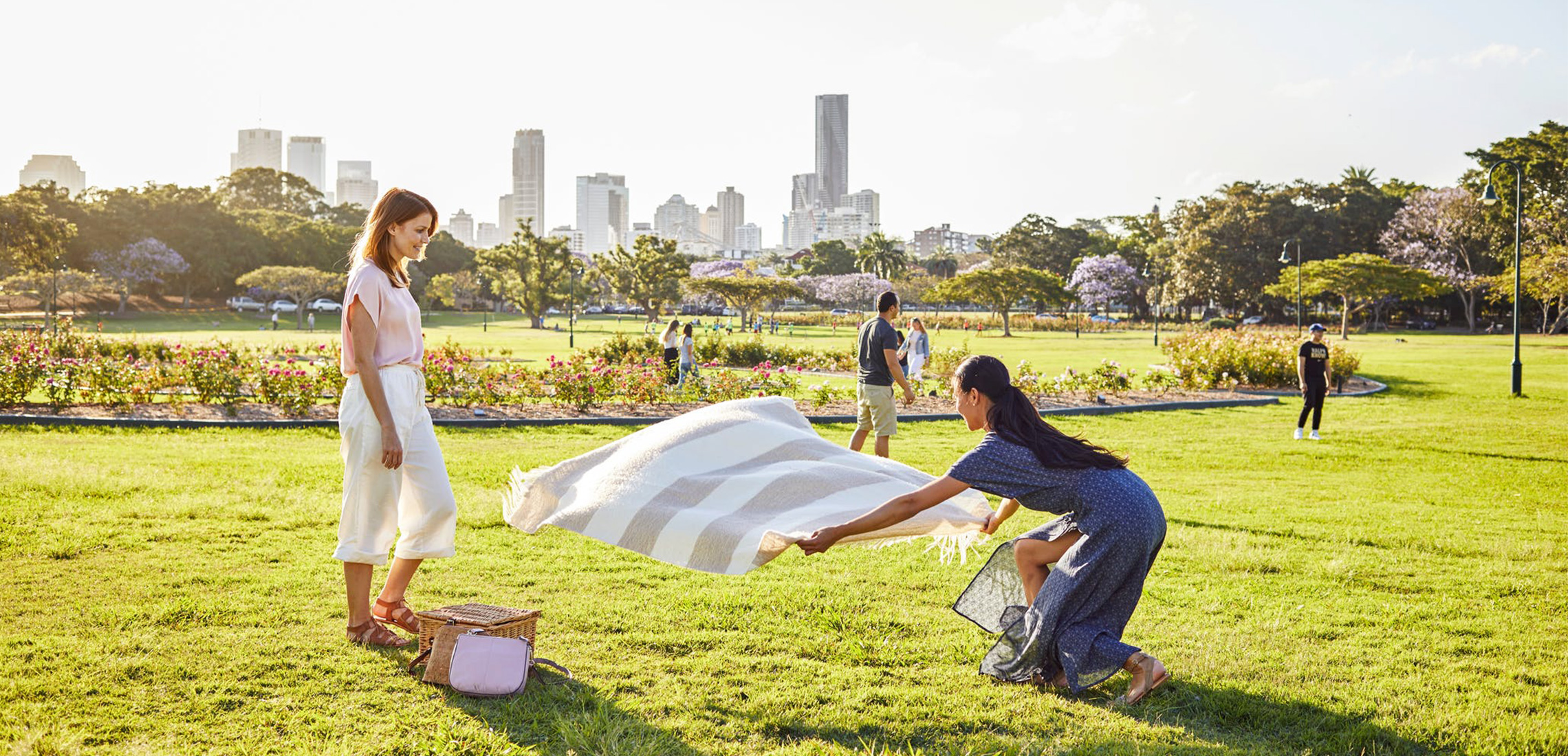 9 Of Brisbane's Best Picnic Spots
Get your pick on for a picnic
---
There's light at the end of the tunnel, friends! With the COVID-19 regulations slightly easing as of midnight Friday, picnics may now be aplenty! However, keep in mind it's not a free for all! To maintain our corona-success and keep on movin' towards the light, we can't regroup with the flock entirely. Never the less, grab your housemates or your fam and head outside in the sunshine for a picnic to trump a teddy bear's! Just remember the social distancing rules and make sure you're not breaking the 50km rule.
Now go on and get your picnic on at these glorious spots in and around Brisbane.
CHARLISH PARK | REDCLIFFE
If you feel like dipping out of the CBD for the weekend, but can't quite commit to making your way to the Sunny Coast or the Gold Coast, Redcliffe has the spot for you that's only 45 minutes from the city: Charlish Park. Located next to the family-friendly Settlement Cove Lagoon, the park offers plenty of green-grassed spaces with barbecues and shelters for public use – as well as views all the way out to Moreton Bay!
DAISY HILL CONSERVATION PARK | DAISY HILL
Home to both the Daisy Hill Picnic Area and the Daisy Hill Trail Hub, this conservation park is wonderful for a weekend visit. There's plenty of picnic and barbecue facilities, as well as tracks to walk or mountain bike through the eucalyptus forest. If you're lucky, you'll likely spot a dozing koala in one of the trees as the park and surrounds are home to one of Australia's most significant regional koala populations!
https://www.instagram.com/p/B_J0ZWQpeH5/
HIGHGATE HILL PARK | HIGHGATE HILL
With plenty of free parking on the surrounding streets, picnic benches spread out over the hill in both the sun and the shade, and a beautiful gazebo at the peak – Highgate Hill Park is the quiet spot that we've been searching for. The elegant gazebo sits at 62m above sea level where you can relax and gaze out onto the hill, and the skyline view of the city even rivals that of Kangaroo Point Cliffs. There's no barbecue facilities available, so pack a cheese platter and we'll see you there!
J.C SLAUGHTER FALLS | MT COOT-THA RESERVE
Although it may not have the most poetic name, Slaughter Falls is a must-visit area part of the Mt Coot-tha Reserve. With plenty of facilities such as barbeques, picnic tables, carparks, toilets, taps and shelter sheds, you can enjoy the serene surroundings with ease. While you're there check-out the bushy walk trail lined with grassy creek banks or head to the Summit Track for a solid hiking challenge. J.C Slaughter Falls is a true representation of our South-East Queensland landscape with rainforest, vegetation and serenity at the plenty.
JOLLYS LOOKOUT | MOUNT NEBO
If you're after a breathtaking vantage point, Jollys Lookout at Mt Nebo is your answer. With a large grass area with barbeques, toilets and a view, Jollys is a renowned location for a calming afternoon picnic. If you want to get your steps in while you're at it, from the carpark head to Jollys Lookout via the Thylogale track, 4km each way, weaving though pockets of beautiful rainforest.
KANGAROO POINT CLIFFS | KANGAROO POINT
We all adore the comfort of an old classic book, so why would we stop enjoying the comfort of a classic picnic spot? Kangaroo Point Cliffs is no new hot-spot, but it certainly is a timeless gem! Set up your rug at the top of the cliffs for a panoramic view of the city, or down by the water for an afternoon of relaxing by the river. Parking is limited at this popular spot, but a few laps around the block are well worth it for the perfect picnic position!
https://www.instagram.com/p/B_huGHmpxZf/
LOWER MOORA PARK & MOORA PARK | SHORNCLIFFE
Lower Moora Park plays hosts to a popular playground, with plenty of surrounding areas and shade to have a barbecue while enjoying the ocean views! If you don't want to pack your own picnic for the drive, the café that sits at the top of the hill has a range of takeaway options to devour.
ORLEIGH PARK | WEST END
Shady, but the good type of shady, Orleigh Park is an ideal and quiet spot for a serene afternoon picnic. With plenty of car parking, space and views across the river, it makes for a peaceful paradise where social distancing is easy! Fun fact: the area was wiped out in the 1893 floods and again in 1974 and 2011! Yet, nine years on it has flourished to be a locals hub for some idyllic time out.
NEW FARM PARK | NEW FARM
Want a spot by the river, but might want to kick a ball around later? Feel like sprawling out under some Poinciana trees, but planning a barbecue once lunch-time hits? Luckily enough, New Farm Park has it all – no matter what you've got planned for your day in the sun! With barbecues, cycling tracks, picnic spots and vast areas for sports, New Farm Park is clearly popular for a reason; so popular, in fact, that it attracts almost 18,000 locals and visitors alike every weekend!
Header image: Visit Brisbane