Brisbane's Best Locations to Get Your Work Done
Awesomeness on, world off.
---
In a world of freelancers, contributors, small business owners, content creators, founders, solopreneurs, entrepreneurs, wanterpreneurs and all the other "reneurs", there's a massive demand for workplaces that are both cool and productive. Whether you're planning to be the next Zuckerberg or you're just after a peaceful space to get some words down on paper, we've found all the Brisbane hot spots that will help you get in the zone and get your work done.
Co-Working Spaces
Changing business environments have made it more common than ever for people to seek out collaborative workplaces. Luckily for you, Brisbane has a lot of them.
Gravity | Brisbane CBD
Located in the heart of Brisbane city, Gravity has recently been refurbished with state-of-the-art facilities. With a dry-cleaning service, café and bar on-site, you might as well just set up camp and never leave. Work at Gravity on a casual, part-time or full-time basis. See membership details on their website.
Little Tokyo Two | Spring Hill, Springfield and Petrie Terrace
What started off as a place for friends to get together to do their work and have some beers has since grown to a successful workplace with three locations across Brisbane and a fourth opening in October. They offer a strong community at Little Tokyo Two, with plenty of like-minded folks all after the same thing – a great place to work.
Lightspace | Fortitude Valley
A venue downstairs and co-working office space upstairs, Lightspace has a raw industrial warehouse charm combined with a professional, supportive workspace. They also recently opened another warehouse space nearby called Project Studios.
The Coterie | Kelvin Grove
Want to be surrounded by creative individuals working on screen, music, interactive media, fashion, design and games? The Coterie is the place for you. All you have to do is become a member of QUT's Creative Enterprises Australia, which focuses on entrepreneurship, support for the creative industries and the growth of the start-up ecosystem.
WOTSO | Fortitude Valley
This bright and colourful setting is one of the many WOTSO workspaces across Australia. And the best part? If they don't have a location that suits you, they can sort that out quick-smart.
Cafés
Brisbane has a passionate café culture – we love brekky and we love good coffee. So why not combine that love with your profession? Whether you need a quiet courtyard for contemplation, a broody little corner to complete your next romantic novella, or the fastest wi-fi that our 18th-world-ranking-wi-fi-speed-country can provide, there's a café for you.
Sassafras | Paddington
With its homely vibe and many seating options (including an outdoor courtyard), Sassafras has all the hallmarks of a freelancer's dream. Grab a perfectly-brewed coffee, perch yourself on one of their mismatched chairs and whip open that laptop. If your co-worker is of the furry variety, they're very welcoming of dogs big and small.
Soul Pantry | Newmarket:
If you love the idea of working in nature but can't stand itchy grass, green ant bites and being pestered by ibis, then Soul Pantry is a dream come true. You're bound to find serenity and inspiration among the foliage in this secret botanical wonderland. There's also a shop on-site and workshops on offer so you can be a part of a bigger community.
Plenty | West End
This conscientious café delivers fresh, local produce in their dishes, so you can have peace of mind while you work and scoff down one of their many delicious meals.
Café Auchenflower | Auchenflower:
If you're looking for a quiet space without the constant interference of technology, make Café Auchenflower your go-to. While they don't have wi-fi, they make up for it with their cosy and quiet fit-out and a gorgeous courtyard out the back. It's the ideal place to get some solid reading or writing done – log off for a few hours and get back to your analogue roots.
Campos | Fortitude Valley:
Our editor Christie Sutherland swears by Campos as the ultimate place to get work done. The coffee is hot, the wi-fi is strong and the setting feels very private. They also have a meeting room that can be hired out from Monday to Friday.
Spaces
State Library of Queensland | South Brisbane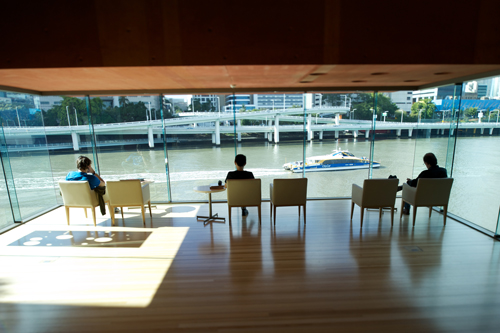 From a floating office at The Red Box Room to creative opportunities at The Edge and business support at the Business Studio, the State Library of Queensland has plenty to offer those looking to work, study or play. There are even lockers available to store your things when it's time to take a break. Our tip? Book out the study rooms. You don't want to rock up ready to work and find someone is already in the space!
Logan Central Library | Logan Central


For those on the south side, Logan Central Library offers many spaces to concentrate, study and work. We love the pillars covered in old books and the fact that the adults and children's sections are on completely opposite sides of the building so there's very little distraction.
Outdoors
King Edward Park | Spring Hill
A great place to sit and read/study. And you'll probably need to sit and rest for a while if you've climbed the stairs all the way from the bottom. Those things are STEEP.
New Farm Park | New Farm
Did you know New Farm Park offers wi-fi? You'll be able to connect near the rotunda at the river end of the park. Not to mention, this location is stunning! Take in your surroundings and let the beauty of New Farm Park inspire you.
Brisbane Botanic Gardens | Mount Coot-tha
The Mount Coot-tha Botanic Gardens also offer free wi-fi in and around the Japanese Garden, the restaurant, in front of the administration building and in the auditorium. This tranquil location takes you away from the hustle and bustle of the city and gets you back to nature while you work.
Riverwalk | Brisbane City
What's more inspiring than taking a walk around our stunning city? The Riverwalk is sure to spark your ideas and inspire you to think creatively, especially at dusk.
Liked this? You'll love these!
The Life Advice You Need to Hear Right Now
7 Mistakes Not to Make in Your First Week of Work
15 TED Talks All Women Should See