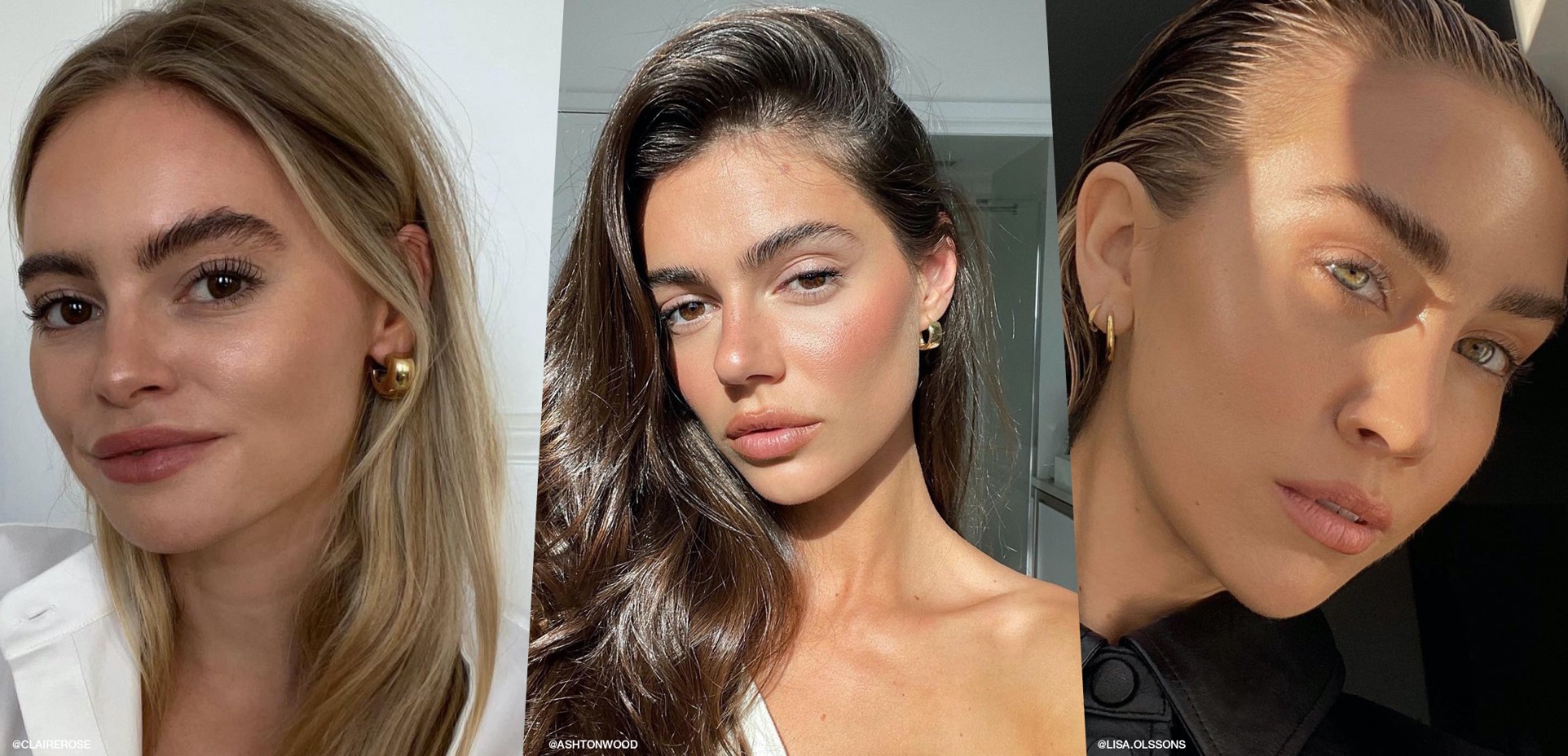 Ace Your Arches With Brisbane's Best Brow Specialists
Highbrow services ahead
---
There's no doubt that brows have been shaped by the decades. From ditching the tweezers in the 80s to pencil-thin lines for the 90s (rip to those still recovering), exaggerated, brushed-up brows are now back in fashion – and we're here for the fuller look! Say goodbye to over plucking and anything that resembles two tadpoles.
So, what's the best way to tame those tiny tendrils above the eyes? It's by getting your natural brows shaped and sculpted, of course! From tinting to lamination, waxing and feather-brow tattooing, no task is too much for Brisbane's best brow specialists.
Rember, natural, full brows never go out of style.
Did we miss someone from the list? Let us know here!
Bobbie Charles
Lutwyche, West End
From brow sculpting, lamination, and naturally enhanced tattooing, the Bobbie Charles team are masters of their trade, and can turn even the unruliest caterpillars into works of art. Awarded for their customer care nationally two years in a row, step into either of their sleek clinic spaces and feel completely at ease knowing you are in the hands of experts with high attention to detail. This experience is more than just a brow appointment – it's a time for you to unwind and destress. Your brow expert will conduct a thorough consultation, then map out your new brows, creating a completely personalised shape, so you can preview your new brow design. Once sculpted, customised colouring is applied before soothing cream and brow gel to secure your new brow shape. 

Bespoke Brows
Corinda
A pair of perfectly proportioned brows can frame your face, enhance your features, and make pulling together a makeup look a piece of cake, which is why a visit to Bespoke Brows is a truly life-changing experience. Born out of a passion for inspiring confidence, this vegan-friendly and cruelty-free beauty hub is all about bestowing beautiful, bespoke brows onto each and every client who walks through their doors. Whether you're chasing a total transformation or simply need help taming a few unruly strands, owner Jem has a service to fit the bill. From classic brow sculpts to laminations, henna tints and YumiI lash lifts, no task is too big or small at this Hamptons-style beauty boutique. Using the tried and tested Golden Ratio technique, Jem will determine your correct proportion for eyebrow mapping, resulting in meticulously shaped, harmonious, and aesthetically pleasing brows every time.
The Brow and Skin Studio
Ashgrove
For beautifully timeless brows no matter your age, head to the pamper pros who know one size doesn't fit all. You won't find a cookie cutter approach at The Brow and Skin Studio – instead Sherril and her beautiful team will create a brow that compliments your individual features and accentuates but never dominates your face. A thorough consultation will ensure your expectations are understood, and The Brow and Skin Studio experts will take the time to achieve the outcome of your dreams. With the classic brow coming back into style, The Brow and Skin Studio will tailor a look that will help you celebrate and embrace the real you!
Niki P Brows
Gumdale
Always striking the perfect balance, this brow specialist knows the most beautiful brows are a collaboration between your desired look and her knowledge and skill. Using the digital machine to maintain the integrity of your skin, treat your brows to cosmetic tattooing in either the ombre, combination, or nano stroke style, brow sculpting, tinting, and lamination. Even the dudes can experience the brow love! Your pigment colour will be tailored to you, and your brows will be carefully mapped out no matter how long it takes, to ensure you're receiving your dream look. Niki takes pride in continuously educating herself so you can rest assured knowing you're in the hands of the best artist with the best service possible!
Skin Management Club
Eatons Hill
For the fluffiest and most flattering of brows, look no further than a visit to the specialists at Skin Management Club. Bright, bubbly and committed to their clients, the team at this beauty haven offer a wide selection of eyebrow services, each performed with exceptional artistry and guaranteed to frame your face to perfection. All about enhancing your natural features, they take pride in making their clients feel confident in their own skin and understand the importance of listening to each individual customer's vision. From henna tints and laminations to skillful sculpting sessions, you'll be sure to walk out with the brows of your dreams!
Finish Beauty
Paddington
Achieving beautiful, natural, fluffy brows is an absolute breeze at this Paddington beauty hub. With meticulous attention to detail and a passion for perfection, the team here is all about enhancing your natural shape and framing your face with their assortment of brow treatments and services. During their thorough client consultations, their brow experts will listen to your concerns and goals before working their magic to bring your dream arches to life. Don't underestimate the power of a good brow – transform your face with strong arches, and let your features do the talking.
Elysian Cartel
Graceville
At the forefront of beauty trends is this renowned salon, where statement brows are a treatment they have perfected down to a fine art. Owner and master stylist of Elysian Cartel, Mariana, was trained by the Kardashian's very own brow stylist, meaning your brows are literally silver-screen approved. These days, the salon is sporting a tribe of vibrant and talented brow experts that can cover all your brow lamination, sculpting, and maintenance needs. In fact, their work is so popular that they're opening a second location – keep an eye out for the Greenslopes salon opening soon!
Hawthorne Beauty Room
Hawthorne
Need a reshape, fresh tint, or tidy up of your arches? Whether it's a minor update or something more drastic, Hawthorne Beauty Room is here and ready to make it happen. Whether you want the most natural-looking shape or a striking brow, they can do it all, thanks to their range of brow options including brow sculpting, shaping, and tinting using a variety of shades. Rest assured, you'll always end up with an arch that suits your features and skin tone. Using the most effective and gentle wax, you'll be treated to a dreamy brow massage during treatment, and before leaving, your therapist will apply mineral makeup to conceal any redness, so you're ready to get on with your day.
Preah Love
Bulimba
You know those gorgeously natural and oh-so-fluffy brows that had your jaw dropping on Oxford Street? We bet they were handcrafted by the brilliant team at Preah Love Cosmetic Tattoo. With a featherlight touch that will have you questioning whether you've just been cosmetic tattooed or are beautifully born this way, their combination brows and brow lamination are all about restoring confidence and giving you a healthy dose of self-love. No two faces are the same, and every artist here is focused on enhancing your natural beauty with a shape tailored to you. Be warned: an appointment here is hot property, so book soon and in the meantime, take a scroll through the stunning before and afters all over their 'gram!
By Roxy
Windsor
Sitting pretty in the beautiful Colwill Place, By Roxy is the home of dreamy, brushed-up brows. With a high calibre clientele who followed her from James Street, your brow goals will come to life under the skilful hand of Roxy and her brilliant team. From fluffy microblading to perfectly hued tints, and striking lamination that never makes you feel like you're rocking echidna brows, their gorgeous Instagram portfolio speaks for itself. Heads up: we're not the only ones who are in love with the brows by Roxy, so make sure you book in advance to secure a highly sought-after spot!
Simply Laser
Brisbane City
For beautifully groomed brows by world-class experts, look no further than this CBD clinic. Even the sparsest of arches will take full form under their skilful hands, with their range of stellar services offering lush brows with the easiest maintenance. Keep it simple with a sculpt, wax and tint, or take it up a notch with red carpet-approved brows through their unique seven-step High Definition Brows, the new Quintessential Brows treatment or brow lamination. If you're still wearing the repercussions of overplucking, their Regrowth Programme has your name all over it! Kick back in the recliner chairs or heated beds as the team treat you to precision and perfection, before sending you home with the best advice to ensure the brow-love lasts.
THink Aesthetics
The Gap
2022 is all about beautiful brows that compliment your features, so be sure to book in with an experienced brow technician to ensure your arches are designed to perfection. At THink Aesthetics, their passionate, experienced, and highly trained staff are dedicated to creating a brow shape that's specific to you – not just a 'one size fits all' mantra. Taking time and care to carefully map out and discuss your desired brow shape with you, Think Aesthetics will help you love your brows day in, day out. From waxing, sculpting, tinting, and henna, creating your dream shape is possible in the right hands.
Cosmetic Tattoo By Jessika
Paddington
Is 2022 the year you prioritise the way you look and feel? Nothing puts a pep in your step like a fresh beauty treatment that packs major results, and brows are some of our most stand-out features, when attended to by the right hands. So, let 2019 Australian Cosmetic Tattooist of the year, CT by Jessika, can take care of your arches. Whether that's through microblading, ombré, powder or combination, you'll love the way your brows take shape. With over ten years working alongside industry leaders and transforming celebrities' arches, Jessika will customise the perfect brows for you, all from her beautiful new location in Paddington. Redefine and enhance your face shape and love the way you look!
https://www.instagram.com/reel/CSOSd3Snzyh/?utm_medium=copy_link