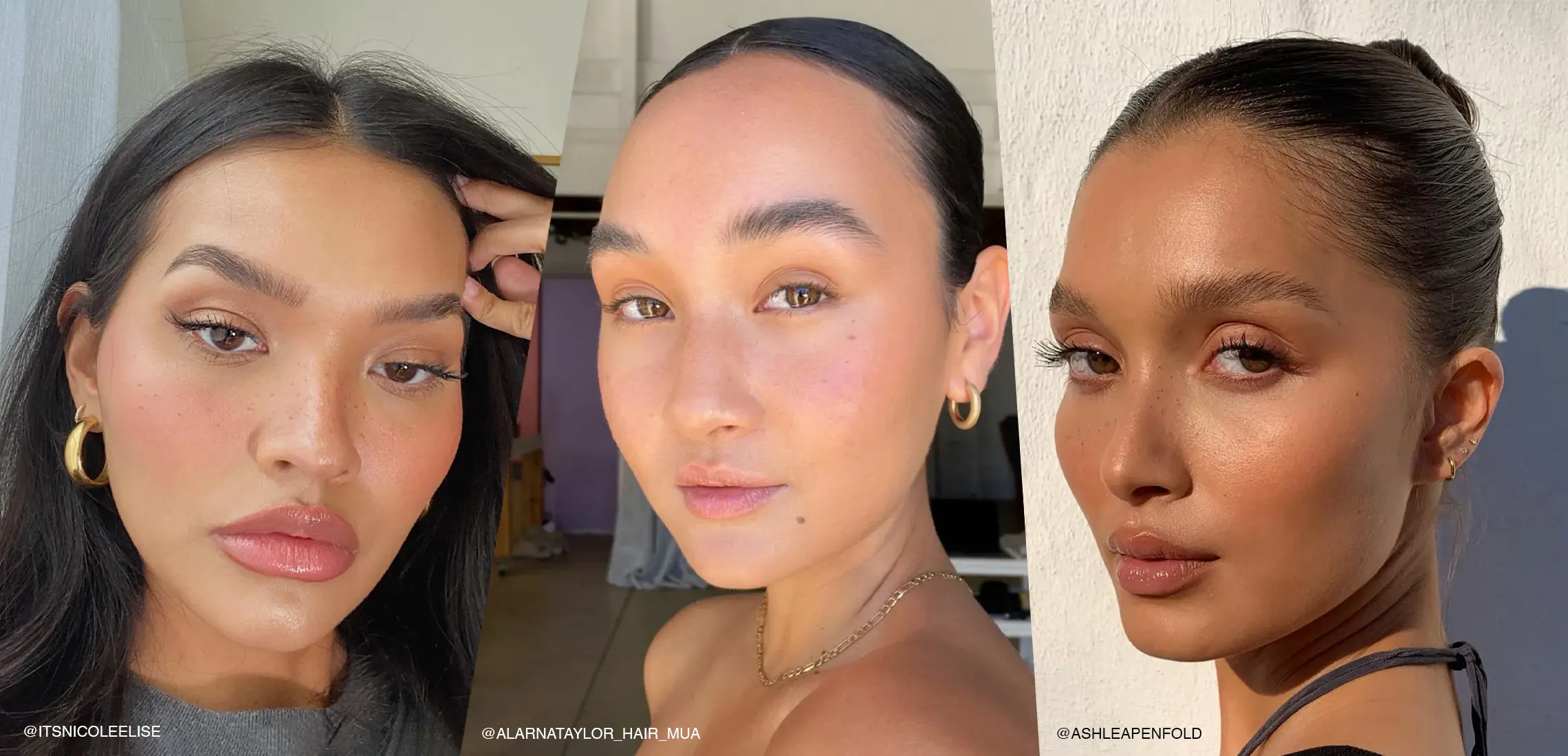 Hold The Phone, TikTok's Clean Girl Beauty Routine Is Calling
A beauty refresh awaits
By Alexandra Harris | 6th April 2022

It's no secret that fresh, glowing skin is having a major moment in the spotlight, and TikTok's latest beauty obsession has us feeling extra fresh.

All about highlighting your natural features and refining the skin, clean girl makeup focuses on using limited products to create an effortless glow.

And the best part? It's easier to master than you think. Take your cues from the pros and embrace minimal makeup and a fresh face in 2022. From dewy sun protection to brushed up brows, we've got everything you'll need to master this year's clean girl makeup look – your new go-to beauty routine.
Skin prep is key
Replenish, restore, and reinvigorate your skin by banishing dirt, oil, and residue makeup build up – clean girl beauty is, after all, about flaunting clean skin! To prep your canvas for this look, a regular skincare routine is crucial. We love the Minenssey Skin Revival Mask Set – a 21-day skin system – that'll ensure you achieve professional results at home.
SPF, always
Using SPF daily is the most important step to any beauty routine – no question! Whether you're stepping off the beach or spending the day in the office, a good SPF ensures your skin stays protected and hydrated all day. Try the Aspect Sun Envirostat Face SPF 50+ for a lightweight sunscreen that will keep your complexion even and provide a nourished, hydrated base to build on.
Ace the base
This is the next step to achieving lit-from-within skin. This clean look is all about letting your natural skin shine through, so begin by prepping your face with the Kevin Aucoin Glass Glow Face Primer, which is perfect for locking in that all-day glow. Pro tip: try dabbing a little extra on the high points of your cheekbones and down the centre of the nose for a luminous, sun-kissed contour.
Next, using the RMS Beauty Un-Cover Up, lightly touching up any areas in need of a little extra coverage. Designed to adapt to your skin's natural tones and texture, this perfect little pot will enhance and brighten to create the ideal your-skin-but-better finish. We recommend applying with your fingers, gently pressing the product into the skin for a more natural finish.
Flushed cheeks
Blush is essential to achieving a healthy radiance with makeup, leaving your complexion looking refreshed, rosy, and slightly sun-kissed. Cream products will be your best friend for this look, and we love the Charlotte Tilbury Beauty Light Glow Wands for brightening and adding flush to the cheeks. Be sure to blend angling slightly upward toward the temples for a soft contour. Pro tip: swiping a little blush over the bridge of the nose will help to create that perfect faux after-sun glow.
Creamy contour
It's time to define those cheekbones! Using a cream product for this step is perfect for imitating the skin's texture – super important when trying to achieve natural angularity and depth underneath the cheekbones. Add dimension by blending this product along the high points of your face including under the cheekbones, along the hair and jawlines, and down each side of the nose. Swipe little across your eyelids for a bronzey finish. We love Westman Atelier's Face Trace Contour Stick, the perfect swipe-and-go product to keep in your handbag at all times.
Master the arches
Shaping your brows is a key step in mastering this makeup look, and with soap brows all the rage right now, taming your caterpillars is easier than ever achieve. All you'll need to do is follow the natural arch of your brows, brushing upwards with a soap-dipped spoolie. Leave for a minute to lock in place, and voila! We love the Mecca Max Brow Guru Super Soap – or if you're in a pinch, head to your local supermarket and pick up the Pears Glycerine Soap Bar for an easy fix. No salon lamination required!
Your lips, but better
Keep the glow glowing by adding in a quick swipe of gloss to your pucker. For this look, you can't go past the Dior Lip Glow Oil. This gloss will not only nourish, but bring out the natural hue of the lips for the perfect pout.
Tame the mane
Dirty hair, don't care! This look is all about slicked back styles. Apply the Olaplex No. 3 Hair Perfector to slightly damp hair and fix with a claw clip for an easy 'do that will repair and restore those locks while you go about your day. Add a mist like Diptique's Do Son Hair Mist, enriched with camellia oil to restore and hydrate any stressed-out strands.
Take a whiff
No beauty look is complete without a fragrance, and to match this clean makeup look, we love Maison Margiela's Bubble Bath – a scent which is sure to leave you smelling eau so fresh..
Love this look? Add some fine jewellery to elevate your minimalist ensemble. Discover YCL's beautiful new collection here.