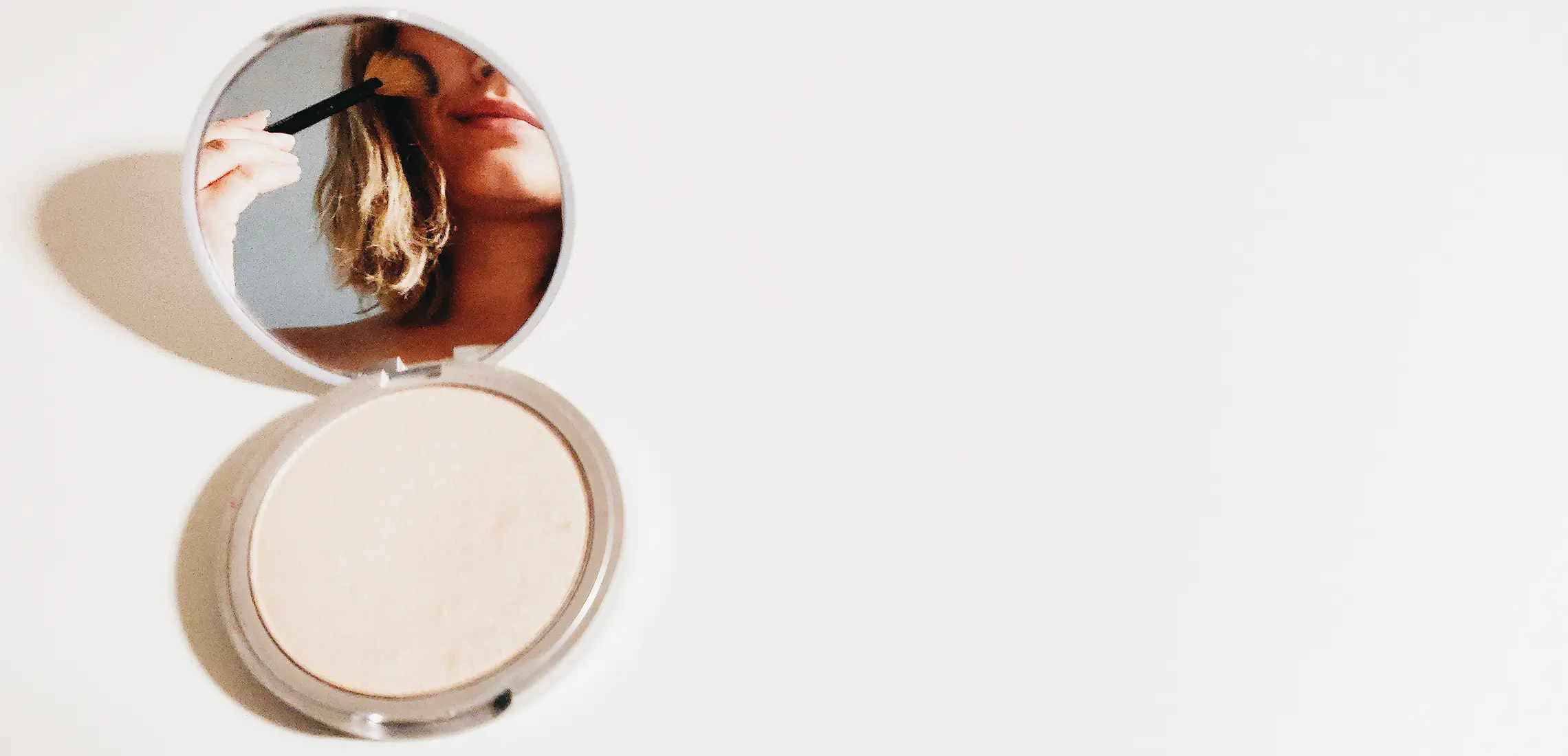 We've Been Hacked! 9 Viral TikTok Beauty Tricks You Need To Try
Level up your glam game!
By Rosie Dann | 28th June 2021

Breaking news, this just in!

In a shocking turn of events, we can confirm that TikTok is not just a platform for teenagers to dance along to pop hits. Whether you love it, hate it, or don't quite get it, there's no denying the insane power and influence that this app holds. Okay, we admit, we might be slightly addicted.

Over the past year and a half, this wildly popular platform has revolutionised the social media landscape and has proven to be a somewhat educational treasure trove for lifehacks of all varieties. From savvy cleaning tricks to technology tips to viral food recipes (feta pasta, anyone?), there is truly a little slice of TikTok magic for everyone.

One little corner of the app that has caught our attention recently is the curious and captivating world of 'BeautyTok'. From performing your foundation routine in reverse to putting socks in your hair, and soap on your eyebrows, there are truly no bounds to the weird, wacky and wonderfully glam tricks that TikTok beauty gurus have introduced.

To help you unleash your inner DIY beauty queen, we've ventured into the deep dark depths of BeautyTok to round up the best, most life-changing makeup and hair hacks that actually work. Don't believe us? See for yourself!
Soap Brows
This one gives beauty on a budget a whole new meaning! It's no secret that minimalistic makeup is having a major moment in the limelight right now. As arguably one of the most important steps in any woman's makeup routine, eyebrows are no exception to the natural beauty trend.
With soft and subtle glam techniques reigning supreme, gone are the days of harsh, overdrawn permanent-marker-esque brows (phew!).  Instead, we're trading in exaggerated angled arches for a natural, fluffier look.
As the name suggests, this budget-friendly trend involves swapping out your trusty brow gel for a humble bar of soap. Perfect for taming unruly hairs or adding fullness to sparse brows, all you need to do is run a soap-coated spoolie through your arches and brush those hairs upwards. Aside from being pretty much foolproof (trust me, I've tried it myself), this handy trick separates each strand to create height, shape, and volume, and locks those bad boys in place for hours on end.
Overnight Sock Curls
Want luscious Disney princess curls minus the harmful heat damage? Well, you're in luck! If, like me, your curling wand styling skills are questionable at best, this handy little trick might just become your new glam routine go-to.
TikTok users far and wide have proved that the key to creating flawless, voluminous beach waves is a pair of socks. Yep, you heard right: simply section your hair and wrap each piece around a sock before securing your locks at each end. The more sections you do, the tighter the curls. Then, snuggle up and sleep on them overnight (okay, so it's a little uncomfortable but beauty is pain amirite) and voila! Unravel those tendrils and brush them out in the morning for bouncy curls that will stay in place all day!
DIY Nose Job
Ah, the mysterious and magical art of nose contouring. How do those beauty wizards do it? While it may seem tricky, intimidating, and near impossible for makeup novices to achieve, fear not! Once again, the genius makeup experts on TikTok have come up with a foolproof method to help you snatch that snout! The key with this one is to take a deep breath and trust the process.
For the perfect pixie nose, this savvy user works in reverse. To begin, start by packing on a cream contour shade all over your nose. Yep, if you look a little crazy, you're doing it right. Then, using a lighter highlight shade (your undereye concealer should work a treat), draw a thin straight line down the centre and bring in each side. Blend, blend, and blend some more and there you have it! Sleek, seamless nose contour, no dramas.
Foundation In Reverse
I know my fellow oily skin sisters out there will understand the pain of getting to the end of the day and checking your complexion, only to realise that your T-zone is glistening like a glazed donut in all the wrong ways. If you regularly find your foundation slipping and sliding all over the place by about 3pm, this trick might just change your life.
This insanely popular TikTok trend might go against everything you know, but bear with us, because the general internet consensus is that it's the real deal. In short, it involves applying all the regular steps of your base, just in a very peculiar order. It goes a little like this: as usual, prep your skin with a hydrating moisturiser. Then, apply a coat of translucent powder, followed by a generous spritz of setting spray. Then grab your primer and apply it over the top, and, finally, blend in your foundation of choice.
Thousands of users across the globe are claiming that this strange technique creates a crease-proof, airbrushed finish that stands the test of time and looks flawless. No cake face in sight!
Face Shaving
Peach fuzz? We don't know her! If BeautyTok has taught us one thing, it's that the key to a flawlessly smooth foundation base is, unsurprisingly, flawlessly smooth skin. Here to help us all achieve the airbrushed finish of our dreams, female face shaving has well and truly changed the game. Don't worry, you won't need to steal your boyfriend's electric razor anytime soon. Instead, users have been using fine, singular blades to trim down that pesky peach fuzz. Plus, it also exfoliates and gets rid of dry, flaky skin. Patchiness begone!
Enhance Your Face Shape with Blush
We hate to break it to you, but you've probably been applying blush wrong your entire life. But don't fret! This TikTok trend is here to save face (quite literally).
I don't know about you, but I've always thought the way to apply blush was to smile and swirl it on the apples of my cheeks. However, users have discovered that placing blush on other areas of your complexion can change your entire face structure, according to your needs! It might take a lil' trial and error to determine which technique works for you, but the results really do speak for themselves. For a lifted, elongated look, apply blush to the high points of your cheekbones, where you'd usually place your highlight. For a fuller face, slightly below your apples will do the trick, or a subtle splattering of colour across your nose and inner cheeks will create a healthy, sun-kissed flush. The options are endless!
Tan-touring
If you want permanently chiselled cheekbones, a snatched nose, full lips, and skin so glowy you'll look like you've just returned from a tropical vaycay, keep on reading.
Referred to as 'tan-touring', beauty TikTok geniuses have been doing God's work and have discovered that you can use self-tanner to contour and bronze your face. Yep, 'no-makeup makeup' just got a whole lot easier.
This neat technique is quick, easy, and surprisingly effective, and will last a whole lot longer than your typical powder bronzer. Using a fluffy kabuki-style makeup brush, simply buff in your go-to tan of choice to all the places you'd regularly contour (think cheekbones, forehead, jawline, and nose). Then, leave to develop overnight and wake up as a natural bronzed goddess with waterproof contour!
Lipstick Lovin'
Hands up, who else is a sucker for a good ol' multitasking beauty product? We all know that a great lippy is the key to a perfect pout. But did you know that lipstick can also provide the perfect rosy glow to your cheeks and vibrant pop of colour on your eyelids?
Using a stick or liquid lipstick, users have been mastering the art of using their lip colours as blush or eyeshadow. This not only creates a colourfully cohesive look but is super easy to recreate! Neutral, pink shades are an obvious effective choice, but reds, oranges and even purples can be used to spice up your glam and add a vibrant flush of colour.
Make The Most Of Nearly Empty Products
Want to make sure you get every last drop of that over-priced hand cream? If you're tired of squeezing to no avail or wasting the end of your beauty products, make sure you try out this handy little trick. Simply snip open your tube with a pair of scissors and scoop out the remaining with a Q-tip to ensure maximum bang for your buck and minimal waste! Win-win!