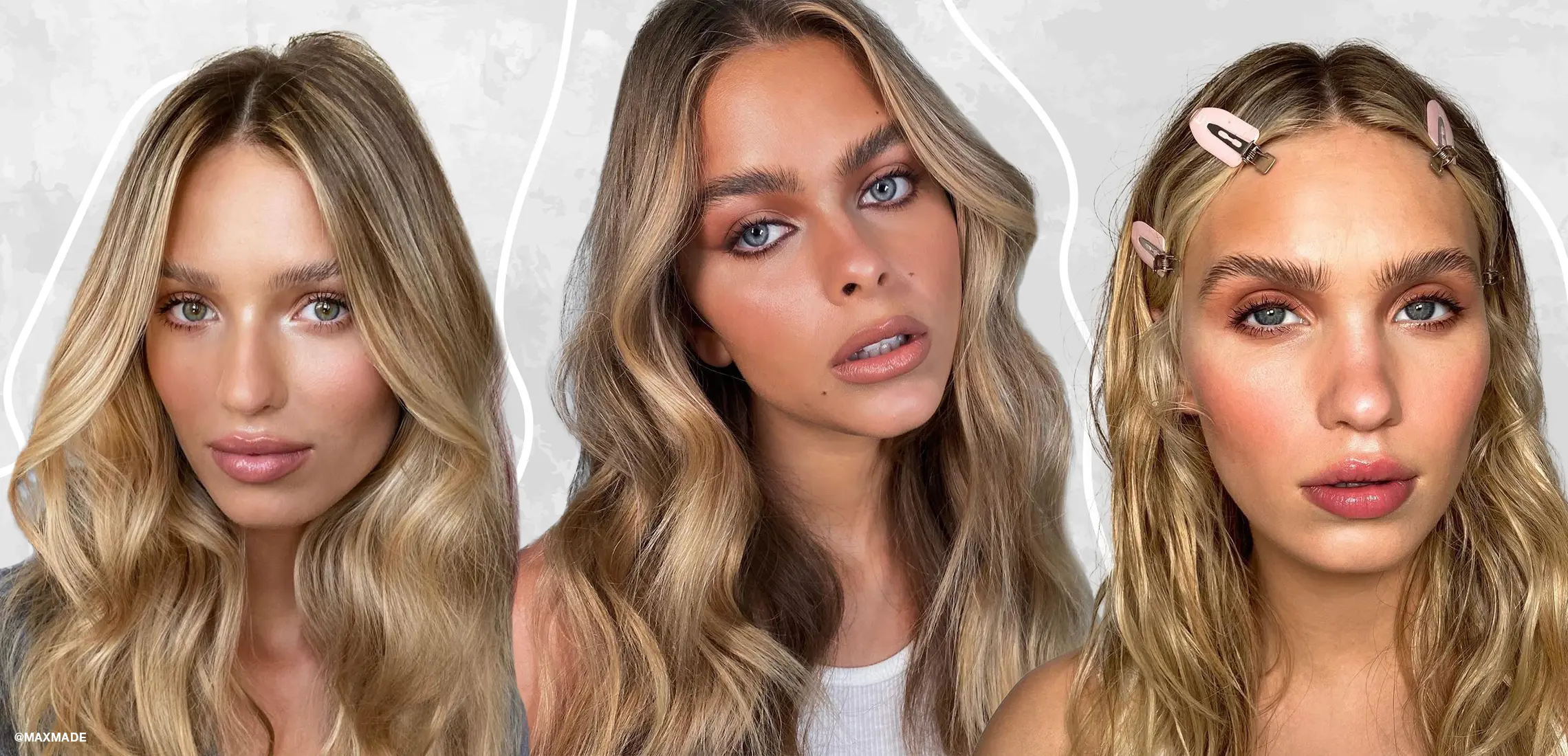 How-To: Celeb Makeup Artist Max May Reveals His Most Requested Look
Your skin, but better
By Astrid Taemets | 30th November 2021

After what feels like an eternity of hiding behind face masks, we've finally been given the green light to step out and socialise once again, and the timing couldn't be better.

The summer season is synonymous with going out, having fun, and looking fresh. It's about showing some skin in floaty dresses, celebrating the good times with cocktails at midday, attending sunset soirees, and then doing it all over again. Wash, rinse, repeat.

And with your calendars inevitably filling up with endless end-of-year events, mastering the art of looking like a well-slept, fresh-faced human is a skill we're all eager to master.

Well, ask and you shall receive! This season, put your best face forward with thanks to the makeup master himself, Max May, who we're thrilled shared his personal beauty tips and tricks on how to nail this season's most coveted, glossy, lit-from-within beauty look. 'Tis the season to glow, after all.
Hi, Max! What is summer's most coveted makeup trend?
It's all about lit-from-within, bright skin. It exclaims summer, and makes us feel like we're perpetually on holidays. Illuminating your skin rather than working with heavier, more matte products, instantly awakens your complexion, livens your features, and works across all ages and skin tones. Glossy, glowing skin is the epitome of youth, and we're all keen to drink from that fountain!
We've got a couple of end-of-year events coming up that we want to look our best for, eek! Is it easy to recreate this look at home?
So easy. People often get confused between glossy and luminous skin, and make the mistake in thinking it's about adding lots of highlighter – wrong! Glossy skin is all about good skincare and preparation. With the right skincare, you have the ideal base to create the ideal summer glow. Plump, hydrated, happy skin provides a smooth canvas, making the application of foundation (and all other makeup) seamless.
Ok, spill your secrets Max! We want the step-by-step tutorial on how master lit-from-within skin…
Whenever possible, I like to start by giving the skin a light exfoliation. You always want your skin to be as smooth, clean, and fresh as possible. The only way to do that is to remove dead skin cells, which helps your makeup apply more seamlessly and last longer.
I love massaging a lightweight serum or oil such as the Nude by Nature Renewal Daily Facial Oil to instantly hydrate and plump the skin, which also helps foundation apply and sit more evenly.
Next, I apply an illuminating primer like the Nude by Nature Perfecting Primer Hydrate and Illuminate to brighten the skin itself, rather than the layer of foundation that goes on next. You'll need a lightweight foundation for this look – anything more is too matte and heavy on the skin, and won't allow the facial oil and illuminating primer to shine through. Plus, you can control the coverage more easily to allow freckles and beauty marks to still shine through, and build it up in areas that need it. I love using the Nude by Nature Sheer Glow BB Cream. It has a super glossy finish, which combined with the skincare recipe makes skin look like glass.
Next, take a creamy concealer and apply it under the eyes to brighten, add dimension, and colour correct. Then use a balm bronzer like the Nudestix Nudies Matte All Over Face Color Blush an Bronze on the high points of the face (cheek bones, along the hairline, down each side of your nose, across the tip, and along your jawline) to add some shape back into your face, and blend, baby, blend! Always in an upwards or stippling motion. Cream and balm bronzers add to that your-skin-but-better look over a powder matte bronzer, which can appear cakey and suffocate the skin. I'll set the cream using a matte bronzer to give it longevity, but it's important to use it sparingly. My current pick is the Nude by Nature Pressed Matte Mineral Bronzer as it's feather-light and features light reflecting particles.
Now that we've got our glossy, glowing complexion perfected, what's next?
For the eyes, focus on making them look bigger and brighter. Create a base with a creamy eyeshadow stick like the Laura Mercier Caviar Stick Eye Colour in a neutral or tone that acts like a primer for your eyelids. Next, with your choice of eyeshadow (muted browns and bronzers work best), concentrate on applying the shadow all over. Then, take a fluffy blending brush and blend the colour right through. Use an eye pencil in a chocolate tone as close to your lashes as possible (top and bottom). Don't worry about being too particular, as you're going to smoke it out. Use a fine brush to smudge the liner out, keeping it tight to the lashes so they look thick, but not over made-up.
Thicken your lashes with a tubing mascara like the Kevin Aucoin Curling Mascara – it's the best!
For your lips, we want to keep the look undone and undefined, and lip gloss tints are perfect for doing this! Apply a small amount to the middle of your lower lip and pat the stain in with your finger for a slightly smudgy effect. For a real hot girl summer glow finish, add a clear gloss.
Bring out that youthful flush with a touch of berry-plum toned blush on your cheeks in cream form like the M.A.C Cosmetics Pro Face Blush Palette. Use your fingers to build the intensity while seamlessly blending it into the skin for a more natural finish.
Lastly, brush your brows up and set them in place with Set Soap for a fluffy sculpted brow shape. Fill in any gaps and enhance the shape with the Nude by Nature Natural Definition Brow Palette, then use the highlighter from the palette under the brow line to make the brow bones pop.
Set your makeup look with a brightening and setting powder like the By Terry Hyaluronic Hydra Powder, add some shimmering body oil like this one from Tom Ford to your décolletage and, voila! A flawless, lit-from-within summer beauty look that can be flaunted to any occasion this party season!
What's your best summer beauty hack to finish off any look this season?
Blush, blush, blush! Blush is the unsung hero of the makeup world. It will bring out your natural skin tone, eye colour, and give you this fresh, young, innocent, flushed look about you. Apply it on your cheeks, lightly across your nose, and on the high points of your forehead. Rosy features are a big trend – don't be afraid to introduce it to your makeup arsenal!
Love this glow-up? Check out how to nail your blush-work here.