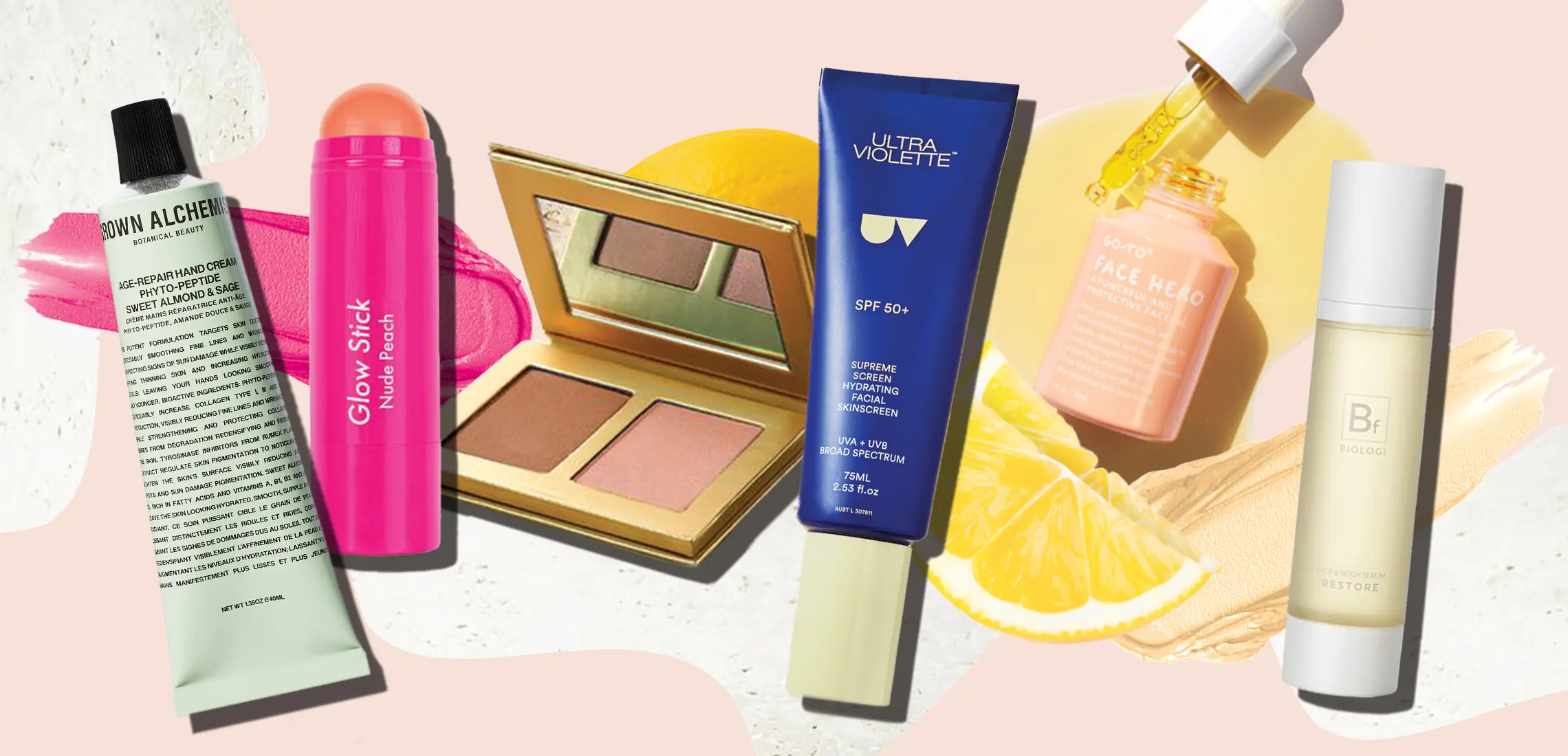 Look And Feel Good With These Cruelty-Free Aussie Beauty Brands
Leaping bunny approved!
By Paige Van Lunteren | 16th June 2021

Do you know whether the beauty products you love to use are cruelty-free?

Though it's easy to pick up the free-range eggs at the store, it's often harder to find information in our skincare and makeup products, and sadly, the reality is that many of our cult faves are still being tested on animals.

If you're like us and love your beauty products, but love your furry friends even more, you'll be pleased to know we've put together a very comprehensive list of cruelty-free beauty brands, which won't have you compromising on quality.

Each of these brands sport a 'leaping bunny' logo on their packaging and have been investigated down every step of their supply chain. Even better, they're made right here in Australia. Now, you simply have no excuse not to choose cruelty-free makeup, hair products, and skincare!

Luxury without the guilt is the slogan behind opulent skincare and makeup brand, Adorn Cosmetics.

Australian cosmeceutical skincare company, Aesthetics Rx, utilises revolutionary ingredients based on plant cell culture in their hand-crafted formulations.
AHRIA Organics
Quality, not quantity, is the philosophy behind the small but mighty range of AHRIA Organics products made for mums and bubs.
Alexami Cosmetics
Blending botanical ingredients and minerals together, Alexami Cosmetics are as safe for you on the inside as they are on the outside.
AndSkin hand and body wash products will look just as good sitting in your bathroom, as they will feel on your skin.
Get your facial in a bottle, with Annod Natural Skincare's large range of natural skincare products.
For natural hair care products to address a variety of hair types and concerns, look no further than Apteka.
By manufacturing their products in-house, Ausganica hair and skincare products ensure strict compliance to organic and cruelty-free standards.
One of Australia's most loved cosmetic brands, Australis has been selling makeup to Australians for the past 33 years.
Babe Australia is a magical and sensory range of body scrubs, hand lotions, and candles.
For the bubs, BadyU is a leading Australian brand known for its goat milk body wash, moisturiser, shampoo and soap.
Uplifting the skin and your emotions too, Beauty By Nature is an all-natural collection of aromatherapy skincare.
Truly one-of-a-kind skincare and self-care products made by Bee One Of A Kind are a reminder to be kind to yourself, others, and of course, our furry friends.
Without compromising on quality, Beysis have produced a non-toxic, salon-quality nail polish in a variety of colours.
Designed to naturally balance hormones, Be Genki is a botanical therapy-based skincare range.
Biologi is a full range of skin serums, made to target different skin concerns.
Optimising fresh farm-grown botanicals, Botanical Blessings are an elegantly formulated collection of nourishing skincare products.
Blossom is a one-stop-shop for chemical-free, cruelty-free, organic hair treatments and skincare products.
Bohemian Skin's gentle moisturisers, cleansers, toners, and masks are suitable before, during, and after pregnancy.
For face, hair, and hand and nail oil, Botanical Signature has you covered.
Botanical Trader will indulge your senses with their botanical face and body formulas.
Brooklan Tree's selection of skincare products is made from the finest and purest, ethically sourced botanical ingredients.
For naked skincare, stripped of all the harsh chemicals, Butt Naked is our guy.
Welcome a piece of Byron Bay into your home with their beautifully curated assortment of skincare and haircare products.
Based on the Gold Coast, Cedar and Stone have a luxurious range of skincare products to address a variety of skin concerns.
Wipe your slate clean with plant-based, natural, and cruelty-free products from Clean Slate Skincare.
The skincare and makeup products from Clemence Organics are inspired by the founder's experience as a naturopath.
Cherry Brown specialises in lipsticks and lip products, but she's also got a selection of other mineral-based makeup.
Clever Curl is a line of hair products carefully formulated to enhance and embrace naturally curly hair.
Inspired by coconut oil and the ability to promote radiant skin and healthy hair, Coconut Tree Products offer an array of hair, face, and body goods.
We'll take one in every colour of Colour by TBN's lipstick and nail polish staples.
Coma Organics stocks a range of skincare, remedies, and wellbeing products to nourish the mind, body, skin, and soul.
Advanced organic cosmeceuticals company, Cosima Skincare stocks an extensive range of pure, clean, organic, professional-grade, skincare.
In 2018, Covergirl became the largest Australian makeup brand to earn the Leaping Bunny Certification by Cruelty-Free International.
No matter the style or concern, Davroe has a hair treatment or styling product to help us out.
Make the move to natural, everyday personal care with Dianne Caine Australia's collection of skincare, body, and hair care products.
From soaps to makeup and haircare, every product under the sun can be found at Dindi Naturals.
Designer Brands is home to an extensive range of makeup products, priding themselves on quality products at an affordable price.
From curly to straight, frizzy to oily, De Lorenzo has a product for every hair type and concern.
We wouldn't expect anything less than natural, kind, and delicious skincare products from Delicious Skin.
As you guessed, Deluxe Shea Butter is a small but mighty range of products containing shea butter.
Made especially for sensitive skin, Devine Oils are an artisan manufacturer of a wide range of skincare.
So gentle are the mineral makeup products at Dusk By Adele, they can be worn from dusk til' dawn.
Most known for their natural deodorants and body sprays for both men and women, Earth's Purities also have a small range of natural essential oils.
The small collection of Earth Skinfoods is simply made up of one cleanser, toner, exfoliant, moisturiser, and a mask.
Made in Byron Bay, Eco Minerals is a boutique selection of eco-friendly makeup.
The future of flawless hair is closer than ever with Eco Style Project's selective range of hair styling products.
Most known for their eco-friendly self-tan formulas, Eco-Tan is also a supplier of skincare and body products.
Designed to revitalise skin and diminish visible signs of ageing, Ella Searle's one product, Youth Infusion Active Facial Oil, will do the trick.
Ere Perez fosters a less-is-more approach when it comes to their boutique skincare and makeup creations.
Utilising natural ingredients and innovative technology, Enbacci has created a luxury Australian skincare range.
Made from naturally preserved ingredients, EVOHE, has a large variety of skincare and makeup products for every skin type.
EverEscents is a collection of organic, high-performance hair care products including shampoos, conditioners, treatments, and styling products for every hair type.
Eye of Horus is a luxurious range of quality and gentle makeup products, thoughtfully designed by locals in Byron Bay.
Introduce natural, cruelty-free skincare to your little one early, with First Light Organics' skincare for babies.
Frankie Cosmetics
From foundation to lipstick, Frankie Cosmetics is a dreamy collection of natural makeup products.
For natural deodorants, look no further than Fresca Natural.
Formulated by a qualified makeup artist, there's no doubt Gemma Vendetta's vegan and natural cosmetics offer high performance.
True to the name, Go-To has established itself as a reputable brand for no-nonsense beauty products.
A staple on the Australian beauty scene, Grown Alchemist provides skincare, body care, and hair care.
Happy Skincare's collection of skincare, hair care, and deodorant products are guaranteed to keep your sensitive skin happy.
Hanami Cosmetics is a colourful range of nail polishes and makeup products, from foundation to lipstick.
For the men, look no further than HESO's range of natural deodorants, skincare and hair products.
Say hello to good hair days every day, with Hello Hair's collection of nourishing hair products.
Presented in a variety of flavours and containers, we've found a raw, vegan lip balm for everyone at HURRAW!
Water, hyaluronic acid, and methanol have been combined to make Hydromerse's one product, ideal for use aesthetic and cosmetic treatments.
Pure, natural, and flawless are the values underpinning Inika's boutique curation of skin and makeup products.
Real beauty for sensitive skin can be found in Innoxa's gentle range of skincare, cosmetics, toiletries and fragrances.
Ime Natural Perfume
Find the perfect natural perfume to suit your personality at Ime Natural Perfume.
Jane Iredale has established itself as a leading Australian brand for mineral makeup.
The Jojoba Company has created a range of skincare products, utilising the benefits of homegrown Jojoba Oil.
Joli Natural Skin Care
Joli Natural Skin Care's hand-crafted range of products can be customised to individual customer allergies and sensitive skin.
The collection of natural and organic skin, hair and make-up products at JOI Pure Natural Skincare will have your skin jumping for joy.
Made locally on the Gold Coast, Julisa is a magical palette of plant-based, vegan nail polish.
Kelapa Australia
Kelapa Australia is a small and simple range of premium, boutique skincare, made from Australian Native Extracts in Melbourne.
Klara Cosmetics' high performance and 100% pigmented products are proof that cruelty-free, vegan doesn't mean compromising on quality.
Founded on the healing properties of Certified Organic Rosehip Oil, Kosmea is an innovative assortment of skincare products.
Laviol Organic specialise in the dermatological-based formulation of probiotic skincare.
A family-owned and operated company, Lariese Organics range of ethical, natural and organic personal care products are made for the whole family.
Constantly evolving skincare range, LAMAV, is committed to delivering a luxurious and results-based skincare experience.
Achieve maximum results with La Maxime's natural and organic selection of skincare products.
Family-owned and operated from the Sunshine Coast, Leveque offers skincare ranges for both men and women.
A bouquet of fragrances, aromatherapy, and skincare options can be found at LeRêve.
LHAMI is a thoughtful collection of face and body products, with specific ranges for men, teens, women and babies.
Little Innoscents is a colourful, organic collection of skincare products, for the smallest member of the family.
Handcrafted by a mother-daughter duo in a Mornington Peninsula studio, Loving Botanica is a botanical variety of natural apothecary perfumes and lip balms.
Despite beginning in England, Lush quickly made its way down under and has grown to become one of Australia's most-loved, cruelty-free cosmetics companies, ever since.
We're totally lusting after the high-performance makeup, skin, and body products at Lust Mineral Cosmetics.
Made from natural and organic ingredients, Macabalm is a multipurpose, moisturising balm that can be used anywhere on the face.
Utilising the beneficial properties of their Western Australian-grown hemp harvest, the Margaret River Hemp Co are manufacturers of mens and women's skincare and body products.
In addition to making up a vegan and cruelty-free makeup line, MakeUp Cosmetics also has a selection of Halal products.
Megan Potter prides itself on offering pure and simple hair, skincare, and mineral makeup collections that are 100% natural and organic.
Clearly defining the meaning of natural and organic, Miessence skin, body, hair, and cosmetics products are made from pure, potent, and fresh ingredients.
Miss Frankie is the cutest collection of nail polishes. Take a peek at their array of shades, and get set to sport a pop of colour like One Night Stand, Crushing On You or Have We Met?.
ModelCo is one of Australia's better-known beauty brands, with face, lips, brow, and eye products, as well as a self-tan line.
Known for its shorter name, MOMMA, the Ministry of Mineral Makeup Australia's selection of makeup products is underpinned by a toxin-free, natural and affordable philosophy.
Mokosh is a boutique range of natural and organic face, body, and hand products, with a specialised range for pregnant women and babies.
Morris Motley offers the best in grooming, skincare and fragrances for men.
Care for the planet, without compromising on quality, with Natures Organics' range of haircare, shower, and kids products.
We can end the quest for natural hair care, deodorant, skincare, and baby products now that we've found Nature's Quest.
Formulated by a qualified cosmetic chemist, Natural Wonders has an extensive range of face and body products.
Nail'd at Tiffany's is nailing it in the space of clean, ethical nail polishes, presented in a variety of colours.
One of Australia's iconic, natural beauty brands, Natio is an ever-growing line of men's and women's skincare, makeup, body, and fragrance products.
While lipstick is their specialty, NEEK Skin Organics also has a small range of all-natural, all-vegan skincare products.
Utilising organic apothecary, Noosa Basics brings us skincare, body care, hair care, and deodorant products.
Nude by Nature is another one of Australia's premium makeup companies, committed to natural and cruelty-free solutions.
NueBar formulates hair, face, and body care in the form of traditional soap bars.
Happiness comes in a bottle of Nuggett & Charlie's face and body products.
Nzuri Organics is a lovely body care range offering bespoke hand-crafted solutions to restore moisturise in the skin.
Manuka Honey acts at the base for all skincare products at Oceanic Gold.
Results-driven and led by science, Ocinium is carefully formulated from natural ingredients to address a range of skincare problems and concerns.
Kind to the hair, skin, and planet, OC Naturals has individual collections for hair, hand and body, treatments and styling, and kids.
Aiming to put a stop to the underrepresentation of women of colour in the beauty industry, Odara Cosmetics is an all-inclusive line of mineral-based makeup.
One Seed's expertise is in perfume, made from natural ingredients that change in depth and character when in contact with the skin.
Organic Formulations are manufacturers of certified organic personal care including hair, body, and hand washes.
As the name suggests, Organic Rosehip Skincare is based on the healing properties of rosehip oil.
Organic Spa is a thoughtful collection of salon-quality skincare products.
Underpinned by a love of the environment and animals, Paudha Healing has a range of skincare for men and women.
While they are one of the better-known cruelty-free brands in Australia, Perfect Potion is less known for its nourishing skincare range.
A pure and heavenly range of soaps, cleansers, and bath products, particularly suitable for sensitive skin are created by Pure Heaven.
100% natural Ayurvedic organic skincare, hair care, and baby care products for different skin types and concerns can be purchased from Rasasara Skinfood.
Raw Beauty Skincare is crafted using Australian organic, wild-harvested, ingredients and blended with pure essential oils.
Start and end your days with bright and colourful skincare, makeup, and aromatherapy from Raww Cosmetics.
Made in South Australia, REB Cosmetics has an extensive range of mineral makeup that is suitable for use on sensitive skin.
Be transported to a skincare sanctuary, with Sanctum's certified organic skincare, body care, hair care, and baby care collections.
Sasy n Savy has earned a reputation for its manufacturing of Australian organic skin, bath, body, and hair care products.
Sattwa is based on a love of pure and potent natural beauty products for the face, body, hair, and babies.
Drawing on the impressive results of hemp use on the skin, the SATIVA Skincare range is designed to hydrate and heal the skin.
From the packaging to the product itself, Savi Organics' focus is on ethics and sustainability while ensuring high performance of all face, body, hair, and kids products.
While boutique skincare to address a variety of skin concerns is the focus of Saya, they also have several products for the hair and home.
Luxury, non-toxic, plant-based nail polish formulas is a territory well marked by Sienna Byron Bay, with over 40 colours to choose from.
Simplicité Skincare is simply focused on creating products for the face and body, containing strong and vital organic certified, and medicinal quality herbs.
Soak up all-natural ingredients, with Soak Society's sweet range of shampoo and conditioner, bath soaks, and face serums.
The luxe Sodashi skincare products are underpinned by a commitment to pure ingredients and transparency.
Another one of Australia's leading organic brands, Sukin is well-known for their skincare, but did you know they have a variety of hair, body, and men's products too?
As the most frequently applied and ingested product, Suvanna Beauty has created a certified organic and chemical-free lip balm.
Harnessing the synergy of science and nature, Synergie Skin delivers skincare products that are highly regarded by medical practitioners and skin clinicians.
With ingredients safe enough to eat, the products made by Synthesis Organics are both safe on the skin and the environment.
The Natural Skin Store is the ultimate source of skin-spiration, with the most luxurious, natural products.
Three Warriors is a certified organic and toxic-free self-tan solution for environmentally conscious warriors who want to maintain a safe and natural tan without compromising on colour.
Ultraceuticals skincare products are driven by science and visible results, working to address a range of skin concerns.
Ultra Violette has combined skincare and sunscreen to bring innovation to the world of SPF products.
USPA is a bespoke range of Aussie skin, hair, and body products that deliver a sensory experience.
Unique and natural hair, body, and baby products are the primary offering at Uniquely Natural.
Vanessa Megan is all about creating skincare, body, and perfume products that are so safe, you could eat them.
Taking their bricks-and-mortar spa online, Venustus distributes a curated collection of salon-quality products.
To eliminate unnecessary waste, Viva La Body hair care, skincare, perfume, and natural deodorant are all formulated in solid form.
VonBlü Cosmetics
Conquering the battle against expensive, imported cosmetics that contain harsh chemicals is the driving force behind VonBlü's natural range of skincare and makeup.
From lip balm to toothpaste, Vrindavan Natural Body Care has an abundant range of pure and natural beauty products.
Made by scientists and innovators, Y Natural Skincare is a luxurious skincare range that has proven benefits, while upholding the highest ethical standards.
As the foundation of skincare, Youngblood Mineral Cosmetics formulates natural mineral makeup products that allow the skin to breathe.
Containing pure plant extract ingredients and essential oils, the Yuva skincare, and body range is designed to provide the maximum benefit for individual skin needs.
Formulating their products in their own manufacturing facility means Zuii Organic can provide full transparency when it comes to their makeup, tanning, and personal care items.
Zkin might be the last on our list but their certified range of organic skincare certainly doesn't have the least number of benefits.
Keep an eye on this article to keep up to date with additions, as more Australian beauty brands take the leap toward cruelty-free beauty.