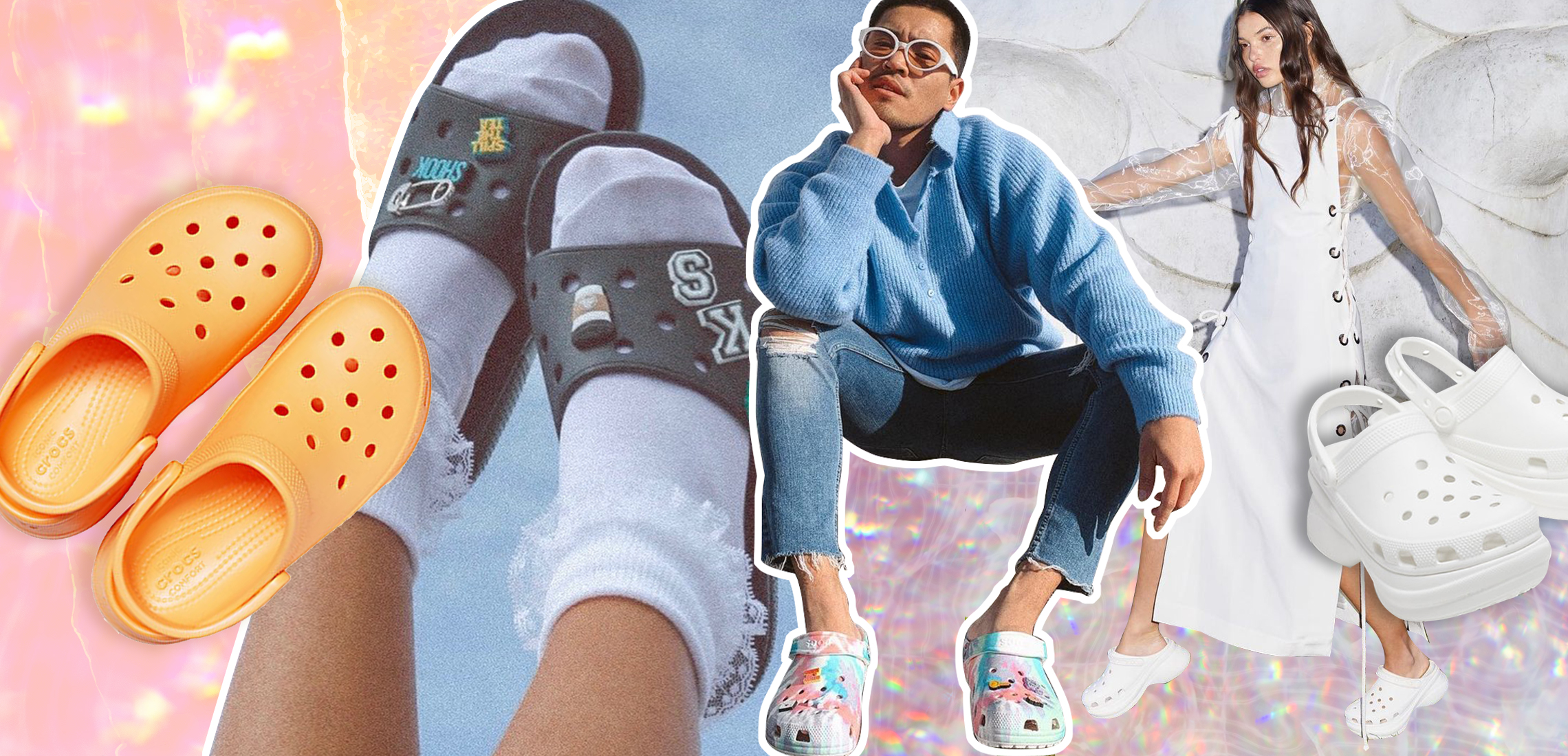 Hold Up, Are Crocs Officially Cool Now?
The ugly duckling of shoes
---
Have you seen, have you heard, this just in – crocs are… officially cool?
Once the outcast shoe on the playground, it seems crocs are finally having their moment – because if we've learnt anything in 2021, it's that you've just got to expect the unexpected.
With other traditionally 'ugly' shoes creeping their way onto the fashion scene over the past few years (aka dad sneakers and Velcro sandals), the croc trend has perhaps been a long time coming.
Celeb collabs have definitely played a role in their rising popularity, with many icons such as Post Malone, Justin Bieber, Bad Bunny, and Ruby Rose releasing their own collections over the past few years. I mean, in true Belieber fashion, if Justin wears crocs, you better believe I'm gonna wear crocs.
We've also seen a number of high-fashion labels, such as Gucci, producing almost Croc look-alikes. Even the new Yeezy Foram Runners resemble that of an abstract Croc relative.
Still confused how crocs could possibly be cool? Take a look at some of our fave celebs and influencers rocking the croc-tastic look!
https://www.instagram.com/p/CKFoA0cDzC2/
If you're still sceptical, I don't blame you. I mean I used to spend my childhood wholeheartedly proclaiming I hated the forbidden rubber shoe. I'm pretty sure I even read online that "the little holes are where your dignity seeps out." Yet, jump on the bandwagon or not, you can't argue with one thing – they are super comfy!
Perhaps with comfort being pushed to the top of our fashion needs (pandemic, lockdown and all), crocs being in fashion could not be more perfectly timed. I mean come on, they really are the epitome of a pandemic shoe, slipping on and off and perfect for indoor lounging!
Whether you're on the fence or have already added them to your basket, keep your eyes on the runway folks, because it's clear that the once easily most-hated shoe is perhaps not so easy to hate anymore.
Feeling inspired? Shop our faves below: