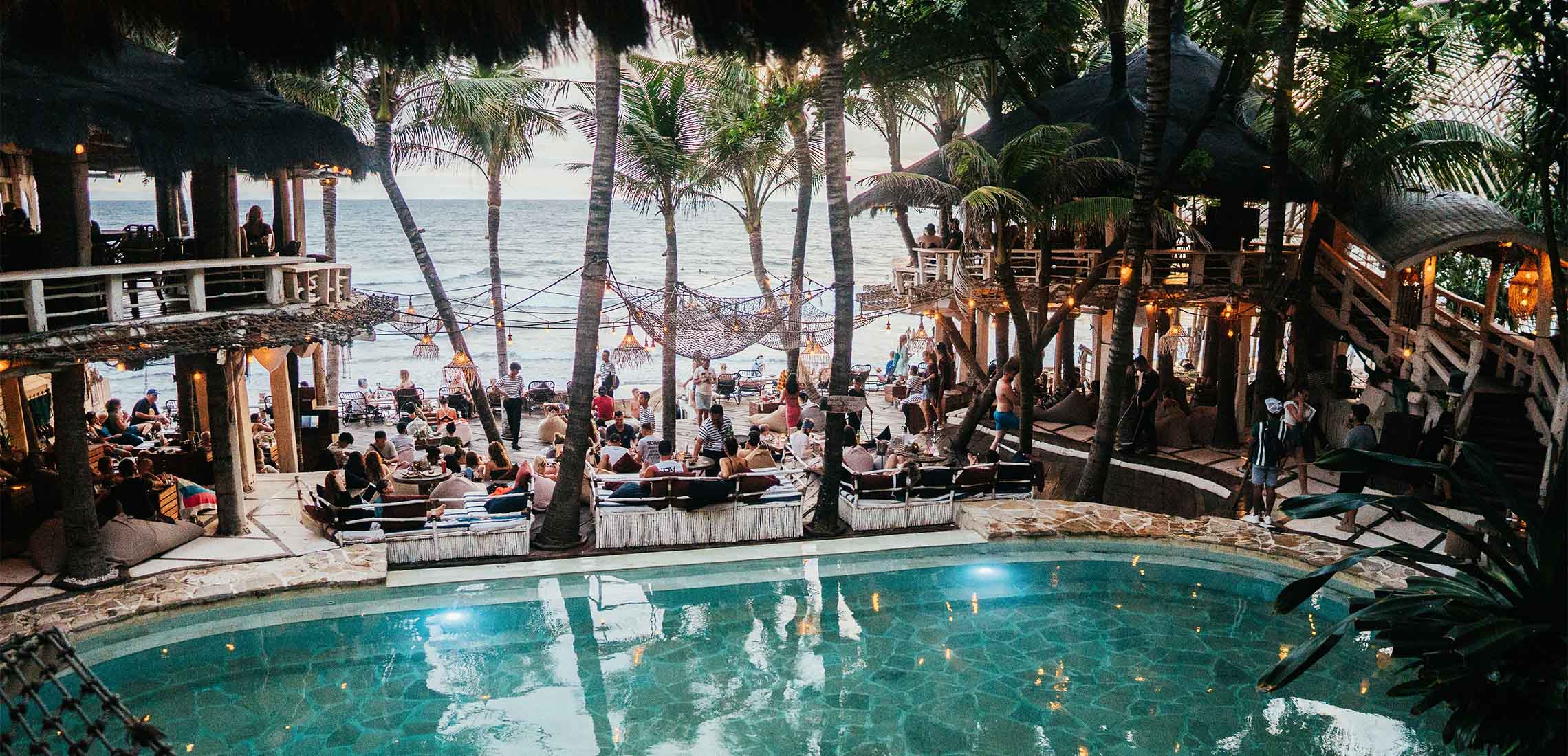 The Most Instagrammed Beach Clubs
Lock it in Eddie
---
It may be winter, and we may be still be in odd and unusual times, but that doesn't mean our minds can't wander to sunnier days, right?
Whether you had a Euro summer planned with champagne on rotation, or you're missing the warmth of the sun on the sand, we can do one or all of the following:
A) Cry for what could have been
B) Live our best lives locally
C) Live vicariously through Instagram
D) Continuously scroll through our camera roll
I'd like to lock in C with a dash of B, thanks Eddie.
So, with that in mind, I stumbled across some interesting stats about living your best beach club life. From Ibiza to Bali, beach clubs have it going on and in more ways than one. Sure, the sun, sand and water combo are an obvious drawcard, but do you know what's really the money maker and IG content winner? Champagne.
Turns out, beach clubs make for the prime opportunity to splash some cash.
Can you guess which beach club sells the most expensive bottle of bubbles? Or, which beach clubs are most Instagrammed? Luckily for you, we've utilised our finest investigative journalism skills, and delivered you the stats you didn't know you needed.
To pop a bottle at one of the most Insta-worthy beach clubs around the world, be ready to splash same cash. Ready to be a high roller or spend your life savings for one day only? Here's where to do it:
Cost of a bottle of champagne (in AUD):
Nammos, Mykonos, Greece: $1,079
Blue Marlin, Ibiza, Spain: $830
Scorpios, Mykonos, Greece: $630
Nikki Beach, Marbella, Spain: $498
Ocean Club, Marbella, Spain: $323
Single Fin, Uluwatu, Bali: $271
Phi Beach, Sardinia, Italy: $257
La Brisa, Canggu, Bali: $246
Cotton Beach Club, Ibiza, Spain: $149
Sunset Ashram, Ibiza, Spain: $83
Although Nammos took out the prize for the most boastful bubbles, they didn't win the title of the 'World's Most Instagrammed Beach Club' and you may be surprised who made the cut! The numbers have been rounded up according to the number of hashtags associated. How many have you tagged?
Potato Head Beach Club, Seminyak, Bali: 70,643
Phi Beach, Sardinia, Italy: 66,624
Blue Marlin, Ibiza, Spain: 65,593
Le Club 55, St Tropez, France: 42,348
Scorpios, Mykonos, Greece: 37,149
La Brisa, Canggu, Bali: 35,171
Ocean Club Marbella, Marbella, Spain: 24,143
Sundays Beach Club, Uluwatu, Bali: 25,515
Nikki Beach, Marbella, Spain: 24,143
Ku De Ta, Seminyak, Bali: 26,639
There are some fun facts for ya. Thank us later.
Data notes: Methodology: To find the most Instagrammed beach clubs, hundreds of the world's beach club were analysed on Instagram to see how many hashtags each of them had. Champagne costs were found via the club's website, and converted into British pounds and then into Australian Dollars. All data correct as of 25th July 2020.