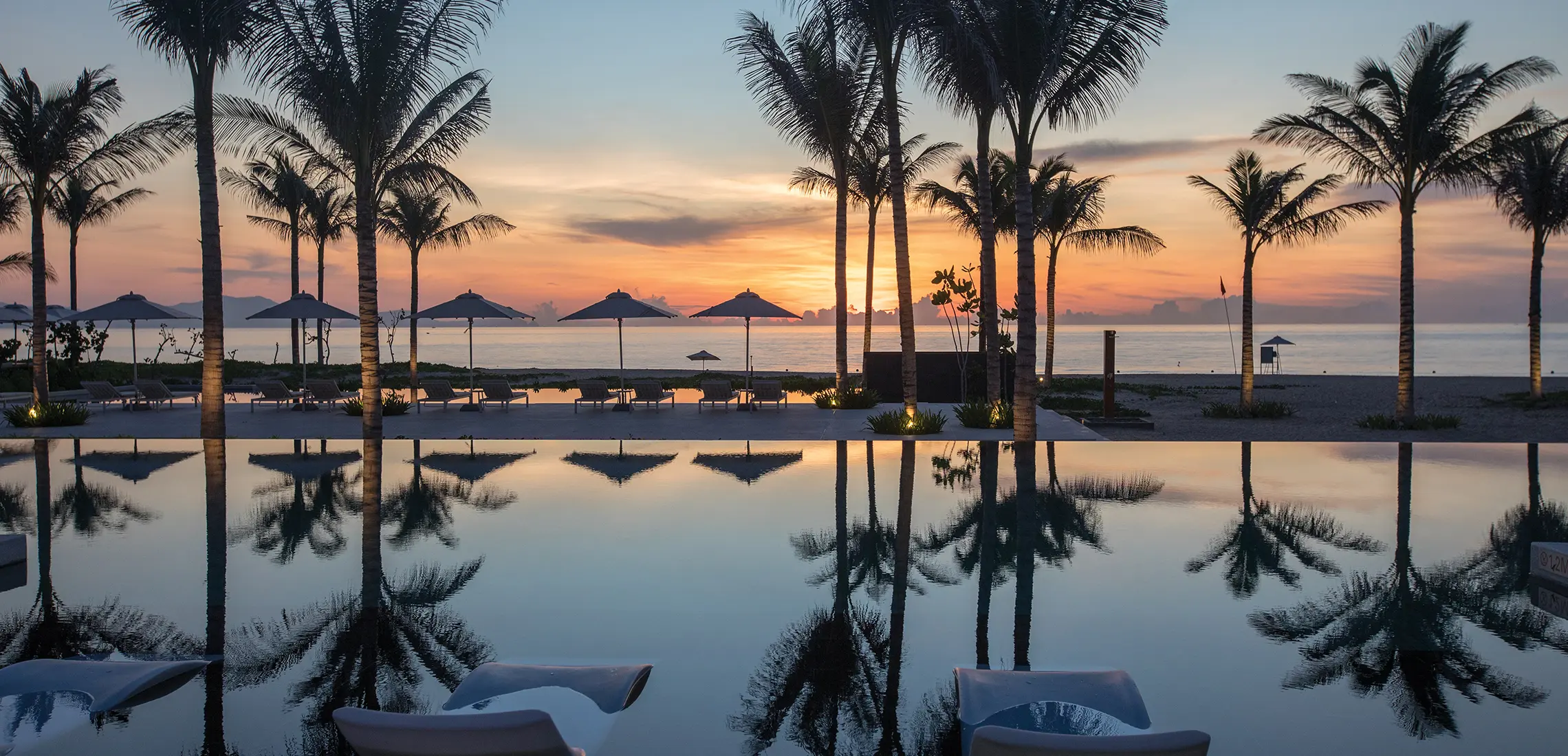 Wheels Up! Here's How We Spent 10 Days In Vietnam
Past, present, and future
By Courtney Frank | 10th May 2023

With its fascinating history, remarkable landscapes, mouth-watering food, robust culture, and generous people, Vietnam is a country that's both alive with energy and deeply rooted in tradition.

Somehow, Vietnam is both intriguing and exhilarating. It's steeped in its past, yet also firmly focused on the future. It's often overlooked as a destination – overshadowed by the likes of Thailand and Indonesia– but for those in the know, Vietnam packs a dizzying punch as a travel destination for those seeking both relaxation and adventure in equal measures. And while northern Vietnam makes plenty of noise amongst travellers, it's the southern end of the country where I truly fell in love with this southeast Asian pocket of the world. Here's how I spent 10 days in vibrant Vietnam.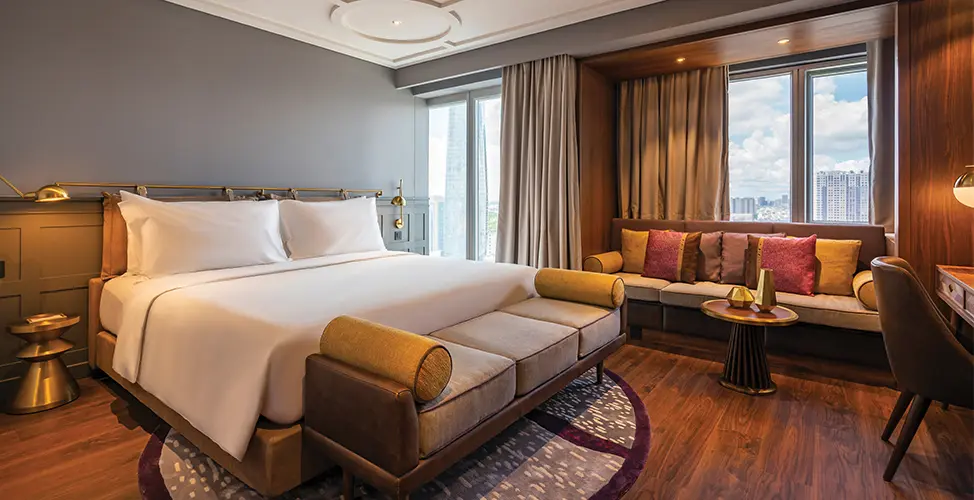 Nestled in the heart of Ho Chi Minh City (though I'm told by hotel Brand Manager, Duc, that some locals still prefer to call it Saigon), we begin at the first Vietnamese hotel located inside a shopping centre – Fusion Original Saigon Centre. The urban oasis provides a welcome reprieve from the hustle and bustle of the Saigon streets, and with a focus on fashion, architecture, and design, it's safe to say I felt right at home here. 
For Fusion Hotel Group it was important to present a hotel experience that blended old and new, which is apt considering Vietnam is a complex country that juxtaposes a rich (albeit problematic history) with vibrant culture and personality. And Fusion embodies this sentiment perfectly; from the entrance representative of Vietnamese alleyways to the ramp design that symbolises rice fields and a giant birdcage to signify wealth and prosperity. It's the perfect mix of generational inspiration and contemporary design. 
Every single feature in this hidden sanctuary is locally made by the Vietnamese, and the Viet influence is certainly felt strongly throughout. As for me, I loved wandering the halls marvelling at the floor-to-ceiling tapestries of beautiful women in traditional áo dài, as well as dining on top-floor restaurant, Miss Thu, throwing back fresh oysters and relishing in one too many bowls of gazpacho. Even the rooftop pool was a welcome reprieve on a steaming Saigon day after endless hours spent exploring hidden backstreets and haggling for designer knockoffs.  
Fusion has certainly pushed the boundaries of traditional hospitality while remaining true to the thriving metropolis outside the glass doors of Takashimaya Shopping Mall. The best part? If you're anything like me and partial to a little retail therapy, you simply only need to step outside the main foyer to enjoy the spoils of the Saigon Centre in all its 10-storey glory. Bliss!
The highlights: A walking tour of Saigon with local company Old Compass Travel, lunch at gin bar and restaurant, the Trieu Institute, and a private bar-hopping experience through the city (including many, many cocktails!).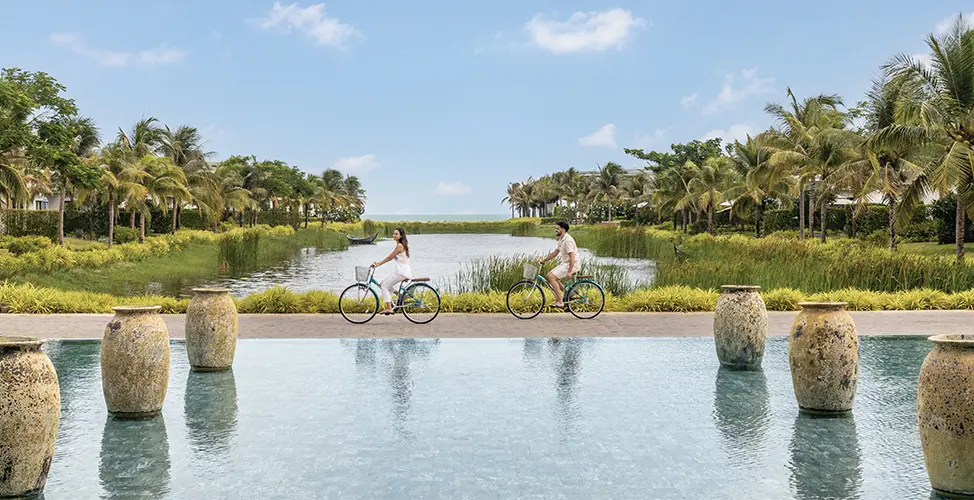 Only a short two-hour drive from HCMC, you'll find the Mediterranean-inspired luxury of Melia Ho Tram Beach Resort. For those who love luxurious amenities set against a supreme coastal background, the 5-star resort will certainly not disappoint. Far from the hurry and humidity of the city, the first thing you notice here is an immediate drop in temperature thanks to an abundance of seaside breezes. The bougainvillea are in full bloom when we visit (March, the best month of the year for all-around amazing weather), which takes the overall sophistication of the resort to new heights. Here, there are 152 rooms and 83 private villas, as well as three restaurants, a swim-up bar, 20-treatment room spa, and so much more. It's perfect for growing families too, with countless educational and cultural activities such as conical hat painting, traditional lantern making, and even an open-air cinema.
Known as Ho Chi Minh City's answer to the Hamptons, Naples, or the Blue Mountains – an indication that this is where the well-heeled flock for an upmarket and restorative coastal escape – indulgence was waiting around every corner for us. Our first night stay included a beautiful open-air dining experience at Muôi Restaurant. Sitting underneath the stars, listening to the dull roar of the ocean, and sipping on French rosé, it was easy to see why this destination is the jewel in the crown of this humble coastal location. When it comes to accommodation, you simply won't be able to pass up a stay in one of the resort's beachfront villas with infinity pool, gazebo, landscaped garden, and private access to the beach. Combined with exclusive access to The Level – a premium service that allows you access to private areas and select experiences – the luxury here is truly unmatched.
The highlights: a visit to 'Willow's Garden' the resorts self-sustainable garden, dinner and a stroll at Hampton's Plaza and Hampton's Pier, and lunch at Breeza Beach Club – featuring the most drool-worthy seafood paella.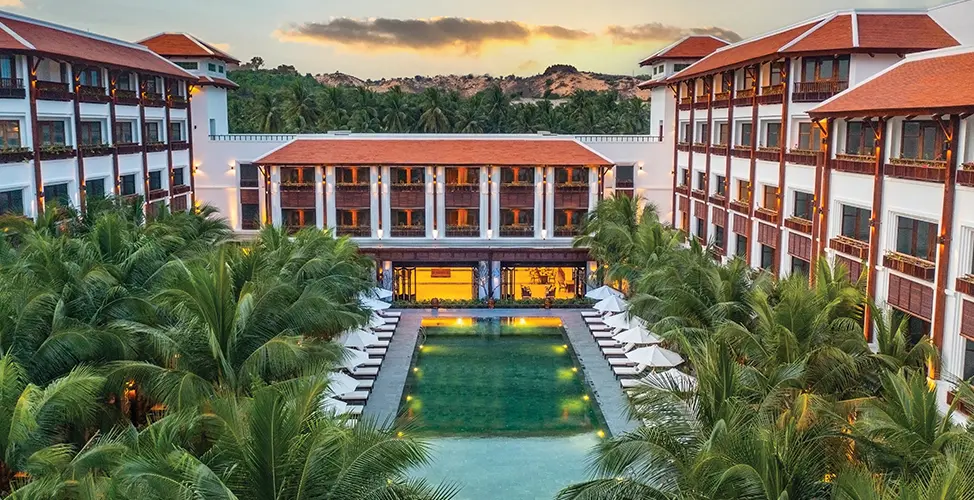 It took approximately 30 minutes for me to fall head over heels in love with The Anam Mui Ne. One step inside the foyer where Vietnamese and Indochine- inspired design fused seamlessly together, coupled with the quiet luxury of a natural colour palette and artisanal wares, and I was sold. I could have spent hours in that foyer alone, admiring the delicate design details and swooning over the local artist paintings that adorned the walls. For those who fancy a boutique experience with all the trimmings, this location is for you.
Positioned perfectly on the golden shores of Mui Ne, with sprawling views across the East Sea, the resort is the second offering in The Anam brand and opened only in January this year. Set across 1.2 hectares, it boasts two luxury pools (one fresh water, one salt water), 127 rooms, 7 private pool suites, two restaurants and bars, a spa and fitness centre, and impressively, a $5,000 bathtub in every single room(!). 
There's plenty to love here, and although it was difficult to tear myself away from the oasis that was my Grand Premium room (complete with mosaic floor tiles and thatched roof), I was eager to learn more about the resort's sustainability promises and social goals. Resort Manager Peter tells me about their goal to reduce their carbon footprint – a lofty objective they are following through on at every turn – with zero plastics, bamboo substitutes, solar power, and recycled laundry water, right down to the eco-friendly key cards made with wood from sustainably managed forests. When combined with their 'nothing's a trouble' hospitality, it's no wonder that The Anam is the latest resort to join an exclusive list of properties from around the world – the Small Luxury Hotels of the World (SLH) portfolio. This one is definitely going on the 'must visit again soon' list.
The highlights: a seaside dinner with Group General Manager Laurent Myter underneath a canopy of festoon lights, the best full body massage of my life, and a day exploring sand dunes, fairy streams, fishing villages, and local markets of Mui Ne.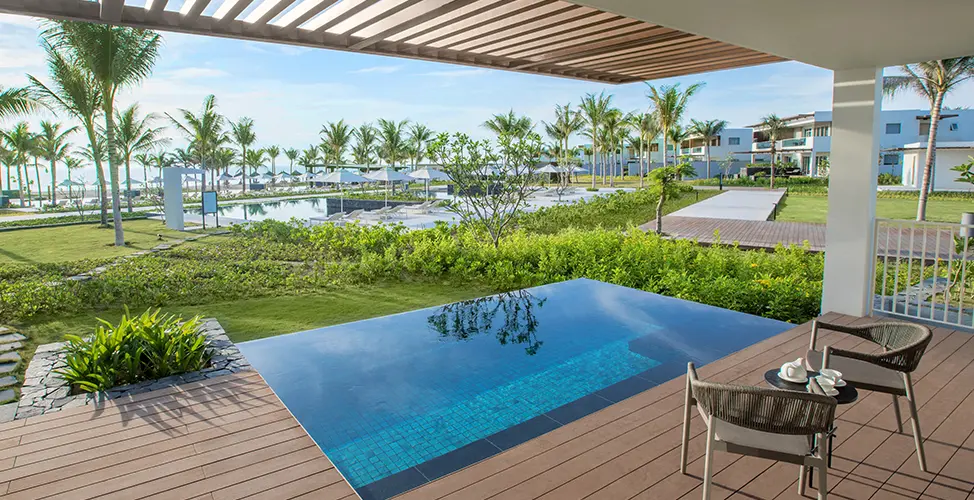 For those with a penchant for adventure and opportunity, you'll find Alma Resort Cam Ranh has both in spades. Situated on Vietnam's emerging Cam Ranh peninsula and spanning an enormous 30 hectares fronting Long Beach – regarded by National Geographic as one of the planet's most beautiful beaches – the 5-star resort labels themselves as an 'extension of the ocean' which is apt considering the oversized suites and pavilions that all afford sweeping views of the big blue. As our final destination in Vietnam, there was plenty to dip our toes into to wrap up a whirlwind trip (namely the 12 swimming pools stretching through the centre of the resort), including a waterpark, spa, cinema, science museum, yoga room, mini golf course, and even their very own mini supermarket. It's easy to see why Alma Resort is a haven for young families seeking an escape from the everyday rigmarole of a big city: thrill-seeking is optional, relaxing is mandatory. 
My ocean front pool pavilion provided me with the most beautiful vista, and the surrounding grounds were immaculately kept – a given considering the resort's dedication to sustainability and education. There was plenty of dining opportunities too, and it was dinner at La Casa that topped my highlight list during our short stay. Over exquisite rosé and lashings of creamy carbonara, Alma's dynamic managing director, Herbert Laubichler-Pichler provided endless repartee late into the night – including the time he hosted Charles and Camilla – post-Diana-era and long before they ever went public! 
For those with adventure on the brain and kids to entertain, Alma Resort has something for everyone. And for those who simply want to kick back and enjoy a cocktail by the pool, don't worry, there's plenty of that available too. 
The highlights: A boat tour of Nha Trang Bar that included one of the world's most beautiful diving spots, easy mornings relaxing in my private pool, and a beautiful 60-minute facial at Le Spa.
GETTING TO VIETNAM: 
​​Between April and mid-July, Jetstar will operate 7 x weekly return flights between Sydney/Melbourne and Ho Chi Minh City. Their low fares make it possible to travel to more places, more often, for less! 
Jetstar flies direct to Ho Chi Minh City from Sydney and Melbourne with one-way fares starting from just $299 at jetstar.com for travel during May-June 2023.