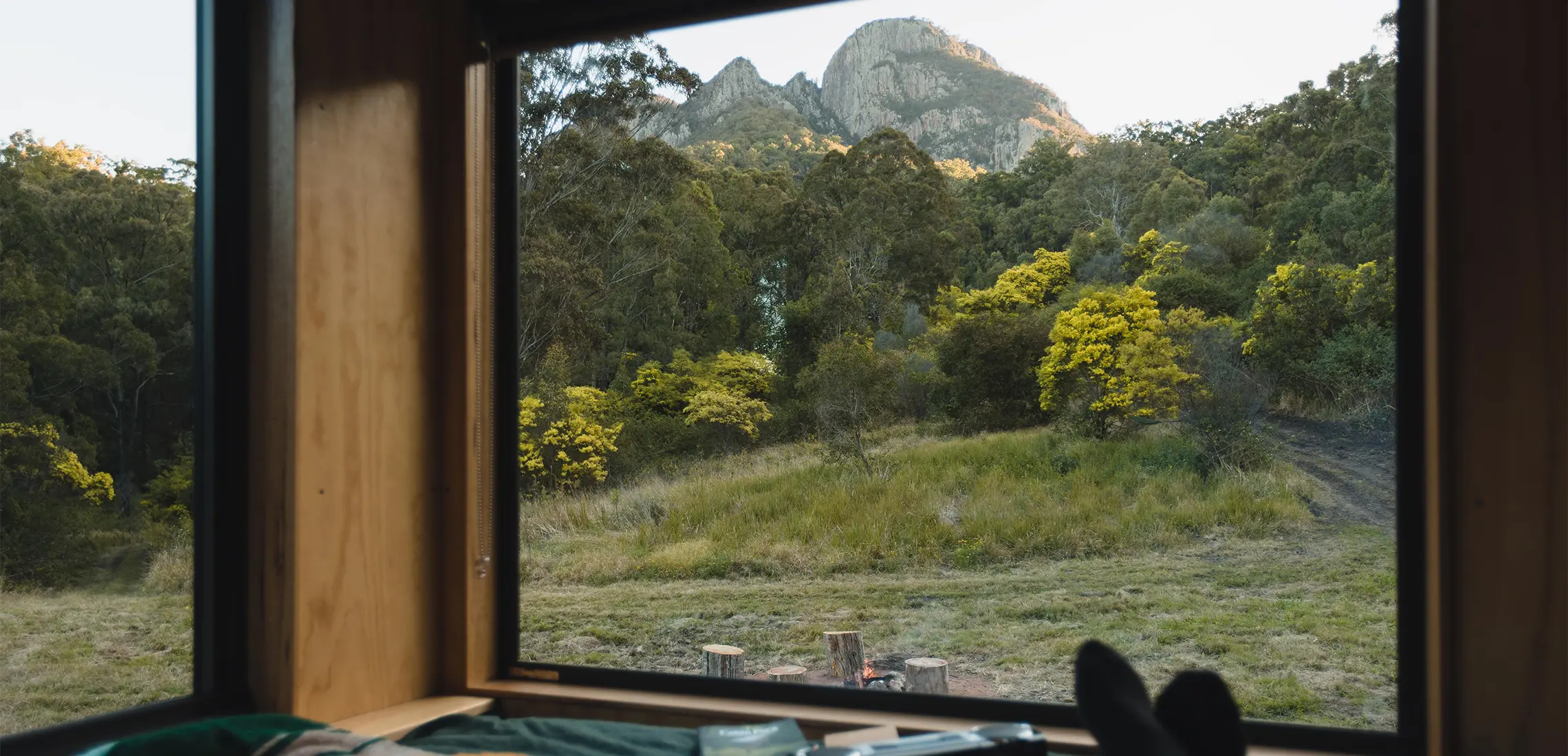 We Stayed At These Immersive Off-The-Grid Cabins In The Hinterland
Go wild
By Dinushka Gunasekara | 3rd February 2023

I've always loved the outdoors… from a distance. Strap me in for a David Attenborough sesh, give me a winery amongst the rolling hills, or let's take a scenic drive settled in the comfort of AC. The closest I've ever been to a camping chair is in the backyard of a house party, and that's the way I like it to be. 

Of course, even this city slicker can't deny that connecting with nature has its benefits. It recentres you, stimulates creativity, and has even been scientifically proven to significantly decrease your stress levels – the numbers don't lie! So, how does one reap the rewards while still enjoying the creature comforts they can't live without? Enter Unyoked. 

Created to showcase the superpowers Mother Earth possesses, Unyoked handpicks truly unique locations across Australia, New Zealand, and the UK, plonks a sustainable, off-grid cabin in its midst, and invites you to escape from the daily grind to discover what nature can do for you. With close to 50 naturally immersive locations in Australia alone and eight new Queensland cabins recently added to the foray, I grabbed my mosquito repellent and followed my curiosity to the bush. 

For two nights, I was calling the incredible Kojey home, tucked in a green grove amongst towering gums, dwarfed by the majestic Mount Maroon. Sitting pretty approximately 1.5-hours south-west-ish of Brisbane, the adventure begins before you even make it to the destination. I had my partner in tow (mostly because I don't know how to build a campfire) and while the seemingly never-ending gravel roads almost took out our wee little Hyundai i20, we made it to our designated park and began our trek with wheelbarrows in hand to the cabin. 

We were welcomed to Kojey by an orchestra of cicadas, beginning their performance punctually at 5pm to herald another beautiful summer afternoon amongst the applauding trees. Before we left the world of service and signal, the Unyoked team sent us over a nifty lil' guidebook brimming with directions, cabin tips, recipes, and important info, making settling in an absolute breeze – in 15 minutes we had made ourselves at home and were ready to soak in all that natural goodness. 

So, what do you do in the great outdoors? For me, the next 48 hours looked like this: read, snack, nap, walk, read some more, drink wine, build a fire, think about cavemen sitting around a fire, cook, drink, stare at stars (there are so many stars???), sleep, read, chat with kookaburras, read, and repeat. I finally made use of the frisbee I impulse purchased to qualify for free shipping. I saw so many wallabies that it became routine to see wallabies. I checked the time maybe twice. 

View this post on Instagram

Living in the city where the hum of honking cars reminds you that you need to go and work and plan and push and strive can make you forget what it's like to just sit. Listen to your thoughts. Wake up with nowhere to be. Be lazy with no need for shame. 

Unyoked is the chance to decompress that you really can't achieve in the concrete jungle. If bliss in this chaotic world has a postcode, I'm sure one of these convenient cabins would share the number.  

And yeah, maybe a stay with plumbing doesn't exactly count as roughing it out, but you can be grounded without popping a squat. 

Check out Unyoked's range of private cabins in the wilderness here.