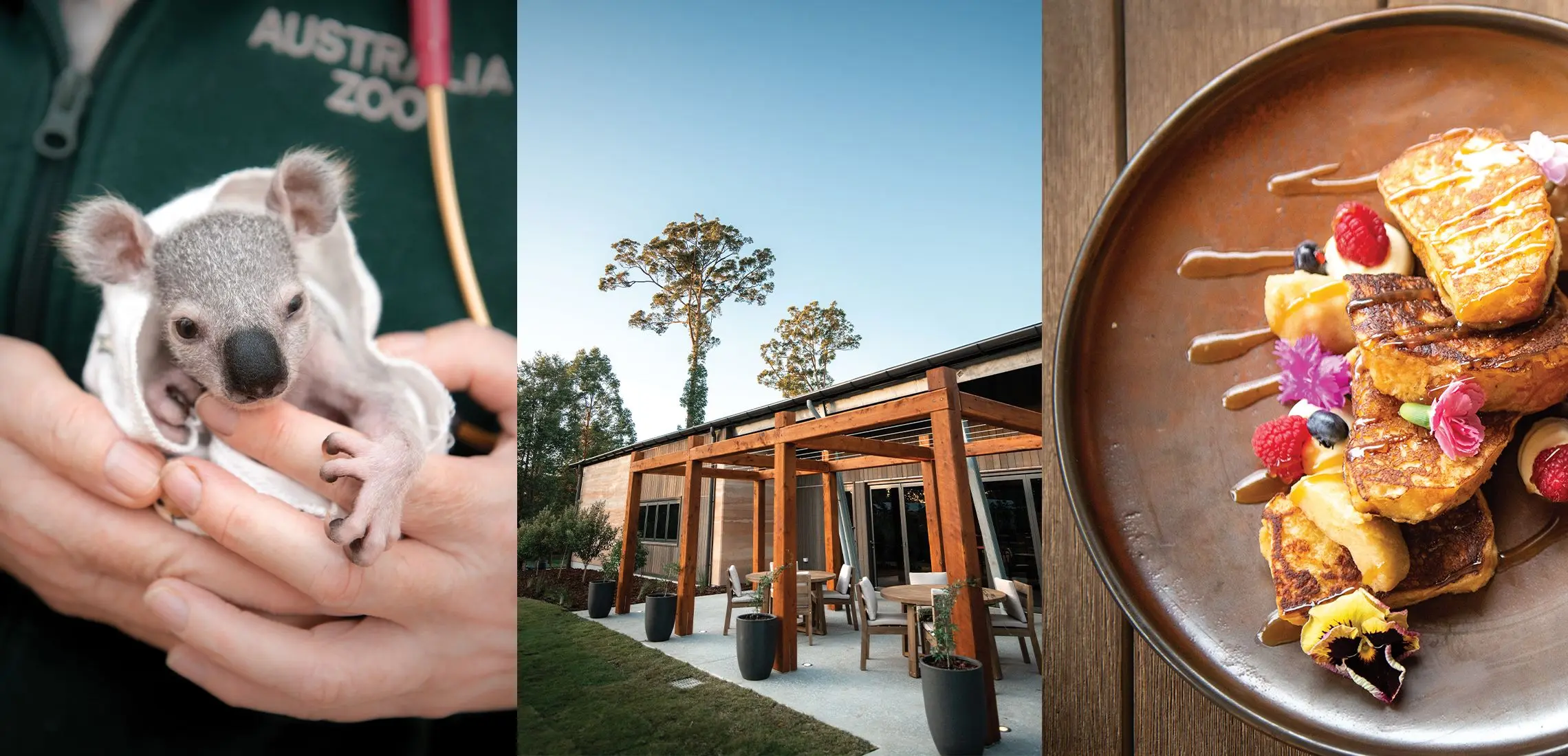 Experience The Wild Side Of Luxury At Australia Zoo's New Lodge
Crikey!
By Guest Styler | 22nd August 2022

With warm sunsets, the scent of the blue gum eucalyptus in the breeze and some of the world's most fascinating wildlife, it's not hard to see why an escape to our Queensland hinterland is high on everyone's hit list. Standing as one of our most beloved national treasures, the Irwin family and Australia Zoo are bringing a refined sense of luxury to the ultimate wildlife experience with the launch of The Crocodile Hunter Lodge.

Driven by Steve Irwin's everlasting legacy of conservation and connection to our natural world, the lodge brings yet another vision of his to life. "Steve always had a dream that one day, people would not just visit Australia Zoo, but stay overnight, and have the immersive experience of listening to and being around wildlife after dark," says Terri Irwin. "It was so important for us to make his dream come true through the opening of The Crocodile Hunter Lodge. This stunning luxury accommodation is surrounded by our conservation work, providing a home to endemic wildlife species while further continuing Steve's important legacy," she says. 

The eight luxury, family-friendly cabins were created with the natural habitat at the forefront, building a remarkable multi-species habitat which is home to native fauna such as red kangaroos and emus. Guests can admire these gorgeous animals while enjoying a cocktail by The Billabong – a 25-metre infinity pool. The Lodge has also created a refuge for southern koalas, who were sadly victims of the 2019-2020 summer bushfire season. 

The build of the Lodge includes timbers recycled from the world-famous crocodile viewing grandstands, built with Steve Irwin's own hands at Australia Zoo. Over 3,000 native trees and shrubs are planted throughout the vast grounds, creating natural wildlife corridors for animals, along with purposefully placed nesting boxes. Adding to this is the Wildlife Hospital where pioneering veterinary staff provide specialised care to injured, ill or orphaned wildlife. 

An indulgent stay at The Crocodile Hunter Lodge extends to fine dining as well. With delicious recipes influenced by the unique produce that Australia has to offer, the fare here is a celebration of our wonderful region and country. With locally sourced ingredients including native flora like karkalla and quandongs to create appetising dishes, Warrior Restaurant & Bar pays homage to the First Nation people and the plant life they have utilised for thousands of years.

With a passion for conservation and our unique Australian wildlife poured into every element of this boutique accommodation, a getaway up the coast has never called out louder.

Hey, adventurers! Check out Brisbane and beyond's best animal experiences here.