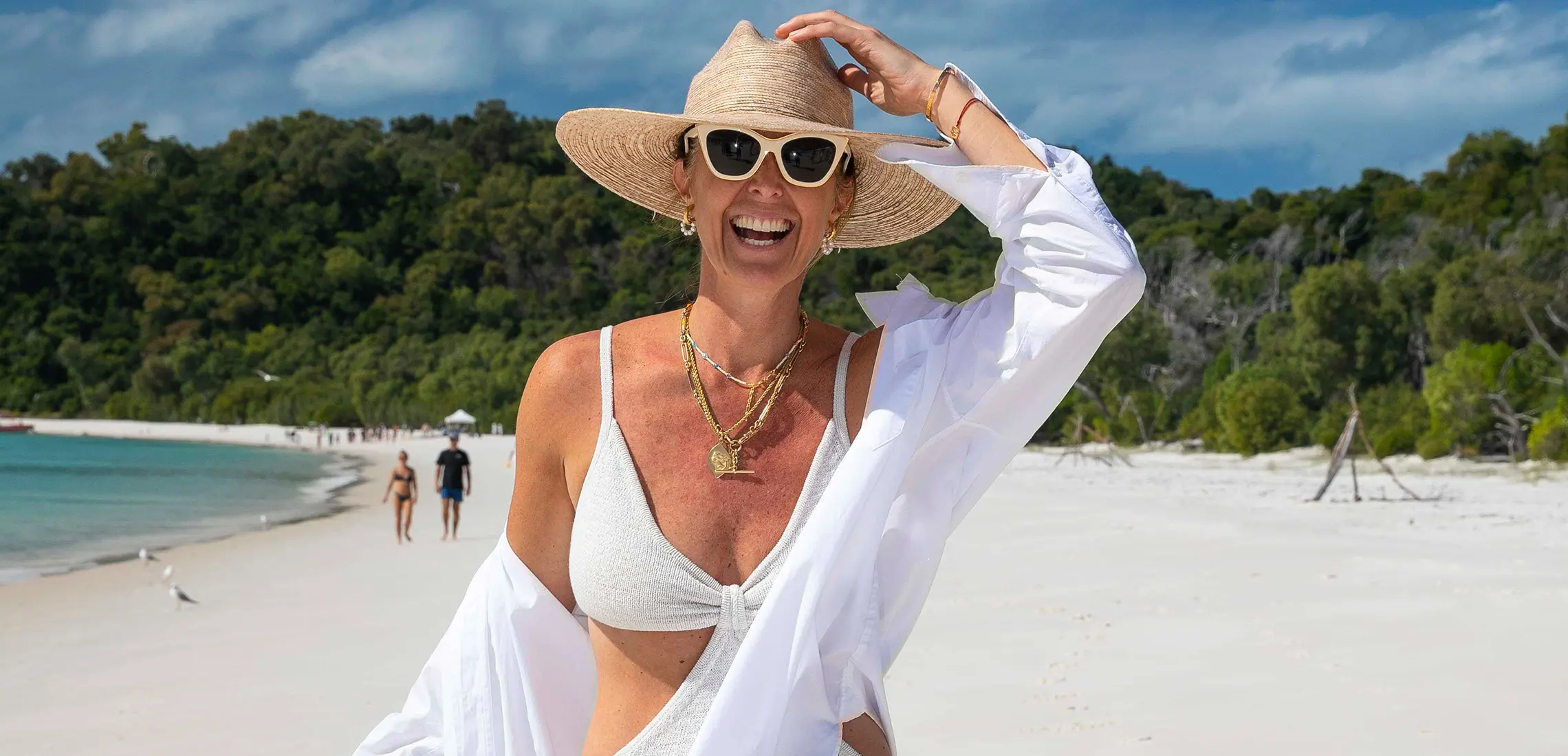 Tash Sefton Spills On How To Pack Like A Pro For Your Next Getaway
Check in, trouble free!
By Astrid Taemets | 2nd June 2021

There are two types of people in this world: the ones who stuff their entire wardrobe into a suitcase (and risk going over the weight allowance!) for two nights away, and those who curate the perfect holiday closet, right down to the finest details.

If you find yourself resonating with the first type of traveller (hi, it me), you'll be pleased to know that style guru Tash Sefton has some handy tips to help you finesse your holiday 'fits, so you don't go lugging 20kgs of holiday gear you'll never need.

Following a recent getaway to the Whitsundays for the White on Whitehaven Long lunch by Fish D'Vine, Tash is spilling the beans on how to travel like a pro, no matter where you're headed.
Hi Tash! What's your process for packing for a weekend?
Pack elements that can be interchanged with other pieces you're planning to pack, rather than a bag full of one-wear pieces.
What's the biggest mistake women tend to make when packing for a getaway?
It can depend on where you are going, but for a beach getaway, packing makeup is a big one. I'm guilty of doing it myself, and then I never end up wearing any of it. It's so nice to be makeup-free when you are relaxing somewhere tropical.
What should you always consider when packing?
Keep expensive items in your carry-on. I never check-in handbags, jewellery, computers or sentimental items. If I can't replace it, I carry it. Also pack a soft bag into your suitcase, in the event you do some retail therapy and need the space!
Another tip is not to leave packing until the last minute – that's when things can be overlooked!
What are some clever ways to save on space?
Rolling, not folding! The rolling technique is the answer to being able to pack whatever you want. I also take large wraps as they can be used for a sarong, scarf or impromptu picnic blanket, and don't take up too much room. As I travel a lot, I have mini versions of all my beauty products, too.
Your blog, Where Did Your Style Go, is all about refining your wardrobe to the essentials, and styling them in multiple ways. In your opinion, what does the perfect wardrobe look like, from clothing, to shoes, bags, and accessories?
The perfect wardrobe is a wearable one. So many women have a wardrobe filled with items they can only wear once, and don't focus on a 'wardrobe for life'. You can just about dress for any occasion with about 25 items, including shoes and handbags.
It takes time to build this though, and practice and restraint not to be tempted by one-time-wear pretty pieces when you go shopping.
The 25-item wardrobe is a recipe for dressing, then comes the art of interchanging. Once you get it, you will never stress about finding something to wear again! To see this in action, and watch my IGTV for inspiration. I break down all the ways to wear your key pieces in new and timeless ways.
Ok, here's the sitch. You're going on a long weekend away somewhere warm and sunny. What do you pack?
Mostly dresses, as you can wear them poolside or dress them up for nighttime. Linen is the perfect fabric to wear, as it's so cool when it's hot. Just hang it in the bathroom and let the steam deal with any creasing! I always carry La Mer's Renewal Oil as it's really hydrating and healing if you get too much sun, and an oversized wrap that can be used as a sarong or cover-up.
And for winter weekend getaways?
A great coat that can be worn more than once (neutral or black) and wear it on the plane so you don't take up room in your suitcase. An oversized scarf, as it can double as a blanket, as well as a puffer jacket. I have recently invested in fine cashmere and wool knitwear pieces, which are great options for winter getaways as they're warm, and can be layered under coats and jackets. Plus, they roll up neatly. If you can't wear your jacket on the plane, take it in a garment bag as carry-on, to give you more room in your suitcase.