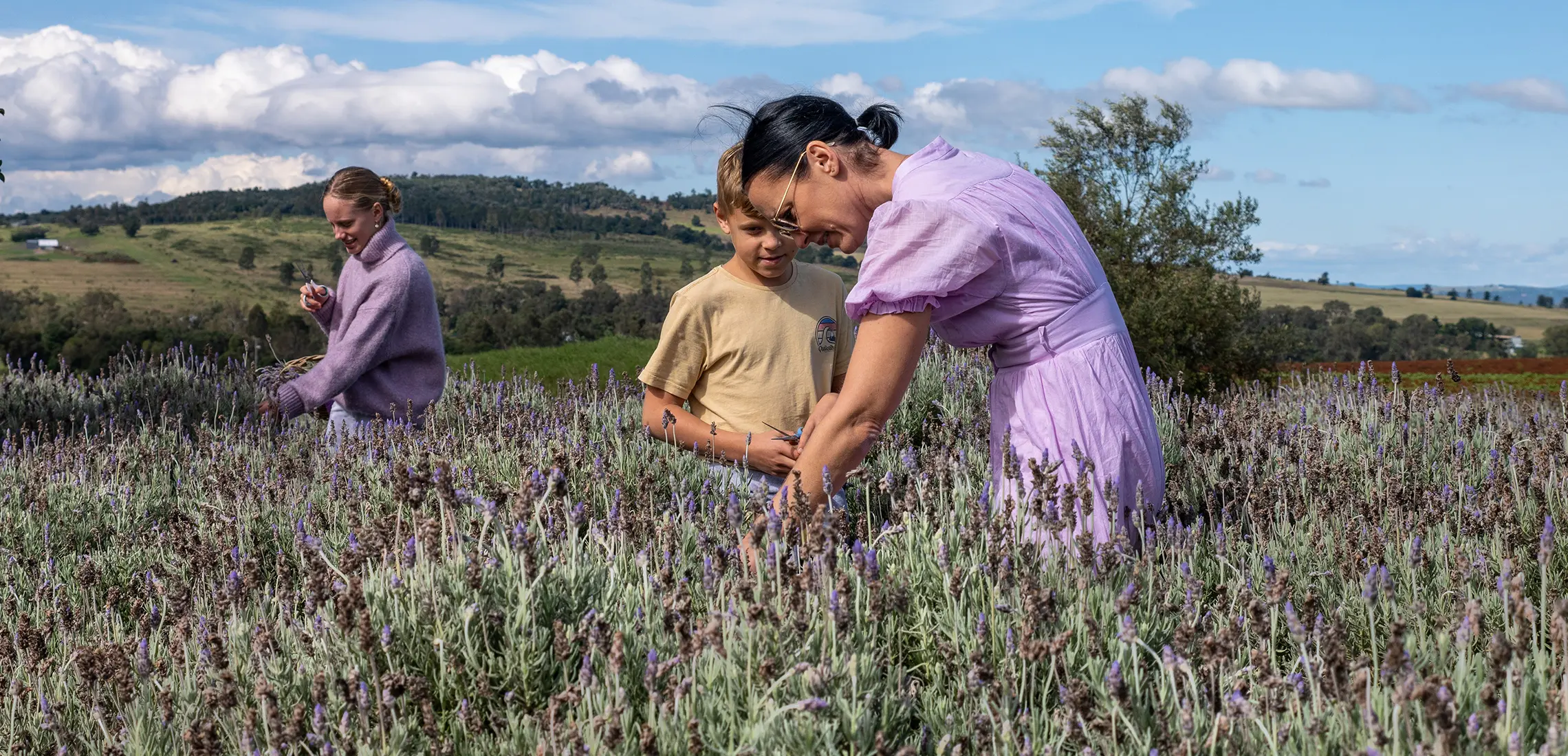 Pick A Pocketful: 5 Queensland Farms To Add To Your WKND Itinerary
Hitchin' a ride
By Guest Styler | 8th September 2022

 With an abundance of beautiful landscapes and lush farmlands on offer in the Sunshine State, it's no wonder Queensland is home to some of the most picturesque and tranquil country farms. 

From berries to blooms, say hay to our favourite Queensland farmlands.

1 hour 12 min (92.3kms)

You can't avoid a sunny disposition when visiting this hidden treasure in the Scenic Rim. A popular photoshoot location for couples and families, Kalbar Sunflower Farm has been brightening days since 2006. With beautiful picnic and sip and paint activities, this is an idyllic day trip the whole family can enjoy. Sunflowers are at their best and brightest from October to November, but dainty pink and white daisies are also on display through March and April.

1 hour 22 mins drive (99.6km)

You can smell this farm from up the road – and not for the reason you might imagine! A calming floral scent fills the air as you wander through miles of lavender bushes at this six-hectare property in Mt Alford. Only just over an hour out of Brisbane, this romantic farm surrounded by the Scenic Rim mountain range features not only lavender, but a thriving vineyard, decadent restaurant, and gift shop. A popular wedding venue thanks to the architectural beauty of the open-air chapel, this farm is ideal not only for an incredible day with friends but also for your special day tying the knot.

View this post on Instagram

22 hours drive (1,833 kms)

Set amongst the lushness of the ancient Daintree Rainforest in Far North Queensland this tropical paradise brings about a worldly experience for your tastebuds. With over 800 trees and 50 different species, you can try delicious fresh fruit from all around the globe including Southeast Asia, India, The Caribbean, and The Amazon Rainforest. Not just your average apples and oranges here! Guests are always welcome to stay at their Orchard Cottages to experience the full tropical farm experience.

4 hours 30 mins drive (363.3 kms)

Strawberry season is officially here! This family-run farm in the heart of Bundaberg is an ideal spot for picking strawberries in our picturesque Queensland countryside. Strawberries are picked at their peak ripeness, so no enhancement is needed to enjoy their luscious juicy flavour. Perfect for a scenic experience out in nature, make sure you get yourself a scoop of their famous strawberry ice cream before you leave!

2 hours 26 mins

A few hours up to the Sunshine Coast, this idyllic farm is well worth the drive from Brissy! A true working farm, the owners Jason and Kim spend their days planting, picking, and welcoming visitors to the property. When making your stop at Cooloola Berries, ordering their famous ploughman's plate is a must! Showcasing the amazing local produce from the area, tuck into delicious food paired with a strawberry or blueberry cider for the perfect way to finish your day exploring this beautiful farm.

 Love the great outdoors? Read up on the top country towns to visit near BNE here.