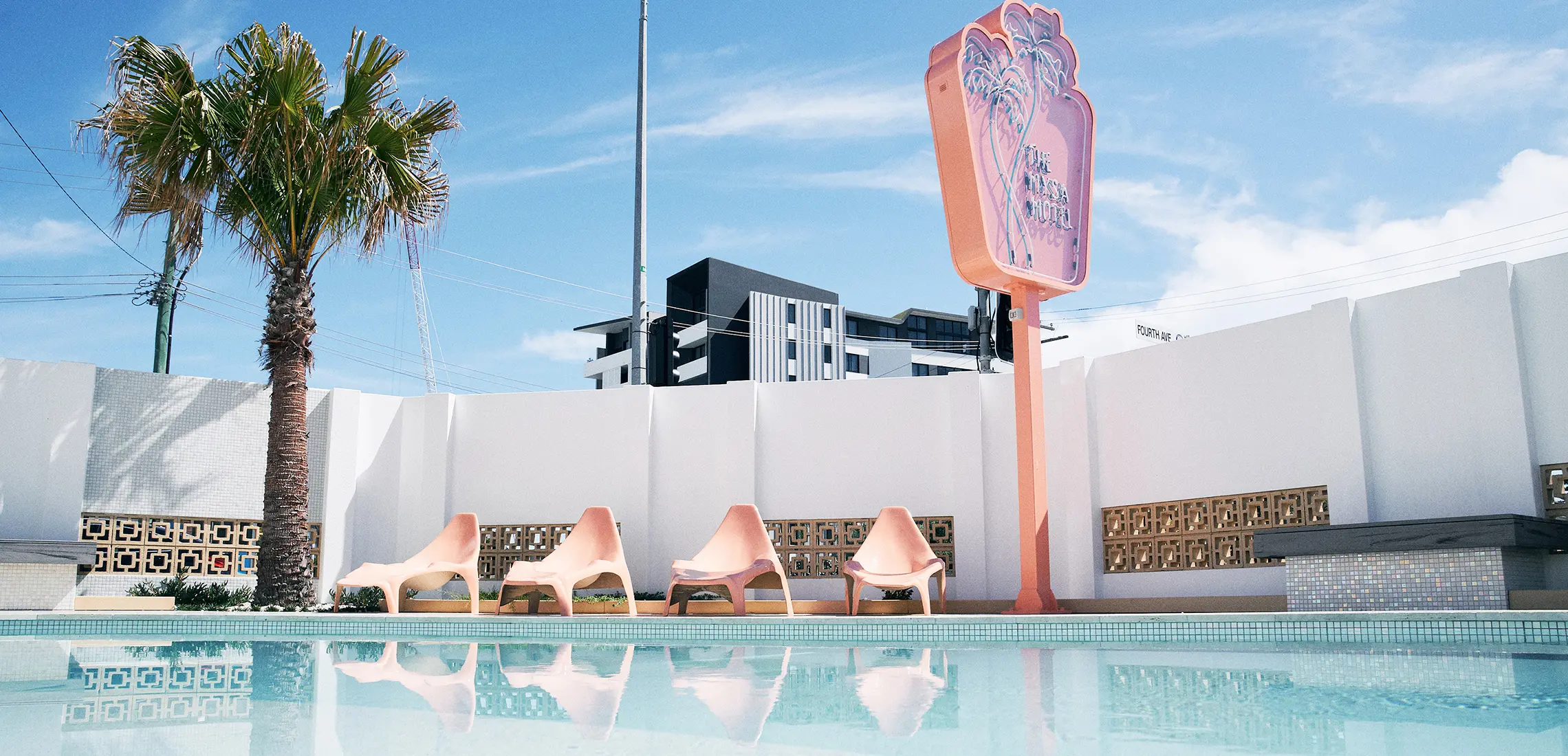 Stylish Motels To Book For Your Next Weekend Away
The accommodation trend making a *major* comeback!
By Astrid Taemets | 25th February 2021

Have you heard? Motels are having a revival in a big, *big* way.

That's right, folks! The oft-neglected, one-story stays that have in past times reeked of suspicious activity (Bates Motel, anyone?) and dark, dank interiors are now shaping up to be some of the most stylish stays across the country. And we are here for it!

Why? For one, they're super affordable, and with many old, rundown motels in quaint beachside towns receiving trendy makeovers, it's the perfect place to lay your head for a weekend escape, snap a selfie, and enjoy a blissful arvo poolside.

So, pack your bags – these 'grammable motels won't stay secret for long!

Welcome to the Mysa Motel – Palm Beach's newest recruit! What was once the Palm Trees Motel, this cosy retro GC accom has been refurbished into a seven-room oasis with serious aesthetic appeal. Think Slim Aarons, but with a modern twist. Located on the Gold Coast Highway, your eyes won't miss their sweet neon sign. Inside, the reno is a nod to its former glory, with local items from pre-existing properties in the area lovingly restored to help keep its charm: nostalgic breeze blocks, glass mosaic tiles, and salvaged pool recliners from local building sites (restored, of course!) are some of the key elements of your stay here. Rainwater tanks and solar panels are also in use, while the rooms have filtered water taps to help keep you refreshed during your stay. A quick stroll from the beach, The Mysa Motel is a quaint place to lay your weary head for a siesta after a dip! Finish the day off with a relaxing lounge by the palm-fringed magnesium pool, then carry on your retro 70s experience with a trip to Palm Springs in Burleigh – a Cali-vibe café with panache.

Situated across from the GC airport, this refurbished motel is like the beach shack from your dreams. Take your pick from a standard, twin, deluxe or family room – whichever you choose, you'll get the full La Costa experience, complete with white picket fence and glimpses of the ocean. Painted in seafoam green, this pastel paradise is a world away from the bustling Surfers Paradise. Guests of this sweet escape can enjoy free use of the vintage bikes and beach towels, while the front desk is at the ready to help you book tickets to theme parks, and offer a local's intel on where to find the best grub, like Francie's Pizzeria! At the end of the street, your true beach experience awaits, with rolling surf and stretches of beach as far as the eye can see!

What once was a conventional motel, Loea is now a chic seaside stay with a casual coastal aesthetic. Single-handedly redefining accommodation offered on the Sunshine Coast, this cute lil' slice of paradise is your next reprieve from the city lights. Positioned perfectly for those who want to explore the Sunny Coast, the boutique accom is a stones throw away from beaches, river ways, restaurants, shops, and surf breaks. Designed with calming neutral interiors with a pared-back coastal feel, each room at Loea features a king size bed (do not disturb) and private outdoor deck. Choose from a double, twin or family room or book out the entire motel for special events. And did we mention their vintage food truck? Open seven days a week (check their site here for open times), their bespoke van caters to guests looking for a quick bite or refreshing sip. In the mood for a place to lunch the day away? Pier 33 is just a short drive down the highway, where locally sourced produce, swaying palms and bobbing boats await you!

Roadtrippers are in for a treat when they stumble across this gem of a stay. Almost eight hours north of BNE, you'll need a lotta snacks to get you to this destination, but we promise it's well worth the k's on the clock! Offering modern, boutique style self-catering accommodation, Yeppoon Surf Motel is an affordable beachfront stay the whole family can enjoy. With 13 self-contained motel rooms at ground level, guests can enjoy a no muss, no fuss time here, thanks to the private pool, BBQ area, and convenient location. We recommend booking the motel's most recent addition, the Pandanus Room, for a quiet, couples stay that's easy on the eye. Take a dip at the local Yeppoon Lagoon overlooking the crystal waters of the Coral Sea, or jump in the car and head inland to the luscious rainforests of Byfield – the national park is well worth a meander, with rolling sand dunes, beaches, and rainforests to explore.
Happy to head over the border to NSW?
With 'holiday often' the motel's mantra, The Sunseeker is more than just a crash pad. An 80s brick motel reimagined, The Sunseeker is about to explode on your Insta feeds – you have been warned! Hidden behind the hustle and bustle of Byron's main drag, this newly renovated motel is personally my pick of the lot (I may have already booked a weekend!) thanks to its eclectic interiors hand-picked by locals, including The Vista. For owners Jess and Dave Frid, The Sunseeker was an opportunity to create a space inspired by their favourite family holidays. With its vintage LA aesthetic, the motel embodies the best parts of recent eras – original 80s brick façade, cosy bunk nooks, a communal fire pit, and the original kidney-shaped pebble crete pool, while also including a swag of mod-cons. Split over two levels, The Sunseeker offers twelve traditional hotel-style rooms, each with a private patio or balcony. There are also six bungalows (yep, I'm staying in one!), each with a swanky private deck and garden, outdoor bath and BBQ. Melt into holiday mode easily, thanks to their on-site coffee cart and 100 book library, or grab a cocktail from their poolside bar and revel in the sounds of The Sunseeker tunes. Best of all, this place is designed for families, where kids aren't begrudgingly welcomed but doted on. Kids (big and small) can rent bikes, surfboards, scooters, and skateboards. Get in quick and book this baby (and thank me later) – she won't be available for long!
Well, well, well isn't Bruns just delivering the goods! This cool-as-a-cucumber motel is casual, but with just the right amount of edge. The signature navy-blue brickwork is hard to miss – as is the neon goat – and is home to 12 stylish double, queen, and family-sized motel rooms, all kitted out to make your stay as comfy as possible. Get troppo by the sundrenched pool and kickback in the cabana, or grab a bike and ride around town before taking a cool dip in the river (high tide is best!). Roll over the wooden bridge to Torakina Beach, where the water is always crystal clear and swell-free, then end your day with a stroll at sunset down the road to La Casita for a marg and some top-notch tacos, followed by a trip to the Brunswick Picture House for some live circus entertainment, cabaret, and serious belly laffs!
https://www.instagram.com/p/CJfysMeA9P3/
So apparently Northern NSW is home to bulk cute motel stays now? Bruns, you have a lot to answer for! Home to a number of newly renovated motels, the people have no choice but to hit this dreamy coastal town where the river meets the sea. Notably more quiet than Byron, start your weekend escape at The Sails Motel. Located in the heart of town with 22 classic motel style rooms available, the motel is a hive of activity, thanks to the on-site pizza parlour and wine bar Saint Maries, Old Maids Burger Store and Pool Club with guest bar – yep, it's all right here. And with room types to suit couples and families (two-bedroom apartments are available, but limited!), rest easy on your weekend away knowing there's plenty to see and do, no matter what you're into.
https://www.instagram.com/p/Bsb99FjgXLN/
Header image: James Tolich