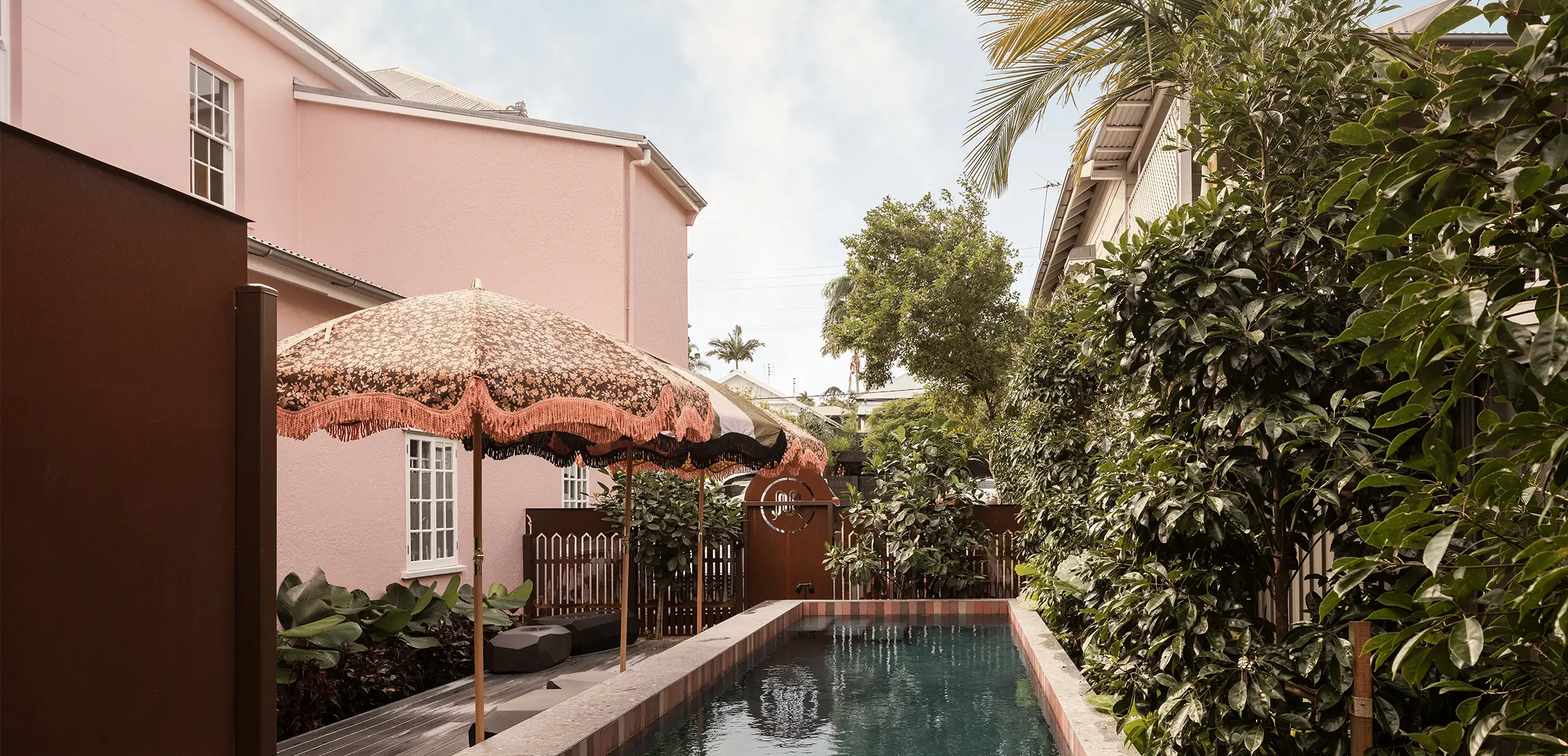 Discover New Farm's Newest Pinterest-Worthy Guest House
Tickled pink
By Guest Styler | 7th July 2022

They're the mother-daughter duo who are bringing Pinterest boards to life with their newly restored, deliciously pink guest house in the heart of New Farm – Miss Midgely's. 

We sat down with the architectural powerhouses that are Lisa and Izzie White to chat through their mammoth renovation of this heritage-listed site right off James Street. Capturing a piece of iconic Brisbane history, Miss Midgley's is the perfect stay for locals and out-of-towners alike. 

Picturesque and a practical local, take a scroll and discover all the reasons why you're about to fall in love with Miss Midgley's! 
Hey Lisa and Izzie! First and foremost, tell us where the name Miss Midgley's came from?
This handsome old building has been a grand private home, orphanage, hospital, school and residential flats in its varied life. Annie Midgley established the school in 1903 and ran it for 50 years. It had the charming name 'Miss Midgley's Educational Establishment'. She was an inspirational woman, and we named the guesthouse after her. 
How would describe your interior design style for Miss Midgley's?
Clean and contemporary, no clutter and functional. We embraced the historic qualities of the building and drew colour inspiration from the famous pink stone walls. For our kitchens and bathrooms, our new fittings walk the line between old and new – such as butlers sinks and oversized taps and spouts. We retained as much of the original heritage fabric as we could.
Why pink?
Why not?! There are so many amazing colours out there that rarely get used. Pink is a really important historical colour for this building. Our early heritage investigations revealed many, many layers of pink paint. The building has been painted pink for over 120 years and was known as the Pink Flats from the 1950's. As the new custodians of the building, we didn't want to lose that history. So, we refreshed the outdated shade with a more contemporary version– we chose a ½ strength coat of Dulux Quiet Pink.
What was the renovating process like? What were the highs and lows?
So many! Overall, we were lucky we got the building when we did as we managed to save it before significant structural works were required. But the lows – we were hoping for beautiful timber floors to be revealed as we pulled off layers of carpet, vinyl and lino. Instead, the boards were termite eaten, bogged with white putty and generally in total disarray. We decided to embrace it –  to celebrate the age and the history. We think its looks fantastic. As we demolished walls, hidden gems appeared- an original stained glass fan light above the front door, some remnants of delightful hand painted wall paper and as the concrete render crumbled off the walls beautiful convict cut stone blocks saw the light of day for the first time in 150 years. Something we're still really excited for is to watch the landscaping grow. We've selected multiple plant species that once mature, will bloom with pink flowers and form an entryway to the driveway. 
Tell us what attracted you to a heritage building? How is old and new blended in the property?
We are both architects and we had never worked on a heritage building before. It was in a fantastic location and had great bones to work with. We approached the blending of the old and new with a considered formula –   anything old that we could keep, we painted and furnished in white (lounge and bedrooms) and the new sections of the apartments we painted in a contrasting  terracotta and black (kitchens and bathrooms).
What is one hidden quirk or unique feature you'd want people to know about Miss Midgley's?
Miss Midgley's is big. Arriving at your stay is such a surprise – the 2 bedroom apartments are very generous (between 60 – 80 m2 per unit) and the building is surprisingly quiet considering its central location. You can thank the 1 metre thick stone walls for that. 
What's your favourite room in the house and why?
So hard to say – as the renovation unfolded, the physical condition of each apartment presented new challenges and new opportunities daily. The result is 5 very different apartments, each with unique appeal. Having said that, the sunken stone kitchen in the 'locker room' and the 10m long heritage stone wall in the 'principal's office' are two of our favourite moments.
What can guests expect from a stay at Miss Midgley's?
The apartments in Miss Midgley's provide an opportunity to stay in one of Brisbane's oldest homes, unlike anything else we've seen in Brisbane. Nestled in a suburban landscape, guests can really live the New Farm life instead of just visiting it. It operates with a distinctly personal feel instead of a large scale hotel. The renovation provides every modern facility – full kitchens, gorgeous bathrooms, generous outdoor spaces, dreamy bedrooms and onsite car park for each apartment. There is also a beautiful private swimming pool. It is a highly curated and thoughtfully designed accommodation experience in Brisbane's coolest location; James St, New farm.
Love checking into new digs? Discover 7 luxury stays in Noosa here.