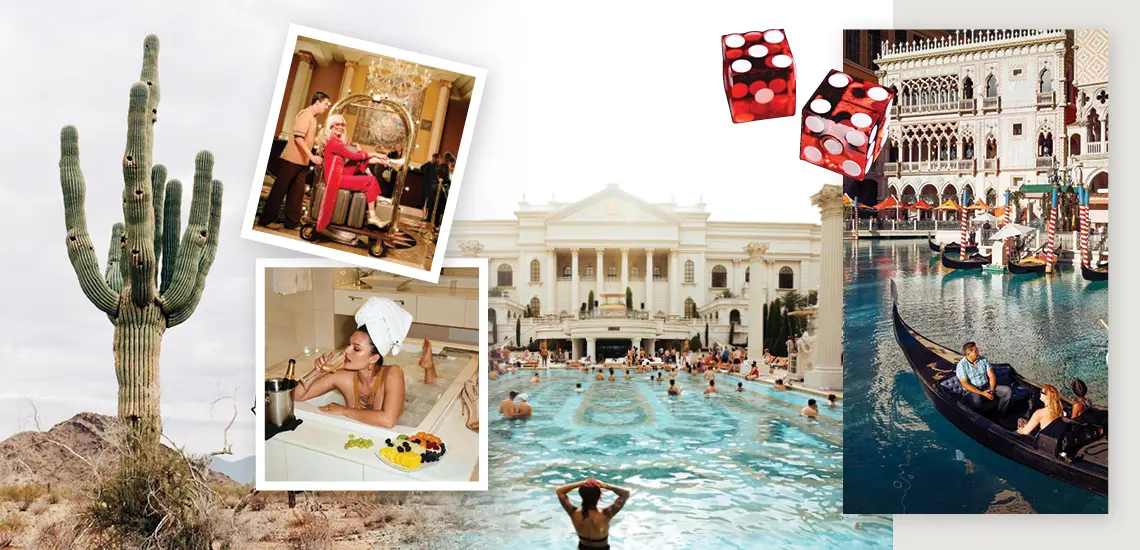 Heading To Las Vegas? Here's A Guide
Where anything and everything goes
By Guest Styler | 4th February 2020

How 'bout that ride in, huh? Guess that's why they call it sin city.

Welcome to the player's paradise where dreams are made with money in the air, drinks everywhere and the exorbitant is just another day. Live your best life yet amongst the lights, the sights, dollar bills, margarita feels and everything in between. Lose track of the time under the hotel skies and live a little. This, friends, is Vegas – where anything and everything goes.

Whether you're a Vegas virgin or veteran, the desert paradise is a trove of ever changing electricity waiting to be discovered. To help, I've rounded up a few must-sees and must-dos while in Vegas, baby.
LICENSE TO SHOP
Some of the best outlets grace the streets of Nevada. But, don't miss the boutique shopping throughout each hotel. In my opinion, Caesars Palace boasts one of the best shopping experiences Vegas has to offer. Walking around, you feel like you're in Italy with the blue-sky roof changing shades of light to reflect the true daylight outside, and is even complete with areas of cobblestone and, of course, a Trevi Fountain. Shop from the high ends such as Fendi, Armani and Burberry through to H&M, Zara and Victoria's Secret, as if you are walking down the Via Condotti (Rome) or Rue Faubourg St. Honore (Paris). 
Away from the strip, the North and South outlets are a necessary visit. The North Premium Outlets comprise of big names such as Coach, Bally, Armani  and Michael Kors throughout an outdoor floor plan. The South Premium Outlets are all indoor and feature many of the same names, plus a few extras, so both are worth a browse! This is where to go for athleisure wear, label names and shoes (so many shoes!). Before you start your purchasing, head to the Customer Service desks with your passport for an offers booklet made just for overseas visitors to snag an extra bargain.
PARTY PLEASER
Night or day, dance away. Catch an A-Listers appearance or mingle with the admired at one of the many, many nightclubs, bars and entertainment centres. Vegas hosts various celebs for gigs or general appearances any night of the week at big name clubs such as OMNIA at Caesars Palace, TAO at The Venetian or Marquee at The Cosmopolitan. You're guaranteed to have a banger of a time whether it be high-flying at one of the exclusive clubs or a lobby-bar. Otherwise, take your drinks as you go and walk-up the strip as you sip.
Save yourself lining up for hours and pay a little extra for tickets in advance or for your name on the door. I did this by asking one of the shop attendants who knew of a local guy who arranges it all. I sent him a Facebook message and next thing I knew, I was dancing the night away at Marquee. If you're after someone a bit more relaxed, check out those who have residency at the hotels such as Rod Stewart, Britney Spears, Cirque du Soleil and more – just don't take tickets off of strangers on the street!
GLOBE GETTER
From NY to Cairo, Venice and beyond, travel the world down the strip. A world-tour has never been so easy (what happens on tour stays on tour, right?). See the sights of Egypt at The Luxor, explore the concrete jungle at New York-New York, relish in the Vegas vibes at The Flamingo or enjoy a taste of Europe at The Venetian or Bellagio.
The Venetian is certainly worth a gander! You'll truly feel as though you've been whisked away to Venice as people take gondola trips to get from A to B and enjoy champagne and pizza in one of the many 'town squares'. In winter, you can also ice-skate! For accommodation, the best rates will be during the week but everyday feels like a weekend in Vegas. If you're travelling with family or under 18s, check out many of the hotels without lobby casinos such as The Vdara. 
If you want to stay and really immerse yourself in the themes of hotels, go fun and frivolous at Mandalay Bay, Treasure Island or The Mirage for a very-Vegas experience.
TREAT YO' SELF
If you're ever going to 'go big', Vegas is the place! From unique and executive extras at your hotel and oxygen bars in lobbies to help cure a hangover, anything and everything you could ever want or dream of is in hands reach. In summer, live it up at movie-worthy pool parties and in winter, retreat to the bars or exhibitions on show.
All in all, watch The Hangover – they have it pretty spot on.