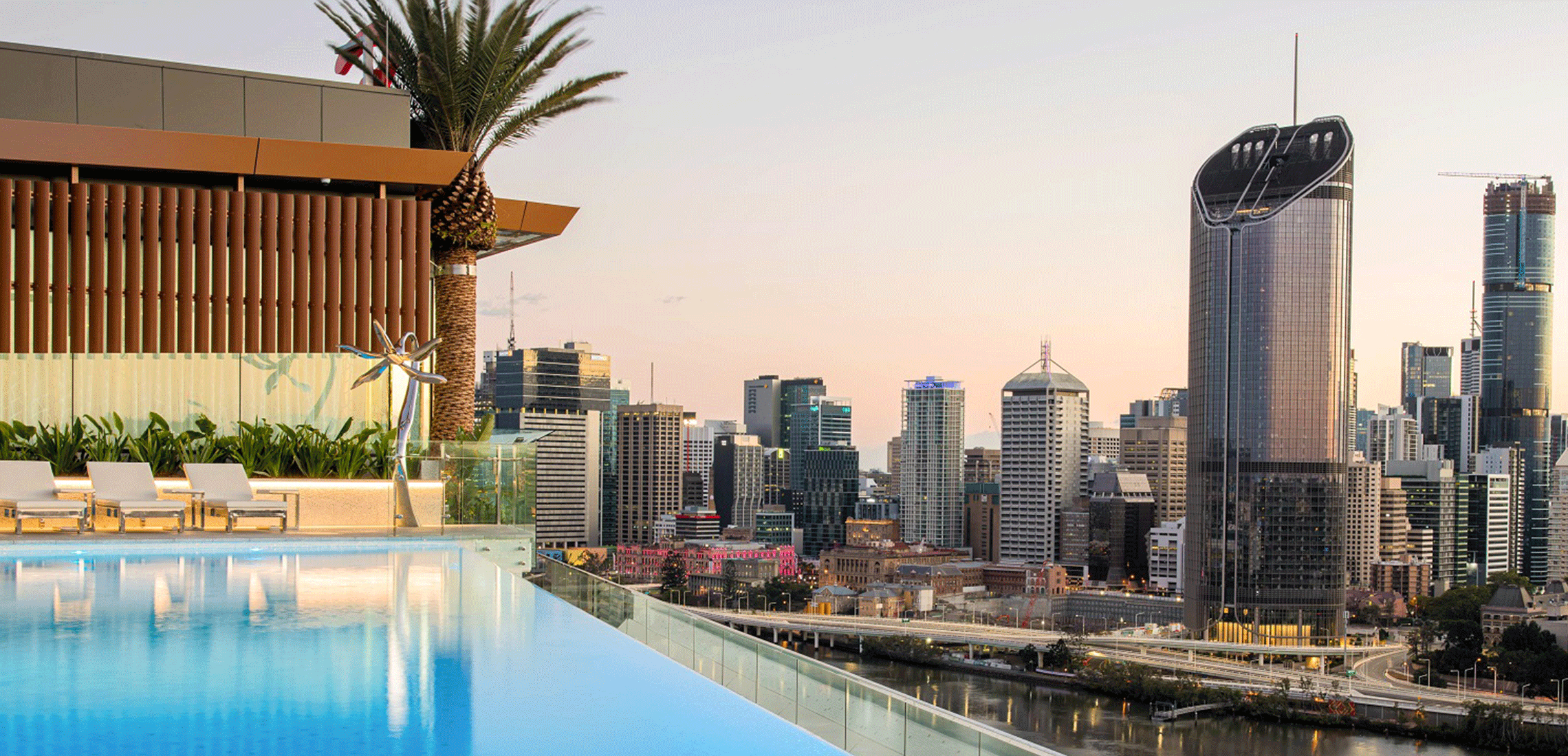 Pack Your Bags, A Luxurious BNE Staycay And Beauty Treatment Awaits
Checking in!
By Astrid Taemets | 2nd February 2022

Nothing refreshes the mind, body, and soul like a quick escape from the daily grind, and we've uncovered the perfect minibreak to give you just that.

The Emporium Hotel South Bank has teamed up with The Homan Brand to bring you an unforgettable, truly indulgent mid-week escape that includes fine dining, unencumbered views, and an in-room CRYO beauty treatment. Swoon.

I trialled the experience last week, and I'm still floating on Cloud 9! So, whether you're looking for a romantic experience for two for Valentine's Day, or just need something to take the edge off, read my five-star experience with Emporium Hotel South Bank, and get booking…

With my overnight bag packed with far too many outfit options (hey, I don't get out much), I set off on a midweek stay at the Emporium Hotel South Bank. Rolling up to the luxurious five-star hotel valet, I immediately left the stresses of work and home life behind. From the moment you arrive, the whimsy and beauty of the hotel already makes you feel a world away from normal life (even if I do live only five minutes down the road).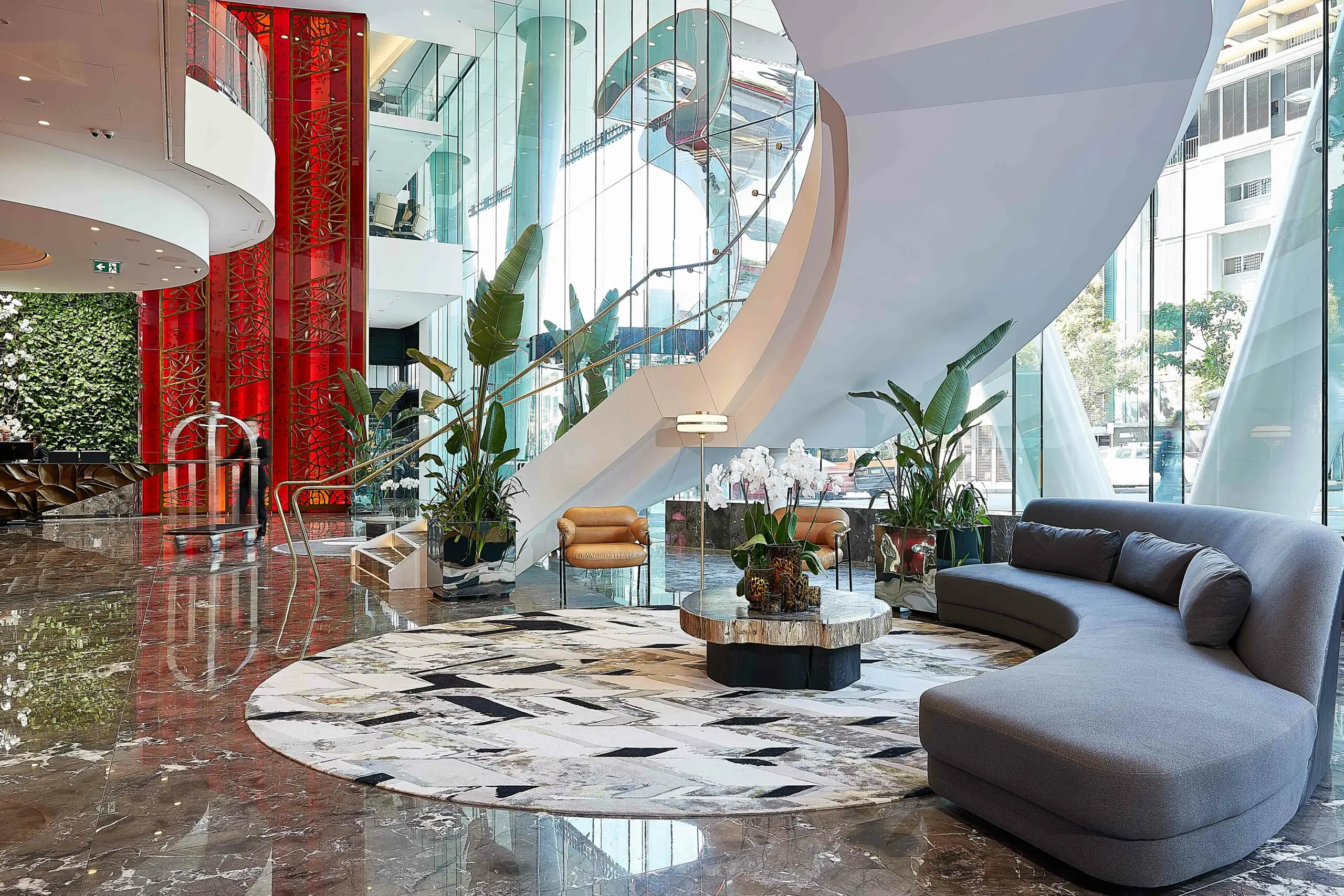 The staff greeted me with such a warm welcome, I was already feeling the pangs of sadness for when it was time to check out. Bringing my husband and toddler along for the whirlwind ride, we checked in at 2pm and were promptly taken up to our room where sweeping views of the South Bank Parklands and city were proudly on display, even through the torrential rain. Our room was elegant and spacious, and featured a wine fridge, mini bar, and array of snacks that, much to our excitement, was a one-off complimentary treat (crack the champers!). Knowing we had our little one in tow, the staff were extremely accommodating and thoughtful, leaving a surprise signature Emporium plush toy on the bed for Annie who, to this day, still carries it under her arm everywhere we go.
After settling in, my husband and toddler took off to the infinity pool on level 21 (yes, in the rain), while I spent the afternoon relaxing in peace. Joining them an hour or so later, we swam laps and revelled in having the entire pool to ourselves, which overlooks the stunning sights of the city. Though I had envisioned us relaxing poolside in the afternoon sun with a cocktail in hand, the weather had other plans, so we returned to our room for a quick mini bar break before heading back up to The Terrace Rooftop Bar for a couple of cocktails.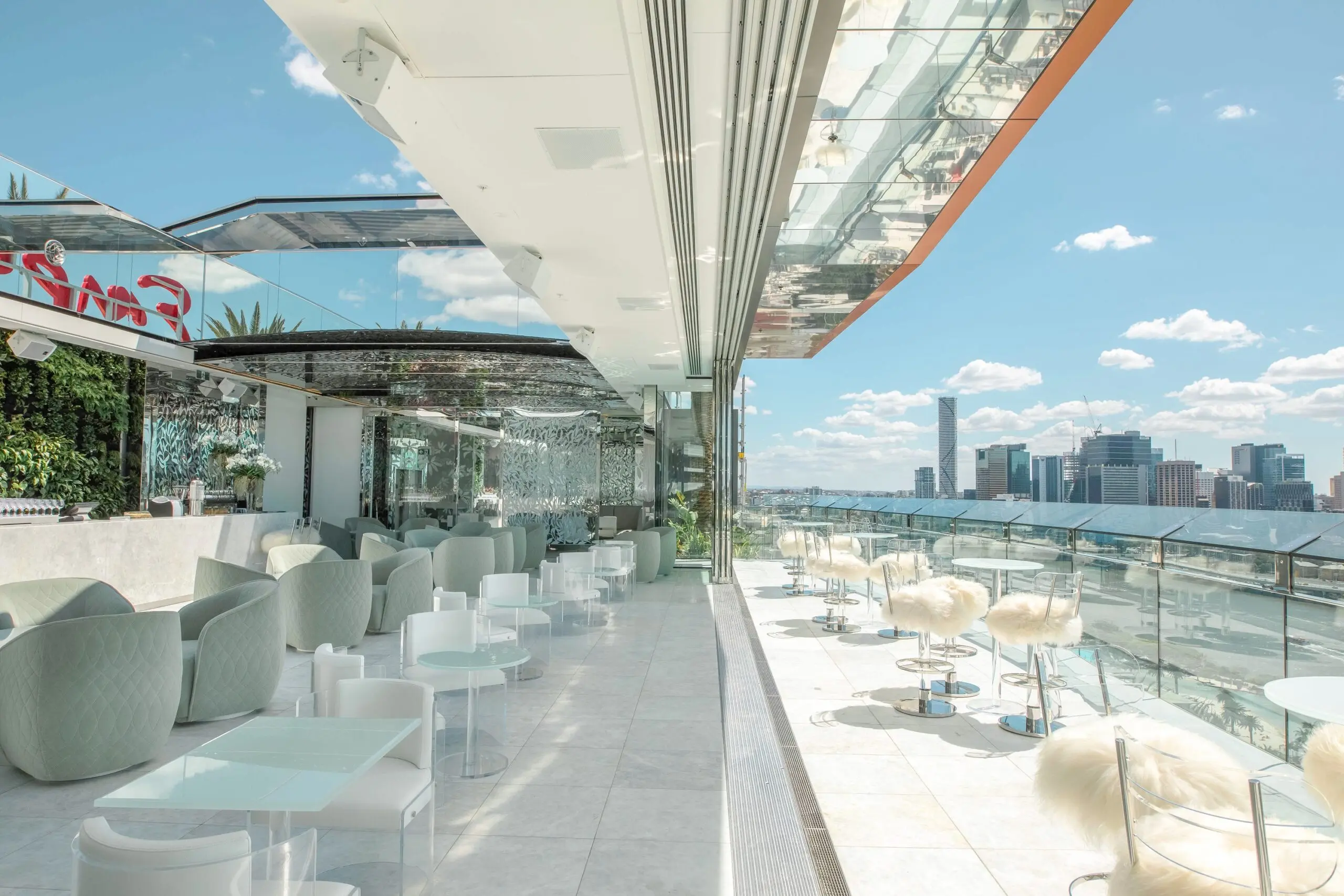 Arriving in our finest for the quickest round of cocktails imaginable (have you ever tried going out for drinks with a two-year old?), The Terrace is a world away from the bustling Grey Street below. Sleek and modern, the sub-tropical designed space features a retractable glass ceiling and boasts views of the city from one end to the other, with a little peek of the Story Bridge. Along with The Terrace, the Emporium also features additional restaurants and bars – Signature, Belle Epoque, Piano Bar, and The Reserve – that are well worth visiting, should you find yourself on an adults-only night away.
After two of the best martinis I've ever tasted, it was time to take this party back to our room, where we immediately put on robes and a Disney movie for our little one on the big screen. To say we took full advantage of the room service would be an understatement – soaking up a night away from slaving in the kitchen, we ordered more than our fair share of dishes, each just as delicious as the last. This hotel uses only the finest, freshest produce locally sourced, and you can taste that with every bite.
The next morning, up bright an early, our little family enjoyed breakfast at The Terrace ahead of my CRYO beauty treatment. With Annie off to daycare, I managed to squeeze in half an hour of exercise at the hotel's fully equipped gym that overlooks Somerville House and South Brisbane's suburbia.
Back in the room, showered, and ready to be pampered, I greeted Tasha Homan of The Homan Brand and her assistant at my door. The 40-or-so minute relaxing CRYO beauty treatment is designed to stimulate your fibroblasts (cells within your body just underneath the skin), which are responsible for the framework of your face and body, where collagen, elastin, and hyaluronic acid is restored and created. After working her magic on my face, my jawline and cheekbones were sculpted, giving me a more defined, structured look.
Then, sadly, it was time to check out! I packed my things, grabbed my car from valet and headed back to the real world (aka work) feeling completely relaxed and totally rejuvenated.
To book your Emporium Hotel and CRYO beauty treatment with The Homan Brand, head here.