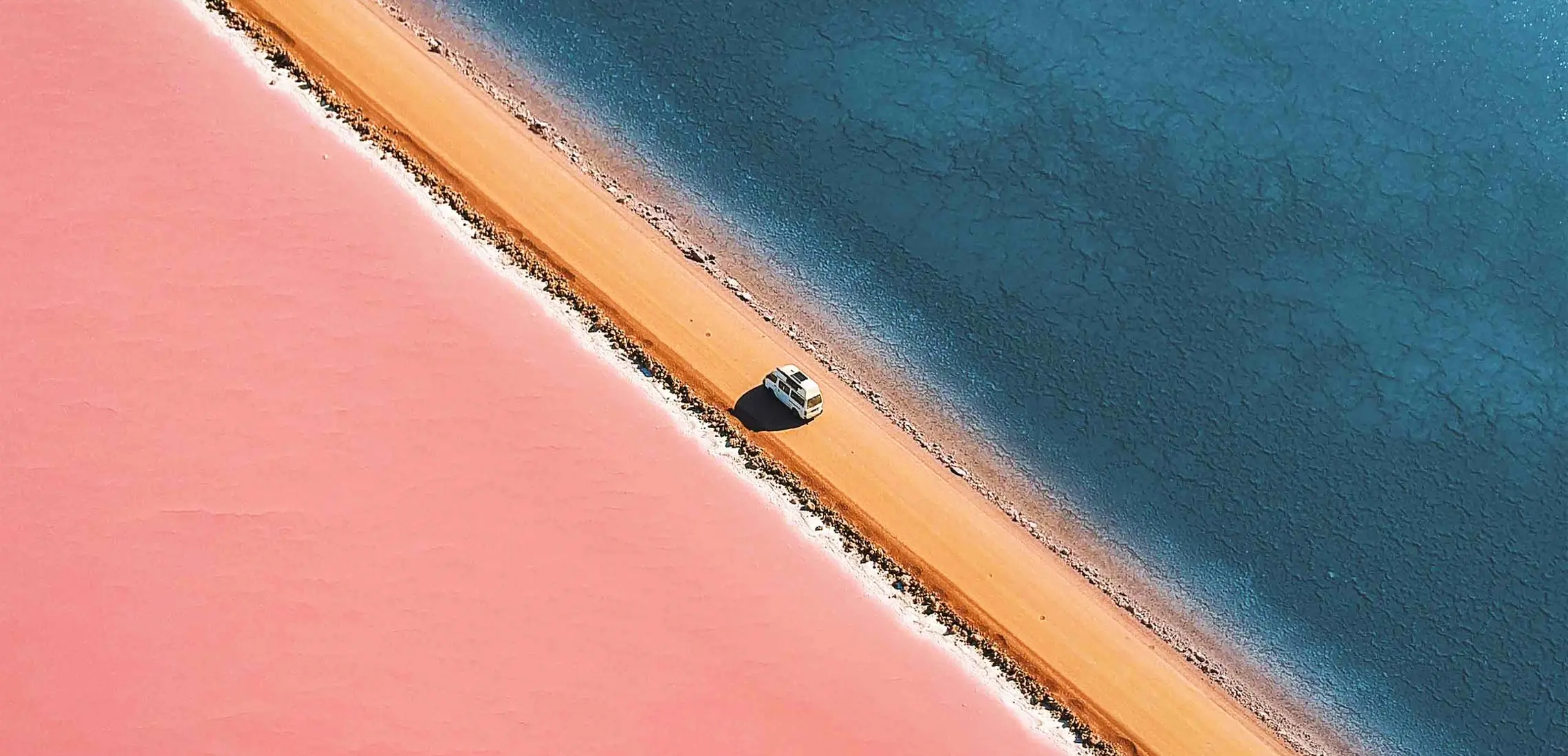 12 Colourful Destinations In Aus!
Somewhere over the rainbow…
By Guest Styler | 21st May 2020

Longing for the day the interstate borders open up? (So are we!) Hopefully, it won't be long now because our feet are a-itching! While our European vacay is still a little while off, we're not mad about the possibility of exploring our home-grown treasures right here in Aus. As such, we've compiled some of Australia's most colourful destinations to add to your bucket list. Natural phenomena as well as man-made beauties, these spots are some of the best and most beautiful! Who knew our landscape had more colours on the palette other than orange dessert and lush greens!
Bridestowe Lavender Farm, TAS
Oops did we accidentally take a detour to France? Nope! These gorgeous lavish lavender fields are just over the pond in Tasmania! When London perfumer CK Denny migrated to Tasmania with a packet of lavender seeds from the French Alps in 1921, he made sure we'd have this national beauty for decades to come.
Brighton Beach, VIC
Talk a stroll along Port Phillip Bay in Victoria and be met with a rainbow of colours at the iconic Brighton Beach Bathing Boxes. Each is completely uniform when it comes to their proportions, but utterly unique when it comes to their colourful design!
Broome, WA
Seeing red? Absolutely! The stunning coral-red coastline of Broome in Western Australia will give you a beach day like no other.
The Daintree Rainforest, QLD
Talk about lush! If green is your go-to, a trip to this Jurassic paradise is a must. Located north of Cairns, this tropical haven is a rare occurrence where the rainforest meets the reef.
Freemantle, WA
We couldn't ignore a literal rainbow right here on our shores! In the buzzing, coastal town of Freemantle in Western Australia not only will you find amazing antique shops and gourmet restaurants but also this stunning public artwork made out of rainbow coloured shipping containers.
Floriade Festival, Canberra
For 30 days across September and October, Canberra's Commonwealth Park becomes a spring sensation like no other. Known for the vast amount of tulips sprouting up in a medley of picturesque colours, the park looks like it came straight off a postcard from Holland!
Hosier Lane, Melbourne
We're taking it to the streets with this one. A popular tourist spot for visitors to Melbourne city, Hosier Lane is renowned for its colourful display of street art. Attracting high-quality artists from all over the world, this spot is the best free art gallery you can go to!
Lake Hillier, WA
You've likely seen this bubble gum pink lake pop up on your Pinterest boards and Insta feeds, so it had to make the cut. Lake Hillier can be found in the Recherche Archipelago in Western Australia. Discovered in 1802, it is believed the lake maintains its strawberry milkshake appearance due to the high levels of salinity.
Lake MacDonnell, SA
Another one of Australia's glorious salt lakes, Lake MacDonnell's pink waters are due to the location previously being a large salt mine. With a strip of land separating two bodies of water, this is a go-to destination when road tripping through the south. *Googles where to buy drones. *
Lord Howe Island, NSW
This heritage-listed paradise is on the coast of NSW yet feels worlds away. Known for its turquoise crystal waters, these stunning lagoons are unmatched for their vivid colour.
Melrose, SA
Sitting at the base of Mount Remarkable in South Australia, this beautiful little town is home to bold and beautiful canola farms. As the oldest town in the Flinders Range, Melrose has plenty to see for an interstate holiday.
Uluru, NT
This sacred site is one of Australia's most treasured landmarks. It's not hard to see why with its vibrant red soil and the kaleidoscope of colours as the sun sets and rises over this ancient land. Definitely one for the bucket list.
White Haven Beach, QLD
White is a colour, right? Well, it is for this list! And so, we couldn't miss the glorious white beaches of the aptly named White Haven Beach. Known as a honeymoon hot spot, these pristine beaches, vibrant blue waters and luscious national parks make for one breath-taking adventure.
Image credit: MKZ Imagery via Western Australia Tourism, Eyre Peninsula