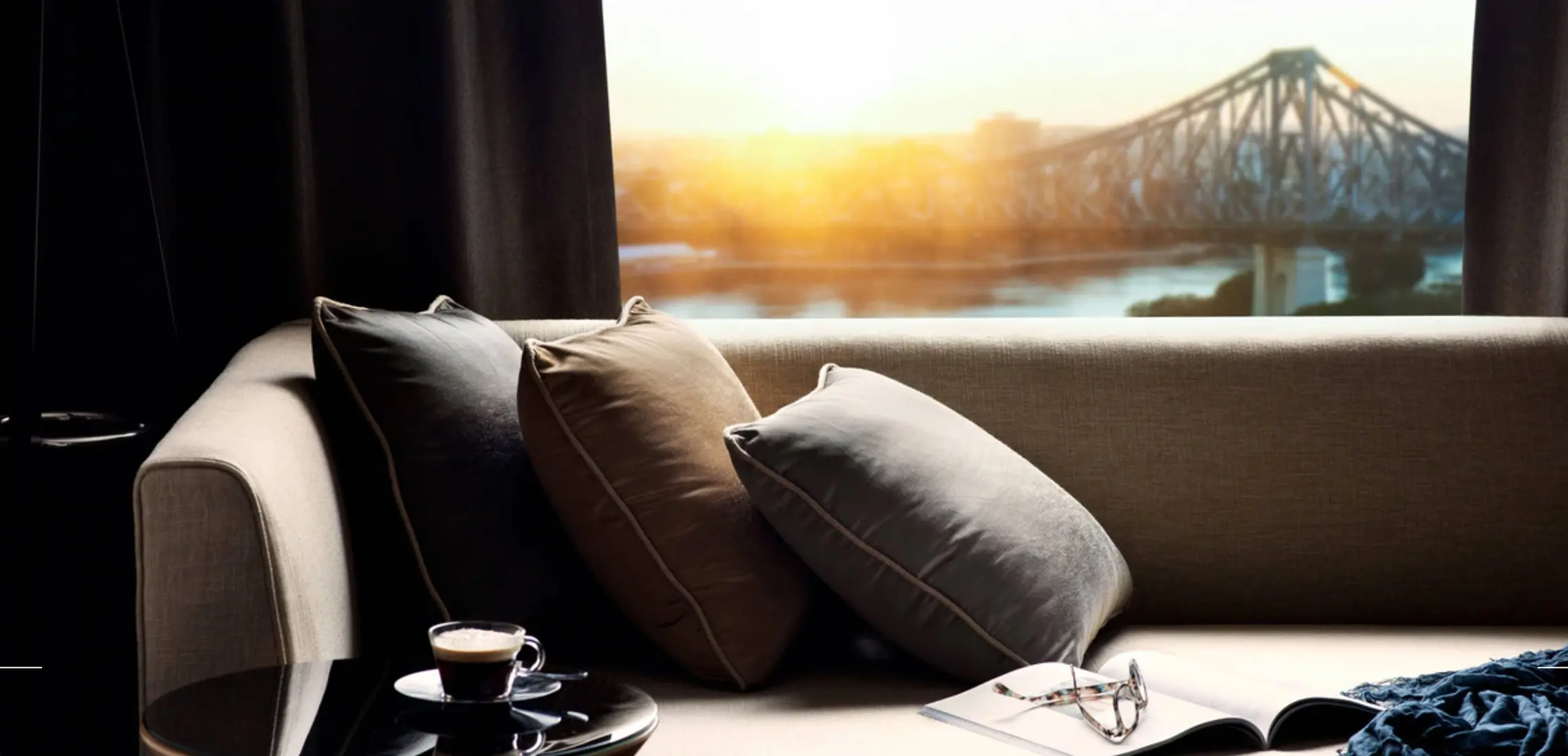 Eat Out, Sleep In! Come With Us On A Luxury Staycation In Brissy's CBD
It's time to unwind the mind
By Courtney Frank | 12th December 2022

Picture this: it's the end of the year, you're tired and burnt out on a Friday night, silly season events are filling up your calendar, and your facialist is mad because you've slept in your makeup (more than once. All you really want to do is curl up in bed with a good book and a glass of red. But then you walk into the foyer of Brisbane Marriott Hotel for a quick overnight staycation, they thrust a glass of champers into your hands and whisk you up to the top floor to an executive suite – and all is miraculously good again.

In case it wasn't clear from the above, I was in dire need of a chance to recalibrate before the end of the year. So, when the opportunity for a city staycation came up, I jumped at the chance to recharge, refocus, and retreat at Brisbane Marriott Hotel. And because staycations are always more fun when you have an accomplice, I decided to take my younger sister along for the ride – she needed the break away from day-to-day life just as much as I did. And so, together we arrived at the hotel on a truly stunning Friday afternoon in the River City. After parking at the valet and heading up to the aforementioned executive suite with a glass of champagne in hand, we were pleased to find a takeaway refreshment hamper filled with delicious cheese and crackers and a chilled bottle of wine. After a quick marvel at the view and a whole new appreciation for the booming growth and development of our riverside precincts, we headed down to the hotel pool with our snacks in hand ready to enjoy the beautiful sunset over the Story Bridge.

Before we knew it, the afternoon had escaped us and our 7pm dinner reservation at Motion Dining was fast approaching. After a quick outfit change, we arrived in the foyer of the hotel to a Christmas wonderland. What a treat! The hotel's entrance was filled with festivity – towering trees and festive fairy lights lined the walls, perfectly complementing the already stately and impressive décor of the hotel. It was the perfect way to set the tone for what was to come at Motion Dining…

Renowned for serving mouth-watering meals designed and prepared by talented Executive Chef, Peter Iwanczyk, Motion Dining is home to some of Queensland's freshest seafood, prime steaks, and impressive wine list. And so, with hungry bellies and a thirst that only a margarita could quench, it was only natural that we started the night with a couple of cheeky drinks – it was the end of the working week after all! For food, we started with seared scallops coupled with parsnip puree, king shitake mushroom and pickled seaweed. For mains, I opted for a classic beef tenderloin steak with red wine jus and fresh root vegetables, while my sister went for one of the gluten-free, dairy-free, vegetarian options in the roasted smoked eggplant galette. We spent the rest of the evening gossiping and reminiscing with a few glasses of rosé in hand – as sisters do – before bundling up in bed with Marriott's signature silken sheets providing the ultimate comfort. It was truly the perfect end to a blissful stay in our beautiful city.

If you too would like a spring clean for your wellbeing, the Retreat, Recharge, Refocus package is just the thing to regain your peace of mind. It includes overnight accommodation in a beautifully appointed room featuring a view of the Brisbane City skyline or the Brisbane River. You'll also enjoy a chef's selection breakfast for two, plus a $25 credit to Motion Dining. Bon appetit!