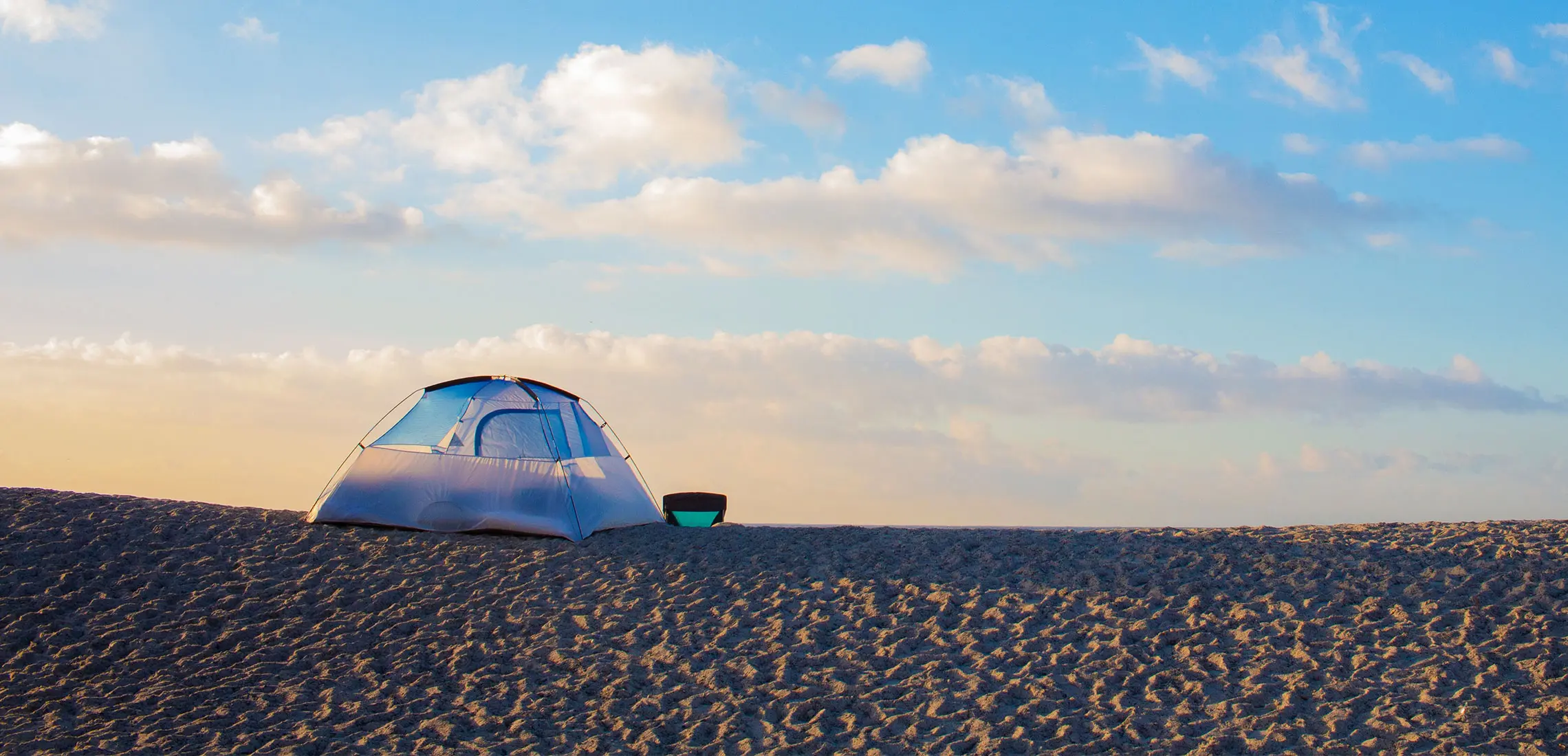 QLD's Ten Best Camping Spots
No damper in sight!
By Kate von Euw | 23rd February 2021

It's fair to say that a certain pandemic may have put a spanner in the works for our overseas holiday plans. Not to worry, we've sourced some of Queensland's greatest camping hotspots that will have you up and out on the weekends. Buckle up Stylers, we're doing things local this year!
Heading up north:
Picture this: endless beach stretches, tranquil waterways and immaculate sunsets. From Teewah Beach to Double Island Point, Cooloola is your one-stop destination for the best of Aussie living. For the hardcore campers, Teewah offers seven beachside camping zones, each with varying camping restrictions. Who needs a roof when you've got the stars, ammiright?  If the whole sea-shower, no shaving thing isn't your cup of tea, don't stress! Trailer and tent sites with amenity facilities are offered in close proximity to Cooloola's Freshwater Lake – a definite must-visit! Whichever method of camping you prefer, be sure to book a vehicle access permit and campsite to avoid council fines. So load up the 4WD and get ready to hit the road for adventure! For all pricing and restriction info click here.
Bargara Beach
Just a stone's throw from the beautiful Southern Great Barrier Reef and a hop, skip and a jump from a range of local cafes, restaurants, surf and fishing spots,  BIG4 Bargara Beach Caravan Park is an ideal stay for those who want a lil' bit of everything. Choose from one or two bedroom cabins from $122 per night or powered and unpowered sites suitable for all tents and camping vehicles from $33 or night. Drive ten minutes north from BIG4 and you'll find Mon Repos, the largest loggerhead turtle nesting site on Australia's east coast. Dive deep into the region's rich marine history and book a session to swim alongside the curious mammals who inhabit the Southern Great Barrier Reef. Time to tick that one off the bucket list!
Noosa River
Ahh Noosa, the glorious Sunny Coast destination we all know and love. From the buzzing busyness of Hastings Street (a coastal shopaholic's dream) longboard central, First Point (surfs up!) and of course, the Instagrammable Fairy Pools at Granite Bay, Noosa is bound to satisfy all your holiday desires. Take your stay away from the town craze, to the shores with Noosa North Shore Beach Campground, which offers over 40 powered and 45 unpowered sites available to guests. Although fires may be a no-go, the campground includes a fully furnished camp kitchen with cooking facilities, fridges and eating areas. Additionally, toilet, laundry and shower amenities are also available for use. Immerse yourself in Noosa's fauna with a day trip to Lake Cooroibah or spend the afternoon 'laxin by the beach. Did someone say wine o'clock?
If you're a sucker for the hustle and bustle of Noosa's epicentre, Noosa River Holiday Park may be more your camping vibe. The park is equipped with a selection of powered and unpowered waterfront and non-waterfront sites, a riverfront camp kitchen, laundry and amenity blocks. A kiosk is also on-site with all the essentials (late-night snacks, obvs). To inquire about prices and bookings for Noosa River Holiday Park and Noosa North Shore Beach Campground, click here. Pack those swimmers and camping chairs – oasis awaits!
Cruising down south:
Tangalooma
Jump on a 75-minute ferry from Brisbane Wharf and you'll find yourself cruisin' into Tangalooma, Moreton Bay's very own holiday haven. Undertake various land and water-based activities at Tangalooma Island Resort, such as snorkelling and desert safari tobogganing. Feeling inspired by nature? Get your Irwin on and hand-feed the wild bottlenose dolphins that visit the shores each evening at sunset. Count us in! Choose from multiple camping sites including Blue Lagoon, Ben-Ewa and The Wrecks, a popular day trip location for adventure seekers. A map of Moreton Island's National Park popular camping grounds and their facilities can be found here. Camping and 4WD vehicle permits are required prior to travel and can be purchased online at Mulgumpin Camping, with camping rates per night starting as cheap as $13.30! Amenity facilities differ between sites, with most providing basic toilet and cold shower facilities. Dry camping at Tangalooma – the ultimate way to enjoy all the natural wonders Moreton Bay has to offer, but definitely not one for faint-hearted campers!
North Stradbroke Island
It's fair to say that once you've done a trip to Straddie, you'll be heading back soon to do it all again. Adored for its various pristine beaches, top-notch surf spots and local charm, there's no steering away from a classic camping getaway at North Straddie. If you're in search of communal campgrounds, look no further than Amity Point – North Straddie's prime fishing and boating hotspot. Pitch a tent, bring a swag, throw out a line, and let the day slowly pass you by. The Amity Point Camping Ground is fam-friendly with:
Shower
Washing
Toilet
Cooking
Honestly, who needs free Wi-Fi with the abundance of shops, bushwalks and beach activities on offer nearby? Amity Point camping rates range from $50-60 per night and are dependent on powered or unpowered sites.
If a one-with-nature coastal stay is what you're seeking, Flinders Beach and Main Beach are our top picks for beach camping. Bring the pups (yep, Flinders and Main are dog friendly!) and be sure to bring the 4WD to avoid some seriously nasty sand bogging. You can expect beach camping base rates of $20.25 at Flinders and Main. Talk about beach stay on a budget! Finally, if you're more of a glamping gal (beauty sleep, duh) Adder Rock's Camping Ground offers cabins and island-style glamping tents, starting at $169 a night for two guests.
Tallebudgera Creek
Calling all fishing and boating fanatics! The ultimate fun-cation awaits you and the fam at Tallebudgera Creek Tourist Park. Spend the day swimming, skiing, fishing, playing tennis and soaking up some rays, then catch a ride into Burleigh Heads or Palm Beach and grab a bite at one of the GC's buzzing restaurants (we recommend Balboa Italian in Palm Beach or the Burleigh Pavilion!) With family camping prices starting at $45 a night, fully furnished cooking, cleaning, amenity and recreational facilities, Tallebudgera Creek Tourist Park's got all the gear and the right idea! Brb, gonna go pack…
Binna Burra
Positioned 800 metres above sea level rests the Gold Coast Hinterland's best-kept secret, or as the Indigenous know it, "where the beech tree grows." Binna Burra's intimate and unique isolation makes it the perfect escape from the pressures of everyday life, presenting its visitors the opportunity to interact with nature and experience nature in all its beauty. The Binna Burra Campsite is located on the doorstep of Lamington National Park and bears entrance to multiple walking tracks. Camping options range from two and four man tent sites ($30 per night for four people) to safari glamping-style tents ($75 per night for three people), with a limited number of powered sites suitable for campervans. Campsite amenities include toilet and shower facilities, coin operated washing machines, electric BBQs, communal fire pits and free parking. Fill your day with activities such as archery, guided park tours, yoga and spa treatments, then curl up in front of the campfire and take in the breathtaking views.
Lamington National Park
Nightfall at Lamington is putting the glam in glamping and we're here for it! Think minimalist luxury, magnificent views and all the simple pleasures of camping made comfortable. The hand-crafted Nightfall safari tents nest delicately beside the tumbling headwaters of Christmas Creek and the renowned Lamington National Park rainforests. Adventure out into the abyss of Lamington's hinterland, wind down with a soothing massage, then falling asleep to the serene sounds of Mother Nature. The perfect destination for couples, wedding parties, or you and your bestie! Prices from $935 per night. This is livin'!
En route North Queensland? Why not turn that getaway into a road trip! (Psst! check out our previous article on The Best Campervans For A Road Trip). We've picked two more of our favourite northern destinations that are a must-visit, and you won't be disappointed. Plug in the aux – let's hit the road!
Daintree Rainforest
Who knew the world's oldest rainforest was living right on our doorstep! World heritage listed as of 1988, Daintree Rainforest stands adjacent to the Great Barrier Reef – talk about top notch landmarks! Situated in the heart of the rainforest, Daintree Rainforest Village is the perfect destination for living it up with the fam. We're talking lush landscapes, open campfires and of course, tree swings for the kids (who, btw, stay free if under 12!). Caravan and pet friendly with laundry, kitchen and bathroom facilities, camping rates at Daintree range from $30 per person, per night for powered sites and $20 per person, per night for unpowered sites. It's the ultimate family staycation!
Yeppoon
Nestled in the shire of Livingstone, Yeppoon is renowned for its glorious beaches, tropical climate and proximity to the Keppel islands. Rest and recoup at Yeppoon's Beachside Holiday Caravan Park, which offers both powered and unpowered sites suitable for caravans, camper trailers, tents and free campers!  The caravan park offers two camp kitchens, coin-operated laundry services, four amenity blocks, and for those who need their daily dose of socials (us, obvs), free Wi-Fi! Camping prices range from $40-55 per night for two guests with the cost of additional guests being $11 per person, per night. With direct access to Farnborough Beach and daily ferry services to Great Keppel Island, surf, swim or paddle the day away, then fall asleep to the soothing sounds of the coastline. Ahh, serenity!