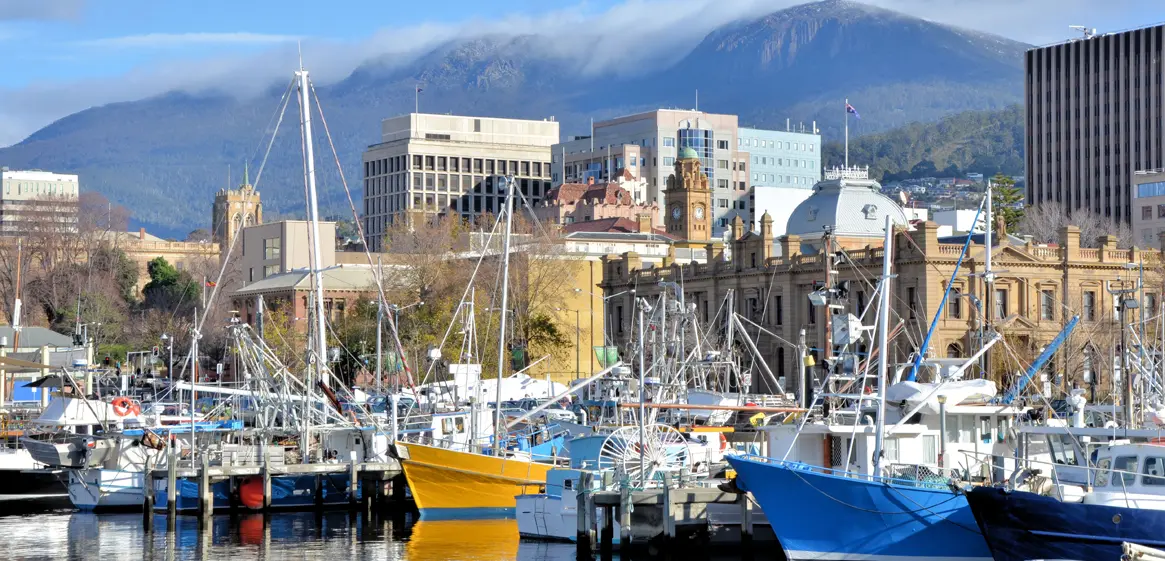 48 hours in Hobart
Style Journo Jane shares her step-by-step guide to the ideal long weekend in one of Australia's top foodie destinations, Hobart.
By Guest Styler | 25th June 2015

Forget Paris or Bora Bora for your next romantic escape, Hobart is the new 'it' destination for weekend getaways.

There is plenty to eat and see to keep you busy for weeks, but if you're short on time, a long weekend in the southernmost capital is just what you need to recharge.

The biggest attraction for me was the food and drink culture and Hobart's reputation as a thriving arts hub.

I stayed at the RACV/RACT Hobart Apartment Hotel; it's smack bang in the middle of town, with its own restaurant (Charcoal) and it's in walking distance to all the major sights – perfect if you prefer to explore town on foot like I do.

Here's what I managed to check out in 48 hours in Hobart. I suggest you add these to your list of must-dos!
Friday
1pm: Arrive, ditch the bags and head straight for the nearest restaurant!
We hunted down alleyway burger joint, The Standard for a couple of juicy American-style (and Breaking Bad themed) burgers – Blue Cheese dressing not optional (well it is, but trust me it's amazing). We then went for a wander around town and spent some time getting a feel for the city. I really had no idea how beautiful and historically rich Hobart is. It strangely feels like you've travelled half way across the world thanks to the English and Irish appearance of the buildings – it's easy to get lost for hours admiring the architecture – and the countryside is absolutely breathtaking.
6pm: Refresh and get ready to eat again!
We dined on classic, wholesome fare at Charcoal. Just downstairs from the hotel, the restaurant is super cosy – perfect for a relaxing evening sharing a bottle of Tasmanian red. Choose from delicious wood-fired pizza, steaks, pastas and more.
Or if that doesn't match your mood, try out the new favourite in town, Frank; an Argentinian-influenced restaurant on the waterfront at the historic, Franklin Wharf. It boasts a colourful and eclectic fit out, with a mouth-watering menu and stellar cocktail list to match.
Saturday
8.30am: Breakfast at Salamanca Market
Take a short walk down to the waterfront (follow the faint smell of gourmet sausages) and spend the morning exploring the sights, sounds and flavours at Salamanca Market. With over 300 stallholders you'll need to take your time walking the laneways tasting the fresh produce, savoury delights and sugary treats as you go (like freshly made custard-filled donuts or rich Tasmanian fudge). Eat your way through while browsing locally designed leather goods, jewellery, fashion and hand-made homewares from woodwork to glassware and ceramics – I picked up two beautiful white ceramic cups by local artist Sallee Warner.
Once you've had your fill of local goodness, meander up Kelly's Steps behind the Salamanca Market stalls that lead to Battery Point. Prepare yourself for more eating though because there are far too many quaint cafés and restaurants to try.
1pm: A tasting at the Lark Whiskey Distillery
Book a spot to travel to the Lark's Coal River Valley distillery to witness the art of creating their Single Malt. But if you find you've spent too much time wandering around town (like we did) and miss the 12pm or 1.30pm tour, simply head to the Lark Cellar Door and Whisky Bar (located by the Maritime Museum) for a tasting there.
3pm: Head to France for a late lunch
If you're feeling spent and just need a coffee and some time to relax, Daci & Daci Bakers is another excellent find for lunch. Visit the warm French-inspired café to have your fill of delicious cakes, biscuits, pies, pastries or tarts, daily-made baguettes, sandwiches or rolls, and amazing coffee.
7pm: What's that? More food?
As guests of RACV/RACT Hobart Apartment Hotel, we were treated to an absolutely outstanding five-course degustation dinner in the old Cascade stables (a beautiful building that is now part of the hotel). All the produce used to create the menu for the evening was locally sourced, and each dish was matched with amazing wines from Home Hill (with beers from Cascade Brewery also a feature).
Had I not been treated to such a memorable evening, based on recommendations from friends, I definitely would've tested out the Drunken Admiral. The institution – running since 1979 – serves up the best quality seafood and a vibrant atmosphere right on the waterfront. I have my eye on the Fish market chowder (a tradition since the restaurant opened) and the Bloody Mary oyster shooters for next time!
Sunday
9am: Half a day at MONA
Head downstairs to Charcoal for a quick breakfast before jumping on the first ferry bound for one of the top sights in Hobart: the famous Museum of Old and New Art (MONA). Set aside half a day to explore the awe-inspiring and somewhat confronting collection of artworks and collectables from across the ages (think Ancient Egypt juxtaposed with 50 Shades of Grey) and finish off with lunch at the museum's cafe, overlooking the water. Book the MONA Triple Treat three-night package at RACV/RACT Hobart Apartment Hotel to enjoy two free fast ferry tickets and free entry for two to MONA, plus breakfast daily and a welcome beverage each at Charcoal.
Tip: Try to head to Hobart when you can catch one of the edgy arts festivals, MONA FOMA or Dark Mofo.
2pm: Last but not least…
If you've got a little extra time before you head home, try to fit in one more tasting. At Cascade Brewery you'll learn all about Australia's oldest brewery and the process of creating their iconic beers. Or try some award-winning wines when you visit Home Hill (located in Huon Valley just 30mins out of Hobart). They've been running for over 20 years and specialise in pinot noir and chardonnay.
But if you're finished indulging, go exploring at Mt Wellington instead and bask in the virtually untouched scenery.
5pm: Head to the airport (most likely kicking and screaming).