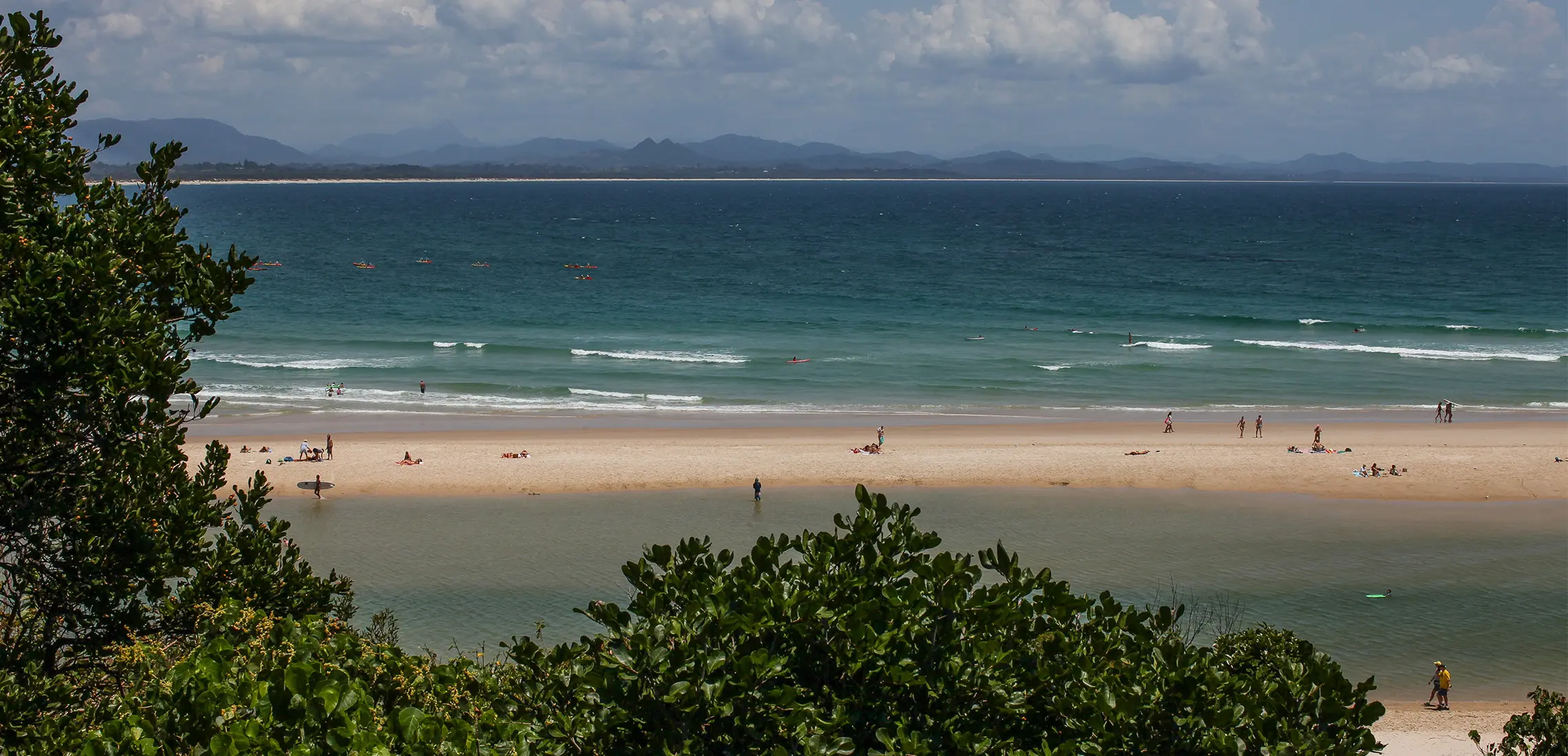 Max Relax: A Luxe Byron Bay Home Worthy Of Your Annual Leave
Barefoot luxury starts here
By Tracy Sinclair | 11th December 2022

I don't want to gush, nah, I am. I'm going to gush. I just had the most divine short break, thanks to a magnificent human being, Deb Garske – owner and designer of the luxury guesthouse, 28 Degrees Byron Bay.

Deb (and her right-hand gal Maureen) were there to meet us, all smiles, when six slightly stressed out, deadline-centric women arrived at this seaside haven. (However, interestingly not so stressed that we couldn't slip away to Byron for two days *wink wink*).

Located just two blocks from the beach and a block from the action, 28 Degrees is a gorgeous residence in the heart of Byron Bay town, privately tucked away behind high fencing and greenery. Once inside, the house reveals itself as a luxe Australian beach house with all-white exterior, potted palms at the entry, and a cowrie shell hanging on the door handle (I love that!). Inside, breezy and light-filled spaces have the most calming effect – I instantly felt myself breathe and walk slower. Every inch of the house has been thoughtfully designed for guest comfort, so it's little wonder that a raft of celebrities including Baz Luhrmann have stayed here. The decor, too, is meticulously curated. But that's not to say it feels pretentious. Quite the opposite. This is a property where you can kick off your shoes and feel at home, particularly for a large group of friends.

28 Degrees is a slightly tricky property to describe because of its versatility. It can be utilised in various ways to suit your holiday needs. There is the main house that you can 'takeover' with exclusive access to the kitchen, living areas, and lap pool, and individual guest rooms each with a beautifully appointed bathroom (which is the only nod to #hotellife that you'll feel here). There are also fully self-contained guest rooms, which you can access separately from the main house (each has a private plunge pool). When the house hasn't been taken over, it becomes more of a communal space where you can prepare meals and dine on the huge island bench or chill out on the couch, providing the option to be sociable or luxuriously anti-social in your spacious room.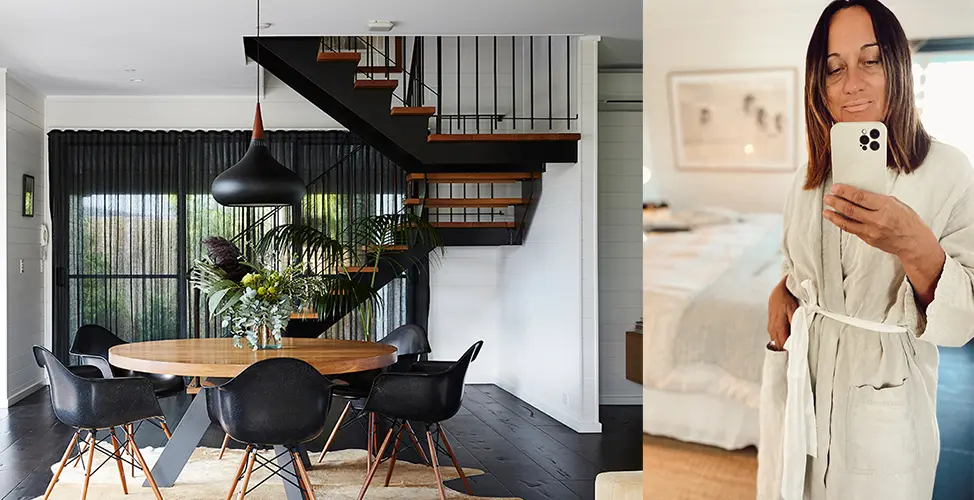 The property resonated with me on so many levels with its earthy decor (recycled French Oak floors, I adore you). It's a place for tousled hair, bare feet, and languid daze (yes, I meant daze), of bubbles, beach, and books. The styling personifies Deb to the nth degree. An interior designer, hailing originally from Norfolk Island, the house embodies Deb's philosophy of the 'slow living reset' and offers an insight into her travels and life in far flung places around the globe.
There are too many features to unpack here, so I'll do a quick dump of the things I loved most – the Mountain Chai by Organic Tea Shop Noosa, the deliciously soft bed linen, the Maker&Son armchairs, the homemade granola, the touch of exotic shells (which transported me back to my years as a kid in Fiji), the waterfall shower pressure, the artwork, and the lovely linen guest robes (which I legit wore the whole stay). And did I mention the recycled French Oak floors? 
Pop this one on your list for a luxe girl's weekend or next adults-only celebration (fun fact: 28 degrees is an over 21, adults-only zone). You can have the place to yourselves, however Deb and Maureen are always close by, and can assist with restaurant reservations, catering, wine and cheese tastings (in the house), in-room massages, and more, making this a truly personalised experience. 28 Degrees has the love of environment and comfort at its core. It's a beautiful home and well worth a stay – I know you'll be gushing too!