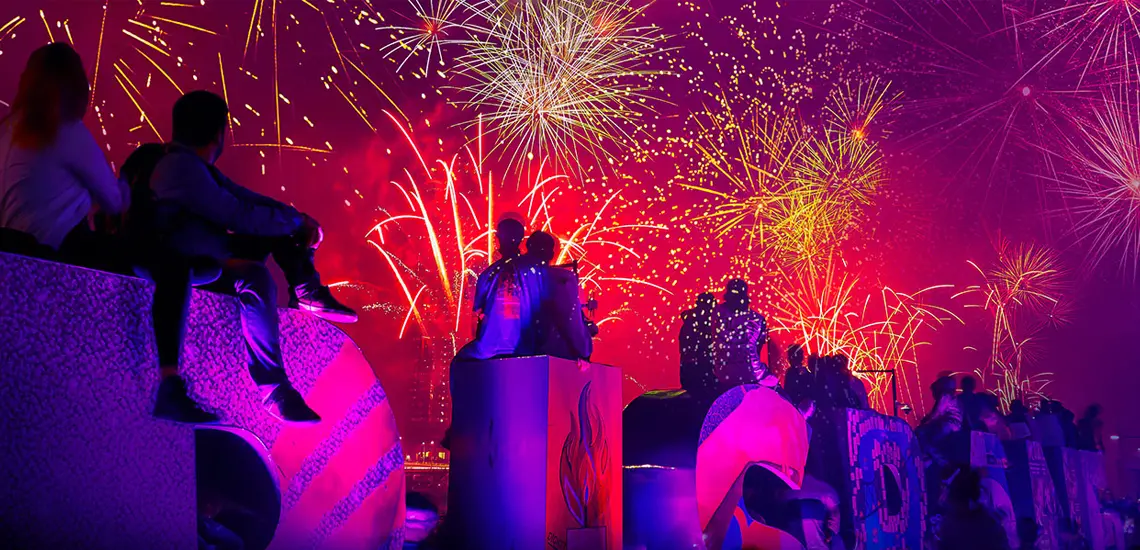 Everything You Need To Know For Brisbane Riverfire In 2019
We're exploding with great tips.
By Clare Lacey | 23rd September 2019

As one of the busiest nights of the year with over 500,000 people flocking to the CBD to witness the spell bounding firework display that is Riverfire, making your way around can be a little difficult! So, to make things easier we've done the hard work for you and put all the road closures, parking spots and public transport deets in one convenient location.
Getting There
Our advice: leave the car at home and take advantage of the free public transport running on the night! To jump on a bus is probably the easiest way to travel on Riverfire night but if you do insist on driving beware of road closures! Find a full list of road closures and interactive map here. If you do opt for public transport, to make things even easier, additional buses will run around key locations: Inala Plaza, Eight Mile Plains, Garden City, Sunflower Shop, Carina, Toombul Shopping Centre, Chermside Shopping Centre, Aspley Hypermarket, Kenmore Central, Riverhills West, Heathwood and Redland Bay Marina. Find a full list and further details on extra services here.
Where to park
Once you've managed to make your way into the city, avoiding all the road closures, you have to find somewhere to park! Well, don't worry, we've got that sorted for you too! Unless the carpark fairies really like you, free street parking is probably off the table on Riverfire night. Instead, book in early and secure a spot for under $25. Here's our list of the most convenient flat rate carparks open on Riverfire night:
$25: Vulture St
$20: Eagle St Pier and Riverside Centre
$15: 12 Creek St, 10 Eagle St, Central Plaza 2, AM60, and 363 Adelaide St 
$10: 123 Albert St and 119 Charlotte St 
Where to park for Style's Pick of Packages
If you haven't already seen it, we compiled a Round Up of Brisbane's Best Riverfire Events for 2019. So, if you've taken our advice and have tickets for one of these epic events we want to make life as simple as possible. We've found the best parking deals and most convenient public transport options to make your night the best it can possibly be. 'Cus lets be real, paying less for parking = one extra espresso martini (not for the designated driver though!).
Friday's Riverside | Brisbane City
The closest parking for just $15 can be found at 363 Adelaide St. Only a 350m walk from Friday's, it can be done in heels! Otherwise, jump on a bus to Eagle Street Stop 152 at Riverside Centre only 70m from Friday's.
Howard Smith Wharves
Whether you're hitting up Arc Dining, Ciao Papi, Mr Percivals or Felons Brewing Co to get your Riverfire fix at the Howard Smith Wharves (aka: Brissy's hottest new precinct), park right there at 5 Boundary street. Otherwise, 363 Adelaide St is a short and sweet 600m walk to your rockin' destination! If you opt for public transport you've got a few picks, catch a bus to Adelaide St, Eagle St, Ann St or Brunwick St all located within walking distance of the Wharves!
Jade Buddha Bar | Brisbane City
Chillaxing at Jade Buddha with a cocktail in hand seems like a pretty good way to experience the cities best firework display! The added cherry on top is parking for just $20 at Eagle St Pier – only 60m away! Or easily catch a bus to Eagle Street Stop 153 dropping you only 75m away.
Kingsleys | Brisbane City
If this luxe package is callin' your name, with a three-course meal and three-hour beverage package add convenient $20 parking only 80m away at Eagle St Pier. Otherwise jump on a bus to Eagle Street Stop 153 dropping you only 130m away!
Riverbar and Kitchen | Brisbane City
A fave destination for most Brisbanites, Riverbar and Kitchen is the place to be for this year's Riverfire extravaganza. $15 parking is conveniently located at 10 Eagle St only 80m away! Or catch a bus to Eagle Street's Riverside Centre only 140m from Riverbar.
Riverland | Brisbane City
If you're after your street food and firework fix in one convenient location Riverland should be your go-to spot this Saturday night. Take advantage of the $15 parking at Central Plaza 2 just 200m away. Or catch a bus to Eagle Street's Riverside Centre only 150m from Riverbar!
Signature, Emporium & The Terrace | Southbank
The breathtaking vantage point from Emporium Hotels has super convenient flat rate parking right downstairs, only $25 at Vulture St. Or if you're leaving the car at home, jump on a bus to the Southbank Busway, then take on the 160m walk to Emporium and you'll be sippin' champagne before you know it.
Eagles Nest | Kangaroo Point
The closest parking for just $15 can be found at 363 Adelaide St. This one is a slightly further hike – 2.7km but cheap parking + the incredible view from Eagles Nest will be worth it, trust us! Alternatively, jump on a bus to Main St River Terrace dropping you only 400m from Eagle's Nest.  Don't forget – the Story Bridge will be closed for part of the evening, too!
The Fox Hotel | South Brisbane
The easiest way to make your way to The Fox Hotel for a boogie this Saturday night is to take advantage of public transport. Catch a bus to Culture Centre Station then walk just 240m from The Fox Hotel. Otherwise, $10 parking is available at 123 Albert St  1.2km away.
The Plough Inn | Southbank
The Plough Inn really nail the relaxed pub experience Every. Single. Time. When making your way there for Riverfire, public transport will be your new best friend! Simply catch a bus to the Southbank Busway then walk 400m to The Plough Inn, easy peasy. Otherwise, $25 parking can be found at Vulture St 650m down the road.
Treasury Brisbane | Brisbane City
If you're one of the lucky ones watching the sky light up from the Treasury Brisbane this Saturday, catching a bus there might be your best bet! Jump off at Queen Street Station then mosey only 100m to your destination. Otherwise parking is available on site.