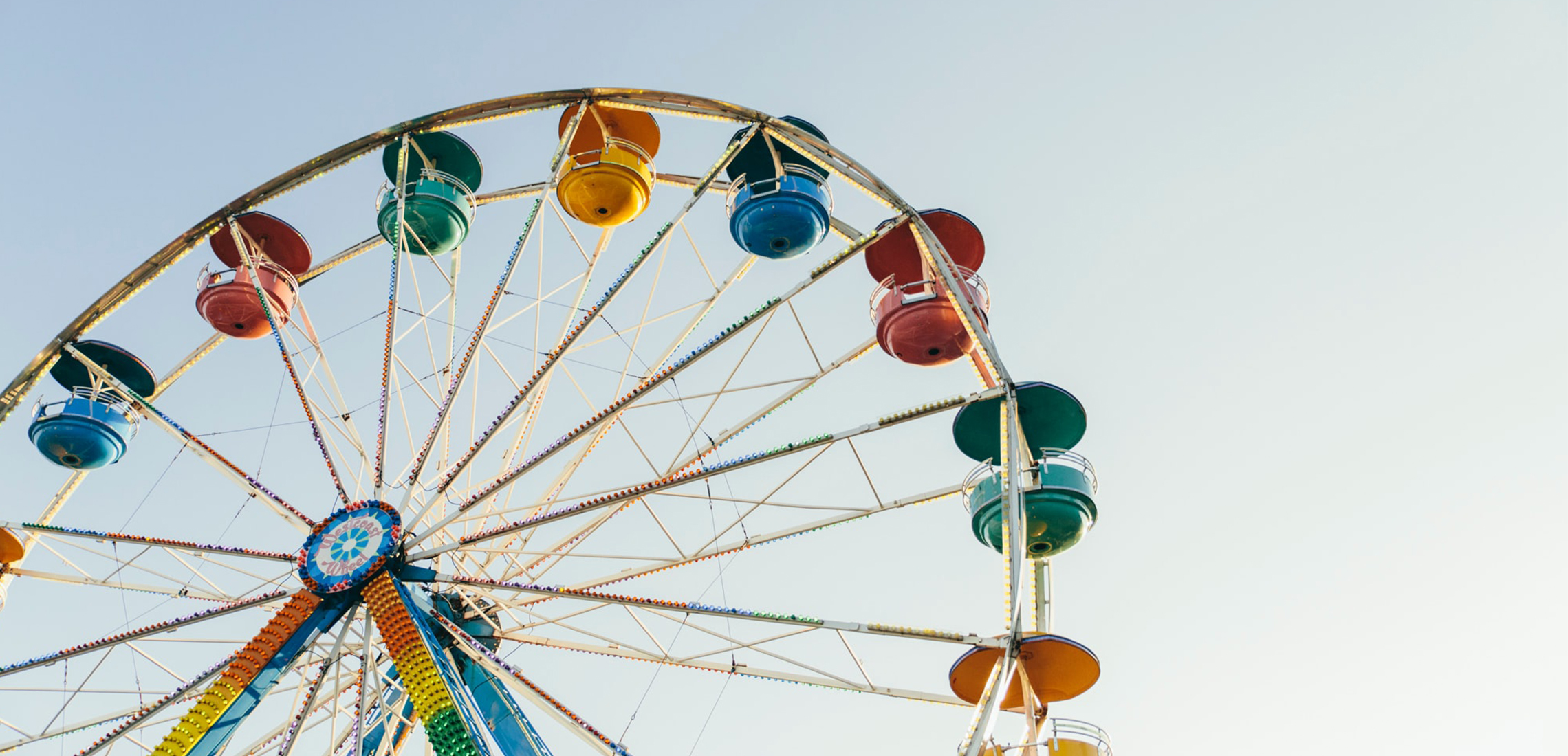 What To Do These School Holidays
What are you waiting for? Start planning!
---
Looking for fun and adventure? Look no further. This is the ultimate list of activities you need to take part in these school holidays.
If you've never played mini golf, it's time to pick up a putter! This game is both fun and challenging – perfect for the whole family. Victoria Park's putt putt course is open both day and night, and there's even a licensed café on site (perfect for parents wanting a cheeky drink after a competitive game with the kids).
The first indoor skydiving facility in Brisbane, iFLY in Chermside gives you the opportunity to soar like a bird, in a simulation of true free-fall conditions! From $79 per person, you'll feel the wind beneath your wings in a safe, fun and overall amazing experience. Flyers can be as young as 3 years old!
There's nothing kids love more than bowling, right? What about bowling for $17 per person, laser tag for $14 per person, escape rooms for $39 per person or karaoke for $150 per room? Strike Bowling Wintergarden is the place to go. In its prime central Brisbane location, this activity is a must for your next family fun night!
A must-see experience for locals and visitors of all ages, one of Queensland's most iconic festivals, The Toowoomba Carnival of Flowers, is back for its 71st year Take a little road trip with the fam and soak up spring at its finest. Choose from a range of amazing tours available and revel in the history and beauty of Toowoomba's gardens, laneways and architecture! Children will also be delighted to take a ride on the Ferris wheel, offering a spectacular bird's eye view over QueensPark.
Do you have kids with unlimited energy who are quite literally bouncing off the walls? Take them to Sky Zone – an indoor trampoline park that will allow them to bounce off walls without damaging your home. The complex also has indoor rock climbing and laser tag, making it the perfect destination for a day of fun for the whole family! It won't put a dent in your bank account either, with prices ranging from $12-$18 per person.
Nothing beats puppies and breakfast, especially when they're together. You might have guessed by the name, but this café boasts a stellar brekkie, including butterscotch waffles and bacon pancakes (*drools*), but also a pen of adorable Border Collie puppies to play with. For dog lovers, this place is definitely worth a visit – we promise you won't be disappointed!
Every Wednesday night in September and October from 5-8pm, Post Office Square in Brisbane City will be transformed into a FREE pop-up cinema. Perfect for a mummy and daughter date, the flicks will include classics such as You've Got Mail and our personal favourite, My Best Friend's Wedding. If you're thirsty, the pop-up bar will be serving wine, beer and soft drinks for the kids. Flicks and food – what could be better? See you there next Wednesday!
https://www.instagram.com/p/BijcbGglLKS/
Eat Street is throwing open its doors once again for the KombiAlley Drive-Thru Dessert Festival. You will be able to drive through the popular shipping container foodie hub to collect your fav desserts in the COVID safety of your car (yes, that means pjs ARE an acceptable outfit choice). The event boasts a range of Eat Street classics, including cannoli, cronuts, super shakes, doughnut fries and more. This special event is open during the September school holidays every Friday and Saturday from 3pm to 9pm, and Sunday from 12pm to 8pm. It will also give you an opportunity to bust out your best car dancing moves, while tuning into 88.1 FM to listen to Eat Street's own drive-thru DJ, Johnny Drama.
https://www.instagram.com/p/CE_A1LAHzDo/
Is keeping the kids occupied during the school holidays proving a problem? Well, Thursdays are now taken care of, thanks to Kids Collective at South Bank Parklands. The program boasts a series of free (yay) specially curated kids activities designed to both educate and entertain – from craft workshops, musical plays, puppet shows and much more! Just make sure to register ahead of time because spots book up fast!
Located in the Cultural Precinct of South Bank, The Queensland Art Gallery and Gallery of Modern Art makes for the perfect family outing. The QAGOMA Children's Art Centre works with artists to create activities and interactive installations for kids and families, that change throughout the year to keep your little ones interested. Entry to the Children's Art Centre is also free, making it ideal for a cheap day of family fun. After you have finished at the galleries, the surrounding grounds are the perfect spot to sit and have a picnic overlooking the river. They are open daily from 10am to 5pm.
Introduce your little ones to the world of produce, arts and crafts at the Boundary Street Markets. Kids can pat animals at the petting zoo, play on the jumping castle, and watch live entertainment, while parents participate in workshops and cooking demonstrations. Sounds like a win/win to us!
For those with an adventurous side and no fear of heights, the Story Bridge Climb is the perfect holiday activity. Make a day out of it with an afternoon climb, seeing the spectacular bird's-eye-view of Brisbane's skyline, or alternatively go for a night climb where you'll feel like you're amongst the stars. They're currently offering family passes for 25% off!
Strawberries are the perfect sweet and healthy treat for the little ones. We are so lucky here in Brisbane that we have access to strawberry fields in every direction. The "pick your own" option is not only affordable, but a fun activity to partake in with the whole family.
If you're looking for a road trip adventure, head up to one of our favourites – Maleny Dairies! A family run business, you will have the opportunity to take a tour, where you will cuddle up to some cute farmyard animals, feed them and even watch a hand milking demonstration.
If your little ones spend more time in trees than on solid ground, a hike will be right up their alley. Mt Coolum is known for its man-made rock stairs that lead straight to the summit, making it a popular Sunny Coast option for active families. It's challenging enough for keen teens and an absolute adventure for the youngsters. Once you reach the top, take a seat and watch the waves roll in over The Pacific. Then, head into Coolum to refuel at one of their many cafés and bars!
What kid doesn't love a fluffy marsupial that hangs out in trees? For an immersive koala experience, head to Daisy Hill Koala Centre and explore this eucalypt forest koala enclosure for free! We encourage donating a few gold coins if you can to help their continuing efforts following the bushfires earlier this year.
https://www.instagram.com/p/BzRzTVhlTuE/
Making Mosaics
Mosaics are hands-on and expressive, and with classes specifically for ages 7-11 or teens, your mini Picassos will be begging you to book. Learn from an expert and enjoy a guided class with Jane du Rand herself. Your kids will come home with a ceramic tile that will SLAP in show and tell and they'll treasure forever.
Nature and Nurseries
Not sure they can handle a pet yet? Swap plastic presents for their very own pot plant and see if they can keep it happy and healthy. If you've got a few hours to kill, book in a hands-on workshop and they'll come out with a kokedama, terrarium or Japanese garden! Take your kids to discover 5 of Brisbane's best memories.
There's nothing like a trip to Bunnings to get the DIY juices flowing. From cubby houses to tree swings, keep the little ones inspired with a project that will keep them outdoors for longer.
Trying to keep up with your teen? Show them you're in-the-know and book in at Brisbane's coolest mini golf course. Bring the younger ones before 5pm in Fortitude Valley or before 8pm at Wintergarden (with adult accompaniment) for an epic day of mini golf and karaoke!
Crikey! Has it been a hot sec since your last visit to the home of the Croc Hunter? Get amongst it and support these Wildlife Warriors with the family. Trust us, you won't hear any complaints as the zoo only gets bigger and better.
Lego Legends
Lego legends unite! Capalaba is home to Brisbane's favourite building site, Bricks 'N Fun. This family owned LEGO specialty store has its very our Buildroom, where the kids can go wild from Monday to Saturday. Just book in for a one or two-hour session from 10am. For kids under the age of five, there is even a DUPLO corner!
Let the little ones choose a recipe they want to take a bite of then hit up Rocklea Markets to introduce them to the world of fresh produce. They'll have to choose the ripest produce (with help from mum and dad) and bring their own reusable bags!
Head to Australia's biggest indoor inflatable playground these holidays! Warning: kids will likely leave with an ear-to-ear smile and sleep the whole car ride home!
You may have seen them live-streaming during isolation, but nothing beats the real deal. From lounging with four-legged mammals to handfeeding colourful-feathered birds, this west side sanctuary is well loved by locals and it's not hard to see why.
Nothing beats wandering these glorious gardens in winter. Make a game from finding the loudest leaves or the softest stones to use in craft later that day. How many plants can they name? What's a group of ducklings called? Head to the Planetarium to finish off an epic trip, or perhaps they're up for a forest walk to the summit?   
https://www.instagram.com/p/CBW8onAFXSy/
Lights, Camera, Action!
Limit screen time during the week for the ultimate reward – a day out at the cinemas! From family flashbacks to Disney legend, Mulan, the big screen is coming back. While you're booking online, check out the Kids Corner and download some Sonic the Hedgehog activity sheets for some extra fun.
Release their inner Houdini and get the cogs turning with a joyful experience at Zone Bowling. The fun begins when you walk in the entrance with plenty to do for the kids including bowling, laser tag, arcade games as well as scrumptious food.