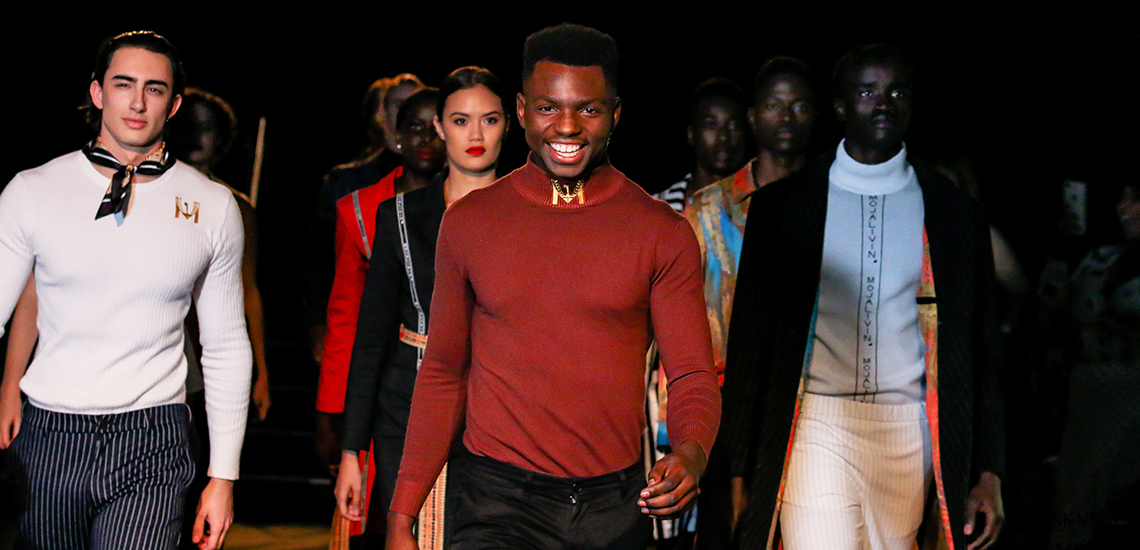 Refugee Camp To Runway: How This Local Overcame The Odds
Threads with thought
---
Weaved into his label, Salomon's story begins in a Tanzanian refugee camp where he spent his childhood watching his parents struggle to ensure his family would see another day. Rather than letting this start in life define him, he used it to empower his future. "Looking back now, I think being born in a refugee camp is my superpower," Salomon says. "I am so grateful for what I have and how far I've come, and it has taught me to see situations in someone else's shoes."
As he grew up and moved to Australia at the age of 12, Salomon sought refuge in an unlikely place – his love for fashion. "I fell in love with fashion in the library as I learnt how to sketch and found cooler versions of ordinary garments," he says. Yet, the thought of his struggling homeland followed him and he wanted to help. Introducing, Mojalivin.
Named after the Swahili word for "one", the label Mojalivin is where Salomon the designer and Salomon the humanitarian meet. "The message is basically "living together as one for a better future," Salomon says. "And for Mojalivin it means partnering with Auscongo to give 30% of our profits to provide medical aid in Congo." Inspired by western trends and African designs, the brand is bold in every collection.
By using the knowledge he gained from his own modelling career, Salomon pulled together a fashion show for Mojalivin to roaring praise, which carried him through to this year's Melbourne Fashion Week.
The future looks bright for Salomon, who is currently rebranding. Mojalivin will run as an independent charity, while the label will carry on under SALOMON JANVIER. "With the right mindset and faith, Mojalivin has shown me dreams can turn to reality," he says.
Read-on for our full interview with Salomon, below!
Would you define yourself as a model or a fashion designer?
I would describe myself as both but mainly a designer. I started modelling in 2016 to use it as a platform to learn about the industry while I was teaching myself how to design. I was able to model for brands like Myer, Universal Store, Culture Kings, Footlocker and many more. The knowledge gained through modelling made it easier for me to organise my own fashion show that I launched on the 16th November last year.
Where does the name Mojalivin come from?
"Moja" is a Swahili word for "one" and "livin" is living without the "g' and more cooler. The message is basically "living together as one for a better future". And for Mojalivin it means giving 30% of our profits to help with medical aids in Congo.
Tell us a bit about your motivation behind Mojalivin?
I started the brand at 17 years old during grade 12. I was born in Nyarugusu refugee camp in Tanzania where I lived for 12 years before coming to Australia. I felt really fortunate to be here but at a point I felt guilty for having pretty much all the basic human needs. One thing I knew for sure was that people back home were still struggling and I knew I wanted to do something about it. By 17, I started thinking about the ways to helps those in need. I have always loved fashion growing up so I asked myself: ''What if I start a brand that gives some of its profits to help people get medical aids?''. Then, Mojalivin came to life.
How would you describe the label?
I honestly always find it hard to answer this question. If I have to describe the brand, I would say Mojalivin has a unique and sophisticated style that some people would admire but may be unsure whether they could pull off. It might be too much for them, but to me it's exactly where it needs to be. Additionally, I would say the brand is a combination of western culture with African inspirations. I'm not scared to push boundaries and will continue to communicate what makes the brand unique in every collection.
Where do the funds raised from Mojalivin go?
We partnered with an organisation that was already operating in the same area called Auscongo.
Why did you choose fashion as your medium to help?
I have always loved fashion growing up. I decided I was not going to university after graduating from high school and wanted to be a designer/humanitarian, and I fell in love with fashion the more I spent time in the library learning how to sketch and finding cooler versions of ordinary garments. The passion grew off the roof with the more knowledge I gained in different areas creating garments that are elegant and cool in my eyes.
What effect has Mojalivin had so far for you and the Congo?
Mojalvin has shown me dreams can turn to reality with the right mindset and faith. For Congo, I guess it's a sign of hope and shows that people do care and one day everyone will have a chance so they can actually experience life without worrying how they are going to feed their kids or asking themselves whether they would be able to afford medical expenses for their child who has malaria.
What's been the biggest challenge in the curation of Mojalivin?
There have been a lot of challenges in making this a reality. The first challenge was opening up and publicly telling people my story. I was one of the 'cool kids' in high school and in my mind I had a lot of questions about how people would react to my story. I thought people wouldn't find me "cool" anymore due to the fact that I was a refugee. But in fact, it was a different outcome. I remember giving a speech at school assembly and it brought me closure while also helping the kids who were born here understand the struggles of refugees.
What have been the highlights of your career?
I flew to China to meet with some potential manufacturers in a rush as I was chasing a deadline. I was too caught up with the idea of making things work that I didn't realise I needed to carry a visa. I arrived at immigration in the airport at 2am excited to have some sleep after a 20-hour flight, only to be told that I couldn't enter the city, as I didn't have a Chinese visa. I was being asked to book a flight back to Australia but I begged for my life at the airport and tried to explain that I was there for business. I was in tears for hours, as I really needed to see the manufacturer to have a see how they work and to ensure the garments would be ethically made. I also didn't tell my parents about the trip as they weren't going to allow their 19-year-old son to fly solo to a foreign country (plus they thought it was crazy to choose fashion as a career). 12 hours later I was given a three-day visa to stay – hope can take you very far.
The fashion show was also one of the biggest highlights of my entire life. I advertised the show four weeks prior, which was very little notice, but for me it just felt like the right time and I gave it my all to make sure my dream came to life. Walking the finale for my show made me realise that dreams do come true.
Another highlight was attending Melbourne fashion week earlier this year. As soon I arrived, the photographer really wanted to get a photo of me wearing the brand. I had a people interested in the designs and asking what brand I was wearing, as it was so unique. I even made it to GQ's Best Dressed.  This made me very humbled and also helped me realise I was on the right track.
Tell us about your childhood and your journey to where you are now?
It was very tough not having enough and watching your parents struggle on a daily basis to make sure we got to see another day. I lost close friends as a kid due to preventable diseases such as malaria or even a cold. After school I would play soccer or go hunting for fun with my friends to forget everything that was happening around us. Looking back now, I think being born in a refugee camp is my superpower. I am so grateful for what I have and how far I have come, and it has taught me to see situations in someone else's shoes.
How would you describe your style?
My style is a mixture of classy and street wear. You are more likely to see me wearing an over coat or a jacket to make the outfit look more unique. I would say I take pleasure in being recognised by what I wear. I always make sure my outfit is well put together before I leave the house as I truly believe that first impressions matter.
What's your go-to fashion accessory?
My go-to fashion accessory is a scarf – it has become kind of a "signature piece" for me as my friends describe it!
What's next for Salomon and Mojalivin?
Currently I have been rebranding. Mojalivin is going to be running as its own charity because I have ideas I have been developing that would be best to help many people efficiently. Mojalivin running as an independent charity will tackle the solutions in a different way and engage or educate a younger audience. The clothing brand will soon be changing to SALOMON JANVIER but the goal and vision will remain the same. I have been meeting with people who are more experienced on running charities to bring the ideas to life. It's very exciting to see everything unfolding.