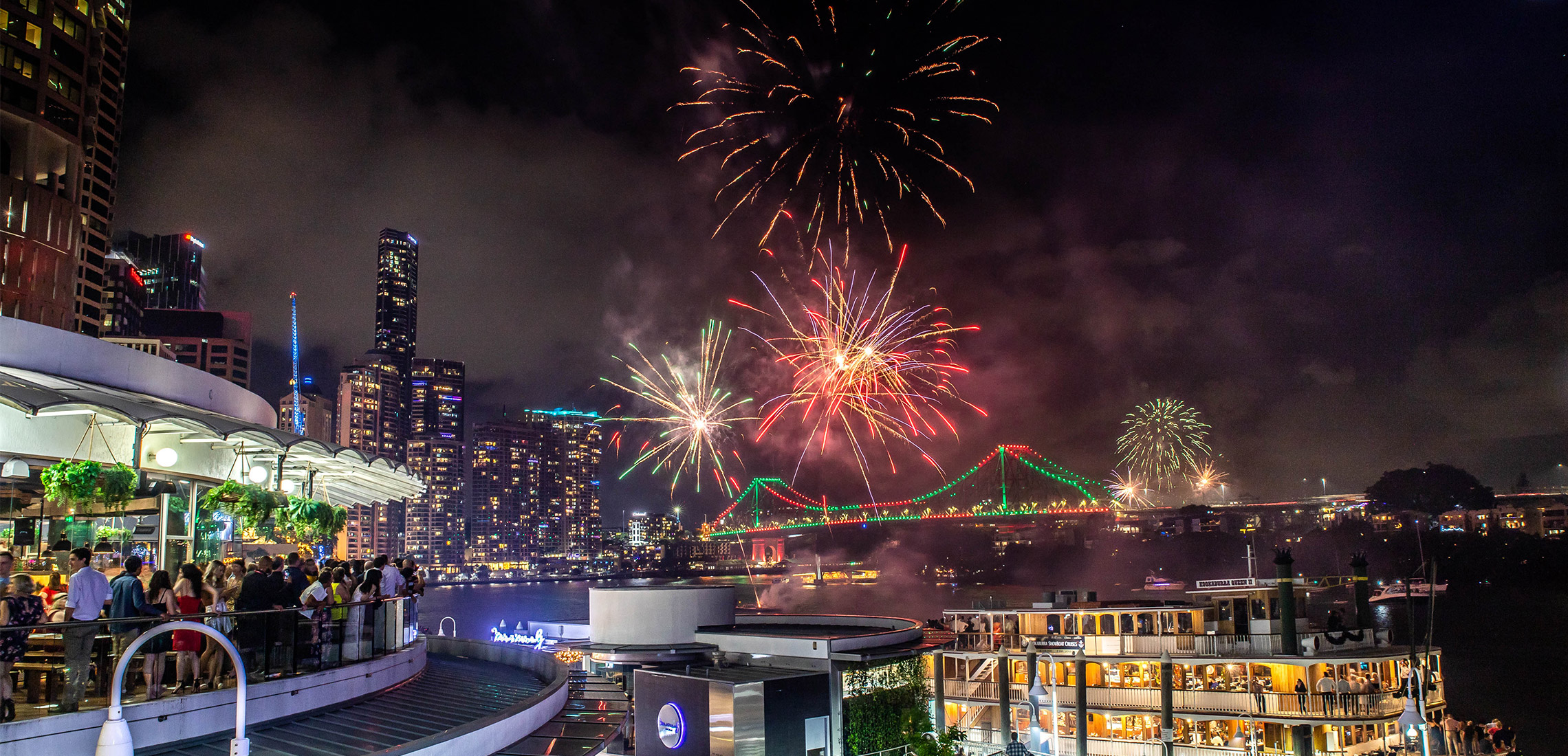 How To Spend Your Riverfire On The Riverfront At Eagle Street Pier
Let's get fired up!
---
Forget craning your head out your window or closing one eye to get rid of the skyscraper obstructing your view – the best place to be when Sunsuper Riverfire lights up the city is Eagle Street Pier.
Not only will you get the most out of the spectacular display, but the dining offerings at Eagle Street Pier's 15 award-winning restaurants are also taking it to the next level. From Latin feasts to fusion flavours, coastal Italian dishes, and so much more, here's where you need to be come September 25.
This iconic Greek restaurant offers spectacular waterfront views alongside seafood dishes you can't get enough of! The first sitting from 5.15pm to 7.30pm will be indulging in a 3-course set menu at $120 per person – think oysters, king prawns, grilled barramundi, barbecued bugs, and a rich mud cake to top it all off. Or, take a seat after 8pm, when their iconic a la carte half-price menu will be taking the reins. Book here.
Get the fiesta started at this Latin-infused hub overlooking the river. From 5pm to 7:30pm, there's a set menu featuring fresh Australian produce in tantalising flavours at $120. Or, diners from 8.15pm can dig into the a la carte menu with Spanish nibbles, tapas, and oysters aplenty. Book here.
Add some German flair to your Riverfire evening with a visit to The Bavarian! From 4pm onwards, a set menu will be on offer with a haus-made pretzel, chicken schnitzel, pork belly, haüs sausages, creamy mash, and a chocolate brownie with vanilla ice cream. At $79 per person with a drink on arrival (would it be a Bavarian experience without beer?), there's even an option for the vegetarians in the group. Book here.
Dive into a festive feast as the sky lights up with all the views at Naga Thai! With a seven-course menu and a 2.5-hour beverage package served over four sittings between 5pm and 6pm at $195 per person, expect fusion flavours high above the crowds. From massaman beef in a house-made milk bun to jasmine tea-smoked duck red curry, and chilli vodka dark chocolate mousse and ginger coconut sticky rice pudding, your palate is sure to thank you. Book here.
Enjoy delicious Italian cuisine just off the river with a complimentary glass of prosecco on the side! At $125 for adults and $40 for the kids, the three-course menu will have your fork twirling into spuntini, pastas, and large plates that whisk you away to coastal Italy with each bite. Whether you opt for the 5pm to 7:30pm sitting or the sitting from 8pm onwards, you're in for a treat! Book here.
With your eyes on the sky, a kuikkubaito – or quick bite – from Saké is exactly what you need for Riverfire! The delightful five-dish menu at $69 per person features edamame, chef's choice sashimi, popcorn shrimp, braised lamb, and chef's choice dessert, with an accompanying drink. Book here.