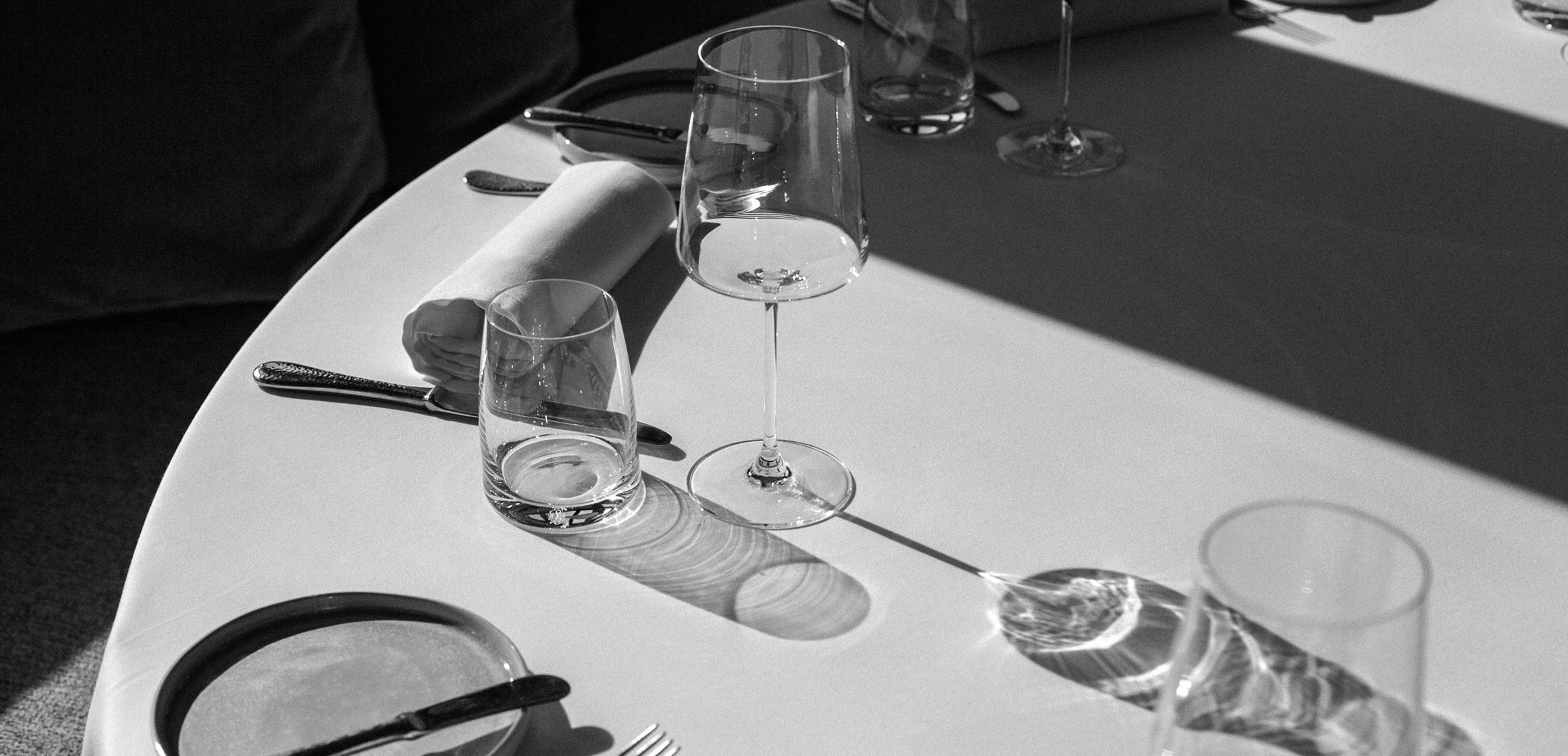 Keep Your Friends Close With Brisbane's Best Private Dining Rooms
VIPs only
---
Picnics in the park are cute, but a long lunch with your buds can't be beat. If you're craving a group gathering of the fancier kind where wicker baskets and gingham rugs don't feature, hit up the group text and book one of Brisbane's best private dining rooms below.
Did we miss someone from the list? Let us know here!
Howard Smith Wharves
Brisbane City
While the stunning Howard Smith Wharves precinct occupies a number of private event spaces, sometimes the atmosphere of a restaurant is what you're really craving, and luckily, multiple venues at HSW offer just that! At Yoko, waterside Japanese dining and drinking are made all the more elite when you saunter upstairs to their hidden private room where records spin late into the night. With options and packages for every occasion and size, Yoko pulls out all the stops. If you're hankering for a Mediterranean feast, Greca can seat multiple groups for a private event. Venture upstairs to their balcony-style mezzanine, which can host standing and seated affairs, or take over the entire venue and roam free with their abundant Greek-style fare. Equally show-stopping, Stanley, a moody Cantonese restaurant, has a private dining room dedicated to Peking duck and dim sum enthusiasts. Hidden upstairs with exclusive lift access, you and nine of your closest can enjoy exclusive use of their intimate and sophisticated space.
DALTON Catering
All
Whether you're planning a birthday, an engagement, hosting a corporate event or any other kind of celebration, finding a function space can sometimes be a challenging task. For those seeking alternatives to private dining rooms, let DALTON Catering help you create the right atmosphere at home. From quality sit-down corporate catering that'll impress your clients, to stand-up dining or cocktail catering, Jerome Dalton and his team can work with you to create a bespoke menu made from fresh, delicious ingredients that will keep your guests satisfied. With experience catering for all types of events – from big groups to intimate ones – DALTON Catering takes things to an elite level with their culinary expertise, and quality service.
Evita
Fortitude Valley
Hidden in the upstairs alcove of Argentinian-inspired restaurant, Evita, lies a private dining room reminiscent of a Buenos Aires wine cellar. In this dark and moody space, you'll find long banquet tables ideal for lining with shared plates, good wine, and your closest friends. Surrounded by over 300 carefully selected wines, this venue fits 60 seated guests, and up to 80 for cocktail-style events. The dark and moody interiors accompany the flavours served up in the kitchen over open fire and hot coals, making this the perfect venue to host a dramatic and memorable meal.
Motorwagen
Brisbane City
This industrial gem in the heart of the city is renowned as a contemporary dining destination with approachable and seasonal dishes, but did you know it also offers private dining rooms? With top notch service helmed by an attention-to-detail like no other and a divine menu that can be tailored for your group, there's plenty of choice to tickle your fancy. Your next soiree will look its best in Motorwagen's sleek interiors and modern wood décor, with a minimum of 13 people required. Hot tip: if you're after a more casual take on the classic cocktail party for your next celebration, then definitely check out Motorwagen's outside terrace overlooking the bustling streets of the CBD!
Montrachet
Bowen Hills
As Queensland's most acclaimed French restaurant, Montrachet is an unbeatable option for those looking to bring the wow factor to an event. Like a scene straight out of a Parisian film, Montrachet is known for its impeccable service and superb dining experience, and owners Shannon and Clare Kellam have created a culinary experience like no other. While the restaurant offers bistro dining to its patrons, their private dining room can be booked for up to 18 guests and has an exclusive, elevated fine dining feel. With its own private entry, your guests will be treated to the finest service and melt-in-your-mouth dishes all while sipping France's best wines.
Biànca
Fortitude Valley
Born out of the desire to bring the essence of a classic Italian trattoria to the streets of The Valley, Biànca focuses on perfecting traditional Italian dishes whilst paying homage to the Australian dining sphere. With aromas of fresh, in-house made pastas and bread permeating the atmosphere, you and your gang will feel warm and welcomed surrounded by the contemporary architecture and terracotta tones James Street is famous for! For seven or more guests, choose out of their $75 or $110 set menus featuring all their menu standouts! Biànca also has a private dining room option that can accommodate up to 36 seated guests, perfect for large corporate functions or extended family gatherings!
sAme sAme
Fortitude Valley
Located in the architectural finesse of James Street, sAme sAme restaurant has three stunning spaces that can cater for a range of events up to 140 people, including a private dining room, the Los Cocktail Bar, and, if you want to be extra bougie, the entire restaurant! If you haven't thought about it yet, here's your sign – why not add a bit of exotic spice to your next event?
Donna Chang
Brisbane City
Capture the excitement within the Sichuan and Cantonese restaurant from the secluded heights of the mezzanine level at Donna Chang. Choose one of three intimate and private banquet spaces, specially designed with suave, contemporary furniture amidst the Victorian era architecture. Each room is capable of hosting a variety of numbers, with the largest holding 67 guests!
1889 Enotecca
Woolloongabba
The allure of old-world charm and a candle-lit dinner brings us into the heart of the antique quarter of Woolloongabba. Burrowed within the heritage-listed Moreton Rubber Works building, 1889 Enoteca is a private basement-level wine cellar offering you traditional Roman cuisine served famiglia style, alongside an extensive list of hand-picked organic, biodynamic and naturally made Italian wines. So, whether it's a corporate event or just your classic family holiday get-together, this antiquated and unique space has the ability to cater for your specific needs, offering a range of dining packages to suit as many as 40 guests.
Agnes
Fortitude Valley
Getting a booking at Agnes is one of life's greatest challenges, but get enough people together and you might have more luck. Their private dining room is located upstairs beside their outdoor bar area, and is just as aesthetically pleasing as the rest of the venue. Seating up to 22, you'll be privy to your own staff, and a set menu featuring all of their best dishes.
Za Za Ta
Fortitude Valley
Got some veggie lovin' friends? Take them to where cultures collide at Za Za Ta with their Middle Eastern-meets-Mediterranean vegetarian menu – perfect for a not-so traditional Christmas feast! Inspired by the artistic nuances of the Ovolo Hotel in which it's found, choose from a variety of modern and lively rooms such as The Grand Hall and The Games Room, or simply just book out the restaurant for up to 242 guests!
E'cco Bistro
Newstead
Renowned for its fresh and simplistic style, award-winning E'cco Bistro is definitely the spot to go to if you're after a sleek and sophisticated affair. Depending on your party size, E'cco has a range of function rooms to fit as little as four guests and as large as 100, with your choice of a sit-down multi-course feast, cocktail canapes, or free-flowing drink packages.
Black Hide Steakhouse
Petrie Terrace
Set to serve some of Brisbane's finest steak and culinary cuisine, Black Hide Steakhouse by Gambaro features four chic and stylish dining rooms perfect for every holiday function. The designer fit-outs and luxurious ambience are sure to complete any dining experience, with the options for customisation upon request as well! With limited space and numbers capped to 20 guests, this particular spot books out fast, so get in quick!
Deer Duck Bistro
Auchenflower
Indulge yourself in French Renaissance art in the enchanting elegance of the Deer Duck Bistro. With three function rooms to choose from, immerse your senses in their relaxed and sophisticated ambiance inspired by 17th century French chateaus, all while you treat yourself to a warm and whimsical dining experience perfect for a cosy Christmas feast! Choose from three degustation menus or customise your own alongside the team at Deer Duck to make sure get exactly what you want for a night to remember!