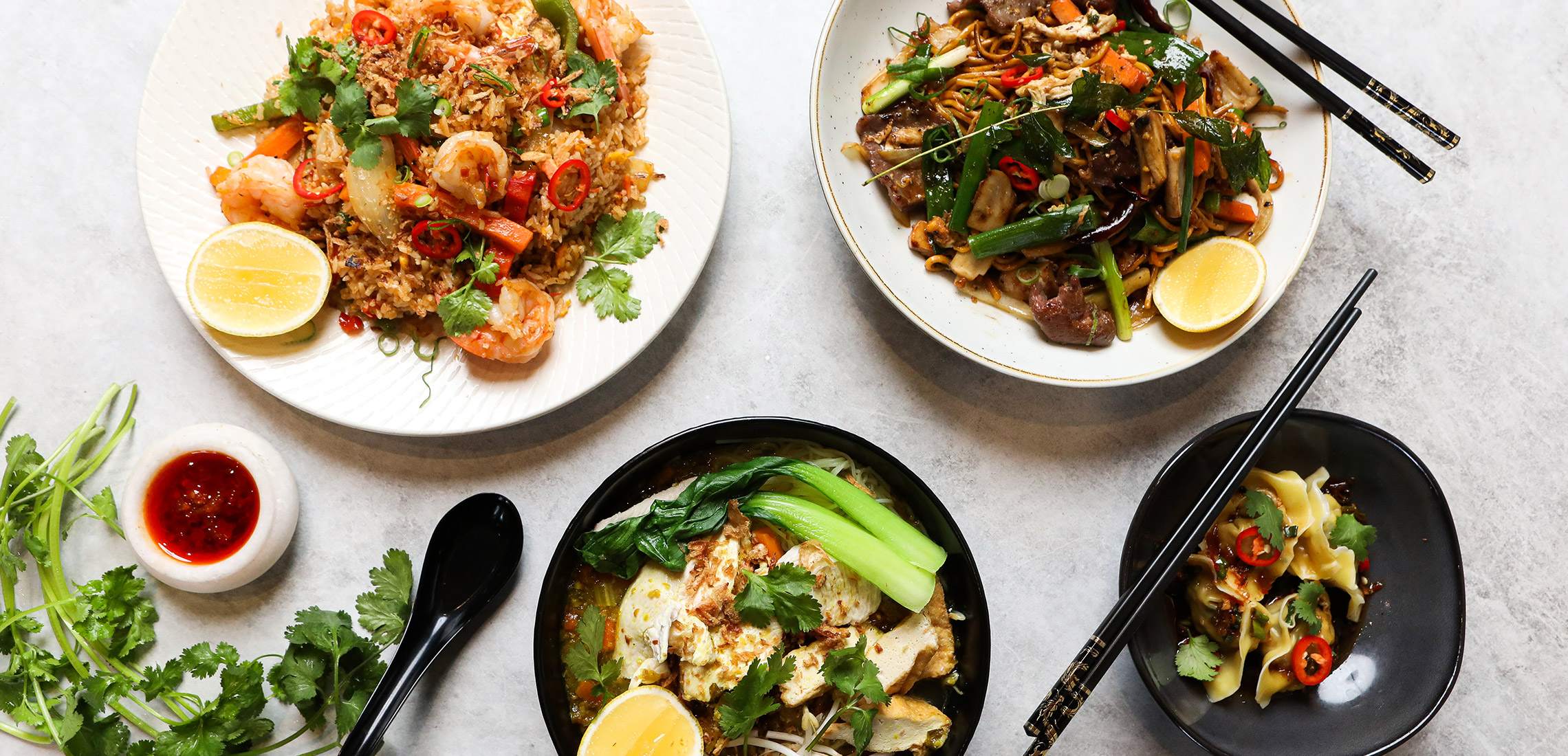 P'Nut's New MasterChef Menu Is Max Taste With Minimum Waste
Good for you, good for the planet
---
While my horrible knife skills mean more parts of a vegetable get sent to the scraps than normal, the average chopping board sees a lot of food go to waste. From broccoli stems to carrot ends, an estimated 7.3 million tonnes of food are wasted in Australia each year, even though 65% of daily food waste can be repurposed.
Enter P'Nut. Your go-to when craving a kick of Asian flavour on takeout night is inspiring Aussies to become more resourceful with their food scraps in their new sustainable menu. Partnering with MasterChef Australia 2017 winner, Diana Chan (the genius behind that abalone with green juice which scored a perfect 30/30), Asian Soul Food Minimum Waste, Maximum Taste takes often unused vegetable portions to create drool-worthy bases for their soups and stir fry dishes.
The menu is packed with winter warmers and challenges the traditional, with enticing Malaysian fried rice, black pepper noodles, pork belly wonton dumplings, and Malaysian hearty soup. As this month's host of our print day lunch, Style HQ had first dibs on the new flavour. Our thoughts? See below!
Fiona Williams, Deputy Editor: Oodles of noodles, yes please! On print day, we need something to keep us going and the tofu veggie noodles hit the spot. Much flavour and maximum satisfaction! P.S. it's the extra lime wedges to squeeze on top for me.
Astrid Taemets, Digital Journalist: Well, hello there, spice! I loved the heat packed into these tasty menu options, especially the tofu dish. I couldn't get enough! Plus, the zero-waste aspect gets a big thumbs up from me.
Dinushka Gunasekara, Digital Journalist: My usual post-lunch coma was nowhere to be seen because that spice kicked me right into gear! The tofu was cooked to perfection, and as a vegetarian, the dishes taught me how to really get bang for my buck by cooking with the whole vegetable, which I appreciated.
Courtney Frank, Content Manager: For me, I loved the low-waste aspect of the menu. It always tastes better when you know it's kinder on the environment! But the standout for me was the Malaysian fried rice – delish!
Melissa Myrteza, Social Media Coordinator: The tasty tofu gets a tick from me! Loved knowing I was eating more of the veg than normal without compromising on flavour. So good there was less waste involved in the whole process. Keep it up P'Nut!
Olivia Ashworth, Social Media Assistant: Sustainable and jam-packed with flavour? Count me in! Loved nibbling my way through every dish, but I've gotta say, the pork belly wontons were a standout fave.
Lizzy Edwards, Content Strategist: Yummo! The prawn dish was to die for. Delicious and very generous with the prawns. Bonus: it's guilt free because you know it's made using sustainable cooking practices.
Lisa Cameron, Senior Account Manager: P'nut is my go-to when I'm in the mood for a noodle lunch or quick guilt-free dinner. Maybe it's the pregnancy talking but I literally dreamt about Pad Thai noodles from the moment we were told about trialling the new waste-free menu. Remember the satisfaction 2-minute noodles served the morning after a big night? Same deal with these delicious dishes after a very hectic work morning (how times have changed). Healthy, flavour packed noodles that taste great? What a concept. Healthy, flavour packed noodles that taste great AND are sustainable? Just genius!
Valentina Trifunov, Senior Accounts Manager: Perfection. The aroma of the food was inviting, and it did not disappoint. The spice of the chilli brought the chicken rice dish to life for me! So tasty! Sustainability is also a big yes from me.
The new menu is available across all New South Wales and Queensland P'Nut locations both in-store and takeaway. Order here.