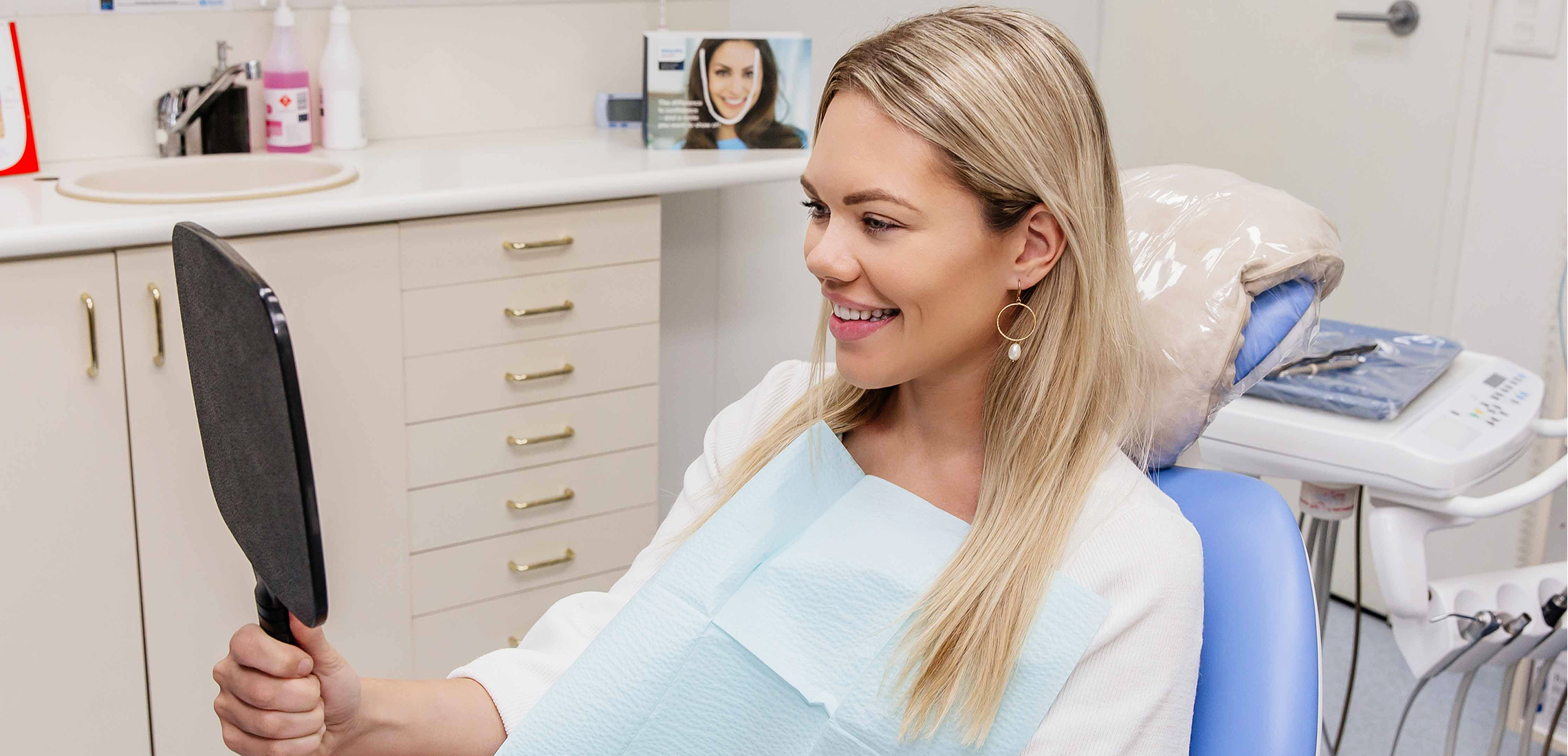 We Tried Teeth Whitening In 45 Mins
You'll actually want to visit your dentist for this.
---
I can't stop staring at my teeth… but I love it, but I love it, oh!
It's no secret that pearly whites make a lasting first impression, and if you're anything like me, it's one of the first things you notice. Luckily, my parents invested good money on years of orthodontic treatment to get my teeth into tip-top shape (seriously, major shout out to Mum and Dad).
I'll never turn down the opportunity to make my smile better, so when the opportunity presented itself to try out Phillips Zoom in-office whitening, I was all in. Their advanced blue LED light-accelerated technology offers to unlock a smile up to eight shades whiter in just one sitting, so you bet I'm ready to see what all the hype is about!
My initial consultation started with the lovely Malvika – a hygienist/oral health therapist at Brisbane Smiles – checking my teeth and gums were healthy and eligible for the treatment. She asked me to fill out a form outlining my medical history and then we headed into the treatment room for the real business.
Malvika was incredible as she began checking the health of my teeth and gums, and drilled into me just how important a deep dental clean is as opposed to a pretty surface clean. FYI, I'm the kind of person who dreads deep dental cleans, avoiding them like the plague and hoping my dentist won't notice if I just brush my teeth extra-long that day – you know exactly what I'm talking about. Malvika, however, eased my nerves and actually made the experience pleasant. So much so that I've even pre-booked my next dental clean (self-five to me for levelling up in the world of adulting).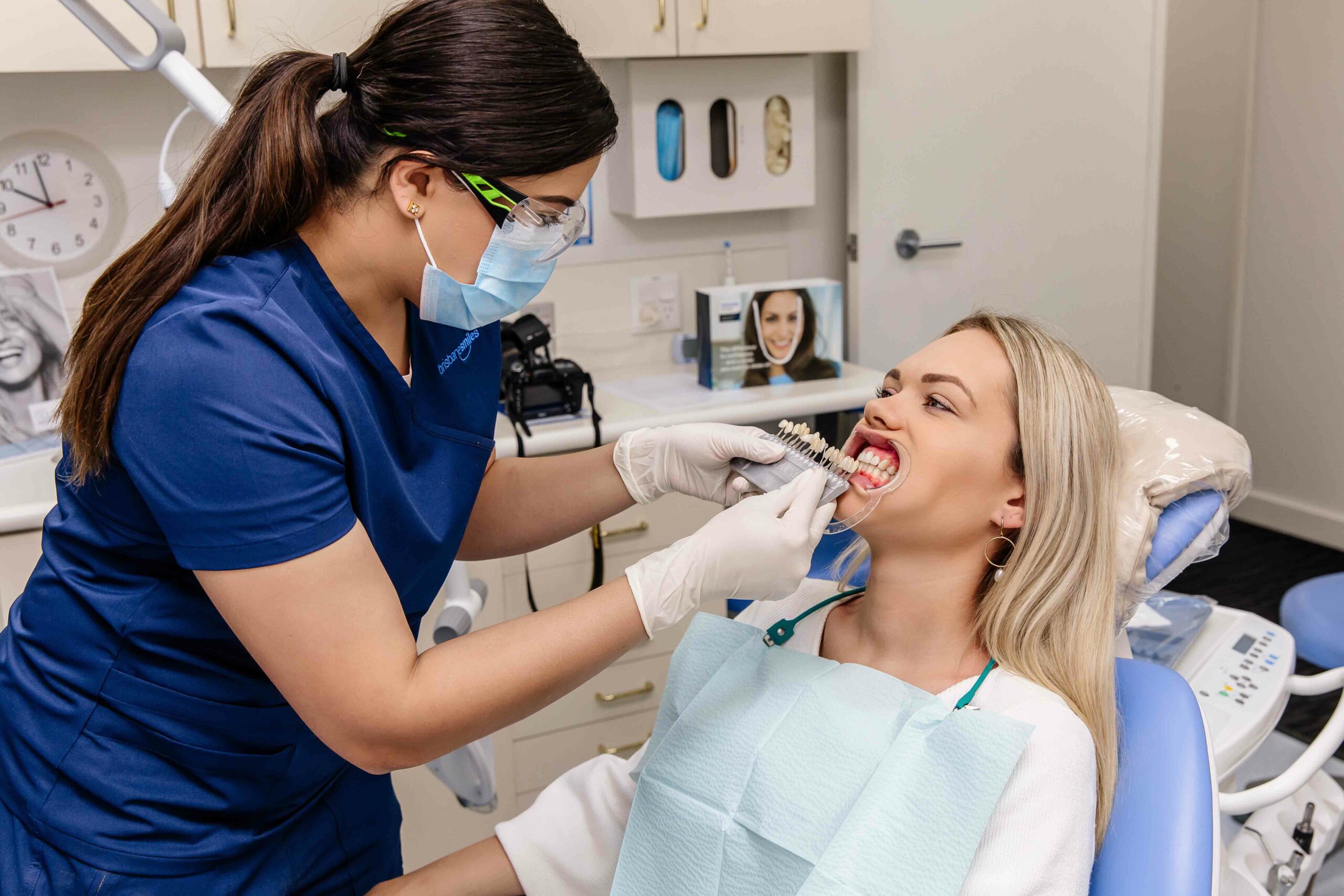 After carefully explaining what my treatment would involve, including specific aftercare instructions like no red wine, coke or coffee for a few days (I know… I too shed a single rolling tear) it was time for the whitening magic to begin! First, Malvika checked the current shade of my teeth so that we could compare the (hopefully dramatic) difference after my treatment was complete. From there, it was chair reclined, Netflix on and straight into relaxation mode as I laid back and let the professionals handle the rest.
Malvika prepared my mouth for whitening, which felt like she was squishing a bunch of little cotton balls around my gums in order to keep them protected and dry throughout the treatment. Next, she applied a layer of advanced whitening gel to my teeth which was complemented by the WhiteSpeed blue LED lamp to speed up the whitening process. I had the option to select a low, medium or high lamp setting based on how sensitive my teeth were feeling. It was an obvious choice – I came here for maximum results so let's crank that setting on high, baby!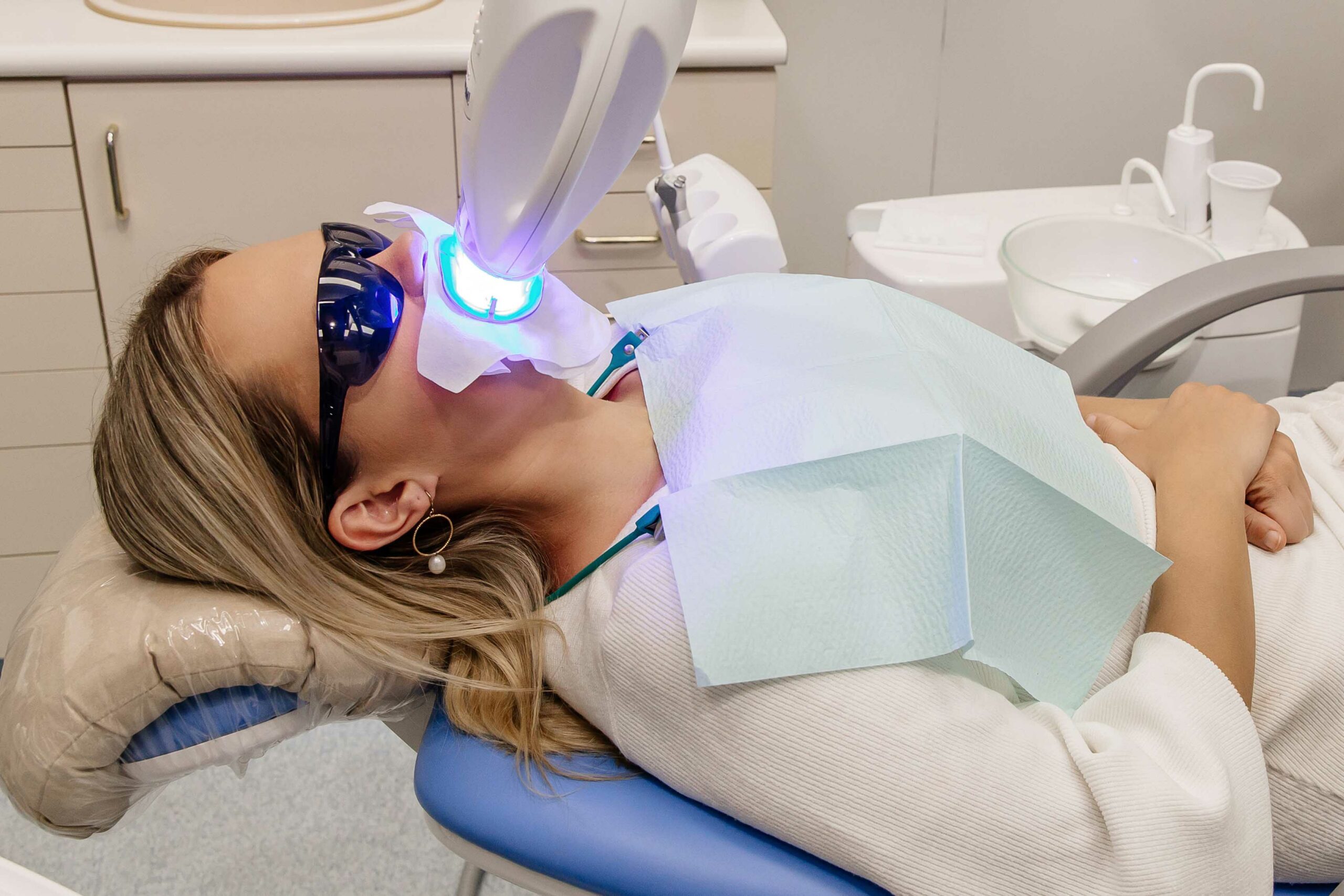 Over the next forty-five minutes or so, I laid back, relaxed and watched the latest David Attenborough documentary – A Life on Our Planet (BTW, highly recommend) – as I completed three 15-minute rounds of treatment.
In the days leading up to my treatment, I had started brushing my soon-to-be pearliest of whites with Sensodyne – a special toothpaste formulated to help reduce sensitivity. As someone who cringes at the thought of biting into ice cream, the Sensodyne toothpaste certainly helped my case!
The first two rounds of treatment were an absolute breeze, I honestly couldn't feel a single thing. It wasn't until Malvika applied the advanced whitening gel for the final round of treatment that I started to feel a little sensitivity creep on in. I spent the first ten minutes of this round trying to count the little waves of sensitivity in my head – they would only last for a few seconds and would come and go every few minutes.
Alas – I was finished! No wait, just kidding… all it took was a gentle nudge and I was convinced to go on for just one more round! Now, I'll be honest with you: I was really feeling the sensitivity at this stage – could my little pearlies and I survive one more round? Damn straight we could! I was here for a reason and that reason was to walk out with my teeth brighter than my future. Hello round four, I'm ready for you.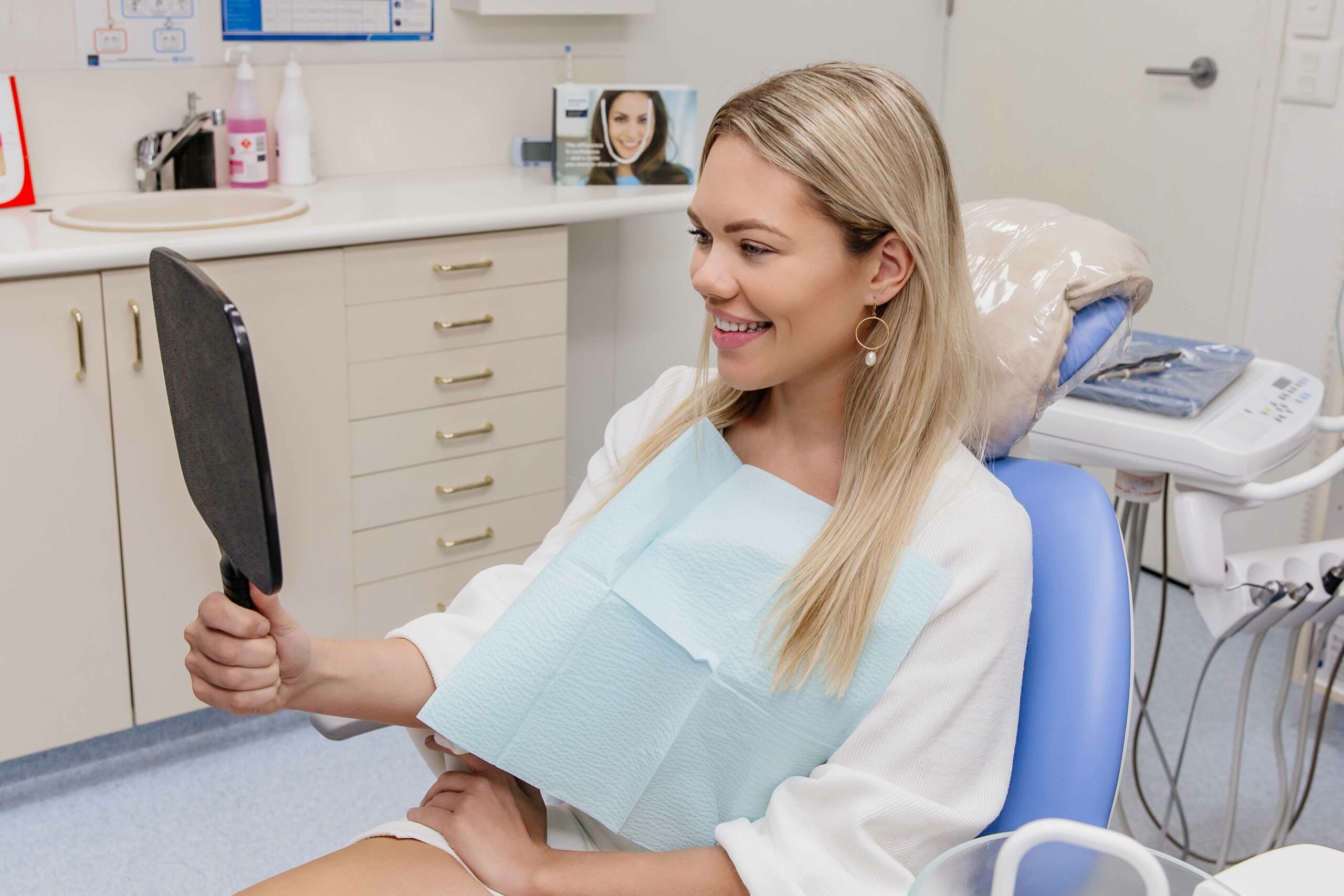 "It's gone! It's done!" said Frodo to Samwise after destroying the One Ring in The Lord of the Rings. As did I, to myself, after completing the final round of treatment. Okay, so it wasn't that dramatic at all, but damn it felt nice to remove the LED lamp and start slowing down those little sensitivity waves. Plus, it was finally time to see what whitening magic had been created!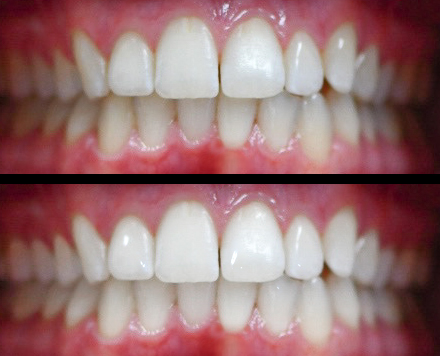 When Malvika held up a mirror to my face for the first time, I was in awe. ARE THOSE MY REAL TEETH?! No, surely they are veneers (side note – my little sister literally asked me if they were veneers)? Well… this is WILD. Malvika checked the new shade of my teeth and there we had it – my pearlies were one of the whitest shades achievable. UNREAL.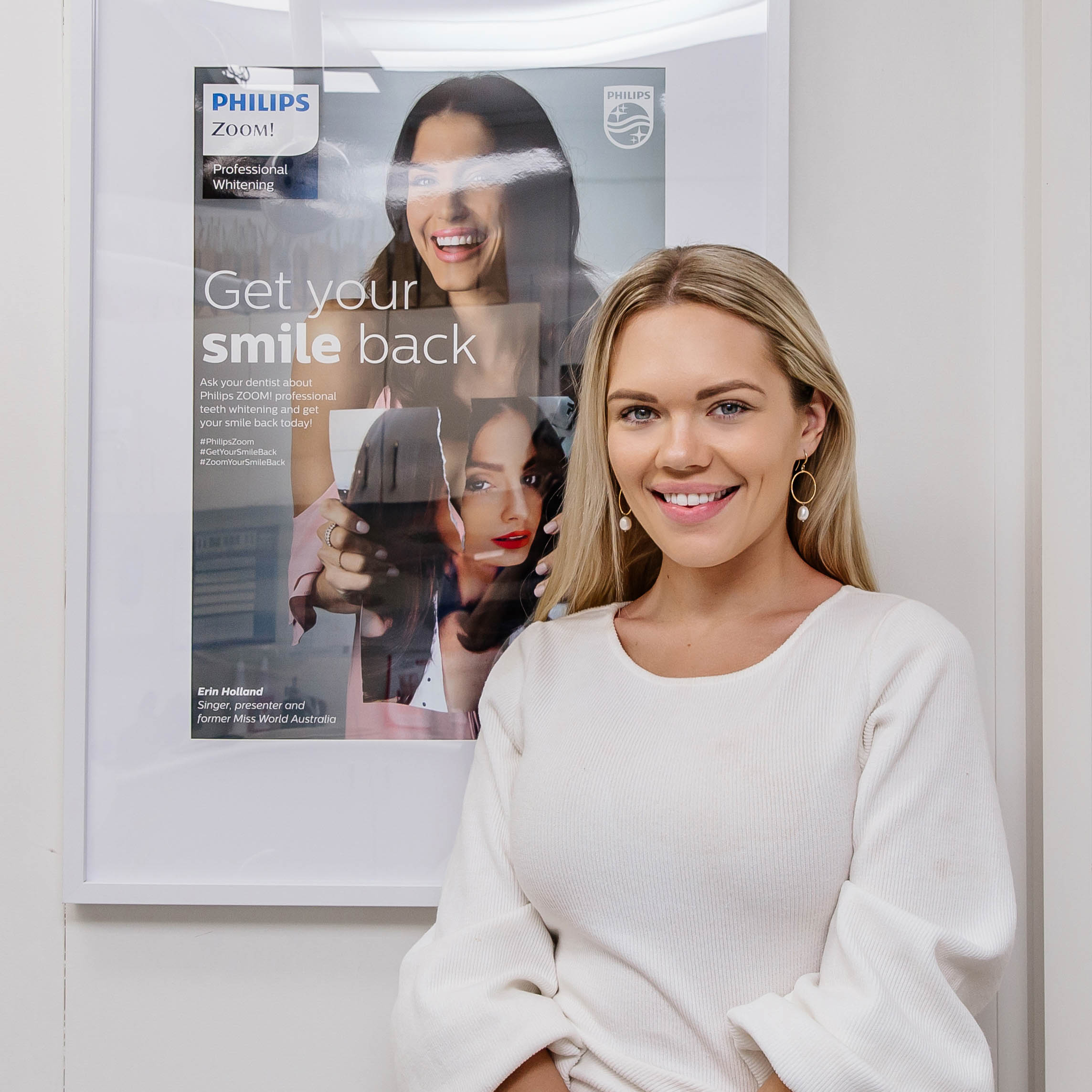 To experience the wonder for yourself, head to Phillips Zoom here! And for a dentist appointment you'll actually look forward to, book at Brisbane Smiles here.