Back To Basics: Why You Should Make The Switch To Clean Skincare
Spoiler: because your skin (and planet) will love you for it
---
Just a quick note: This post is sponsored. To prevent a paywall or annoying pop-up ads, we sometimes need to publish sponsored content but we only promote brands that we think are doing great things and our readers will love!
You don't need to be an avid Goop follower, or grow, harvest, and live off the land to care about the ingredients found in your beauty cupboard. And don't even get us started on the environmental impact the beauty industry is having on our planet.
From parabens, sulfates, and toxins, to synthetic nasties and more, these days, we are far more educated about what these dirty beauty words actually mean for us and our skin, and may induce enough fear to elicit a purge of some of our fave and most-used products (sorry, not sorry!). But what does clean beauty actually mean?
Clean beauty products are made with ingredients that are safe for people and the planet, and Nude by Nature's new skincare range is just that. A 100% natural and eco-conscious range of skincare products made here in Australia, this considered edit of high-performance, purely nature-powered essentials are here to change the game and give your skin what's good for it.
Paving the way for clean makeup for more than a decade, this powerhouse brand is now pushing natural to a whole new level with their high-performance range of nine 100% clean skincare products that promise to revitalise and nourish your skin. Biiig yes.
News flash: skin health doesn't have to be complicated. But clean and simple doesn't mean basic. In fact, quite the opposite. Nude by Nature's clinically proven, dermatologically tested formulations are packed with effective ingredients plucked from the natural world. With over 40 pure plant-derived peptides blended with native ingredients grown in coastal reaches, deserts, and rainforests across Australia, this supercharged range sets a whole new standard for skincare. Oh, and did we mention its suitable for all skin types, and is safe for use during pregnancy and breastfeeding?
So, while we can sit here and bang on about how good it is to switch to clean beauty, no call to action is more powerful than putting your money where your mouth is. With that mindset, we gave the full range to four staff members of Style, each with a different skincare concern, to see just how inclusive – and effective – the range truly is.
Astrid, Journalist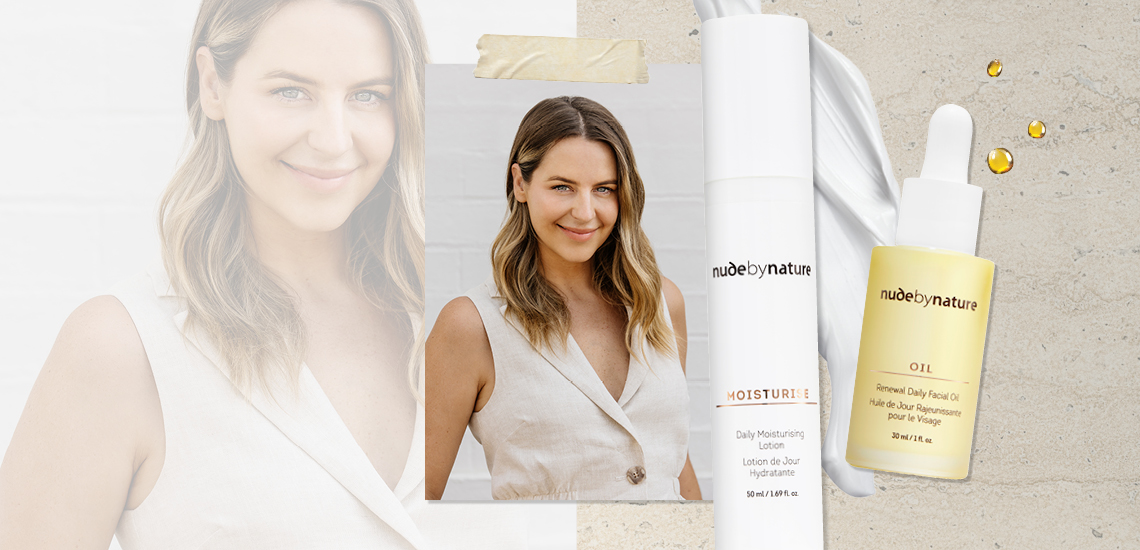 As a beauty editor, I've tried my fair share of skincare, and with relatively robust, problematic-free skin (for the most part), it takes a lot for a product to get my attention. These days with a toddler at home to manage, I prefer using as few products as possible. I need whatever I'm using to do its job and do it well, as I rarely get time to indulge in an in-depth skincare routine. I am a huge sucker for face oils (I have literally tried them all), so it's no surprise that the Nude by Nature Renewal Daily Facial Oil immediately caught my eye. Super lightweight and non-greasy (unlike a lot of others I've used), I've been applying a few drops to my face and decolletage morning and night, and I am loving the results. My skin looks smooth, supple, and luminous – even underneath my out-the-door swipe of makeup. As someone who struggles with creams (they often feel suffocating and heavy, especially when the temp rises), I often avoid using creams regularly, but for the sake of this review, I gave them a crack. The Daily Moisturising Lotion really surprised me! The cream soaked into my skin giving it a much-needed quench boost, however I'm still in favour of an oil. Controversial, I know.
Fi, Deputy Editor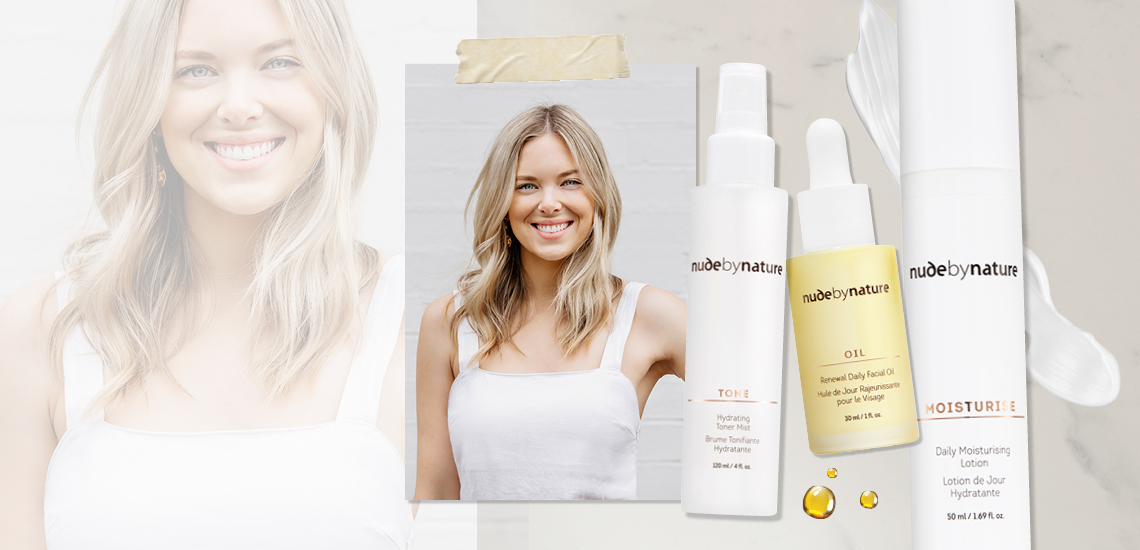 As a dep editor for a fashion magazine, there are some ✨delightful✨ perks. Fabulous invites to exclusive events, seeing your name in print, having your own glam squad, and a big fave — trialling new beauty products. This month I was a willing guinea pig when the Nude by Nature skincare range came across my desk. If there's one thing I prefer in my 30s, it's that my beauty products are simple. No fancy fluff, no gimmicks. Just great ingredients that help my skin to look amazing! And that's a big point for this brand: no parabens, silicones, sulphates, or any other silly stuff. Just natural clean formulas with native ingredients. After trialling the products for a couple of weeks, my standouts were the Daily Moisturising Lotion which is lightweight, but intense with its Kahai oil, and made for a wonderful everyday cream; and the Hydrating Toner Mist which is delightfully fresh with rosa damascene flower water. For sufferers of dry skin, this mist is a must! And lastly, the Renewal Daily Facial Oil with marine extract ocea defence. Another hydrating and soothing product, this oil is perfect under makeup, and doesn't pill with moisturiser.
Rhonda, Sales Coordinator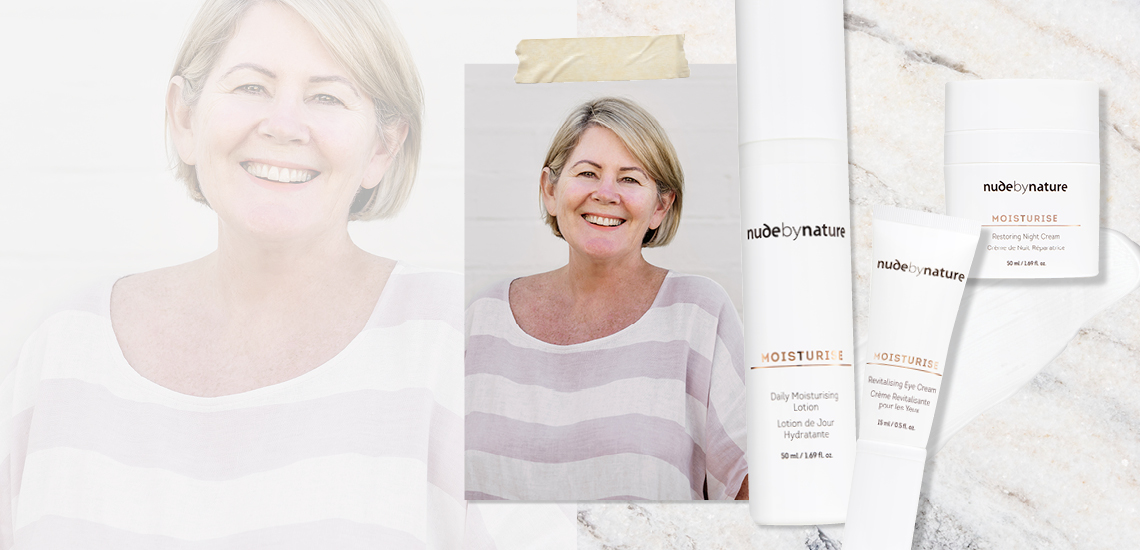 Age and sun damage has left my skin quite dry and flaky over time, despite having tried every skin product on the market to ward off the signs of ageing! My skin regime is quick and simple, mainly because I like a no fuss approach to most things, and a lot of skincare products on the market are quite expensive. In the past, the message has been you have to spend a lot of money to get results, but I've found that's not necessarily true. The Nude by Nature products are mostly perfume-free, although the cleansing gel has a slight citrusy-scent that is refreshing. It certainly does the job of removing the daily grime, leaving my face feeling soft and glowing in preparation for moisturising. I used a combination of the Restoring Night Cream and the Daily Moisturising Lotion – a definite difference in textures, but they both delivered on what they promised. A nourishing protective cream for overnight, and a lightweight lotion that worked well under a layer of sheer foundation for the day. I have always struggled to find a moisturiser that works well with foundation to give even and smooth coverage. My favourite from the range was the Revitalising Eye Cream – I went to town on it day and night! The skin around my eyes needs plenty of nourishment, and after using the eye cream for just two weeks I can visibly see the delicate lines have smoothed out. Worth noting, a minimal amount of product goes a long way!
Lisa, Senior Account Manager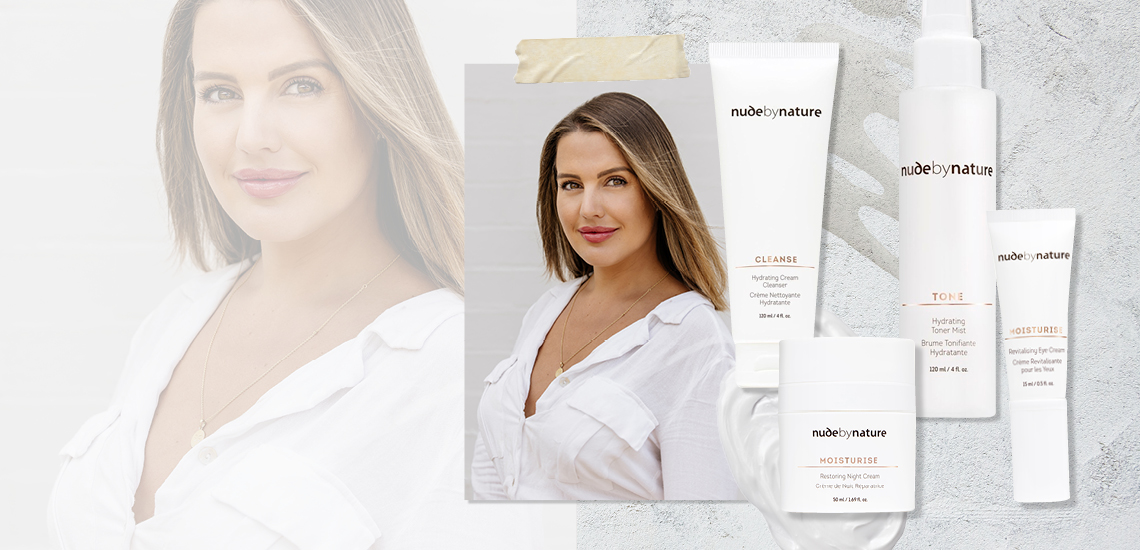 As a pregnant woman with highly sensitive and reactive skin, I would probably say I am fussier than most when it comes to what goes on my face. I didn't get the 'pregnancy glow', and my skin can't decide whether it's oily or dry. When the opportunity came about to ditch my normal skincare routine in lieu of the Nude by Nature skincare range, I was quick to scroll through the list of ingredients. I was pleasantly surprised to see that all products were plant-based, free of toxins, and cruelty-free, too! Two weeks on, I can safely say I am converted. I love how gentle the Hydrating Cream Cleanser felt on my face. It's hard to find a product that removes my makeup efficiently, but also isn't too harsh. Teamed with the Restoring Night Cream and Hydrating Toner Mist (not something I would normally include in my skincare routine but absolutely loved), I feel like I've finally got my pregnancy glow. Another stand out for me is the Revitalising Eye Cream which has reduced puffiness, and makes me look like I get more than four hours sleep (spoiler: I don't). Overall, my skin feels fresh, even, and plump. Big win!
To explore the full range, and find out more about Nude By Nature's clean beauty products, head to their website here.