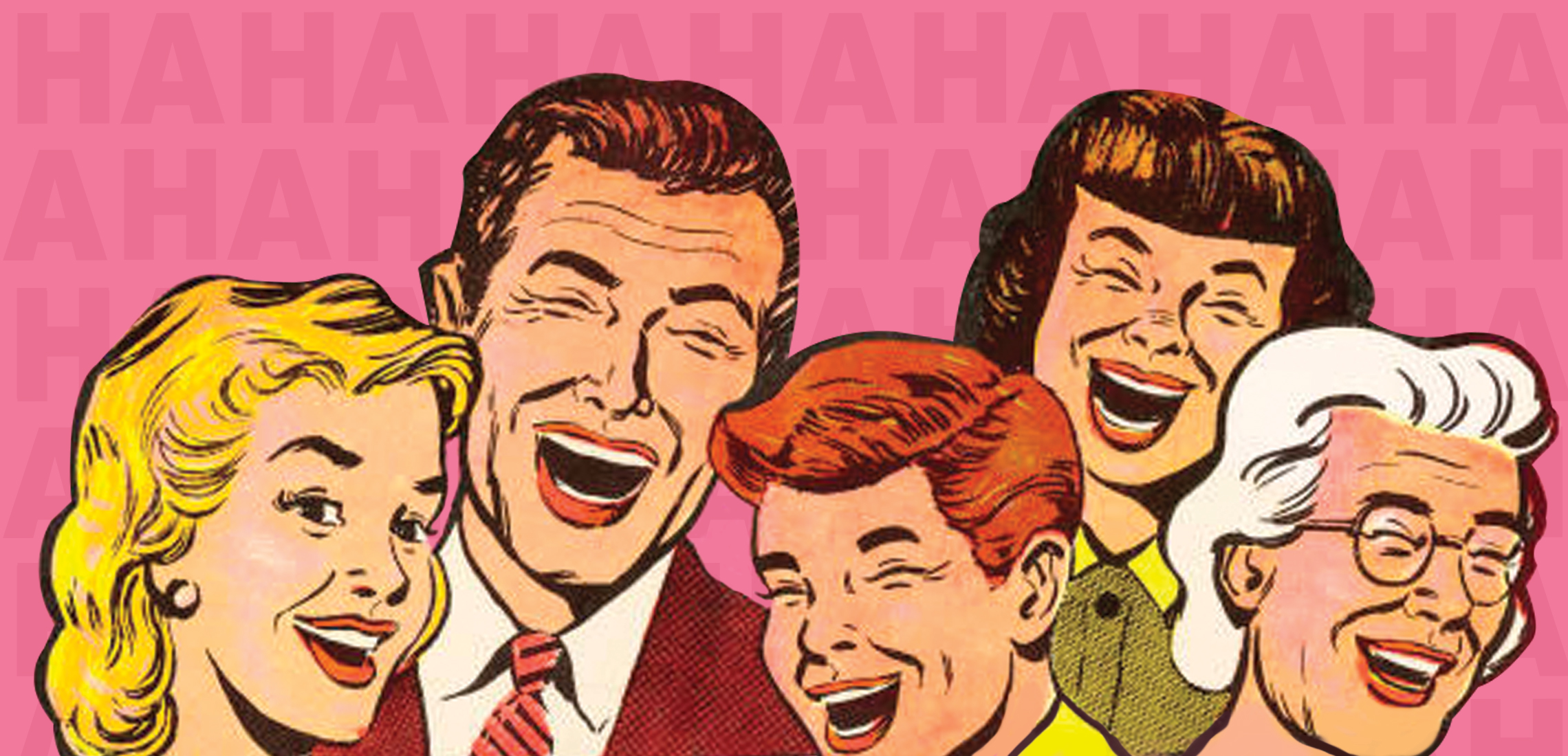 Laugh Out Loud! Here Are The 10 Best Live Comedy Gigs in BNE
Funny bone = tickled!
---
Extra, extra, read all about it! Okay, so Melbourne might technically be the comedy capital of Australia, but our very own Brisvegas is home to some serious laughs that might just give those high 'n' mighty Victorians a run for their money.
From familiar favourites to fresh local talent, here in Brisbane we're absolutely spoilt for choice when it comes to catching a chuckle-worthy stand-up gig.
So, if you're in need of a laugh from something a lil' more sophisticated than a lame Facebook meme or Friends re-run (because who isn't still obsessing over THAT reunion special, let's be real), we've rounded up the top 10 comedy shows and venues Brissy has to offer. Forget that 10-minute YouTube ab workout and cancel your 6am Pilates class, because these skits and sketches are bound to get those stomach muscles burning, minus the sweat. For grins, giggles and good times guaranteed, keep on scrolling!
When: Dates vary
If getting a hefty dose of laughs in a dazzling ballroom sounds like your idea of a perfect night out, then this one's for you. Fortitude Music Hall is one of Brisbane's most loved live performance venues, so it's no surprise that it's high up on our must-visit stand-up spots hit list. Whilst the name may be deceiving, this cherished venue has more than musical gigs on offer, including a stellar range of live comedy sets all year 'round. Nestled in the heart of Brisbane's prime entertainment precinct and boasting a state-of-the-art production centre and lavish décor, it's the ultimate digs to sit back, relax, and soak up some comedic talent. Our top pick? Joel Creasey's fabulously sassy stand-up show, 'Messy Bitch', playing Saturday June 12. Check out the full list of shows, available here.
When: Dates vary
On the hunt for classic comedy at its best? Look no further than Brisbane's iconic Sit Down Comedy Club – a one-stop shop for side splitting stand-up. With hysterical entertainment spanning the best of Brissy's bars, tavs and hotels (think the Paddo Tavern, Newmarket Hotel, and Stones Corner Hotel to name a few), this club prides itself in curating a stellar line-up of top-notch local and international talent. With a brand-new show filled with fresh faces every week, these shows provide the perfect occasion to kick back and enjoy some beer and belly laughs with your closest pals. Check out all the upcoming shows on offer here.
QPAC | South Brisbane
When: Dates vary
This list would not be complete without a nod to QPAC's star-studded line-up of witty and wonderful comedy shows. With acts ranging from internationally acclaimed artists to homegrown Aussie talent, QPAC's high calibre comedic list is bound to impress. With famous upcoming shows including Parody Potter and RuPaul's Drag Race Live, and performances from artists including Alan Cumming, Trixie and Katya, Bill Bailey, Hannah Gadsby, and David Strassman, this is one venue we'll certainly be keeping an eye on. Head here to snag a ticket and prepare for a night of endless gags and giggles. Psst! For a pre or post show feed, we recommend dining at drool-worthy neighbouring venues Julius Pizzeria (for Italian lovers) or Southside (for an unforgettable East-Asian feast).
Fluffy | Fortitude Valley
When: Every Sunday
Join Brisbane's most fierce, funny, and fabulous at the campest night out – Fluffy! Located at the oh-so-glamorous Cloudland in the heart of Fortitude Valley, Fluffy has a permanent weekend fixture in the calendars of club-goers and party people. Featuring a star-studded line-up of the cities' most divalicious drag queens and A-grade entertainers, the Fluffy stage has hosted some of the biggest national and international names in drag and comedy. The show has even been graced by the likes of Paris Hilton, Jessica Mauboy, and, of course, some of RuPaul's Drag Race's shiniest superstars. Now that's hot! With no booking necessary, spicing up your Sunday night has never been easier!
When: Dates vary
The iconic Brisbane Powerhouse is the ultimate hub for creativity, arts, culture, and, of course, killer comedy. This bustling riverside venue boasts a spectacular range of side-splitting stand-up all year 'round and is also the official home of Brisbane's annual Comedy Festival. With tear-inducing tales from some of the biggest Aussie names in comedy, rowdy satirical skits, and events including Politics in the Pub and Theatresports Grand Championships, jokesters far and wide are bound to find a show to tickle their funny bones. If you weren't already excited, comics who are gracing the Powerhouse stage in the coming months include Will Anderson, Becky Lucas, Lloyd Langford, Damien Power and Jimeoin. With a line-up that star-studded, it's safe to say this is one venue we certainly won't be sleeping on. Head here for all the deets.
When: Dates vary
Introducing Big Fork Theatre, Brisbane's home of improvisation classes and sketch comedy. With shows and comedy lessons available on the reg', Big Fork is dedicated to growing the Brisbane comedy community and guiding future entertainers to success. They host a variety of collaborative, ensemble-based classes specialising in both improvised and sketch comedy, and also run free weekly jam sessions every Tuesday for comics of all stages, from newbie novices to practiced pros. Not one for the spotlight? Don't fret, because Big Fork also produces comedy productions, where Brisbane's comedy community performs skits in front of a live local audience! For more deets, head here.
When: First Sunday of every month
Comedy has returned to West End and it's hot, messy, and back with a vengeance! On the first Sunday of each month, catch a glorious battle of wits at The Sideshow, where Brisbane's brightest comedians are thrown into the ring to fight for their lives and battle it out. In this show, no subject is off-limits and only the wittiest will win, as unpredictable twists and turns pop up at every corner! This mischievous display is rated R for raunchy and rude, so book in the babysitter, stat. Tickets are limited, so get in quick! You can get your hands on some here.
https://www.instagram.com/p/CO39d24MpXV/
When: Every Friday
In an unexpected twist, it turns out that Birdees is not merely a stomping ground for freshly-turned-18-year-olds to boogie and down $4 basics on a Thursday night (if you know, you know). Kicking off at 7pm every Friday night, Birdees sweet new comedy show, Mixed Bag of LOLs, plays host to Brisbane's most hilarious comedians for some spectacular stand-up that will have you in stitches.  If you book ahead, tickets are just $10, and include a free drink voucher (win!). Otherwise, rock up to the door and pay a $15 entry fee for a night of non-stop laughs and good times that promise to keep rollin' well into the early AM!
When: Every Wednesday
In need of a hump day pick-me-up? Each Wednesday, join the Good Chat Comedy team and a host of weird and wacky guest acts for the most chaotic comedy night Brisbane has to offer. Held at our fave local burger joint, Fritzenburger, this quirky and spontaneous show is the home of open mic comedy with a twist, inviting members of the audience to try their skills at some spontaneous stand-up. A night of laughs where nothing goes to plan and nobody sobers up? Sounds like a riot to us! Tickets are free, giving you extra dosh to spend on a lip-smacking burger and a cheeky mid-week beveragino (or three!). Grinning and winning!
When: Dates vary
With over 100 years in the biz, Brisbane's beloved Tivoli is the perfect space to enjoy some back-buckling LOLs from only the wittiest of comics. With old world charm and stunning art deco features, it's both aesthetic and ambient, and has a 2021 line-up of talent that will blow your socks off. Larger than life acts and upcoming performances include Reuben Kaye, Fiona O'Loughlin, Anne Edmonds and Lloyd Langford, Peter Helliar, Dave Thornton, and reality TV star, 'Karen From Finance'. Feast your eyes on the full events list here.
Consider our funny bones well and truly tickled!