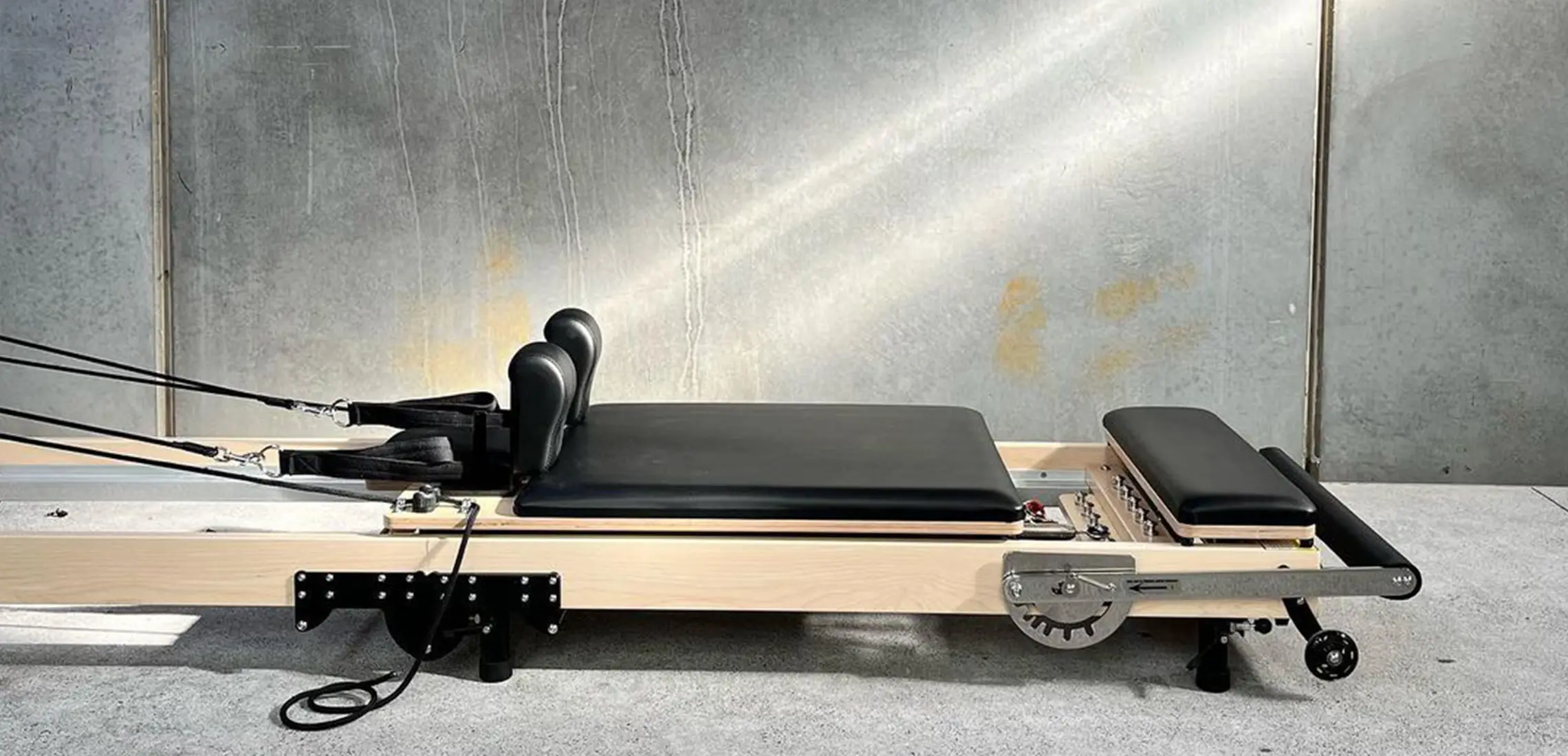 Get Your Pilates On! Why You Should Invest In An At-Home Reformer
Pilates has your back
By Penelope Pelecas | 4th May 2023

If the idea of an at-home workout makes you fist pump, say hello to Your Reformer – the chic Pilates business changing the way time-poor Aussies exercise at home.

Emma Stallworthy knows all too well what it's like to juggle work, parenting, and life's time restraints. After discovering a love for home workouts, Emma, a qualified Pilates instructor who owned and operated six reformer Pilates studios throughout Melbourne with her husband Ben, wanted to make reformer Pilates more accessible for others. After doing some research and realising there was a gap in the market for easy-to-use, studio-quality reformer beds, Your Reformer was born, and it is now one of the country's leading reformer Pilates suppliers for at-home practice. 

We spoke to Emma to learn more about their incredibly stylish and affordable beds, which can be either rented or bought, their new OnDemand app, and all the amazing health benefits. Trust us when we say they're the chicest reformer beds you'll ever come across!

View this post on Instagram
Hi Emma, thanks for chatting to us! How did Your Reformer come about?
Having run a chain of gyms with reformer studios, we already knew there was a growing desire for reformer Pilates. Then hit Covid, lockdowns, and the shifting priority of convenience and at-home workouts. As a new mum, I felt first-hand how hard it can be to find time for myself and keep consistent with workouts. Having a bed at home was a game changer for me, and we knew that there were so many others who would love this too. But unless you were an instructor, reformers at home just weren't a thing. We saw the gap in the market, knew it was something we were incredibly passionate about and so YR began. 
What drew you to the world of Pilates?
Within our gyms, we had boutique brands and one of them was a wellness studio, which offered yoga and reformer Pilates. I discovered Pilates on our journey with fertility issues and loved it so much that I upskilled as an instructor and took a complete change in position within our business to head up the wellness studio. We truly believe that this change and focus on my passion for Pilates was a big reason for finally falling pregnant with our eldest son. Pilates is so versatile too that it then supported me throughout my pregnancy and then my postpartum journey.
At-home reformers are starting to slowly pop up everywhere. What sets Your Reformer apart from other brands?
For our at-home customers [we also sell to studios!], our beds are commercial quality, and they look beautiful. We put a high priority on customer service too! We want all of our customers to feel supported and part of our community. And finally, we're the full studio solution closing the loop with our fantastic OnDemand app, which is tailored to all customers.
Why are more people opting to invest in reformer beds?
Having a reformer bed at home, along with classes to keep you motivated and challenged, means that you're more consistent. I know first-hand how hard it is to make studio class times. It's also a great money saver and gives you a 'me time' sanctuary. Plus, we have workouts that range from 15 minutes all the way through to one hour, so you can fit in a quick one if that's all you have time for. Not to mention, a regular Pilates practice comes with a slew of health benefits, including mental clarity, improved strength, flexibility, and posture, and helps prevent injuries.
What are some of the other health benefits?
So many! Where do I start? Originally designed for dancers, a reformer workout will focus on both strengthening and lengthening muscle movements, and its low impact, so you can keep coming back. It's also very functional, and all about building strength in the core. It also helps to improve or counteract bad posture, for example the hunchback caused by sitting at a desk all day, breastfeeding or carrying children, looking at our phones etc. Plus, it's a lot of fun!
View this post on Instagram
Okay, reformer vs mat, what's the difference?
Pilates is the modality, and there are actually a number of different apparatuses that can be used, from no props on the floor to a reformer. The reformer offers the variety that we crave in looking for exercise that we want to look forward to and have longevity with. It also allows for greater access – in fact mat Pilates can be super challenging, reformer can allow us to provide those who aren't as strong in their core, more support as they build up to more advanced exercises. 
Can you tell me a little more about the OnDemand app? 
When we developed our Your Reformer concept, we wanted to be able to bring the studio experience into your home and make our product a full solution. So, we invested heavily into our OnDemand app, which now comes with over 350 workouts, ranging in length, difficulty, and focus (we have even partnered with physiotherapists). Our app is also included free with any rental bed. Meanwhile, those who purchase a bed receive the first three months complimentary.   
What feedback have you received from customers?
Our feedback from customers has been so wonderful and humbling. They love everything we hoped they would – the ultimate convenience of having the bed in their homes, the quality and beauty of them, as well as our class offerings. One thing we love reading in our reviews is how our customers' partners and kids are embracing Pilates too.
Tips for reformer Pilates beginners: 
Don't underestimate it, but don't be afraid either. Most exercises have their own starting point that can then progress from there. I think that's another reason people fall in love with reformer, because you can keep challenging yourself week in, week out, no matter how long you've been practising Pilates for.   
For your first class, wear comfortable and non-restrictive workout clothes, ensure you've had something small to eat for fuel (a banana or protein smoothie is a great option!), and have a bottle of water handy. Be open minded and accept that your first class may not be super pretty, but you'll learn a lot about your body, and most importantly have fun!
What's next for Your Reformer? 
We're investing heavily into further development of our products this year, with some really exciting smart tech for our customers. We're working on building an even better custom OnDemand app, new colour ranges for our beds, more accessories, more challenges, more partnerships with our workouts, and we're even launching a podcast soon as well!