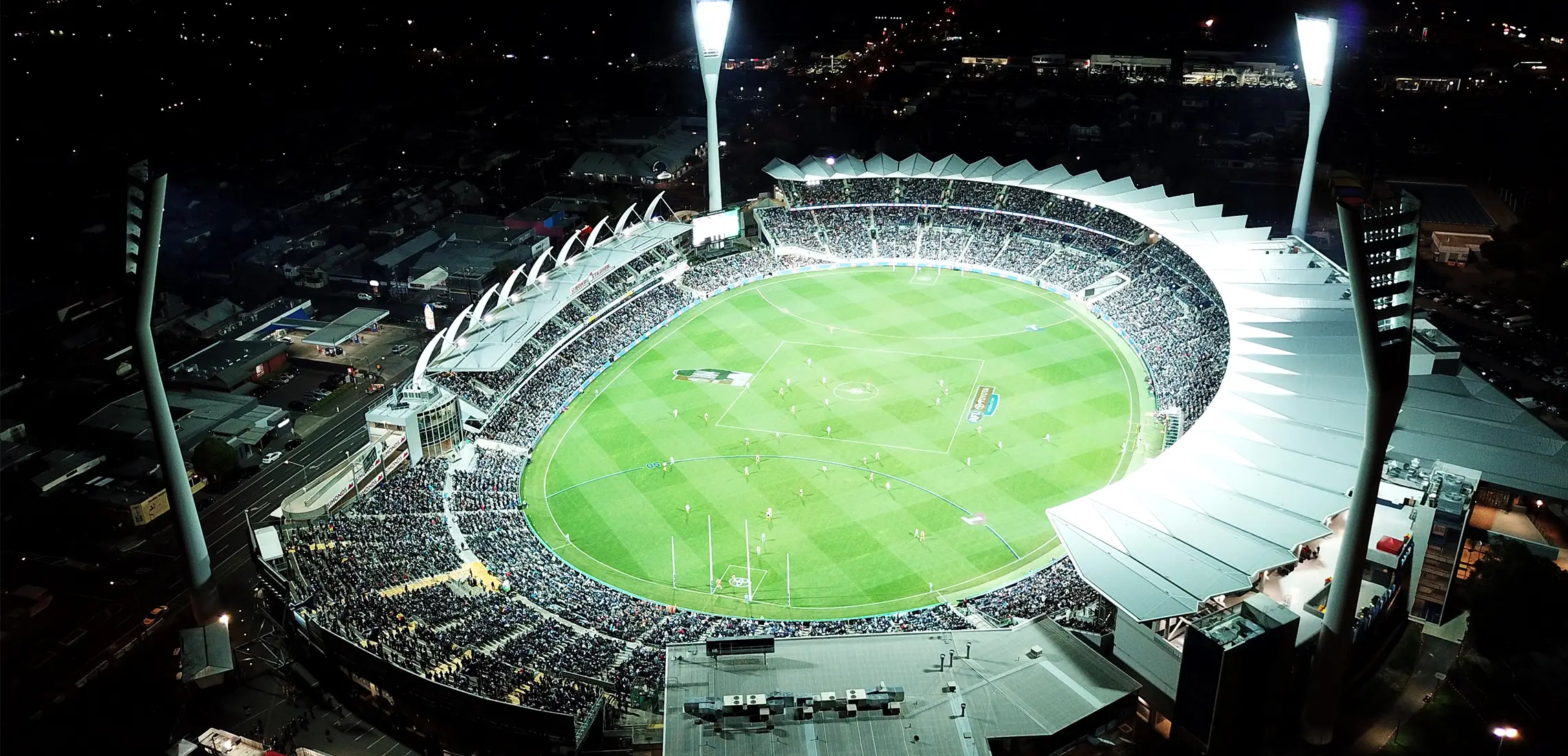 The Lowdown On When All Sports Are Returning To Play Ball
Let's blow the whistle
By Guest Styler | 12th May 2020

There's a light at the end of the tunnel for the COVID-19 restrictions, including our fave games prepping for the first siren. But, what's the go and when can we actually expect our teams to play on?

Welcome to our Kick-Off. Consider this your go-to guide where the updates are set-out easier than a 4-4-2 formation. Are teams and leagues good to play on-side? Are we heading for goals or is sport still going to be sidelined?

Let's blow the whistle.

*All information is updated from official league sites as of Tuesday 12 May.

Did you know the first game was played in 1858? There's a good fun fact for your next Zoom family trivia! Anyway, back to 2020: in summary, each club is getting back to training depending on their state's regulations and laws regarding social distancing and this is changing – as we all know – on the daily. Western Australia and South Australia are leading the pack and allowing gatherings of groups more than 10, so does this mean non-contact training can commence? From Wednesday, footballers from the 10 Victorian teams will be allowed to train together (non-contact) in groups of 10. Yet, the AFL board has their own protocol! Although we were only up to round two of the season, Port Adelaide, Hawthorn, Collingwood, West Coast Eagles, GWS, Richmond, Essendon and the Swans entered the top eight.

In summary:
Players are not to be in training groups of more than two (AFL protocol) – the Adelaide Crows have already been in breach of this, with 16 players receiving a one match suspension
The AFL board is suggesting all teams will require a minimum of three weeks training before the rounds recommence
The rumoured mid-June kick-off will be depending on state border controls
June 11 is said to be the potential recommencement date, with confirmation pending (for updates see here)
Conversation is ongoing regarding relocation of the Eagles and Dockers to Melbourne in order to restart the season
144 games plus finals are remaining
Until kick-off:
To get your fix in the meantime, you can tune into the Fox Footy Podcasts which features a range of exclusives, interviews and discussion on everything AFL. Otherwise,  check-out the Open Mike podcast and follow Mike Sheahan as he features some of the greats of the game and provides incredible insight into the players and of course, on field strategies. Over on the world wide web you can catch a new addition to the video sphere with Yokayi Footy (pronounced: yok-eye) which is shining a light on breakthrough and diverse players, communities and telling the untold stories of the game throughout Australia. The name 'Yokayi' is a Noongar phrase meaning 'a shout of victory'.
The NRL face the same situation as the AFL with government regulations differing per state. However, the NRL is expected to kick-off earlier than AFL and its other counterparts on May 28. Plus, with the talk of NRL players requiring to be vaccinated, the dates could once again be skewed, which is an entire conversation in itself. Then, there's the shambles regarding some players breaching laws and regulations regarding social distancing, which the league is dealing with too. For the latest, see below.
In summary:
May 28 remains as the kick-off goal
Storm has been given the green light to head back to AAMI Park following their stint in Albury
Under heavy restrictions, teams have been able to return to training since May 4
One-ref conversation remains ongoing
Anti-vaccination conversations ongoing between states and teams
Many players due to face suspensions because of breaking social distancing rules
Grand Final to now be played on October 25
Until kick-off:
Relive some of the best games in NRL history and get your footy fix! Over on the NRL official website tune into their NRL TV where you can watch classic games, documentaries, grand finals and of course, iconic State of Origin matches as well as their usual programming shows like Coaches Corner, Inside the NRL, Fantasy and more. Did you know you can also explore the deep history of the game and see "what happened on this day" in NRL history? Perhaps the time off of live games you can clue-up on all the fun facts and wow the fam. There's also a plethora of NRL podcasts ready for play to get you across the line until the end of May. We suggest Triple M's NRL Catch Up with Paul Kent, Gorden Tallis, Ryan Girdler and Anthony Maroon or The Fox League Podcast and the NRL Boom Rookies. For a funny yet informative poddy featuring former NRL player Denan Kemp give Bloke In A Bar a listen!
In comparison to the NRL and AFL, Australia's leading soccer/football competition has been a little slower on announcements. Football Federation Australia has said they won't be following in the footsteps of the NRL and AFL to rush back to play, but instead will be remaining on the sidelines until all state and federal government health agencies give the green light. Updates are coming out far and few between, with only minor talk about when training will resume. For now, this is what we know:
In summary:
Semi-professional and grassroots football are on-hold at least until May 31
Three phase plan: 1) Players to return to training 2) Match schedule 3) Final recommencement decision and date to be made in full alignment with government and their medical advisors
Expectation for the league to recommence in August
A period of training and conditioning for squads will be required, potentially beginning early July
Wellington Phoenix is expected to be based in NSW for at least two weeks
Five rounds plus finals remain with all games expected to be played in NSW without spectators
Until kick-off:
The official A-League website is the place to be until we can play on but there's nothing short of goal-kicking content to get amongst. Check out their Stay At Home Hub to see curated content for specific teams and join in on the play at home challenges. Or, tune-in to The A-League Show podcast hosted by game greats Andy Harper and Mark Levy.
Over the seas:
English Premier League – While the UK's COVID-19 outbreak shows no signs of slowing down the EPL is looking like it will return mid-June. However, reactions are certainly mixed between players and fans with some star players slamming the league that they'll be putting lives at risk (Tottenham's Danny Rose and Manchester City's Sterling anyone?).
NBA – On May 8 the NBA announced teams can reopen facilities for player workouts with The Cavaliers and Trail Blazers following suit. Earlier in the month, the league also put on hold the 2020 draft lottery until later in May. For now the 2019/2020 season remains postponed until further notice.
MLB – It looks as though the 82 game season (usually 162) will commence come July without spectators! The plan would include changes such as an expanded playoff field and the designated hitter for all games, the National League included. The season was due to commence on March 26.
Supercross – Monster Energy's AMA Supercross World Championship was put on hold on after round 10 due to the COVID-19 outbreak, yet the powers at be aim are certain they will finish the season ending on round 17 as soon as they can. The last race was on March 7 at Daytona International Speedway, see the results here.