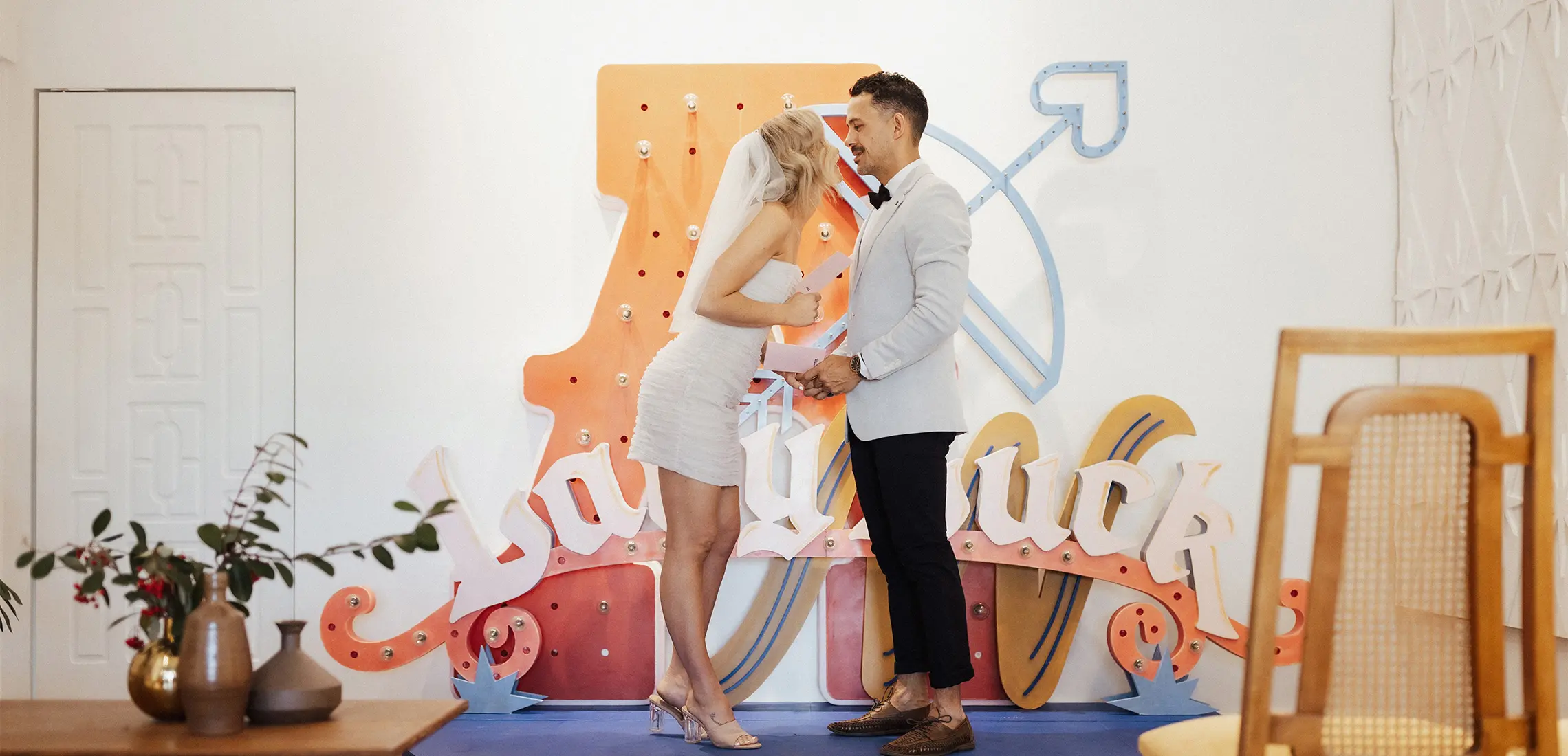 What Happens In Brisvegas: This Themed Elopement Venue Makes Weddings Fun And Fuss-Free
Get hitched
By Natalie McGowan | 5th October 2023

Along Windsor's bustling Lutwyche Road is where you'll stumble upon Brisbane's newest and coolest elopement space, the glitzy Vegas-themed Wham Bam Thankyou Sam. 

The intimate space accommodates 12 guests and offers an innovative, unconventional elopement experience for those looking for something a little different. Couples can choose between three all-inclusive packages – all they need to bring is their "I do's". 

With the venue's themes rotating every eight months, those who love the idea of a Brisvegas wedding are encouraged to take advantage of the current fit-out before it leaves for good early next year. Sure, the Wham Bam Thankyou Sam team may have left the Elvis impersonator back in Nevada, but the experience remains an absolute blast!

Off the back of their grand opening, we had the pleasure of sitting down with Co-Founder, Kady Capewell and Head Celebrant, Sam Capewell to delve into the couple's very own love story, the inspiration behind the space, and so much more.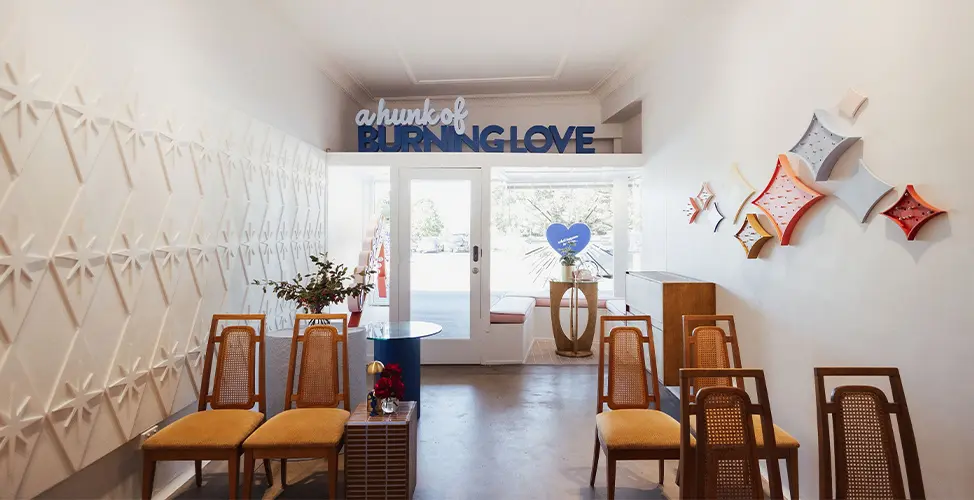 Tell us about yourselves…
K: I'm a retired makeup artist, mama to our two kids, Ace and Buddy, and the love of Sam's life! I'm also a graphic designer, business owner, and chief balloon blower over at Fancy Schmancy Balloon Co. 
S: I'm Sam, I'm a full-time marriage celebrant, part-time average golfer, father of two, and Head Celebrant at Wham Bam. 
How did you two meet?
K: The old-school way: at a pub. 
S: Back in 2011 at a bar in Toowoomba. Kady called me over to win a bet that a man wouldn't shake a lady's hand. Being from the country – Charleville – that's the first thing I did. She won the bet, and then, since I was already there, she invited me to sit down, and we hit it off from there. 
Then you eloped in Vegas in 2015? Tell us about that experience…
K: Being a makeup artist for 10 years I had my fair share of wedding day prep and could never imagine myself as the "traditional bride". We stayed at The Flamingo, which is the oldest hotel on the strip. We got ready together and had a driver take us around for photos. It really was the most perfect day. It was us, our photographer, and Pastor Pete. We probably should have done Elvis but who knows, we might use him for a renewal one day! 
S: In early 2015, Kady's sister Tay invited us to go to New York to spend Christmas and celebrate her 30th. I hadn't travelled overseas before, so we decided to add on a couple of weeks to our trip. When discussing what we'd like to do, I suggested we go ahead and elope like we said we would, as we might never get that close to Vegas again. It wasn't the most romantic of proposals, if you could even call it that, but Kady agreed, and we started booking things in. I did dirty the knee in the end, but it was with my brand new credit card, asking Kady to max it out with me (which we certainly did).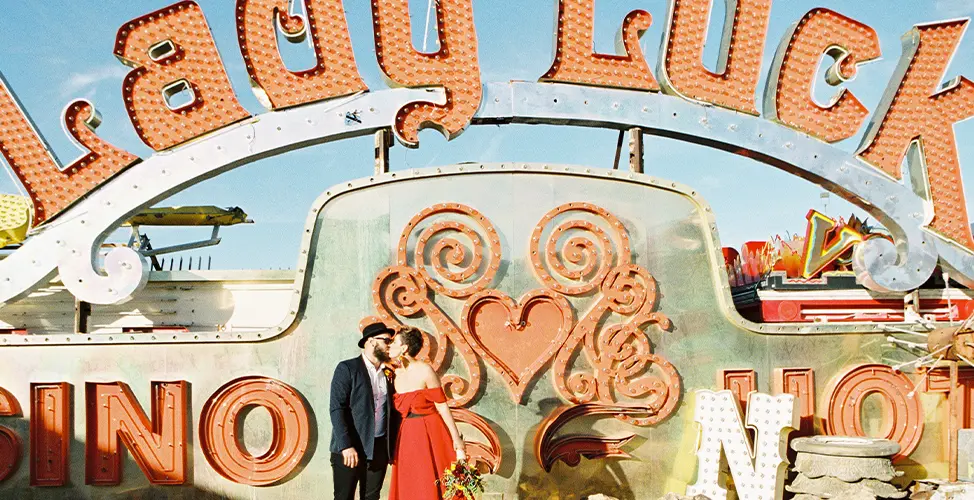 Why Vegas?
K: I always said I'd be a Vegas bride. Being a designer at heart too, the Neon Sign Museum in Las Vegas was a total selling point in terms of the location of our elopement. It houses the most epic signs from all the old casinos in the 50s and 60s. 
S: I think the whole history of elopement and Las Vegas, as well as the style and ambience of old school Las Vegas, really suited the style and vision of what we wanted. 
Sam, why did you decide to become a celebrant?
S: It was actually another one of  Kady's ideas. I had never enjoyed the ceremonial aspect of a wedding and had never thought it related to me, or most modern couples. After we did our thing in Vegas, a lot of my friends started getting engaged and planning their big day. I was whinging to Kady about how many boring ceremonies we would have to attend, when she suggested I "shut up and do something about it". I had never thought about it, but as I'd MC'd a couple of weddings and didn't mind the public speaking side of it, I decided to do it, with plans to just do a few a year for family and friends. It eventually snowballed and after 18 months or so, I took it up full time. 
How did the idea for Wham Bam Thankyou Sam start?
K: One of my crazy ideas. With Sam being a celebrant we noticed there was a gap in the market for a venue that caters to the growing trend of micro weddings.  My friend Amey Rosenthal, the co-founder, had worked together with me in a shed in Wilston which sadly flooded last year. This saw us separate our businesses. Then, I started renting the space that Wham Bam is now in. Amey is a creative genius and one night I texted her and suggested the idea. She completely ignored me, so I hit her with the name suggestion and I reckon that got her over the line. I then moved Fancy Schmancy Balloon Co. upstairs and we started on our fit-out, which Amey is hugely responsible for.
S: I can't take any credit here. I was just informed by Kady and Amey that we were starting a business with my name in it and I did what I was told.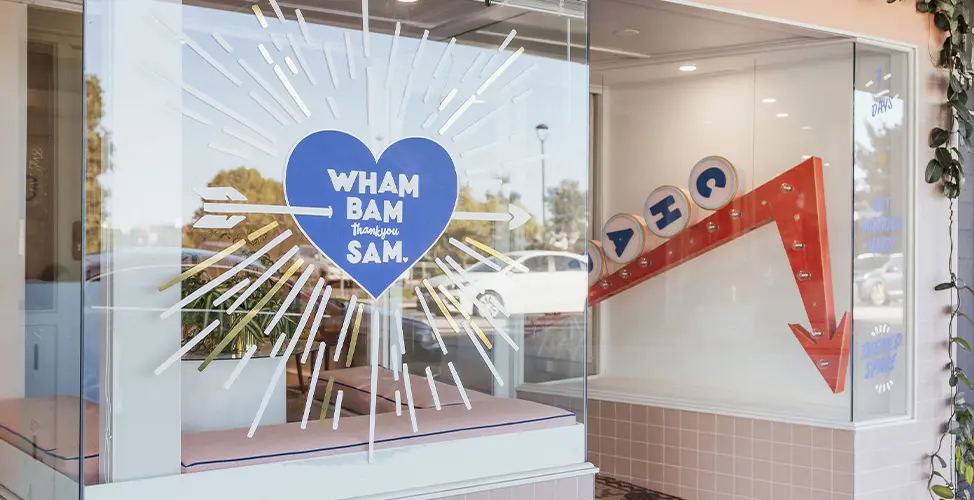 What is Wham Bam Thankyou Sam and how does it work?
K: Wham Bam Thankyou Sam is a venue that offers an intimate, fun, somewhat unconventional, but easy way to say "I do". It's suitable for those getting married for the first time, renewing vows, or simply making a commitment. It caters for up to 12 guests. We have three all-inclusive packages starting from just $1,900. 
What does the typical ceremony at Wham Bam Thankyou Sam look like?
K: The Quickie will see couples legally married in just 30 minutes, The Hour of Power is double the duration and includes a personalised photobooth, loaded bar cart, and charcuterie selection, while the Whole Lotta Lovin' is tailored for couples wanting the whole shebang, and includes canapes and a bridal bouquet. 
S: From my view, it's very intimate. With the smaller number of guests, if they choose to have any at all, it really is only those nearest and dearest to the couple. It allows couples to feel a lot more relaxed and truly enjoy the ceremony, instead of all the nerves and stage fright that some people experience in bigger ceremonies. My job is to make a fun little ceremony, personalised to tell their story in a way they want it told. We throw in the official bits, then get the celebrations underway.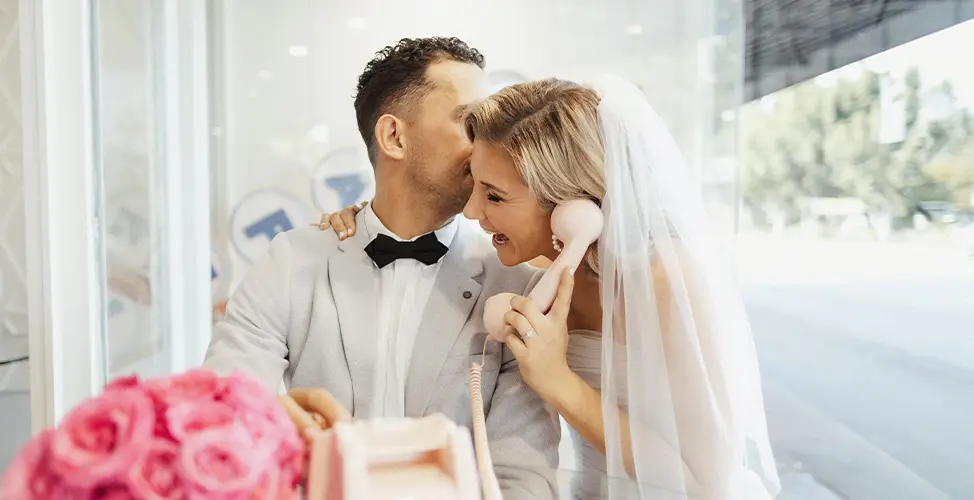 What are your roles within the business?
K: I am the Co-Founder with Amey. We are both across all areas really. Either one of us will be there on the day. Behind the scenes on a fit-out and theme level, I do all the graphic design creatives and Amey builds it all in her workshop. She's ridiculously talented. 
S: I'm Head Celebrant. I was a chippy before I became a celebrant so I did a fair chunk of the fit-out. 
What is your favourite thing about Wham Bam Thankyou Sam?
K: I think it's the changing themes. It's such a fun way for Amey and I to collaborate creatively. Often for both of us, our clients in our other businesses never let us go too crazy. Here we don't have boundaries.  
S: For me, it's seeing what Amey and Kady have created. They are both amazingly creative and talented at what they do, and seeing them bring a blank canvas to life has been really fun and exciting. I also love that we're offering something different to the status quo, that a lot of people didn't even know they wanted until they spotted it. 
Any clues what the next theme will be?
K: Yes, Wham Bam's take on soft deco. Our building is perfect for it. Think Miami! It will be completely different to Vegas and we're so excited for it.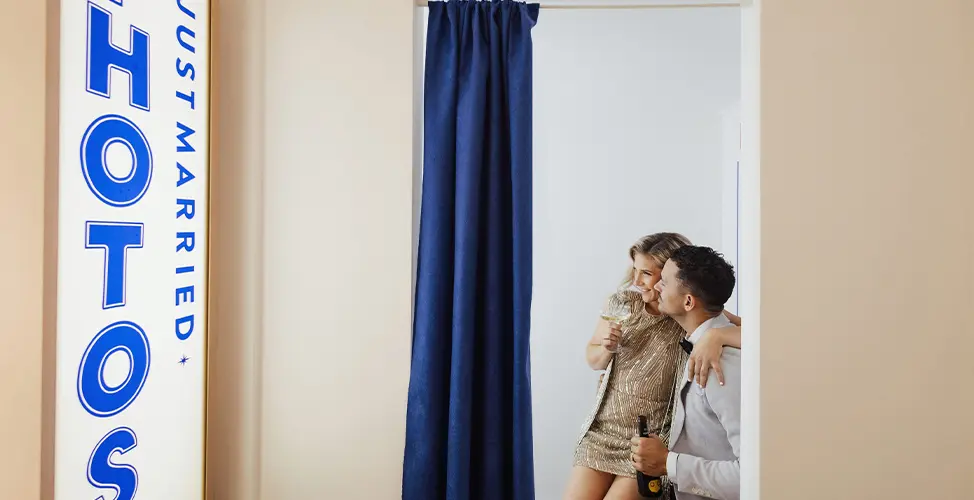 Looking for a fun, fuss-free way to join your beloved in holy matrimony with only your nearest and dearest in attendance? Hit up the Wham Bam Thankyou Sam team here.