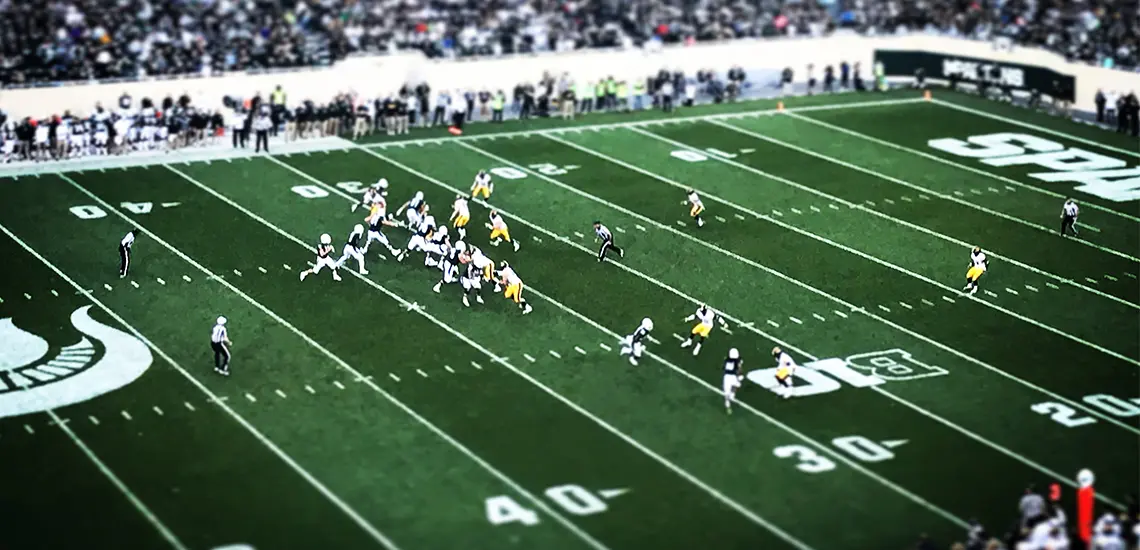 This Is What It's Really Like Being An American College Footballer
In the end zone
By Guest Styler | 24th March 2020

Movies, TV shows and pop culture paints a pretty solid picture of what it's like to be an American college footballer: the players are players with the girls, the games, the fame and everything in between. But, how is it really played out?

If Remember The Titans and Friday Night Lights taught us anything, it's the U-S of A takes their college football pretty seriously, both in and out of the locker room. Think, the cheerleader-quarterback love triangles, new recruit hazing, hectic coaches and wild frat parties – it seems like another world.

A couple of years ago, while in America, I decided to take a trip to San Francisco's Berkley College to check-it out for myself and live my mini 'Merican college dream (all I wanted was an invite to a party, uh, is that too much to ask?). While trying to fit into the crowd and not stand out like a tourist, I found myself watching a rally unravel. The local façade dropped as I politely asked a stranger, 'WTF was going on and where I would find the football stadium?'

Growing up with a brother, playing Madden NFL  '07 and throwing the ball around (and watching lame TV), I wanted to see if the field and vibe was legit.

And, what do ya know, I was talking to a Berkeley footballer, Hunter.

Next minute, I'm on the field, looking around at the huge grandstands while attempting to pick up my jaw from the floor. I then met the rest of the team and found myself meeting the coach and players in the locker room (for the record, it was all PG). This is where I met Malik and we've been friends ever since.

Now to circle back. To this day, I still do wonder if the college football façade is exactly like they show and say. So, I went straight to the people and hit up my friend Malik with all the no-nonsense questions.

Recently graduating from Berkeley, Malik was the Fullback for the football team and an all-round legend. This, friends, is what it's really like to be an American college footballer.

First things first – is it just like the movies?!

I think that when it comes to college football you have the choice of making what you want out of the experience. With that being said, some of the guys tend to make their time as a player look like the movies more than others (with more than the average partying, girls, football coming before school work all the time, etc.).  Everyone dabbles in these aspects of college but you definitely need to have a filter on how much you participate in the social aspect of it all because at the end of the day we still need to prioritize what it takes to win football games once the season comes around. When it comes to the preparation of a college football player I think the movies nail it on the head. It's a rigorous, intense and extensive training cycle where you train all year to just play a guaranteed 12 games, so once the season starts you can imagine how hyped up we are every week we have a game.

Are there rules in place about your studying vs. football?

There aren't necessarily any specific rules about where you end up going to school or what degree you can decide between, but the classes you take can't conflict with football practices. So, for example at UC Berkeley at the time I was on the team, it was basically impossible to be a mechanical engineer because the classes were always during our practice hours so there was a limitation for those on the team who may have wanted to be in that major. Then, on top of that you have to maintain above a 2.0 GPA to still be eligible to play during the season which is standard for every athlete in the NCAA (which is the association we play under in College Football).

How many footballers are there for education do you think vs how many actually want to make it to the NFL?

I think most of the guys out of the 115 have aspirations of playing in the NFL but as the years go by reality starts to set in and more and more guys seem to figure out what they're going to do with their professional life that isn't the NFL. The NFL is such an exclusive place to get to, that not many people in the entire country, in college football even, get the opportunity to try out, let alone make the team itself. But regardless of your skill set, at UC Berkeley most of the players realize that even if you make the NFL you need to focus on academics as well because football isn't something you can do till you're 65 – it'll eventually end sooner than you think and then you have the rest of your life to do something else.

How often do you train? / What's the schedule like?

In the offseason we are at the facility five times a week, anywhere from two hours to four hours depending on how much extra work you put in yourself after the maximum two hours we are allowed with the coaches by the NCAA. During the season you're doing some sort of football activity whether it's film, lift, practice or the games, six days a week. But, it's usually a combination of the two.

What's the process like being chosen for a college football team from high school?

There's this entire recruiting process that varies from school to school where some college teams emphasise certain characteristics, measurables, personalities, high school GPA, position on the field, etc. The list is very expansive but ultimately when you're a high school athlete your goal is to catch the eye of college teams in your area because that is where you can get the most exposure because the coaches are local. Every college team has about 24 scholarship offers to award high school seniors for the following season which would be their freshman year in college. If you don't end up being one of those 24 student athletes to receive a full ride scholarship, you can still join the team but without any financial support from the team. If you decide to take this route you are labelled/considered as a "walk-on" which I was at first. With that being said you can always end up earning a full ride scholarship but that is based on your performance and the coaches thinking you're at a point where you can help out the team on Saturday's (which is the day we have games). Thankfully I went from being a walk-on to a scholarship athlete after my second season on the team.

What was the biggest shock for you in terms of the footballing environment in college?

Surprisingly I had never been to a college football game before actually playing in one, and the thing that caught my attention the most was the energy of a big stadium full of fans. I played at a pretty good high school which attracted a solid audience, but college was that, times a hundred. It gets to the point at some stadiums where you can't even hear yourself think. I will also say it was pretty cool to walk around campus and having somebody I had never met recognize me and want to chat about football or even take a picture which was a new experience because in high school it felt as if I knew everyone at school.

What's been your biggest ''pinch-me'' moment in your career?

When the Head Coach called me into his office and awarded me a full ride scholarship. It was not that I was surprised that I would ever receive one, but the fact that it was actually happening was surreal and made everything I had done feel as if it was all worth it. Every "walk-ons" goal is to get called into the coach's office and be awarded a scholarship and it felt amazing getting that office visit with him.

Pre-game routine?

My pre-game routine is not anything obscure or unique like some of the other guys may have, but I like to hit the warm tub, get my ankles taped, stretch, and then take my time getting ready in the locker room which is all of course done with my music playing loud in my headphones. I don't necessarily have a specific playlist, I kind of like to "DJ" it depending on my mood at the time. Then before we head out to play, I take some time to reflect and get mentally ready for battle.

What's the first few weeks like? Is hazing really a thing and did it happen to you?

The first few weeks on campus are pretty hectic between trying to figure out your new city, new surroundings, new people, new weather – new everything honestly! And on top of that you have to be ready as a 17 or 18-year-old kid to have to hit way (play against) more matured guys who aren't going to take it easy on you because they're also trying to get better on the field. Personally, I was happy to finally play football again but at the same time like a deer in the headlights because everything felt like it was moving so fast. The pace at which everything needs to operate is faster than in high school. When it comes to off the field I didn't receive any type of hazing, the older guys from when I was an underclassman were very cool and welcoming of me.

Is the quarter back really the star of the show?

I'd have to say the depiction is pretty much spot on because the ball always ends up in his hands, which means the camera is always on him. The media always like to praise the quarterback after the team wins, but at the same time the media also likes to critique him the most. So, I'd say with the stardom it gives them, there's also a lot of hate they receive which is more than the other players.

Do footballers always tend to date the cheerleaders?

From time to time you'll see a cheerleader and a football player date, but when it happens it makes for some great Instagram photos for the rest of us to enjoy!

What's something people don't expect about the experience/process?

I think some people tend to forget about the difficulty of having to balance not only a sport like football at the highest level, but on top of that we have to perform off the field in the classroom. This can be very challenging at times because both carry so much weight and as student athletes we have to accept that challenge like any other and get after it.

Favourite football movie?

My favourite football movie would definitely have to be Remember the Titans.

What happens after college with football?

If you want to pursue football after college you can choose to do what is called "Pro Day" which the NCAA allows NFL scouts to visit your respective school and watch the senior players participate in events which test speed, agility, quickness and other various measurables that they feel are important. After participating in that, there is a three day draft which happens usually around the third week in April where all 32 NFL teams participate in a seven round draft where 255 athletes in total are selected. If you weren't lucky enough to hear your name called in those three days, teams are still allowed to call you and offer you a tryout which occurs throughout the following months leading up until season. If the NFL doesn't happen the first go around, there are many other football leagues that exist to field the leftover talent that is not in the NFL. There is the XFL, the CFL, the IFL (which is an indoor football league), you can also play overseas in countries like Italy, France, Sweden, etc. If you really want to continue playing football, there are numerous opportunities.