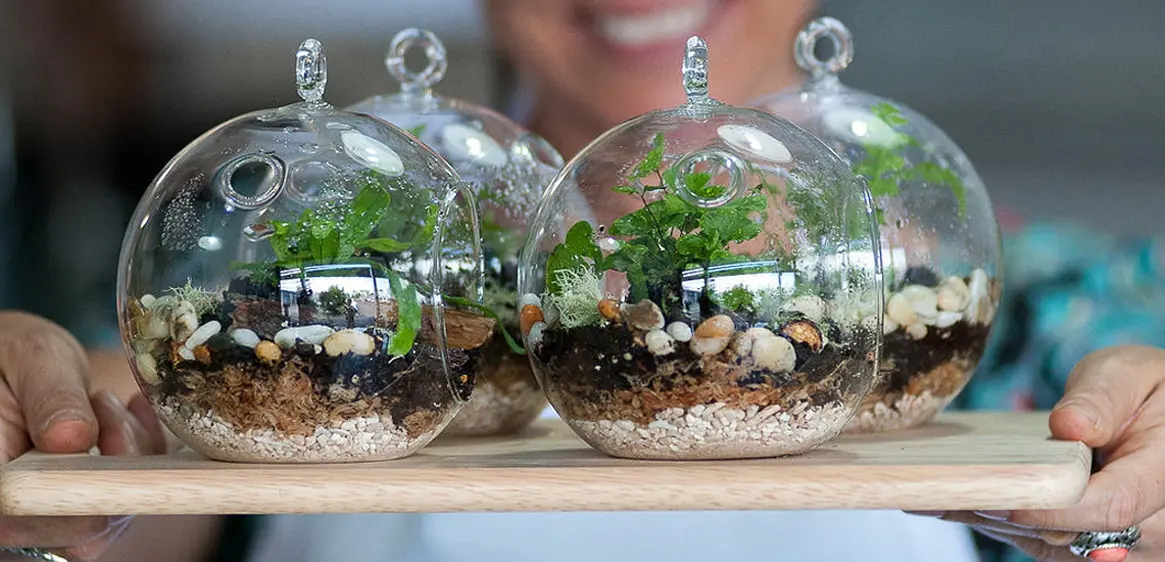 Brisbane's best terrariums
Gardening, made simple! An easy, sustainable and decorative terrarium will perk up your indoor space.
By Guest Styler | 4th March 2015

Image courtesy of That Flower Shop.

Terrariums are the perfect low-maintenance indoor garden, requiring almost the same attention as a cactus; near to none.

Terrariums are much more than a houseplant; they are a creative and beautiful addition to desks, dining room tables or any communal living space.

From mason jars, fish bowls, hanging orbs, to all the uniquely shaped glass containers in between, terrariums can host a range of indoor plants, ferns, succulents and moss, as well as pebbles, stones, crystals and imaginative embellishments.

If you're looking to adopt a terrarium of your own, here are some of the best Brisbane terrarium stockists:
That Flower Shop
Playing with colours, textures and shapes, That Flower Shop creates tiny worlds of ferns, rocks, and moss, with fun and imaginative figurines in a glass orb terrarium. Their terrariums are mostly made to order, with plants chosen specifically to complement the client's home environment and featuring quirky figurines, including people and animals, sourced on request.
Price range: $30 to $300 Stockists: That Flower Shop in Alderley www.thatflowershop.com.au
Green Glass Terrarium
Julie van Oosten of Green Glass Terrariums uses a combination of natural and man-made materials to produce innovative and aesthetic terrariums to decorate any living space.  Green Glass Terrariums use a collection of embellishments and a fascinating diverse mix of plants, especially succulents, semi-tropical plants and cacti. They also allow customers to buy small terrarium kits for $30, so you can create your own terrarium from scratch.
Price range: $30 to $120 Stockists: Green Glass Terrariums in Moorooka and Leaf Espresso Café in Tarragindi www.greenglass-terrariums.com
Gardens Under Glass
Bring nature indoors with Gardens Under Glass' living art installations. Owner Bella believes a person's interaction with their terrarium may create the power of healing, as the presence of nature can help reduce stress and foster mental restoration. Gardens Under Glass currently have five terrarium types available for sale on Big Cartel, using indoor species, native ferns and succulents, however custom orders can be requested through their Instagram account.
Price range: From $25 Stockists: Gardens Under Glass on Instagram and Big Cartel and Primal Pantry in New Farm www.gardensunderglass.bigcartel.com
LivingRoots
If you're looking for a small and cheaper option to owning your first terrarium, these might be the perfect choice. LivingRoots offer a range of small glass terrariums with coloured gravel, a succulent plant, potting soil and activated charcoal for $10.
Price range: From $10 Stockists:  LivingRoots on Etsy www.etsy.com/au/shop/LivingRootsCommunity
Wilde Flora
Focusing on Nano (miniature) landscapes, Wilde Flora creates a range of terrariums with a rainforest feel. They are authentically forest-like in appearance, with a beautiful collection of driftwood, mosses, crystals and plants. Their organic micro nursery nurtures precious seedlings and propagated specimens for their arrangements and terrariums.
Price range: $25 to $350 Stockists: Wilde Flora in South Brisbane, Mappin's Nursery in West End and Showroom in Paddington www.wildeflora.com
Looking to give it a crack yourself, but need a little help? That Flower Shop, Green Glass Terrariums and Wilde Flora also offer Brisbane terrarium workshops!
Have I missed a Brisbane retailer selling terrariums worthy of a mention? Let me know!