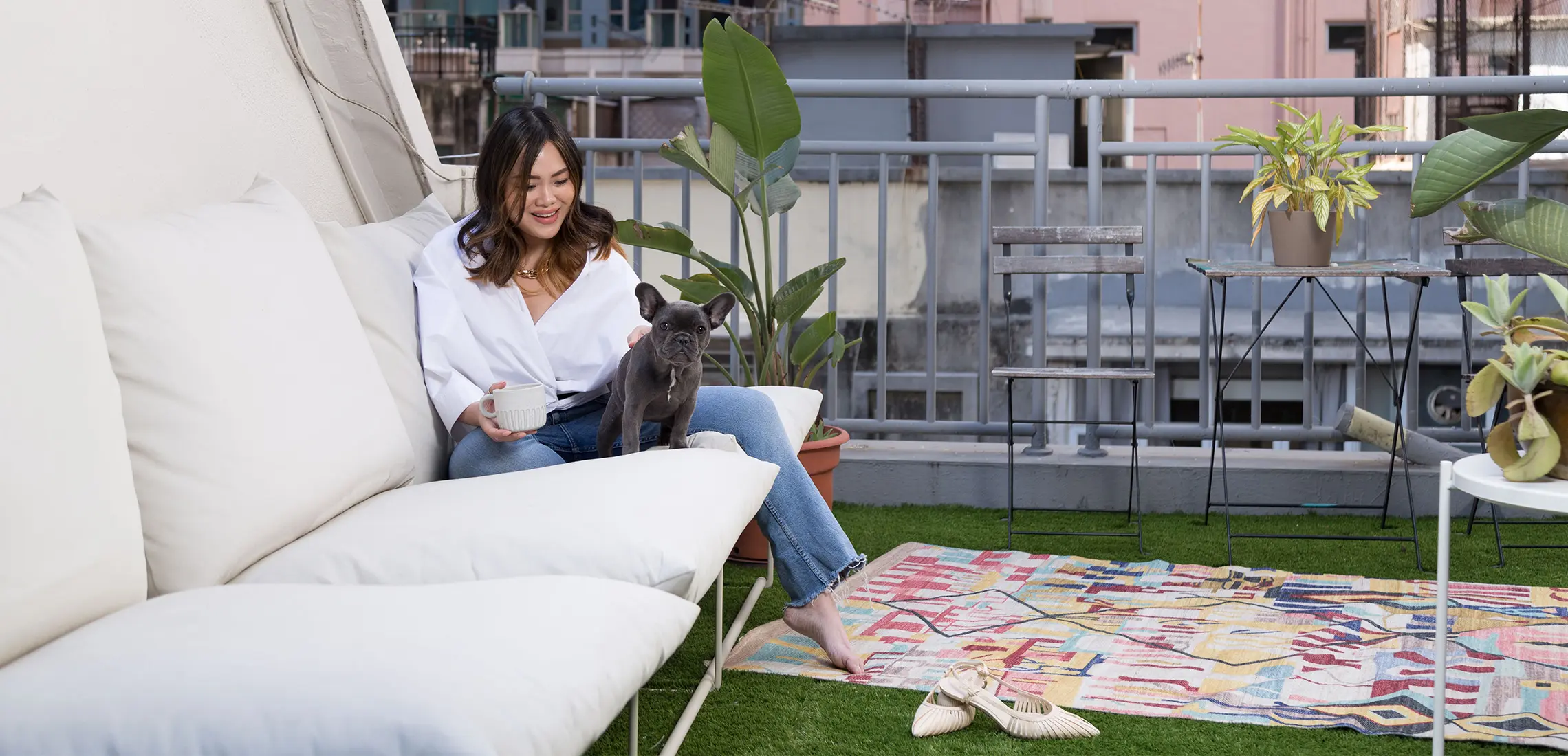 A Designer Pulls The Rug Out On 2021 Rug Trends And Styling Tips
Cut a rug!
By Dinushka Gunasekara | 5th May 2021

Being raised in a no-shoes-inside household, a rug is a truly treasured thing. It's not just used to hide up that questionable scratch on the timber – it's the easiest way to change the entire dynamic of a room.

No one knows this more than Miss Amara co-founder Alexandra Tanya. After realising how much the experience of buying a rug on the web sucks, she helped bring to life the online boutique, revolutionising the interior design process. With a virtual stylist and free advice always on hand, your dream rug is only a click away. But before you pick out any old red carpet, she's pulling the rug out on 2021 trends, as well as tips and tricks.
In your opinion, what makes a perfect rug?
I think this answer is different for every person! It depends on your lifestyle and your space. But I would say the perfect rug makes your space feel larger, and more luxurious, and actually makes you inhabit and bunker down in your space. We get so much joy from customers telling us how much a rug has made them use a used-to-be-unused space.
What rug trends are you seeing in 2021?
More and more people are looking at their outdoor space as a room and styling these spaces, which I could not be happier about! We are seeing much more interest in outdoor rugs for this reason.
As always, neutrals are as popular as ever, with more people being brave about choosing a lighter colour like beige or creams as a rug once understanding which fibres are hardier. In terms of décor trends, I see Aztec is making a comeback, as well as coastal style with lots of jute blues and creams.
What is the first step when it comes to buying a rug?
Consider the existing space and how you will use the room. If the space is a chill out zone, such as your bedroom haven or the family lounge, my tip is to go with something plush and lush. The feel and texture of a rug is such an underrated consideration in my opinion.
However, if you're looking for a rug for a space that sees a lot of activity, such as a hallway or a kitchen, stick with a practical flatweave fibre. Remember that whilst these rugs can take a beating, there are a tonne of beautiful looking designs in this construction, meaning you don't need to compromise on style for function!
How do you match a rug to a room's aesthetic?
Don't! Because of its sheer size and scale, a rug can often change the whole aesthetic of a room to whatever you want it to be! So don't try and match your rug to your room – rather dream up what in your heart of hearts you want your room to be, and use a rug to achieve that look. I promise you will be amazed at how fast you can transform the whole style with just a new rug.
Tell us about the design process behind your rugs…
I get my inspiration for rugs when I'm doing anything and everything. It could be from a piece of vintage wallpaper, a summer dress, or a photograph. I am constantly creating but I think that beautiful designs are timeless, so I try not to be trend-led. The process starts when I get inspiration – I will brief my amazing designers on a concept and we'll make a sketch, then we discuss what fibre will hero the style best! From there the pièce de résistance is seeing the sample in a real room and how the texture and design comes alive in a space. It's hugely rewarding and very surreal when I see our creations in our customer's homes.
What is your best advice on keeping a rug looking brand-spanking new?
This is such a common question and there's really not a lot to it! There are just two rules to keeping your rug looking amazing:
Use an underlay: an underlay will prevent dirt and dust from soiling the underside – something that can really damage your rug. You've heard the saying 'sweep it under the rug', and unfortunately a lot of dirt and dust can build up under there.
Lightly (emphasis on lightly) vacuum your rug 2 – 3 times a week with fast strokes across the surface. Regular vacuuming will keep any dirt or dust from settling, extending the life of your gorgeous investment.
Tell us more about your free styling service…
I totally understand that the size and value of a rug makes it a scary purchase – for a lot of people it might be their first time buying a rug and there's just so much to know about different fibres and styles that complement your space. That's why we thought there was no better way to help our customers than have them speak with real interior specialists. You wouldn't speak to anyone but a florist about buying a gorgeous bunch of flowers, so why wouldn't you speak with an interior designer about buying a rug?
Our stylists are just as obsessed with finding the perfect rug for your space as you are (maybe even more!), and we're so proud of all the room makeovers we've done to date. We started sharing all our customer's reveals as they all send us pics in the end, and in turn they have inspired a whole bunch more – it's amazing and completely rewarding.