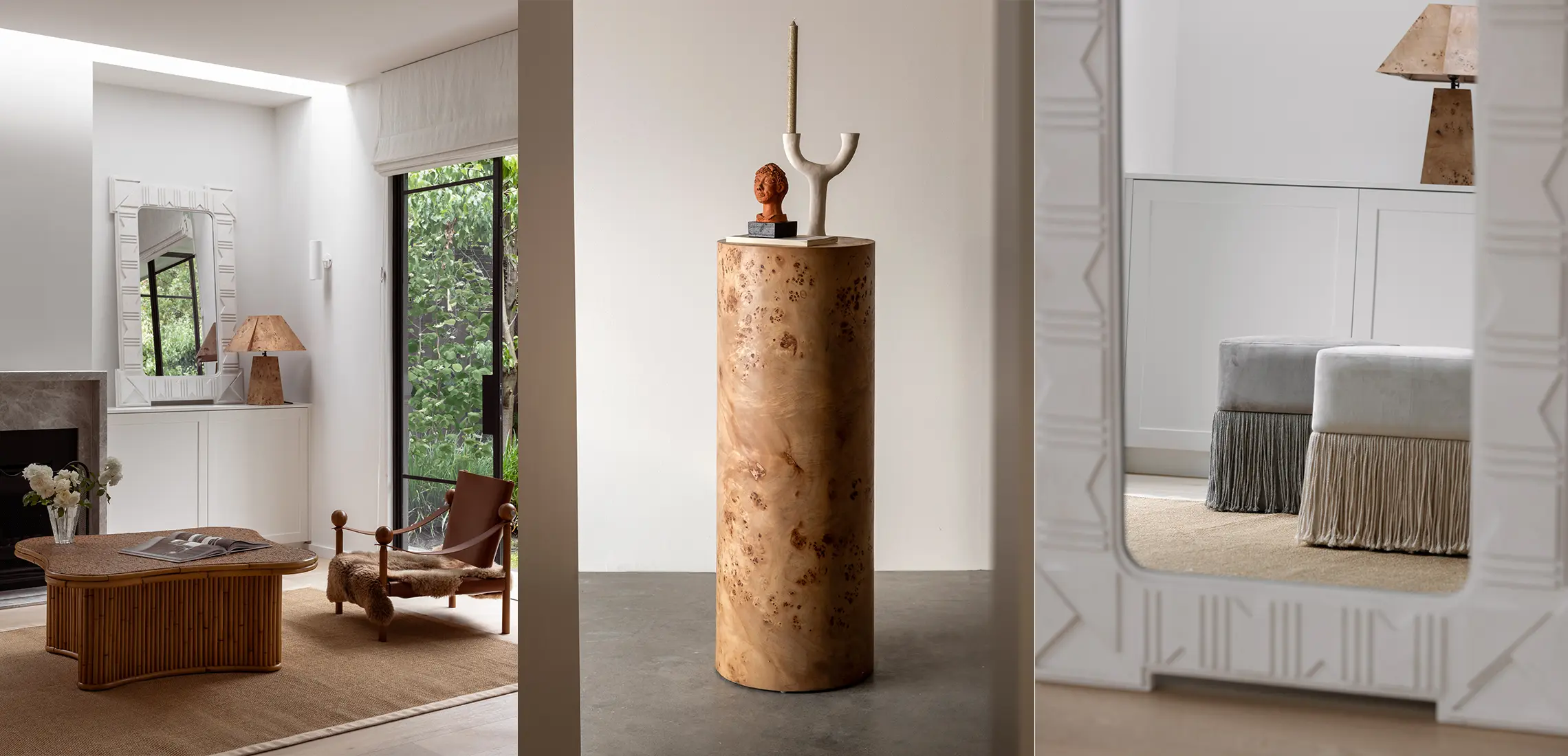 In Her Space: The Tale Of Rachel Donath, Australia's Most Beloved Furniture Designer
*Swoon-worthy interior style loading*
By Astrid Taemets | 10th May 2023

If you're a lover of interesting and unique interior and furniture design, chances are you've come across a Rachel Donath piece while scrolling. 

With a fine eye for effortless interiors that mix the old world with the new, the Melbourne-based furniture designer can credit her success to her steadfast and striking style, which is anything but hackneyed. 

From her signature wave chair to her range of Italian murano vases, the furniture that's become synonymous with the Rachel Donath name are best described as objets d'art; carefully considered pieces made with intent that make your heart skip a beat.  

View this post on Instagram

In the years since Rachel pivoted to a career in furniture design in 2020 from her garage, she's become a household name for those seeking the extraordinary. Here, we chat to her about launching a dream, what gets her creative juices flowing, and why you should never be afraid to take a leap of faith. 
Hi Rachel! What was the catalyst for starting your business?
It started in the middle of COVID during one of Victoria's extended lockdowns. I had always felt a strong calling towards beautiful interiors and artful objects, and so I decided on a whim to start my business with no expectation at all, except as an outlet for my creativity and passion. 
What was it like in the early days?
I was very fortunate that the business took off immediately. It was a wonderful shock and completely unexpected. I would list a number of vintage pieces each week on my Instagram, and they would sell out every time. I had somehow effectively created a small community of designers and design lovers online who appreciated my curatorial eye and quickly became loyal customers. 
What is the design process for the collection you make?
For the editions I release, I start by sketching and creating a vision board of materials, shapes, and references that I'm drawn to. I then consult closely with makers and artisans to create, edit, and evolve a prototype. While we started off local, we now employ global artisans who are masters of their craft to create each piece. 
What influences/inspires your design?
I spent a lot of time as a child in the homes of family members who were eclectic collectors. I would say with absolution that these homes have influenced my tastes in design and my philosophy towards collecting and curating. I am inspired by architecture and old homes and their gardens. I adore nature and travel. I may come across a pattern or shape and decide to create a piece incorporating this element, whether it's a table leg or the border of a mirror. 
View this post on Instagram
You've quickly gained a cult following and reputation for your pieces. What is the biggest 'pinch me' moment of your career so far?
A kind message from a customer about a piece they have bought and loved is a pinch me moment as much as seeing one of my pieces in a renowned publication or home designed by a respected designer. But, if I had to pinpoint the biggest pinch me moment to date, it would have to be the first sale I ever made, which happened to be to one of Australia's most iconic designers – someone I have personally admired and followed for years. Preparing this first invoice with her name on it; it was a moment that was beyond my wildest dreams, and really cemented for me that I was good at what I was doing and that this passion project was worth pursuing. 
What does a typical day look like for you?
I'm up at 5am most days and enjoy a quiet coffee while going over some of the emails that have come through overnight. I do an hour of gym, then get home to get the kids [4] ready and off to school. After drop off, I'm back at my desk to address my inbox again and then depending on the day, will have a schedule of calls and meetings to attend to. In between, I'm overseeing design, logistics, manufacturing, publicity – the whole shebang! It's busy but fulfilling in the most wonderful way. I absolutely love what I do. 
How would you describe your own personal style?
I would say that philosophically, my style personally and professionally are very much aligned. I am drawn to genuine, personality-filled expressions. I have always had confidence and done things my own way, without seeking approval but rather following my instincts. I would say that in both my personal style and professional style, I very much do things my own way and make my own rules. I prefer to lead rather than follow.  
What is your favourite piece in the RD collection so far?
This is a hard one! As the journey has been so personal, there have been lots of pieces which to me are reminders of overcoming particular obstacles or achieving something beyond what I initially thought possible. Sentiment aside, I'd have to say that the new burl collection is my favourite to date. 
View this post on Instagram
Along with creating furniture, you also source pieces. What influences what you source?
I love sourcing markets or catalogues for beautiful and unique pieces. My designs are based purely on what pulls at my heart – I'm not buying with another person's taste in mind. I think that if I switched my mental framework of sourcing for the purpose of selling, I would lose my touch completely. Staying true to my vision and passion is the driving force of my success, and I think that my audience appreciate this authenticity and the love I pour into the process. 
What is next for Rachel Donath?
As the business continues to grow, there are lots of avenues we are pursuing to ensure better accessibility to the brand, both within Australia and globally. There are lots of exciting things in the pipeline, so stay tuned!