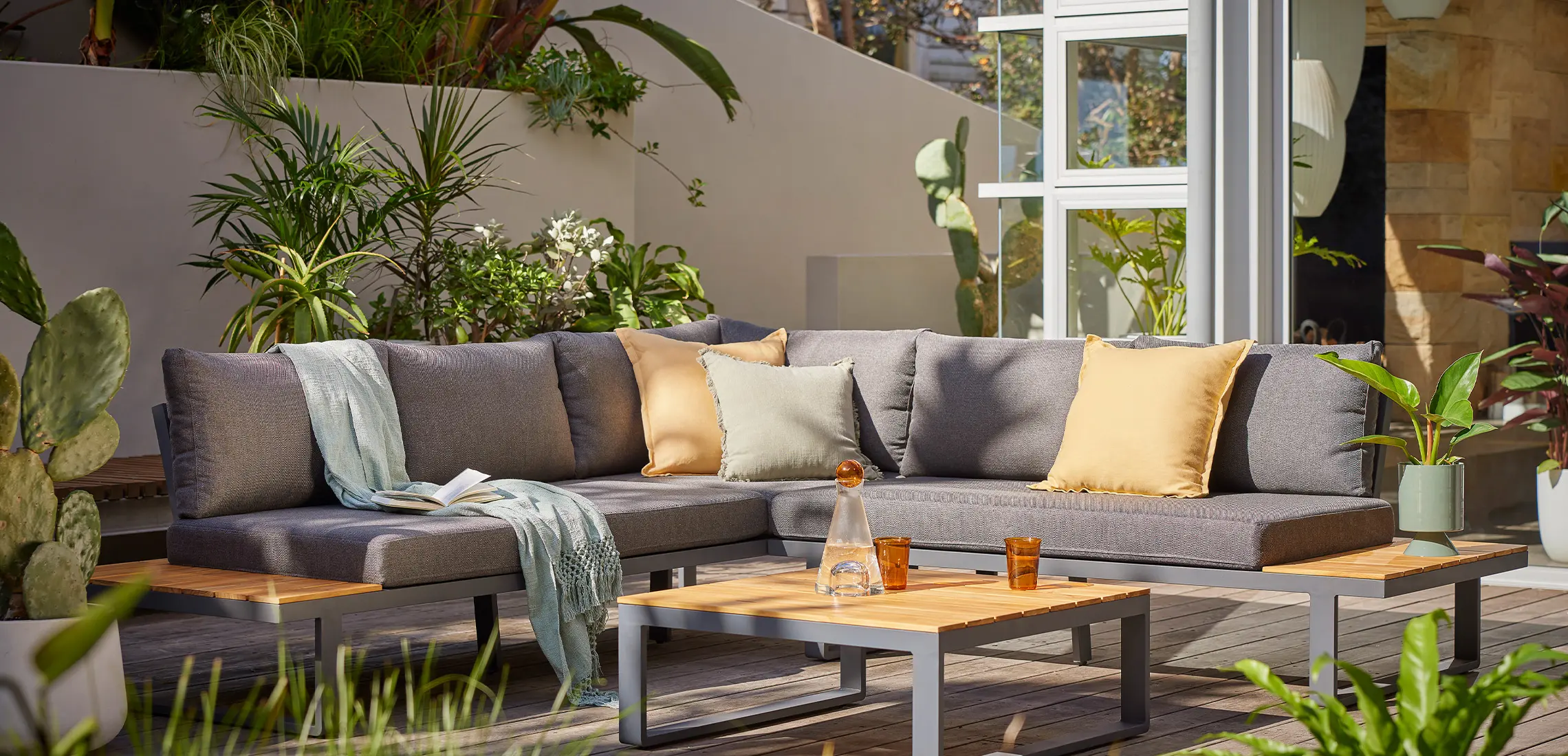 How To Style Your Outdoor Space For Summer According To An Expert
Summer soiree-ready
By Penelope Pelecas | 9th November 2023

Looking for an excuse to revamp your outdoor living space? Well, the arrival of a new season is the perfect time to refresh bits and pieces around the home, and your outdoor area is a great place to start – after all, summer is the season of soirées. 

We've enlisted the help of Remarkable Outdoor Living's In-House Stylist who shared their top tips for getting your outdoor space ready for summer – we'd start prepping the margaritas if we were you! 
Hi! What summer trends are you seeing for outdoor furniture? 
This summer, we're witnessing a fusion of natural textures and contemporary aesthetics in outdoor furniture. Neutral colours like charcoal, light grey, and white are in vogue, creating a modern and soothing ambiance. Eco-friendly materials are also on the rise, reflecting the growing awareness of environmental concerns.
What are your must-have pieces to build a summer-ready outdoor space?
According to our customer data, wicker, aluminium, and recycled plastics are the top three material trends among Australians. Functional furniture such as expandable tables are also very popular, especially in Queensland. 
To create a summer-ready outdoor oasis, invest in a comfortable outdoor sofa or lounge set, complemented with a stylish dining table and chairs. Finish off the space with an outdoor umbrella (an essential to beat the harsh Australian sun) and accessorise with weather-resistant rugs, vibrant outdoor cushions, and potted plants for a natural touch. Don't forget versatile side tables and a good quality outdoor grill for entertaining! 
What are your key tips for building the perfect ambience for summer entertaining? 
Lighting is key for creating a festive atmosphere – items like solar-powered lights and fire pits can completely transform your space. And it goes without saying, lounging around the pool is one of the best activities to do in summer, so comfortable sun loungers are a must for this. PS, don't forget a well-stocked bar trolley for a touch of luxury!
How do you beat the heat with outdoor styling? 
If you want to cool off quickly and easily, getting some shade is the way to go, and a large umbrella is a great option. Choosing the right furniture material is also crucial when it comes to keeping you cool. The type of material you use can significantly impact the temperature of your outdoor space. I'd recommend choosing light-coloured furniture to reflect sunlight, installing ceiling fans for covered areas, and opting for cantilever umbrellas to provide shade from the sun from any angle. Positioning furniture strategically to catch breezes is also another way to stay cool. 
What are your tips for maintaining outdoor furniture? 
It's essential to take good care of your outdoor furniture to ensure they last. Here are my top tips for maintaining your outdoor furniture this summer:
Regularly clean and protect your outdoor furniture to extend its lifespan
Use covers when not in use and store cushions indoors
Clean with mild soapy water and a soft brush
Apply protective coatings if your furniture is made of wood or concrete
Check for any rust on metal frames and repaint as needed
For wicker or rattan, vacuum away dust and use a damp cloth for deeper cleaning. 
Things to avoid: 
Avoid using bleach, abrasive, or solvent-based cleaners on ceramics, concrete, aluminium, wood, or fabrics as they may deteriorate the materials
High-pressure washing is not recommended as it may damage the stitching and cause chipping on powder coating and splintering on wood
Avoid using steel wool, sandpaper, or scouring pads on metal surfaces as they may erode the surface paint. 
What are your final tips for perfecting an outdoor space?
Quality over quantity is a golden rule for outdoor furniture; investing in durable pieces pays off in the long run. Personalise your space with your unique style while keeping comfort and functionality in mind, and don't forget to enjoy the outdoor experience you've created! A new trend that we're also seeing is using outdoor furniture indoors.