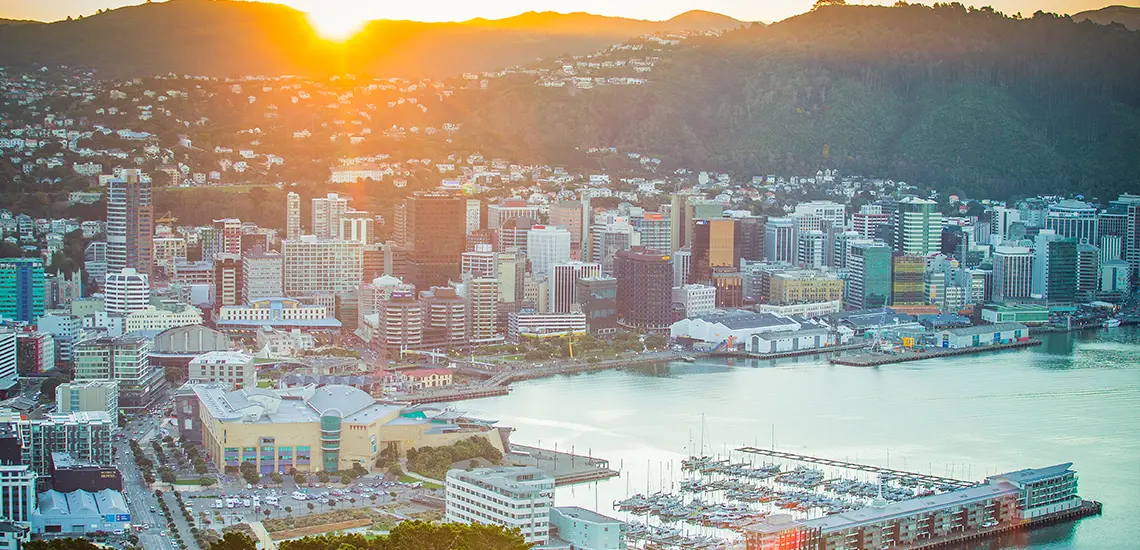 Virtually Travel NZ, Dance, Paint & More With These Online Classes & Activities
Who says you need a flight to explore New Zealand?
By Dinushka Gunasekara, Melissa Myrteza | 13th May 2020

If you like to put the 'grin' in grind, then these iso-boredom-kicking activities will have your cogs turning without even realising. Whether you want to finesse your moves to dance your way out of quarantine or up-skill to the max with some iso-learning, there's plenty to be achieved without moving an inch from your couch. This is some of the best from the world wide web.

The future is AR, VR and all of those other tech abbreviations floating round in cyber space, and when we recently stumbled upon New Zealand's own little treasure of virtual reality, we were virtually and literally pleased. That's right, NZ's capital, windy Wellington is officially the world's very first gamified virtual city! Website, Wellington NZ, has created a virtual playground known as Welltown. Comprising of six short, intensive experiences, you get to experience being a Wellingtonian firsthand. We're talking shooting coffee at zombies, busking with local bands, basking at the starlit sky during the Maori New Year, Matariki and more, all via VR! If you don't have VR goggles, scroll down to explore 360 video experiences of an All Blacks rugby test match (the closest you'll ever get to the Haka), national museums, Weta Workshop and more! While we can't travel, this is the ideal trip!
What about the rest of the world? Check-out the virtual tours from across the globe:
Paris Catacombs virtual tour  – See the underground network of bones and limestone tunnels existing since 1814
Again, in the City of Love, explore the renowned Louvre Museum from the comfort of your couch!
New York, New York, the concrete jungle where dreams are made of (according to Alicia Keys)! Explore The Met's exhibitions including features on Christian Dior and Coco Chanel.
 See the online exhibit of the Easton Pearson Archive at The Museum of Brisbane
Over in Egypt, you can see the Tomb of Menna in the Theban Necropolis, step by step.
Every Tom, Dick and Harry have tried their hand at painting during isolation and you can colour us impressed. If there's anything we've learnt from the artists at Cork & Chroma, it's that painting isn't about creating a piece of perfection, but rather unravelling individual expression. While you're getting crafty in iso, paint and sip online at home with Cork & Chroma! These online sessions are hosted by the artists, streaming you a step-by-step guide from the comfort of your home studio. Do you know what this means? No need to pay for an Uber home after a boozy brush stroke or two!
The Sunshine Coast is known for its chilled vibes and laidback culture, but not when it comes to The House of Sole. Directed by Taneikah Wescombe, this is a platform of online dance tutorials to 'keep your sole moving at home'. Trust us, when the clubs open back up, you're going to need more than a cheeky vod soda for dance confidence. With choreography for all ages and abilities, you can follow drills to upscale in the urban and hip-hop dance scene. Plus, there's no judgement when you're poppin' n' lockin' it alone at home!
https://www.instagram.com/p/B_REM9Rn50d/
Delete 'Proficient in Excel' from your resumé and throw in some skills that will really set you apart with the help of the free short courses on offer at TAFE Queensland. You'll be essential when you know all the essentials with their micro-credentials in cyber security, data analysis, digital literacy, data security and more. Or, level up with their online skill sets that employers will bow down for including community care, basic customer engagement, food service, mental health peer work and health service support. Hey, LinkedIn called – they think you're doing swell!
The pub may be closed, but your As still have Qs with Grapevine Events' line-up of online trivia. Whether you know so much about The Office you could have had a desk at Dunder Mifflin or your Mean Girls knowledge has you feeling personally victimised by Regina George, every pop culture fan is covered. You can work in a team or put yourself to the test solo and feel free to create the bar experience at home. Also, if you have to allocate some time to study up by binge watching for a day or two, well, that's just what winners do.