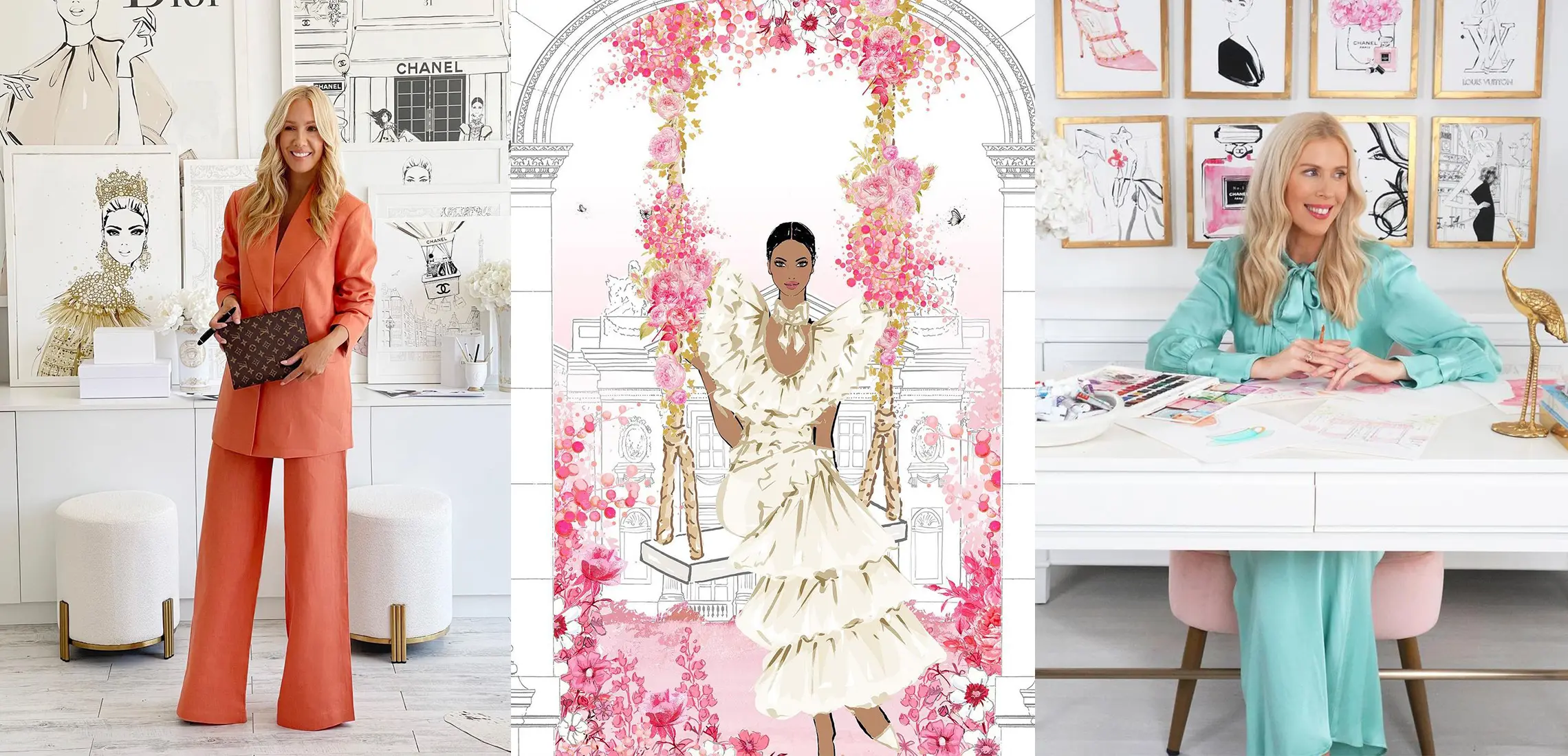 How These Talented Sisters Drew Their Dream Careers
The pen is mightier
By Morgan Reardon | 27th May 2022

Renowned for their artwork depicting the glitz and glamour of the fashion industry, Megan and Kerrie Hess' signature watercolour illustrations are synonymous with decadence, Tiffany & Co, and the kind of couture gowns all women lust after.

But the siblings didn't just stumble upon their international fame – far from it. Growing up, neither of them realised that fashion illustrator was an actual job; they just knew they felt most at home with a pen and paintbrush in hand. They'd even beg their parents to send them to weekend art classes because quite simply, they felt their happiest when creating.

Instead of following their dreams – and clear talent – they decided to get "proper" jobs instead, studying graphic design and continuing their passion for painting on the side. It wasn't until the sisters moved to London in their late teens that they truly realised their burning desire to become artists.

While working as an Art Director for swanky London department store, Liberty, Megan began doing some illustrations for them. When other Art Directors saw her obvious talent, the commissions began to flow and Megan found herself working non-stop.

"I wasn't earning a fortune but I'd never been happier. I knew I was going to do this forever," Megan says.

Kerrie, on the other hand, started drawing on the side – in the beginning, all she wanted was to make enough from her paintings and drawings to pay the rent. She gave herself a year to make it work or return home.

Fortunately she didn't have to wait long for the universe to deliver her the perfect moment to show off her skills. While working as a graphic designer for a London magazine, an image of a little black dress failed to turn up – it was Kerrie who saved the day by providing her own illustration of it.

Soon word got around the fashion industry about Kerrie's talents and brands like Topshop, Vogue and Louis Vuitton came calling.

In 2006, big sister Megan got a phone call that would ultimately change the course of her life.

"I got a call in the middle of the night from Candace Bushnell's publisher asking if I would illustrate her novel One Fifth Avenue."

After she was commissioned to illustrate the cover – which became a New York Times bestseller – Megan met with Candace who hired her to illustrate all of her previous books too.

From there the offers for Megan came rolling in. Think big brands like: Tiffany & Co, Chanel, Prada, Fendi, Dior, Cartier and Vanity Fair, who were all desperate to get their hands on a Megan Hess original. She even crafted portraits for the likes of former First Lady Michelle Obama and Cate Blanchett.

At the same time, sister Kerrie's career was also skyrocketing.

"I certainly never saw a future of billboards in Paris, painting windows for Harrods in London, or my own range of limited edition print shoes," Kerrie explains.

Growing up on Hitchcock and Fred Astaire movies, Kerrie says the likes of Grace Kelly and the famous Psycho filmmaker were influential characters in her drawings. But it wasn't until 2011, when Kerrie did a solo exhibition at the Le Meurice Hotel in Paris, that she really felt like she could call herself an artist.

"It was a 17-piece show held in a salon where both Picasso and Dali have previously exhibited, so I was incredibly honoured, and nervous to exhibit in that space!" she says.

Since then she's been commissioned by the Hôtel Plaza Athénée in Paris to film a video of her painting on the iconic "Carrie Bradshaw balcony" from the final episodes of Sex And The City.

She even received a personal message from Ariana Grande saying what a big fan she was. That was in 2016 – just one year later Kerrie found herself backstage at one of Ariana's shows gifting her a portrait she'd painted of the singing superstar.

Describing her style as intuitive watercolour, Kerrie admits her art has moved on from calligraphy pens to paints and brushes.

"I am so much happier in a mess of brushes and paints. I also like to leave out a few details so you can fill them in with your eyes," she explains.

On the other hand, Megan prefers to draw all her line work with a custom Montblanc pen and ink, with each illustration taking her anywhere from an hour to several days.

Megan loves that her work can have such a strong impact for those in the creative industry.

"It's great to have reached a point where I can be involved with organisations such as Ovarian Cancer Research Foundation and use my illustrations to help with the fight against ovarian cancer," Megan says.

Despite their success (between them they have over 700,000 Instagram followers, shoe lines and multiple book deals), both illustrators say they will always be mums first and foremost and, unlike their paintings, things aren't always as glamorous.

For Megan, motherhood involves skyping her clients before her children Gwyn and Will wake, juggling making school lunches, and helping with after-school homework in-between her busy deadlines.

While Kerrie admits she sometimes lets her social life and time to herself slip, she says her primary focus is her son, Marcel.

"The key for me is that when I'm working I'm focused on that, and when I'm with my son I don't check my emails or social media. I don't want to dilute that time in any way," she says.

Megan agrees with Kerrie adding that the support she receives from her husband plays a big part in maintaining her work/life balance.

"We made a pact not to give up on the things we loved because we were having kids, and we really stuck to it. I think all parents need time out and it's amazing what a little time to yourself can do for your wellbeing," she says.

When asked what she loves most about illustrating, Megan doesn't hesitate: "I get to create an imaginary world and there are no limits to what you can draw."

Now that sounds like the dreamy kind of place we could happily exist in.
Get to know Megan…
Love to collaborate with? Vivienne Westwood.
Ultimate style icon? Laura Bailey. Her style is perfection to me!
Get to know Kerrie…
Your favourite colour? Watermelon pink and aqua blue. The latter reminds me of Tiffany & Co. and watermelon pink is such a sunny positive hue but not quite as girly as a sweeter pink.
Ultimate style icon? Grace Kelly and Audrey Hepburn.