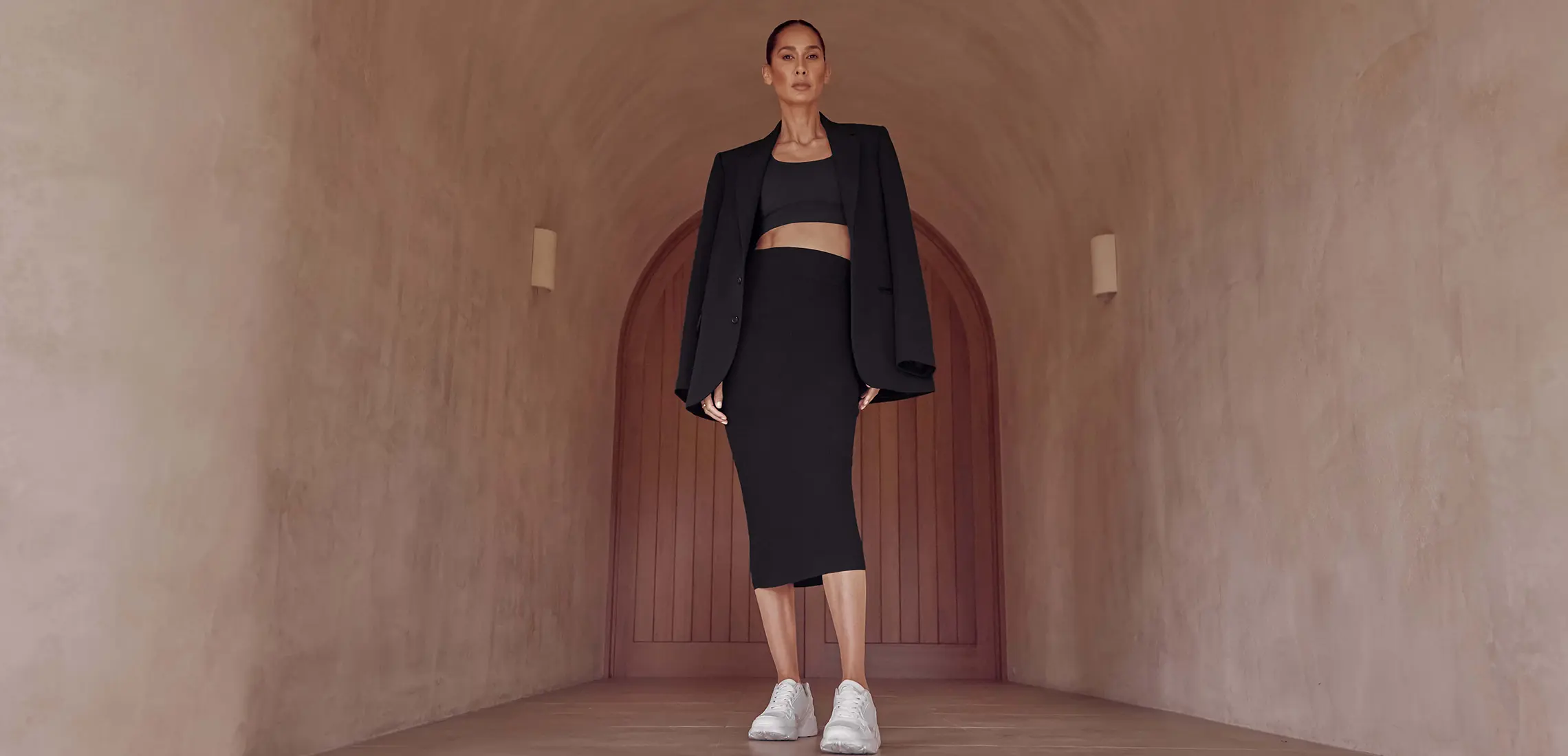 Real Talk: Lindy Klim On Family, Loving Yourself, And Womanhood
The Bali princess bares all
By Astrid Taemets | 10th June 2022

Living the island life we all dream about (especially during this cold snap!), Lindy Klim – model, businesswoman, and former wife of Olympic swimmer Michael Klim – is about as down-to-earth as you can get.

Based in Canggu, Bali, with her four children and husband Adam Ellis, Lindy's philosophy is simple, but effective: slow down, be present, and focus on what matters.

We caught up with the stunning Indonesian princess (yes, she really is one!) recently on a campaign shoot for Intimo – Lindy's first trip back to Aus in two and a half years – to talk about motherhood and loving yourself.
Hi Lindy! Tell us, when do you feel most beautiful?
When I'm at home with the family just being myself and not having to put on any personality or anything like that. I am completely myself, stripped down,  in my own comfort zone at home without any outsiders looking in.
Bali life means I am always in a bikini and sarong, or denim cut offs. I don't usually wear makeup, and my hair is in a messy bun, and that laidback lifestyle reflects who I really am. Bali is nice for that – it makes you really grounded and allows you to appreciate growing older in an environment where you don't feel the pressure to get dressed up. You're just you, natural, and you don't have to pretend to be anything other than what you are.
What does self-love mean to you?
Self-love is about loving who you are – all of it – and I think that is part of this whole COVID situation, where I've really stopped consuming so much social media. I'm not looking at what other people are doing, I'm just concentrating on myself, on my family, and that is really what is important.
In the past, I got caught up in that world of watching what everyone else is doing and comparing yourself to that, and I just really like the fact that I am so comfortable with myself now, and so comfortable with my life at home with the kids, and what's important to me is what's happening in my family.
What has motherhood taught you?
Before I had kids I was the most selfish person. Children are really grounding; they really let you know when you've messed up, and call you out on things all the time. If I could give any advice to my younger self, it would be to roll with the punches more. I used to be very regimented, and being a parent I like routine, but I've also learnt that some days your routine is going to get out of whack and you just have to be okay with it rather than trying to control the situation. You have to make the most of it, and stop being so vain about how things should look.
The number one parenting lesson for me has been to parent each child individually – they're not all the same, and you can't expect that. I think that's a really important lesson for people to understand. You need to listen to your kids, be patient, and help them be the best they can be by focusing on their strengths, and what they need from you as a parent.
What values do you hope to pass onto your kids?
Above all, to treat everyone with respect. I think they do that – they're really beautiful souls and I think that growing up in Indonesia and seeing the hardship that it has on the locals there, there's no judgement on any front. I think my kids are really blessed to live the way they do, but I think they recognise that, and regardless of class, to treat everyone equally. I hope they carry that with them into adulthood, and pass that onto their children.
What kind of pressures have you had to face as a model and mother of four in this industry?
These days, I don't really feel like I have any pressure. As a young model, I dealt with a lot of racism. I felt like I was always the token Asian model at a photoshoot. Sometimes they would lighten my skin in the editing process. So, as a young model growing up in that world it was very eye opening for me. Being a woman and a mum in the public eye today is a breeze compared to what racism was for me back then. In some aspects, it stopped me from doing things in my career. I was really shy, and I knew that I would be there as the token POC as a political stand, and that was really hard to swallow as a young woman trying to forge her career. This is why I love Intimo, and other brands who are embracing inclusivity. It's great to see it's becoming the norm now because the world is made up of so many different types of people.
Let's talk more about Intimo. You've worked with them for many years – why?
I love Intimo's whole ethos behind positive body image. It's just such an important message, especially in this day and age where filters on Instagram and looking a certain way is so rife on social media. It's just not reality, and it's so bad for kids to see that.
I see so many people in the health and wellness area doing pieces to camera with a filter on and I'm like, 'you're not being authentic'. How am I going to listen to you when you're not being authentic and not being yourself? So, I've made a point of not using those face-altering filters because I am who I am and I don't think you should be ashamed of that, and that's the whole point of Intimo – women are women, and we should be celebrated, no matter what shape, or size, or colour, or any of that. It's just that we are powerful, strong, and having the faith in yourself that you are a powerhouse is really fulfilling.
What are your favourite pieces from their range?
I'm a lingerie girl – always have, always will be. I love how sexy and feminine it makes me feel, even if I'm just wearing it at home around the house. You should always do little things like that for yourself that make you feel good, and their lingerie range is all I wear. My husband is very happy about that!
When you're not working, how do you switch off?
Usually I am running around the island, dropping kids off at school and other activities. We have a lot of beach days, we explore the island or we go to a hotel and hang out by the pool, it's all very relaxed. At home, I do a lot of cooking, and my son has taken that up with me which is nice. We bond a lot over that.
You are the founder of FIG Femme – an intimate skincare and wellness range for women. What inspired you to start the brand?
There are so many different reasons, but Fig Femme started with the Restore Mask – a sheet mask designed to hydrate, sooth, and protect your vulva. Having four kids, I was so shocked and confused about feminine aftercare, and I know that there's been products out there for such a long time, however, the names of these products are just so dated and the products themselves look dated. I just felt like it was time to bring something new into the market that mothers would resonate with, and enjoy, rather than consider it something clinical or taboo.
I've got three daughters, and I don't want them to ever feel like they have to hide or be ashamed of their bodies. This brand brings light on the feminine care and hygiene, and makes it a conversation rather than something you have to deal with in private.
What's in store for you in the future?
Hopefully more of coming back to Australia. I really miss being in front of the camera, and working with brands like Intimo, because they've been my core brand for so many years. After taking a hiatus for two and a half years, it feels good to get back to normal. Not just modelling, but everything: travel, seeing friends, making family memories – that's my focus.