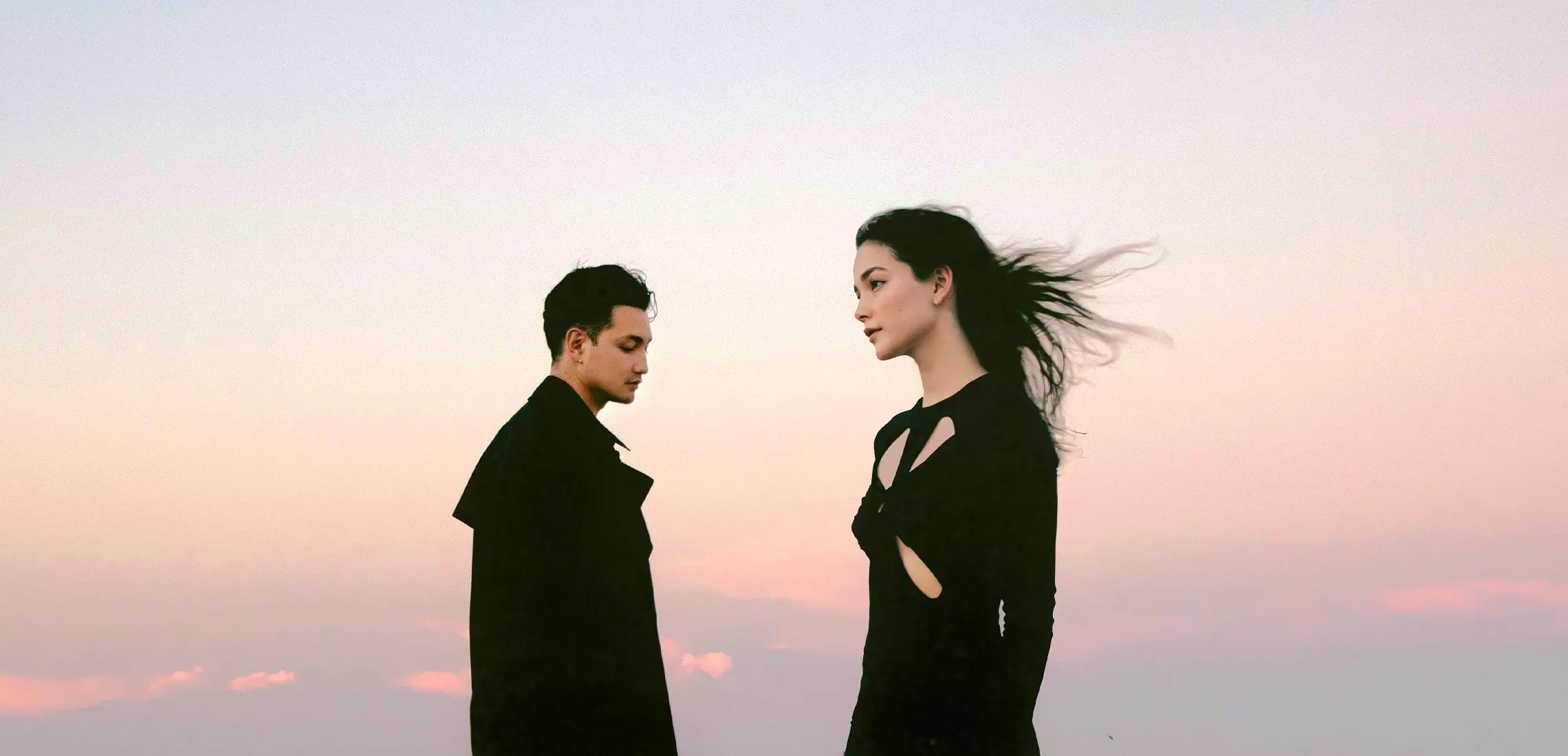 Meet The Dynamic Siblings Behind Gold-Coast Born Electronic Band, Lastlings
Perfect world
By Natalie McGowan | 22nd June 2023

Meet Amy and Joshua Dowdle: the brother-sister duo that makes up electronic pop band, Lastlings. Hailing from the Gold Coast and drawing inspiration from their Japanese roots, the sibling's combination of high-energy dance beats and wistful lyricism have made them a staple on festival lineups and vibey Spotify playlists.

Ahead of their national tour and following the release of their new album, Perfect World, we caught up with the pair to chat about all things music, being in your 20s, and Japanese philosophy.
Tell me about how Lastlings started…
Amy: We started in 2015 and we were both doing separate things. Josh was doing band with his friends and they would play in the garage and I would play piano and do covers in my room. Then I started wandering into the garage to see what they were up to and after they finished sometimes Josh and I would jam. He would play guitar and I would sing, or we'd both play piano together and sing. Eventually we wrote our first song, then we wrote an EP, then we played our first festival and that's how Lastlings started.
Josh: I had just finished uni or I was in my last year, but I was studying Biomedical Science. Then I took like three months to go to Japan and when I came back, Amy and I started Lastlings. I was about 21 and Amy was about 15.
As well as hosting your own headline tours, you've played at Splendour, Coachella, and toured and collaborated with artists like RÜFÜS DU SOL and SG Lewis. Do you have a favourite memory from touring?
Amy: We played at a festival called Pitch Music and Arts Festival in I think 2017. That was kind of the first time where I was properly introduced to a lot of different music and I have a lot of nice memories from there like dancing in the crowd and being introduced to my favourite songs at the time. That's one of my favourite memories.
Josh: We've had heaps but the first one that comes to mind is when we were supporting RÜFÜS on their regional tour many years ago. It was raining on the Sunshine Coast and all the gear was getting wet, but it didn't matter. We were just having such a good time and the crowd was having such a good time. The rain always brings a different kind of energy – everyone's just like "screw it, we're wet anyway" so they go a bit more crazy. I think it was just a really nice show for us and we were super young then. That was a really nice moment. It was also the same night where we hung out a bit more with the RÜFÜS guys and they started talking about how they wanted to start a record label, which they have now: Rose Avenue. So it was just a nice night.
The music video for your recent single Gravity was shot in Japan. How has your Japanese heritage influenced your music?
Amy: We grew up watching a lot of anime and even as a kid, mum introduced me to Studio Ghibli and I've been obsessed with it since. We always try to add that fantasy or sci-fi element to all of our music videos.
Josh: A lot of the sounds in anime and a lot of the Japanese shows we watch influence our sound a lot. One of our older songs, Out Of Touch from the previous album – the guitar is inspired by My Neighbour Totoro. So I think there are a lot of sounds we hear that influence the actual music, then the visual side of things influences the creative.
Your new album Perfect World is out June 23, congratulations! What was the process of making this album?
Josh: We've been writing it for a while. We were writing some of the songs when we were making First Contact. We had this great writing trip where we went to Ocean Shores, which is near Byron. It's 45 minutes from our place in the Gold Coast and that was really great. That was where we wrote Gravity and Noise. That was the first time Amy and I went on a writing trip where we didn't feel distracted by friends and family and work and that kind of stuff. It was nice to hang out and write music, go to the beach, make food. But for the most part, the process is either that I will start an instrumental, send it to Amy and then she'll write lyrics over it. Or there were a few times where Amy wrote lyrics and a bit of piano and some production, then asked me if I liked it and then we'd build on what she'd done. It's kind of a mixed bag. That way it keeps it interesting and dynamic and exciting.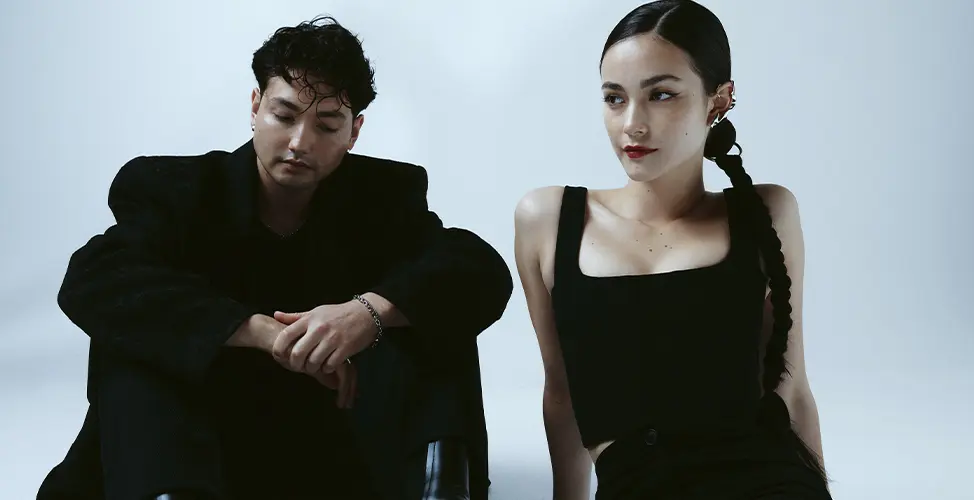 What was your main inspiration behind this album?
Amy: It's about experiencing all the things you experience in your 20s like heartbreak, moving out for the first time, and all the struggles you might face with your mental health and learning about yourself. So it's kind of been a diary for myself. The last few years of writing this record I've been at the start of my 20s. I think when you're growing up and watching Barbie movies and princess movies, your idea of love is very different to what it is in real life. I talk about all the things that aren't perfect in life, but when you look closely, all the small things that you see are what make life perfect. There are so many little moments in life that are really beautiful, so the album is kind of saying try not to think about all the annoying things in life that make you think otherwise.
Josh: For the production, it was more about not taking it too far and letting the lyrics and vocals shine. I feel like our sound has changed a lot from the last album. There's a lot more breakbeat kind of stuff. We've mixed it up on the production side of things which has been fun. It's been nice to step back on some things and give Amy more of a framework to sing on. And just going back to the Japanese heritage thing, there's a really nice philosophy: wabi-sabi. The perfection in imperfection. That kind of bleeds into the album a little bit.
Is there a song on this album that you're most proud of?
Josh: I like Gravity. It's definitely one of the most energetic songs on the album. We've been playing it live which has been really fun. I really like Noise as well; I think that was really fun to make and when I got the bassline out I was really happy.
Amy: I have two. The first is Perfect World. It's probably the most minimal track on the record and the lyrics and the style is more relaxed. The other is Far From Falling. It's the last track we wrote for the album and it's one of the more hopeful songs on the record. It was one of the ones where I was like "I'm actually okay and there's hope", so that one just reminds me of getting through something.
What are your thoughts on the Australian music scene?
Amy: There's so much good electronic music coming out of Australia now and I really hope that in the next few years they get really popular because their music is so good. I'm hoping they're going to shine soon. On the Gold Coast, there's a few artists popping up now, which is very exciting.
Josh: I agree. There's a lot of good music in Australia. It is tough that we're so far from everything and for electronic artists to come out of Australia is a bit of a struggle. But there's been some really good festivals like Pitch Music and Arts in Melbourne and Beyond The Valley. They do a really good job of bringing out big electronic artists so people like us can go and be inspired and keep writing.
What does a day in your lives look like when you're not touring or making music?
Amy: I'm pretty much making music everyday. If I'm having a break from it because I just can't think of anything, I'll usually go to the cinemas, go to the gym or do a pilates class, or go for a walk or a drive.
Josh: I just try to keep as active as I can. I used to surf a lot on the Gold Coast, that's what I did growing up. But I can't do that in Melbourne. So I just fill my time with yoga. I started rock climbing, like bouldering, which has been really fun. I just try to keep as healthy as I can because when touring starts the sleep isn't very good, the food you eat isn't very good, and there's not a lot of time to exercise.
What are you most looking forward to this year?
Amy: Our tour for Australia and America. We're also playing at a festival in Japan which will be super fun.
Josh: The venues we're playing this time are bucket list venues so we're really excited.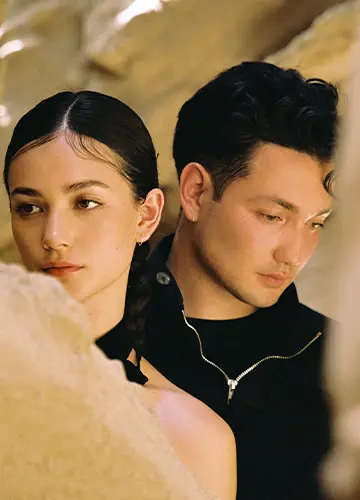 Quickfire with Josh:
Song on high rotation?
I'm in my zen phase at the moment. I really like Four Tet's Two Thousand And Seventeen.
Best career advice you've ever received?
Specific to music production: record everything right the first time to eliminate problems down the track.
What are you most proud of?
How far Amy and I have come. There's been a lot of ups and downs but the fact that we stuck together and wrote music and have a lot of shows coming up, I'm really proud of that.
On Sunday, you'll find me…
Cleaning and resetting my life for the week.
What's the last thing you binge watched?
Beef and then I watched Sanctuary after that.
Drink of choice?
Matcha. I'm a big tea drinker.
Quickfire with Amy:
Where do you seek inspiration?
Movies and music. I've been listening to a lot of old music lately and that's been very inspiring for me.
Can't put-down read?
I just finished M Train by Patti Smith.
Who or what is your biggest influence?
Probably Studio Ghibli. I feel like it's influenced a lot of our stuff and every time I watch it I feel so inspired to make music.
Go-to karaoke song?
Crush by Jennifer Paige.
Signature scent?
Chance by Chanel.
You never leave home without…
My asthma puffer!
In need of a boogie? You can snag tickets to Lastling's Brisbane show on 1 July here.