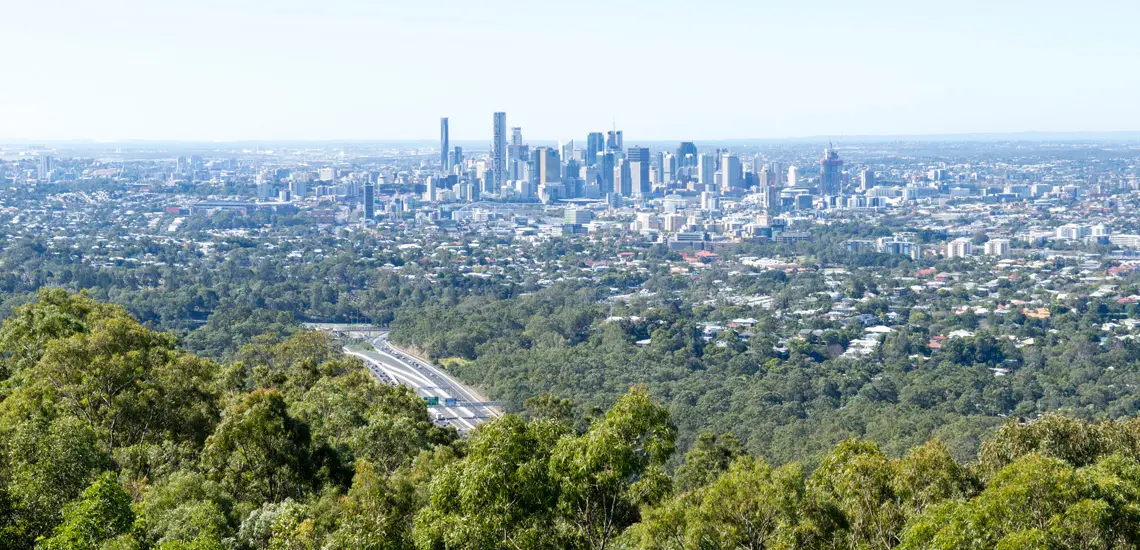 8 Instagram-Worthy Spots In Brisbane
Not feeling the Insta-love in your feed? Brisbane is bursting with Instagram-worthy spots there for the snapping. Amateur photography never looked so good.
By Eveline Fielding | 27th August 2015

Lamenting your lack of Instagram likes? Desperate for some double taps? Well, as Ferris Bueller once said, "Likes move pretty fast. If you don't stop and move your camera around once in a while, you might miss them." Or something like that.

It's time to feed your feed with some scenery snaps, and as far as picturesque locations go, Brisbane dwellers are spoiled for choice. From grand architecture to graffiti to the great outdoors, there's nothing like the beauty of your own backyard to give your 'gram some much-needed game.

Because let's face it, there are only so many brekky snaps your followers can withstand. So here are our top Instagram-worthy spots in Brisbane.
Kangaroo Point Cliffs
This classic Brisbane photo destination's rep is as solid as the cliffs themselves, with quality pics to be found anywhere from the textured volcanic rock to the lustrous Brisbane skyline. Plus, the punishing, seemingly endless steps up the cliff-face are the perfect motivation for a group workout followed by a rewarding picnic!
Queen Street, Brisbane
No need to rev up the Delorean if you're looking to take your Instagram followers back in time. Just wander along to Queen Street and look up. Sure, the mall has had many modern makeovers, but just above eye level there are heritage heights just waiting to be snapped. The aged outside, Apple inside Macarthur Chambers is already quite popular, but for something different, check out Finney Isles & Co or Allen and Stark for some vintage vibes.
Pillars Street Art Gallery, Merivale Street, West End
If you want to take your Instagram underground, then Step Up 2 the Streets, yo! Pillars Street that is, Brisbane's main source of street art. Painted across the seven-metre tall columns under the South Brisbane rail, these larger-than-life pieces provide an amazing burst of colour to the West End landscape and, if you frame it right, in your feed as well.
Wilson Outlook Reserve, New Farm
Ever wonder where those fandangled amateur Instagram photos get those amazing shots of the Story Bridge from? Despair no longer, for it is here at Wilson Outlook Reserve that one can get only the best panoramas of Brisbane's lauded landmark, and from a little park bench worthy of only the cutest rom-com.
Mount Coot-tha
If you're looking to overload your followers with some serious scenery spam, venture up Mount Coot-tha. Where else can you take in city views, chase waterfalls, fuss over flora and fauna, all the while breathing in the eucalyptus-scented air? Only 15 minutes away from the city, it's the perfect way to Instagram nature's beauty without going full bush.
New Farm Park
With gorgeous gardens, city and river views and a gazebo fit for any rendition of Sixteen Going On Seventeen (come on, you know you want to), New Farm is a Brisbane favourite. But for definite double-taps, wait until October, aka Jacaranda season. Snap that canopy and carpet of mauve flowers, and you and your Insta-followers will be singing Purple Rain all summer long.
Queensland Art Gallery and Gallery of Modern Art, South Bank
Beautiful inside and out, Brisbane's artistic hub is positively brimming with innovative creations by local, Australian and international artists for you to inject into the Insta-sphere. Alternatively, take a few steps back and take in the beauty of the cultural precinct itself, with mangrove-marked views of the river and striking architecture waiting to fill your feed.
Perrott Street Park, Tooth Avenue, Paddington
This last locale is very much on the down-low, but we hear with the right know-how, you can get a Brisbane view to sink your teeth into (geddit?) Located on the corner of Tooth Avenue and Perrott Street in Paddington, the scoop is that if you climb the Poinciana tree, the view from the top is Instagram gold, but whoever is snapping these views clearly doesn't want to share the likes and is hiding their tracks well, otherwise we'd have a photo to prove it!
?Mt Coot-Tha Lookout | Image credit: Matthew Taylor, Tourism & Events Queensland