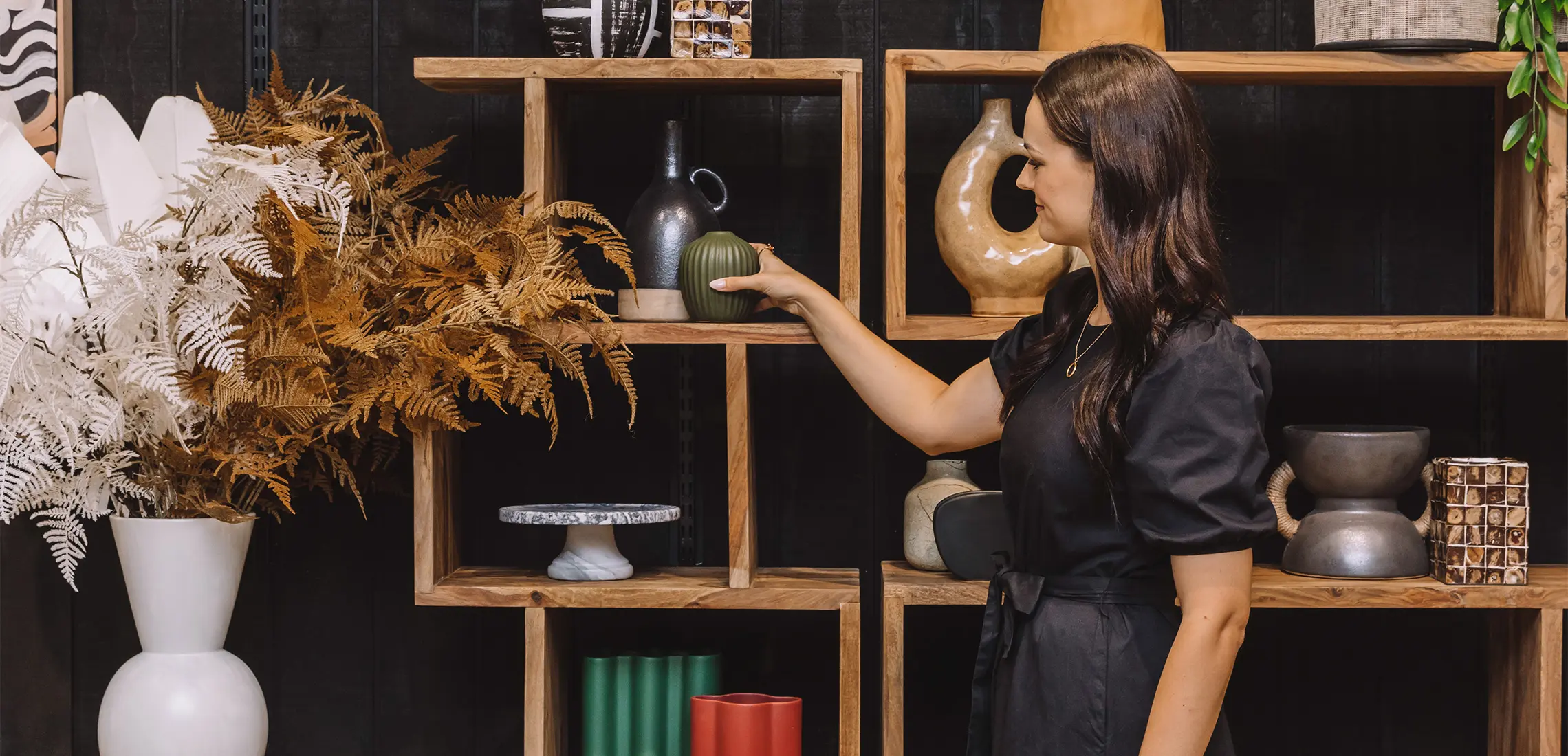 Cosy Up Your Home For Autumn Winter With These Easy Tips
Out with the old, in with the new
By Penelope Pelecas | 1st May 2023

Ah, there's nothing more refreshing than updating your home décor. As we head into the new season and swap our summer wardrobe for winter coats and boots, it's also the ideal time to show your home some extra love. Whether you're looking to do some seasonal redecorating or wanting to completely transform a room, make OZ Design Fortitude Valley your first port of call. 

In store you'll find a unique and beautiful range of high-quality furniture pieces and homeware items to suit all styles of homes, with ranges from modern contemporary to relaxed farmhouse, and everything in between – they have it all! 

However, redecorating your home is easier said than done, so we spoke to Homemaker The Valley's Resident Stylist Eliza Grace to find out her top tips for getting your home ready for the autumn winter season. On that note, grab a blanket, curl up, and read on to learn how to turn your home into a cosy oasis. 
Hi Eliza! What are the top autumn winter home decor trends you're seeing? 
I'm seeing a lot of deep earthy tones used in soft furnishings and home décor pieces this season. This year, we're also seeing the rise of mid-century modern furniture being on trend, which I can't get enough of! 
Okay, let's talk colour. What are the colours of the season? 
This season I'm loving deep olive greens and terracotta shades that take inspiration from nature and earthy materials. When adding colour into your home in the autumn winter season, it's essential to select tones that create warmth.  
Why should we be refreshing our homes seasonally? 
Refreshing your home seasonally allows you to breathe life into your spaces, reinvigorate them, and ignite your love for your home once more. Decorating with the seasons allows you to create different moods that are reflective of that time of year. For example, in winter, we want our homes to be a warm, cosy oasis that we can snuggle up and relax in at the end of a busy day.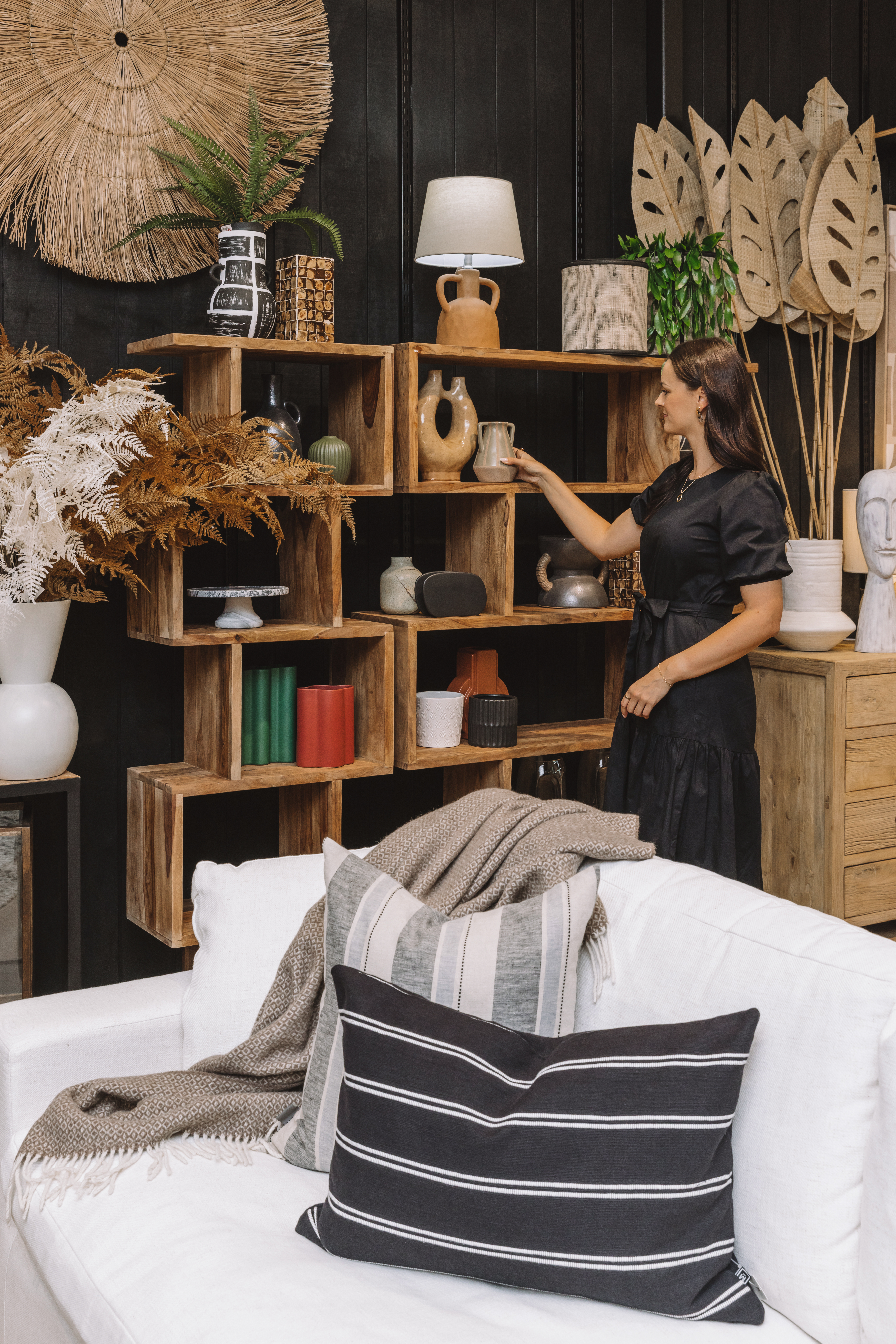 So, what are your top six tips for cosying up your home?  
Switch out your cushion colour combo – I recommend having a few neutrals all year round, then changing the pop of colour with the season
Add textured blankets and throws in fabrics that are reflective of the season. For example, linen and cotton in summer and faux fur and mohair in winter
Add candles for a warm and cosy vibe. I love Oz Design's range of candle holders and their gorgeous, ribbed candlesticks, which come in a variety of colours
Add a seasonal bunch of flowers or use dried foliage and branches for an autumnal look
Switch out your artwork to something with warm earthy tones like the Bold Colour Box Framed Canvas from Oz Design Fortitude Valley 
Embrace feature lighting such as table lamps and floor lamps to set the mood instead of turning on bright downlights
What's the best way to incorporate new pieces without blowing your budget? 
I always suggest investing in high-quality furniture pieces that will stand the test of time and have fun with more affordable soft furnishings and home décor pieces. By simply changing up your cushions and throw blankets on a sofa, the vibe and style of a room can completely change. Or even adding a beautiful new vase with some fresh flowers to the centre of your dining table can make a difference – my current favourite is the Darvella Vase from Oz Design Fortitude Valley. As they're smaller items, they're usually inexpensive, but make a big impact when styled in a fun and intentional way.
So, what items should you invest in? 
Pieces like the dining table, sofa, and buffet units are items that you would like to have in your home for many years to come. Oz Design Fortitude Valley have a great range of furniture pieces that suit a variety of interior design styles. 
In your experience, what are some of the most common home décor mistakes? 
A common mistake I see is that people think they need to stick to one specific interior design style. My best advice is to choose pieces you love and that complement each other to create a space that is personalised to you and your family's personal style. Another area I see is people focusing too much on the furniture and floor level items and forgetting about the walls in their home. It's amazing what a difference artwork can make in not only finishing a space but drawing the eyes up and creating a feeling of depth in a room. 
Eliza's top picks from OZ Design Fortitude Valley: 
Embrace the change of season by visiting OZ Design Fortitude Valley at Homemaker The Valley and book a free one-hour styling session with Eliza Grace here.